Easy Game Day Snacks
*This post may contain affiliate links, please see our privacy policy for details.*
Super Bowl Sunday is one of the greatest eating days of the year. Sure there is some competitive football, the puppy bowl, and a full roster of killer commercials. But our favorite part of the day is the food!
The best types of food to serve during Super Bowl Sunday
The food served for the Super Bowl should be indulgent, comforting and grab-able. You want to serve something that your family and guests can easily snack on without a second glance. The easier it is to grab and eat, the less likely you'll find yourself cleaning up a big mess!
A lot of these recipes we have compiled can come together in minutes, because we believe the best kinds of Super Bowl recipes are hands off. That way you can spend more time with your family and friends and less time by the oven.
In fact, every single one of these recipes can be prepped ahead of time and thrown in the oven the day of!
Some of these recipes can even be prepared on the same baking sheet and thrown in the oven together! Our goal with this list of scrumptious recipes is to set you up for success. Whether you are hosting at your place or bringing an appetizer to a Super Bowl Pot Luck, you can't go wrong with any of the recipes we have laid out for you below.
These chicken wings are dry-rubbed with a blend of spices then cooked to absolute perfection in our secret weapon, the air fryer.
We're huge fans of this recipe for so many reasons. It's incredibly simple, requiring just one dish which holds all the ingredients before you bake it and mix it together. It's so tasty, too, extremely creamy and packed with bursting smoked cheese flavor.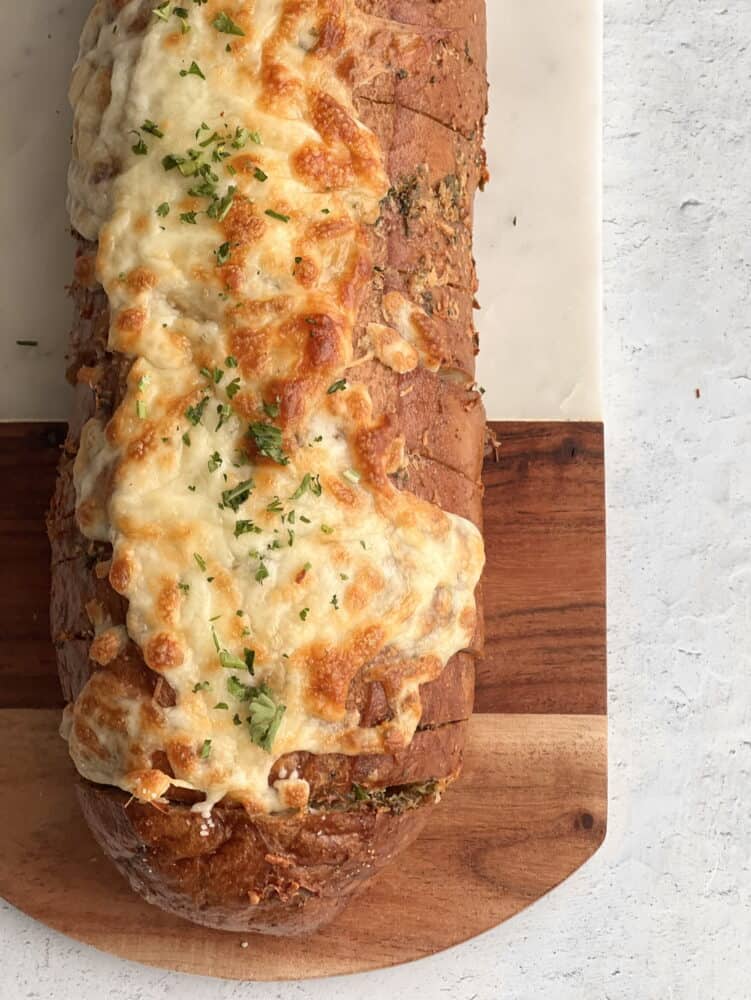 We are starting this list off with a top contender for your Super Bowl Sunday spread. This cheesy garlic bread is to die for, and it's the perfect grab-able appetizer. You can serve it alongside a dip, or let it shine on it's own.
This is a crowd pleaser you can't go wrong with. We definitely recommend making two loaves because everyone is going to want seconds!
Everyone needs a good chili recipe for game day, that's why we love this one! We aren't huge fans on chili that's loaded with beans, so this one has the perfect meat to  bean ratio!
Not only is it incredibly comforting, but you will be surprised just how quickly it comes together. On top of that, it is so flavorful you won't believe it's a simple slow cooker meal!
This recipe is ideal for Super Bowl Sunday because it requires limited hands on prep and cooking time. Sweet potatoes are also sneakily nutritious! These taste indulgent, but pack in fiber and vitamin b. It is a great way to sneak in a healthy, yet flavorful side dish while watching football!
If you like to serve a more complete meal in addition to snacks, this recipe is for you. Our turkey caprese sandwiches are so easy to make and oh-so-good!! This cafe style sandwich is a great addition to your Super Bowl Menu.
Similar to the sweet potato fries above, all you need to do is assemble and pop them in the oven. This is one of those easy recipes that comes together in just about 20 minutes.
This dishis hands down one of our favorite platters to put together. It's another one of our low effort recipes that look and taste lavish. The flavors are just as vibrant as the colors of this scrumptious plate.
If you've never had burrata, there is no better time to dive in. You'll find it's super similar to mozzarella, but creamier. Combined with the roasted tomatoes and Za'atar pita, this recipe is a sure fire hit!
Honestly, we feel like the name of this recipe speaks for itself! This dip is outrageously yummy and worth every calorie.
Whether you serve this with chips or sliced french bread, you cannot go wrong. If you are in an especially indulgent mood, serve this alongside our cheesy garlic bread recipe, shown at the top of this list!

Spinach and artichoke dip is an essential part of Super Bowl Sunday. And we have gone ahead and upgraded it for you! These cheesy spinach and artichoke sandwiches are out-of-this-world good.
With shredded monterey jack cheese inside and sprinkled on top, this baked recipe is a fan favorite. Every cheese lover watching the big game on your couch will be thoroughly satisfied.
We love a good bruschetta recipe! Our recipe, in particular, is effortless. You can make the topping ahead of time so all you have to do is put it together when you are ready to serve.
The ingredients for this recipe are simple and cheap! You may even have them in your kitchen already. Despite how straightforward this recipe is, the combination of tomatoes, basil, and olive tapenade is pure magic.
This is another sandwich recipe you can prep in advance and throw in the oven when you are getting ready to eat. It's a big hit in our household, and has never failed us at a party!
The traditional greek flavors of spanakopita in grilled cheese form is a must try. We are a bit biased, but this may be the best crossover recipe out there.
It's obvious by this point that we love combining traditional recipes. This cheeseburger pizza is a life changing combo and sure fire hit for Super Bowl Sunday!
In our cheeseburger pizza, we bake the cheeseburger into the crust layer and throw all the traditional cheeseburger toppings on top. This dish is an absolute flavor bomb.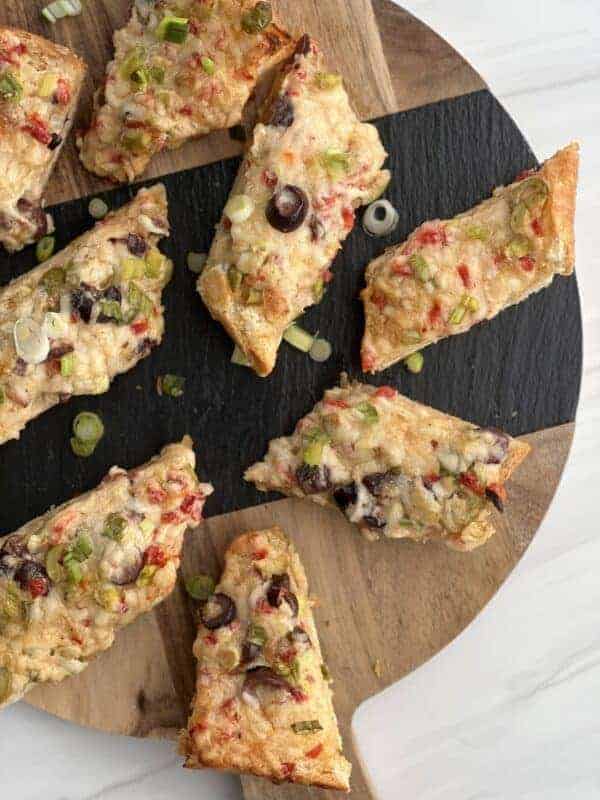 If you couldn't tell by the recipes on this list, we cannot resist a good cheesy bread. Our olive cheese bread is the perfect balance of crunchy and creamy. It packs in a ton of garlic and is easy to grab and eat without a plate.
We love a recipe that is simple to make with minimal mess. The beauty of this cheesy olive loaf is that you can assemble it ahead of time and bake when you're almost ready to eat!