Peanut Butter Lover S'mores Dip takes traditional s'mores up a notch with the addition of luscious, creamy peanut butter and sweet peanut butter cups. Baked in a skillet, this recipe is perfect for feeding a crowd and easy to make all year round!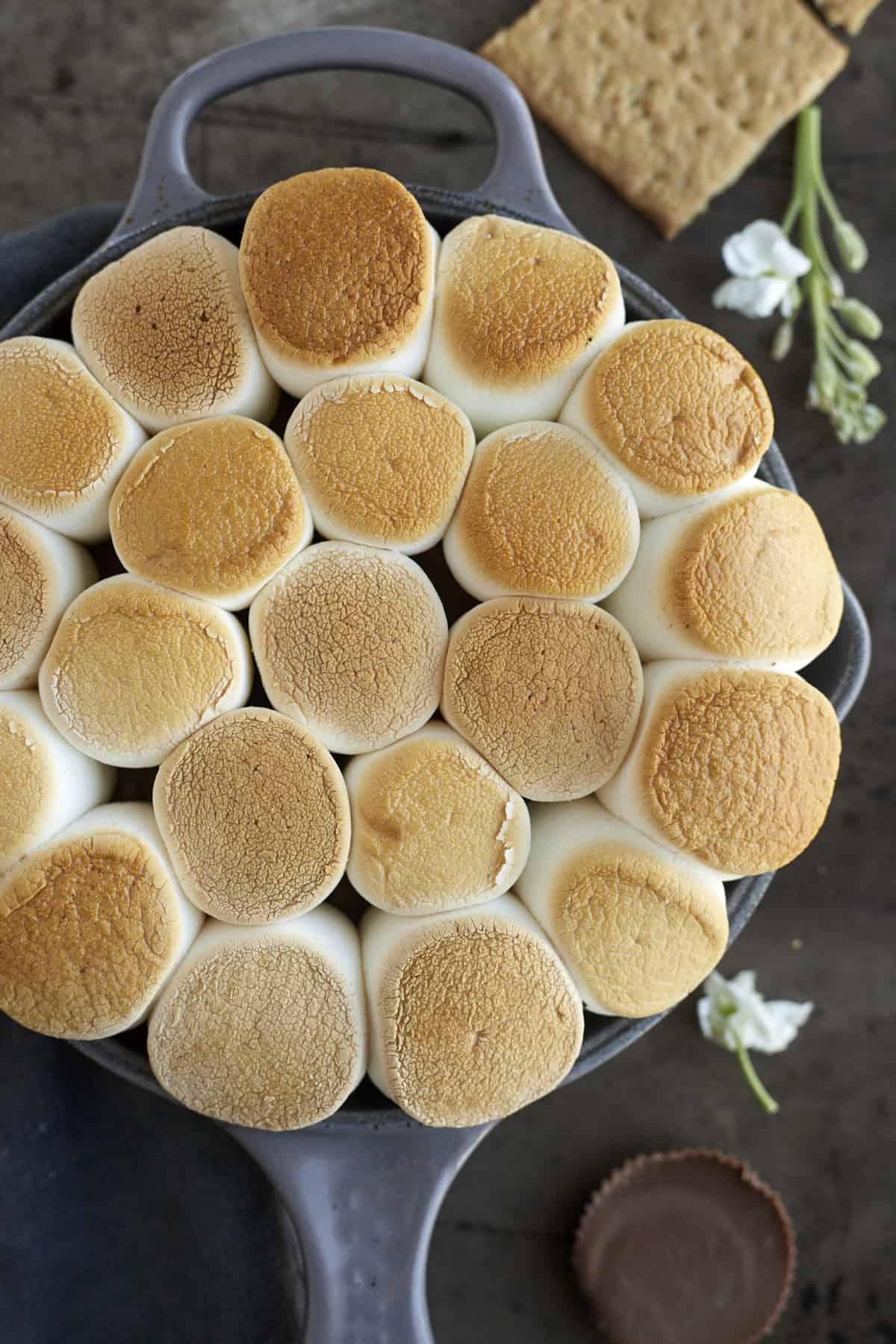 Why You'll Love Peanut Butter S'mores Dip
What's not to love about a dessert dip filled with creamy layers of warm peanut butter and melted chocolate? Especially when it's topped with creamy, browned marshmallows! Every bit as delicious as campfire s'mores but so much easier to make, it's hard to find something not to love about this s'mores dip recipe. It:
Requires just a few minutes of hands-on prep time and 10 minutes or less in the oven, meaning it comes together in the blink of an eye!
Uses just 4 ingredients for a budget-friendly dessert that boasts extravagant flavor.
Is easy to customize to fit all your preferences and needs so you can make it your signature dessert.
Features an irresistible combination of smooth, creamy, and crunchy textures.
Can be made any time of year – no campfire required!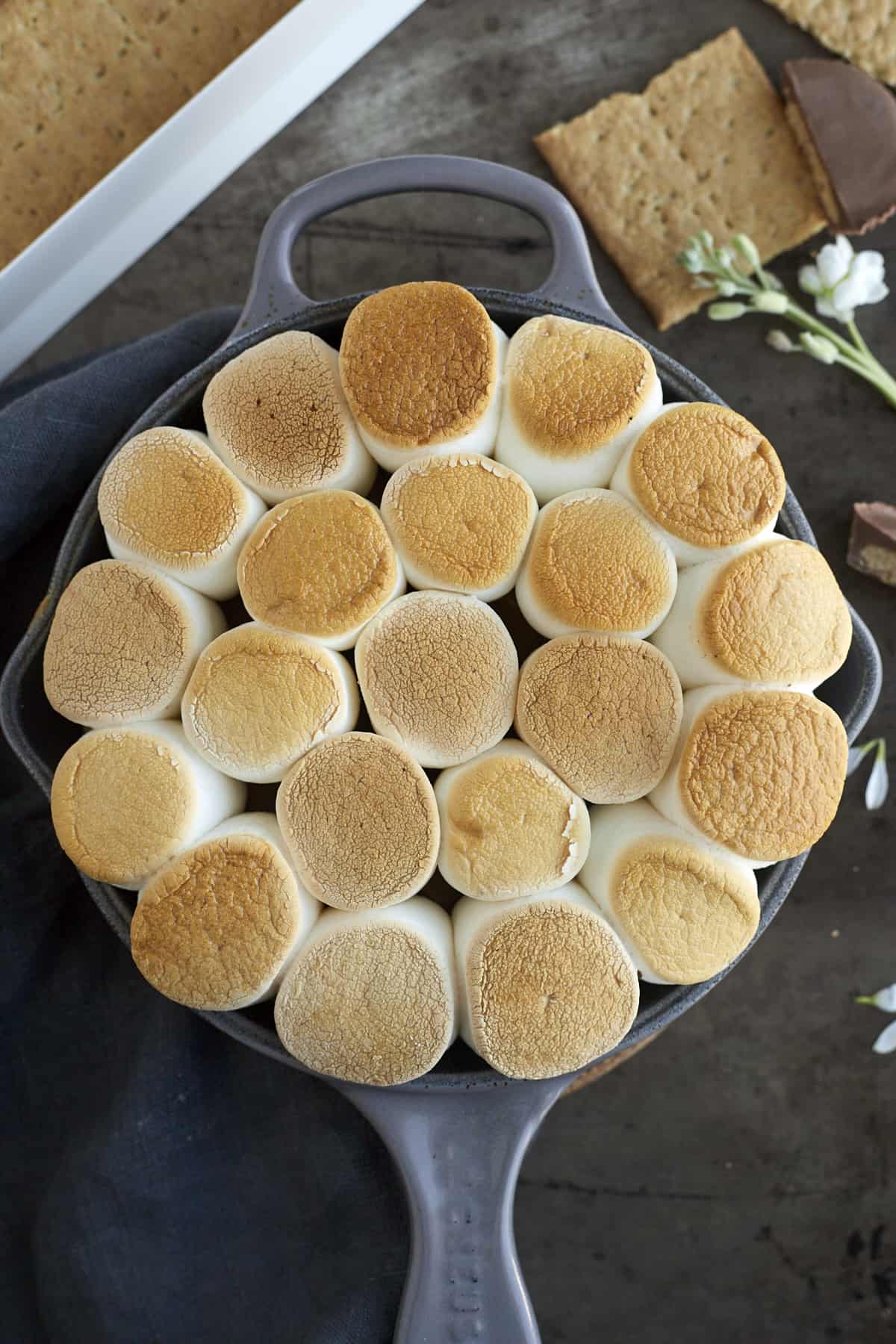 Simple Ingredients You'll Need
With just 4 ingredients that you probably already have in the house, this s'mores dip is a cinch to put together. Here's what you'll need:
Creamy Peanut Butter – Make sure it's smooth! Crunchy varieties will not spread as easily, creating the silky bottom layer we're looking to achieve.
Peanut Butter Cups – Standard-sized peanut butter cups work perfectly for layering over the peanut butter and extra richness to the dip. We use regular Reese's milk chocolate varieties, but feel free to mix and match whatever you like best.
Large Marshmallows – These make for the best presentation and are the easiest to use. However, if you happen to have mini marshmallows on hand, they work as well. Just be sure to spread them out thick enough to hold the chocolate squares upright.
Chocolate Squares – These are wedged in between the marshmallows, creating the classic s'mores flavor we love. For the best results, we recommend using high-quality chocolate like Ghiradelli.
Flavor Variations
We kept this s'mores dip recipe fairly simple, but there are endless ways to elevate the flavor and make it your own! For instance, some of our favorite add-ins include:
Crushed Salty Crackers or Potato Chips
Chopped Nuts
Flaky Salt (like sea salt or Himalayan pink salt)
A Drizzle of Caramel Sauce
Butterscotch or Caramel Chips
Caramel-Filled Chocolates (like Rolos)
Peanut Butter Chips
A Few Dashes of Cayenne Pepper
How to Make Decadent Peanut Butter S'mores Dip
With just a few simple steps, this s'mores dip recipe is quick and easy to make and guaranteed to become one of your new favorite recipes!
Layer the Ingredients. Using a rubber spatula, spoon the melted peanut butter into the bottom of an oven-proof skillet, baking dish, or pie dish. Then, layer the peanut butter cups on top followed by the marshmallows. Wedge the chocolate squares upright between the marshmallows.
Bake the S'mores Dip. Place the dish in the oven, letting it bake until the marshmallows are golden brown on top and the chocolate has melted.
Serve. Remove the dip from the oven, let it cool just slightly, and dig in!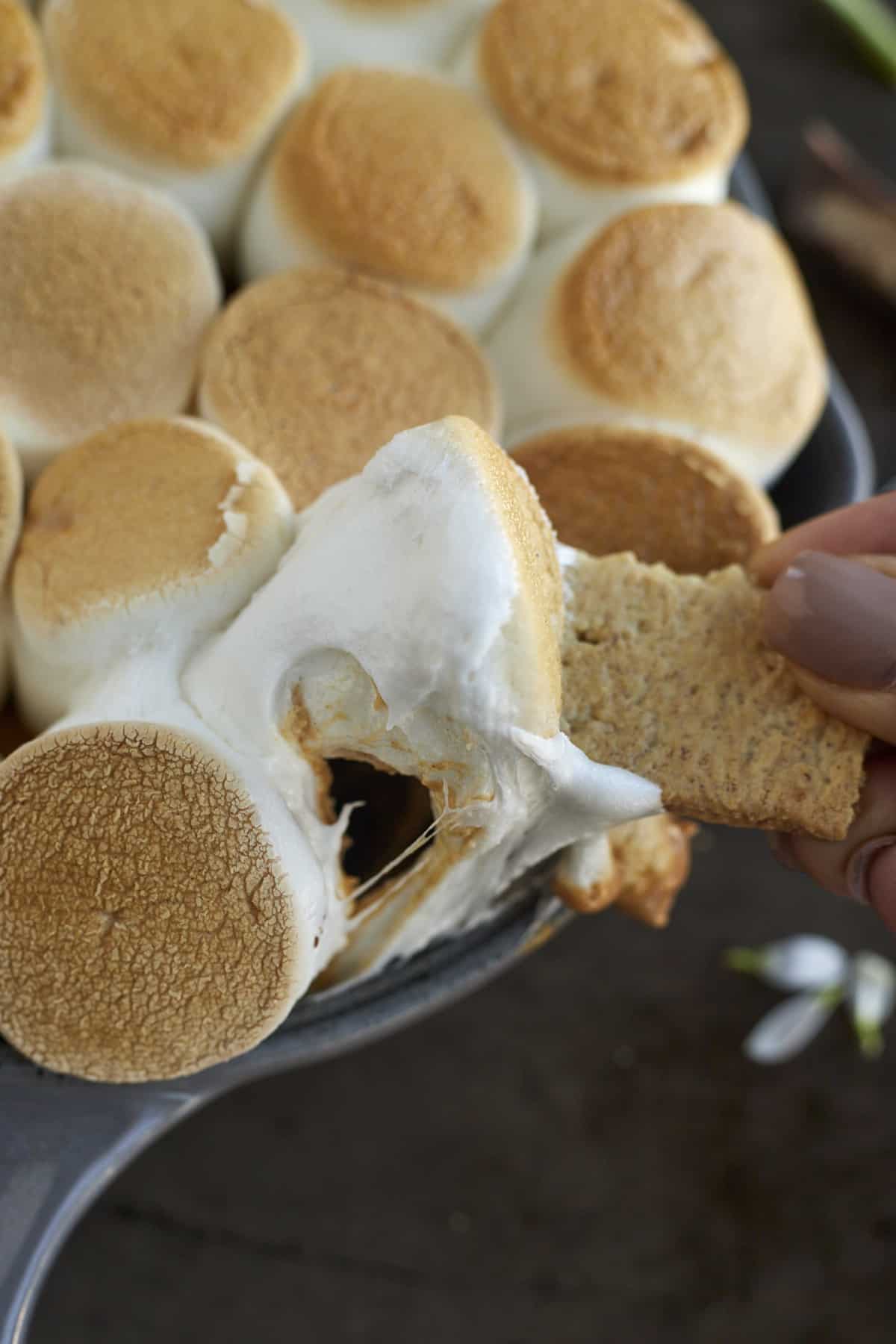 Tips and Tricks
This peanut butter s'mores dip is one of the easiest desserts you'll ever make. However, we have a few extra tips and tricks that will make it virtually failproof!
Unwrap the Candy Ahead of Time. While you don't want to leave unwrapped chocolates around indefinitely, unwrapping the peanut butter cups ahead of time will help speed up the time it takes to make the dip.
Heat the Peanut Butter in a Measuring Cup. If you have a large glass measuring cup handy, microwaving the peanut butter in it will make it easier to pour into the skillet.
Protect Your Table or Countertop. This recipe is so delicious, all your guests will want to dig in immediately. So, to prevent burns on your table or counter, be sure to place a pot holder or trivet out well before the dip has finished baking. That way you have a quick place to set it down before it is devoured!
Serving Suggestions
This s'mores dip is amazing when served with all your favorite sweet and savory dippers like graham crackers and pretzels (or just eaten with a spoon)! However, some of our favorite ways to serve it include:
Topped with ice cream or gelato
With a mug of hot chocolate or a cold glass of milk
With hot or iced coffee (with or without boozy additions like your favorite whiskey or Bailey's)
Paired with adult beverages like a hearty stout or espresso martini
Dipped with fruit slices like apples
Spread on a thick slice of banana bread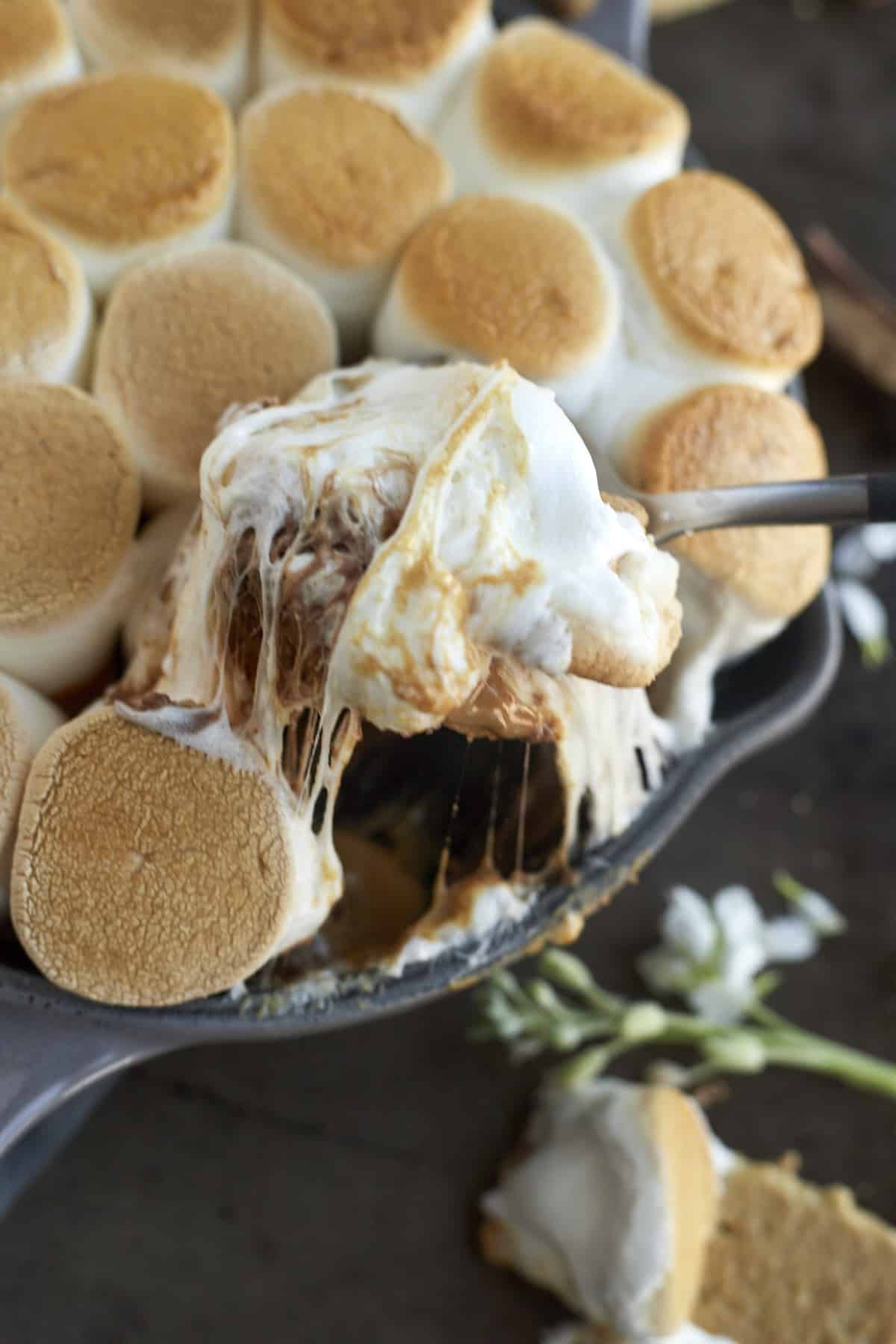 Peanut Butter S'mores Dip Common Questions
What can I use instead of graham crackers to dip into s'mores dip?
Many people like to use sweet dippers — cookies like chocolate chip, peanut butter, gingersnaps, or snickerdoodles will all work well. You can also try savory options like hearty potato chips, thick pretzel sticks, or your favorite buttery or salty crackers!

Where did s'mores get their name?
The standard story about the genesis of the name "s'mores" is that the word is the combination of the word "some" and "more," as in: "I want some more!"
What type of chocolate is best to use in this s'mores dip?
Any chocolate you like best will do. However, we recommend using dark chocolate! The higher cacao count balances well with the sweetness of the marshmallows.
More Easy Peanut Butter Dessert Recipes
If you are head over heels in love with peanut butter, you're going to adore these decadent desserts: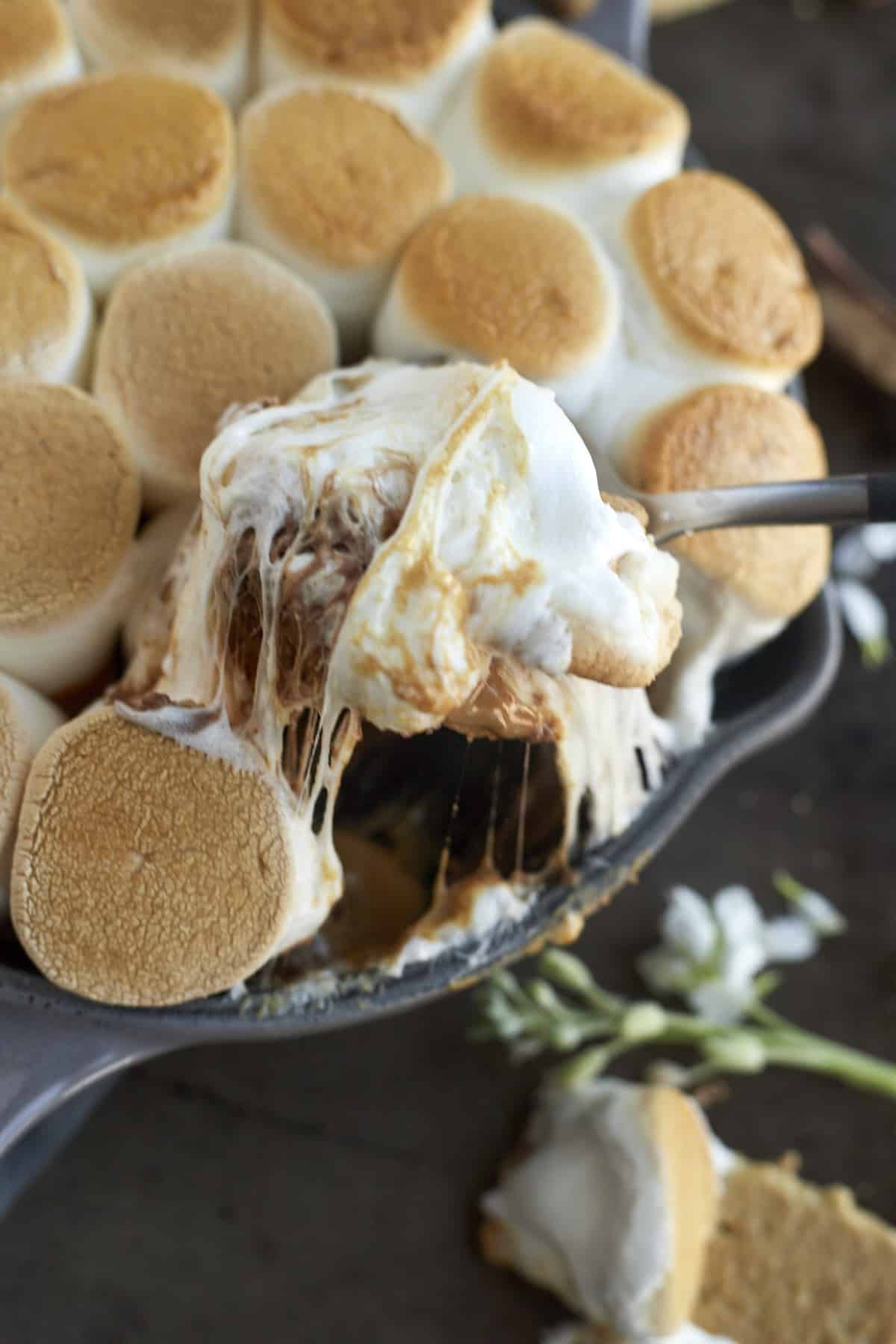 Peanut Butter Lovers' S'mores Dip
Peanut Butter Lover S'mores Dip takes traditional s'mores up a notch with the addition of luscious, creamy peanut butter and sweet peanut butter cups. Baked in a skillet, this recipe is perfect for feeding a crowd and easy to make all year round!
Ingredients
1/2

cup

creamy peanut butter

melted (30 seconds in microwave)

5

large

peanut butter cups

25

large marshmallows

4

chocolate squares + more or less to taste
Instructions
Preheat the oven to 350 degrees F.

Spread the melted peanut butter in an even layer in the bottom of an 8-inch cast-iron skillet.

Arrange marshmallows in an even layer on top. Wedge the chocolate squares upright between the marshmallows.

Bake for 8-10 minutes or until marshmallows are golden.

Serve warm with cookies, graham crackers, etc.
Nutrition
Serving:
1
serving
|
Calories:
384
kcal
|
Carbohydrates:
64
g
|
Protein:
6
g
|
Fat:
15
g
|
Saturated Fat:
6
g
|
Polyunsaturated Fat:
2
g
|
Monounsaturated Fat:
6
g
|
Cholesterol:
1
mg
|
Sodium:
140
mg
|
Potassium:
199
mg
|
Fiber:
3
g
|
Sugar:
43
g
|
Vitamin A:
5
IU
|
Vitamin C:
0.03
mg
|
Calcium:
26
mg
|
Iron:
2
mg
Nutrition information is automatically calculated, so should only be used as an approximation.
Like this recipe?
Please leave a comment!