Made with less than ten ingredients in just over 30 minutes, these oven sweet potato fries are gently boiled, seasoned, and baked until crisp. Served warm with your favorite dipping sauce, they're even tastier than your favorite restaurant's and better for you, too!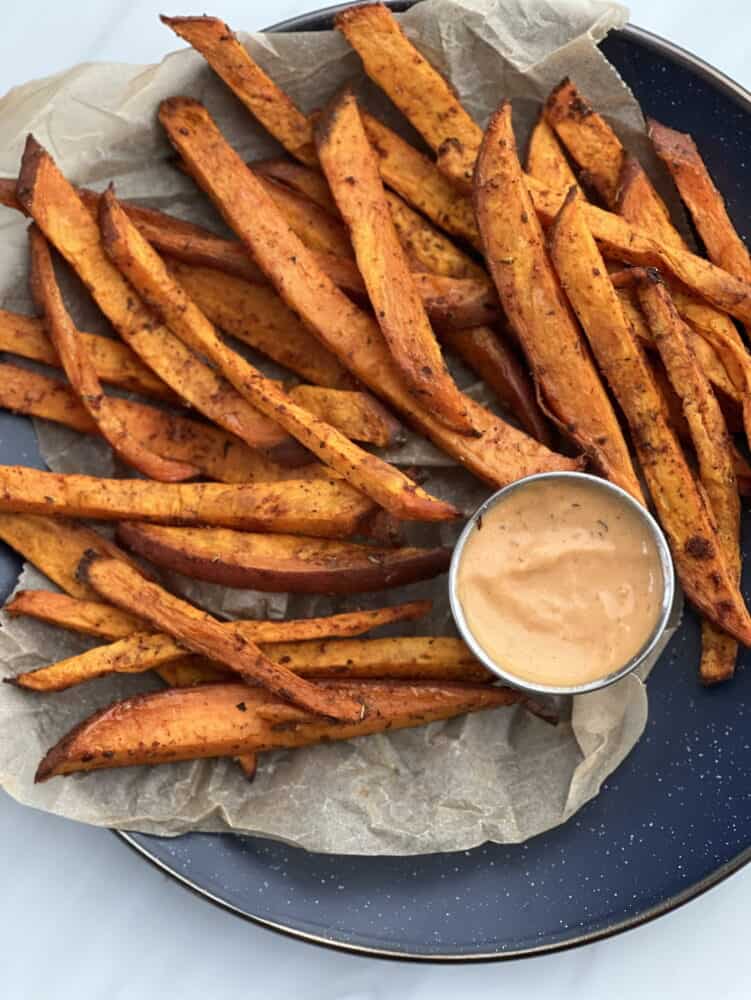 Fries You Can Feel Good About: Why You'll Love Oven Sweet Potato Fries
We're huge sweet potato lovers, and more often than not, if we're going out to eat, we're ordering a side dish of sweet potato fries! Served warm, the best fries have a crispy texture on the outside, are tender in the center, and are subtly sweet. What's not to love?
Seriously, we're obsessed. So, naturally, we had to recreate them at home, and these homemade oven baked sweet potato fries hit the spot!
Just as scrumptious as your favorite restaurant's they're a great appetizer or side dish and are:
Made with nine simple ingredients.
Baked instead of fried with a quick bake time and no deep frying required.
Full of nutrients, fiber, and healthy fats.
Ready in just over 30 minutes and the perfect recipe to feed a crowd.
Ingredients You'll Need
Just a handful of healthy ingredients you can find at your local grocery store combine to create the best healthy fries. Here's what you need:
Large Sweet Potatoes – We use 1 pound of garnet sweet potatoes. For easy slicing, look for thick, straight potatoes that aren't super curvy.
Oil – We use extra virgin olive oil instead of canola oil or butter to add healthy fats while helping the fries crisp in the oven.
Spices – Chili powder, chipotle powder, smoked paprika, oregano, garlic powder, and sea salt are used to create a savory flavor with a hint of spice.
Cheese – A sprinkle of shredded Parmesan takes these homemade sweet potato fries to the next level! For the best results, use fresh Parmesan and grate it yourself.
Benefits of Sweet Potatoes
Not only are sweet potatoes ridiculously delicious and super versatile, but they're also loaded with health benefits! For instance, they're rich in vitamin A, vitamin C, manganese, copper, vitamin B6, potassium, niacin, and fiber.
As a result, including them as part of a balanced diet may help:
Support healthy vision
Enhance brain function
Support your immune system
Improve digestion
How to Make the Best Oven Baked Sweet Potato Fries Recipe
Believe it or not, it's super easy to make sweet potato fries in the oven. You don't need to fry them to get them crispy!
We'll show you how.
Prepare the Sweet Potatoes. Wash the potatoes really well, removing all dirt and debris. Then, use a sharp knife to slice them into thin strips. Be sure to cut them uniformly so they cook evenly!
Boil. Bring a large pot of water to a boil. Then, reduce the heat to low, and add the potatoes. Cook until they're just slightly tender. Then, drain the water, and dry the fries on a clean paper towel.
Season. Add the fries to a large bowl, drizzle the oil on top, and sprinkle the seasonings on top. Gently toss to coat the fries completely.
Bake. Arrange the fries in an even layer on a prepared baking sheet, and sprinkle the cheese on top. Bake for 15 minutes. Then, flip them over, and continue to bake until they're tender and crispy.
Enjoy! Serve your oven baked sweet potato fries warm with your favorite dipping sauce.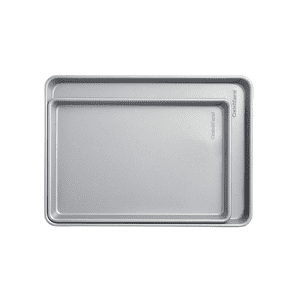 We earn a commission if you make a purchase, at no additional cost to you.
Tips for Success
Take a look at the tips and tricks below to achieve the best sweet potato fries next time and every time you cook them!
Slice Evenly. Slice your potatoes ¼ inch wide, and cut them all evenly. This will ensure they all bake at the same time so none are burnt while others are still hard.
Don't Overcrowd the Pan. You want to leave space between each fry so the air has room to circulate and cook them on all sides.
Use a Metal Rack. We highly recommend using a racked baking sheet to allow the air to come in from all sides so you never get soggy fries! It's not completely necessary, but it does help enhance the texture.
Why Blanching Is Important for the Best Sweet Potato Fry Recipe
Blanching is a cooking process in which foods are quickly submerged in boiling water and immediately cooled to stop the cooking process. It helps vegetables retain their color, hydrates and softens hard vegetables (like Brussels sprouts), and allows us to achieve the crisp texture we want with these oven baked sweet potato fries.
Blanching the sweet potato fries before baking adds extra hydration, preventing them from drying out in the oven and requiring less time in the oven.
How Do I Know When My Oven Sweet Potato Fries Are Done?
You'll know your oven sweet potato fries are done baking when they have crispy edges, are lightly golden brown on the outside, and soft in the center. They should give just slightly if gently pressed.
Serving Suggestions
These fries are incredible served on their own, but we can never say no to adding a dipping sauce, too! Some of our favorites include ketchup, BBQ sauce, garlic aioli, Ranch dressing, honey mustard sauce, zhoug sauce, Lebanese garlic sauce, and feta cucumber sauce!
Then, to turn them into a meal, try pairing them with your favorite burger or main courses like:
How to Store
This recipe is best served right away while the fries are still hot. However, if you have leftovers, they can be stored for later.
Make Ahead: Slice the sweet potatoes, and keep them stored in an airtight container for up to two days. To prevent them from browning, submerge them in cold water, and keep them covered. Then, drain and pat them dry before baking.

To Store: Transfer the crispy sweet potato fries to an airtight container, and keep them stored in the fridge for up to four days.

To Freeze: Arrange the fries in a single layer on a baking sheet, and transfer them to the freezer for one to two hours or until solid. Then, transfer them to a sealable bag, and keep them frozen for up to three months.

To Reheat: Warm your sweet potato fries thawed or frozen on a baking sheet in the oven at 350 degrees Fahrenheit until they're heated through.
Common Questions About Oven Sweet Potato Fries
Why won't my oven baked sweet potato fries get crispy?
The most common reasons why you don't get crispy fries is that they were either sliced too thick or weren't cut uniformly.
What temperature do you cook sweet potato fries at in the oven?
We found that the best temperature is 425 degrees Fahrenheit. The high heat allows them to cook quickly without becoming burnt.
Should my fries be wrapped in foil while they bake?
No, we wrap full potatoes in aluminum foil to trap the moisture and help them soften. However, because we cut the fries and expose their center, it isn't necessary.
Can you overcook oven sweet potato fries?
Yes, if your fries begin to turn dark brown, they are burnt.
Can I make sweet potato chips instead?
Yes, follow the same steps, slicing the potatoes into discs instead. Then, be sure to keep a close eye on them in the oven. They're likely to cook fast!
Can I use regular potatoes for this recipe?
Sure! We recommend using Russet potatoes because they have a firmer texture and bake well. However, any white potatoes will work. Just be sure to keep an eye on them, and adjust the time as needed.
More Ways to Enjoy Potatoes
Love potatoes as much as we do? Try out more of our favorite ways to use potatoes below!
Oven Baked Sweet Potato Fries Recipe
Learn how to make the best oven baked sweet potato fries, and enjoy your favorite restaurant side dish from the comfort of your own home!
Ingredients
1

pound

Garnet sweet potatoes

washed and sliced

3

Tablespoons

extra virgin oil olive

1

teaspoon

chili powder

1/2

teaspoon

chipotle powder

1/2

teaspoon

smoked paprika

1/2

teaspooned dried oregano

1/2

teaspoon

garlic powder

Sea salt to taste

2

Tablespoons

Parmesan cheese

freshly shredded
Instructions
Preheat the oven to 425 degrees Fahrenheit. Grease a baking sheet, and set aside.

Wash the potatoes well to remove all dirt and debris. Slice them uniformly into thin strips, about ¼ inch wide.

Bring a pot of water to a boil. Reduce the heat to low, and add the potatoes. Cook for 3-4 minutes. Then, drain the water, and pat the potatoes dry with a clean paper towel.

In a large clean bowl, add the potatoes, and drizzle the oil on top. Gently toss to combine and coat the fries.

Add the seasonings, and toss again to coat.

Arrange the fries in a single layer on the prepared baking sheet.

Bake for 15 minutes. Then, remove the pan, flip the fries, and continue to bake for 10-15 minutes or until the fries are golden brown and crispy.

Serve warm with a dipping sauce of choice!

Store in an airtight container in the fridge for up to 4 days.
Equipment
Nutrition
Serving:
1
serving
|
Calories:
205
kcal
|
Carbohydrates:
24
g
|
Protein:
3
g
|
Fat:
11
g
|
Saturated Fat:
2
g
|
Polyunsaturated Fat:
1
g
|
Monounsaturated Fat:
8
g
|
Cholesterol:
2
mg
|
Sodium:
115
mg
|
Potassium:
411
mg
|
Fiber:
4
g
|
Sugar:
5
g
|
Vitamin A:
16455
IU
|
Vitamin C:
3
mg
|
Calcium:
69
mg
|
Iron:
1
mg
Nutrition information is automatically calculated, so should only be used as an approximation.
Like this recipe?
Please leave a comment!