Baked Sweet Potato Fries
*This post may contain affiliate links, please see our privacy policy for details.*
We don't know about you, but sweet potato fries are one of our favorite sides!
They are delicious, nutritious and hit the spot every single time. We love to serve this recipe as a side for sandwiches, finger foods, or as an appetizer all on its own. If you love our Garlic Parmesan Potato Wedges, you will love this recipe!
Get ready to hit the bookmark button because you are not going to want to lose this recipe.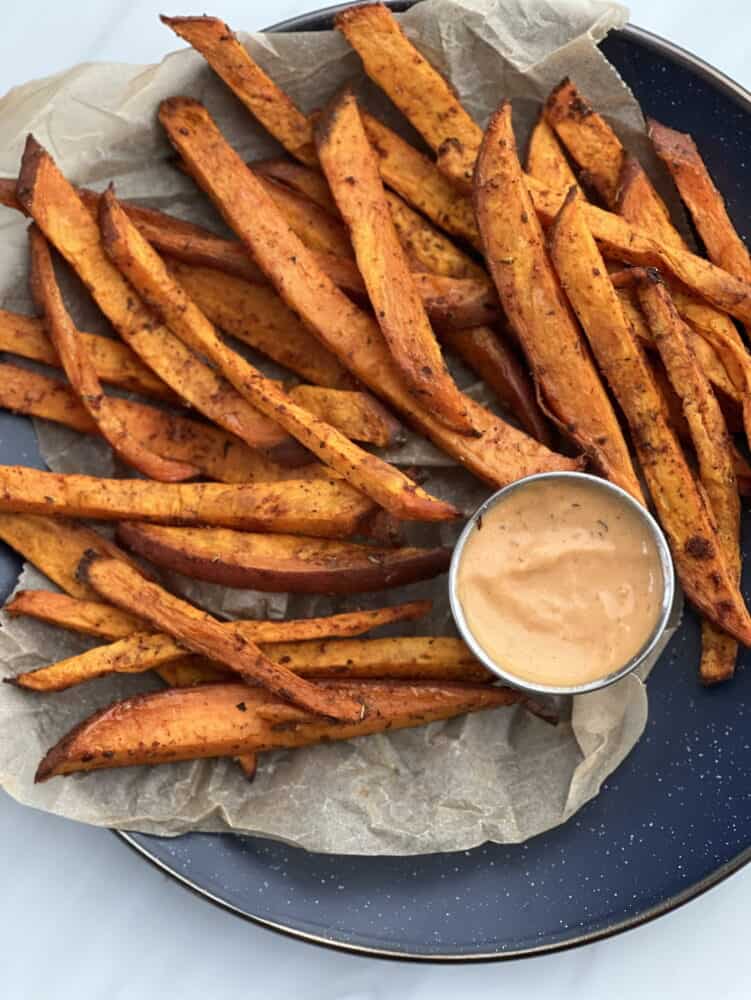 Why we love this recipe
This is the perfect recipe to throw together in minutes and bake while you work on cooking the main course. It only takes a few minutes to prepare, and most of the cooking time is hands off while your oven does the work.
This mouthwatering side dish is also sneakily nutritious. Sweet potatoes are high in fiber and vitamin B, and pack in a couple grams of protein per serving. Compared to regular potatoes, sweet potatoes are generally easier to digest.
Also when compared to regular potatoes, sweet potatoes have more natural sugar and require less salt when cooking. The higher sugar content makes sweet potatoes easier to grow since they can withstand lower temperatures. It is super easy to get local sweet potatoes no matter where you are because they are generally easier to grow!
Do I need to peel my sweet potato before making fries?
If you or your kiddos have an aversion to peels, then peel away. But the short answer to this is: no! You do not need to spend time peeling sweet potatoes for this recipe.
As long as you thoroughly wash the sweet potatoes, skip this step and cook them skin on. It is our personal preference to leave the skin on. It saves time, and it adds some extra texture!
Beyond just the convenience, there are more benefits to leaving the skin on your sweet potatoes for this yummy recipe. Sweet potato skins are rich in fiber, have more micronutrients, and also contain antioxidants to keep your gut healthy and happy!
What is blanching and why is it important for this recipe?
First, let's go over what blanching is. Blanching is a cooking technique in which you partially cook your ingredient in boiling water. Salting the water is not necessary for blanching.
Blanching has plenty of benefits. From helping retain color (think bright green broccoli), to hydrating and softening hard vegetables (like brussels sprouts) blanching is super beneficial.
For these delicious sweet potato fries, blanching is most helpful to achieve the perfect texture. Personally, we haven't chowed down on raw sweet potato, but from cutting it we know how hard it is in it's raw form.
Blanching sweet potatoes will add extra hydration and ensure that they don't dry out in the oven. It also will cut down the cooking time significantly.
So what will happen if you skip this step and don't blanch?
You might be thinking, 'well, when I bake a sweet potato, I don't blanch it and the texture turns out fine.' And you're right about that! When baking a whole sweet potato, you don't need to blanch it.
The reason for this is that usually when you bake a sweet potato, you have the skin on and a layer of aluminum foil wrapped around it. This essentially traps all of the natural moisture and allows the sweet potato to soften naturally.
When you cut the sweet potato, and expose it on all sides, the natural moisture evaporates in the oven. If you bake it for long enough, eventually it will soften, but it will take much longer. Furthermore, the texture is going to be a bit denser and dryer because the moisture will naturally evaporate.
How to make sweet potato fries
Prepare your sweet potato. First, cut a large sweet potato in half. Then cut each half into panels, approximately a quarter to a half inch each. Place each panel flat on your cutting board and cut again in a similar measurement until you have fries!
Blanch the cut sweet potatoes in boiling water until they are tender enough to be pierced with a fork. Remove the sweet potatoes from the water, shaking off any excess water.
In a medium mixing bowl, add the sweet potatoes and drizzle on olive oil. Then add the salt, pepper, paprika, chipotle, oregano, garlic powder and grate on parmesan cheese. We think the sweet spot for parm is 2 tablespoons, but feel free to grate with a heavy hand if that is your preference!
Mix everything together so that the sweet potatoes are fully coated with seasoning.
Place on a racked baking sheet. If you do not have a rack, place the sweet potatoes on a non-stick baking sheet or a baking sheet that is lined with parchment paper.

Note: the rack is not absolutely necessary, but will help cook your sweet potato fries to the perfect texture. Allowing heat to come in from all sides will prevent sticking as well as prevent your fries from getting soggy.

Bake in your oven at 425 degrees for 30 minutes. About halfway through, give your pan a shake to flip the sweet potatoes.
Remove from the oven and serve warm with your favorite dip.
Baked Sweet Potato Fries
These easy baked sweet potato fries are gently boiled, seasoned and baked until nice and crispy.
Ingredients
1

lb

sweet potatoes

(garnet sweet potatoes)

3

tbsp

extra virgin oil olive

1

tsp

chili powder

1/2

tsp

ground chipotle

1/2

tsp

smoked paprika

1/2

tsp

oregano

1/2

tsp

garlic powder

sea salt to taste

2

tbsp

freshly shredded parmesan cheese
Instructions
Preheat oven to 425 degrees F.

Wash the sweet potatoes really well. Cut and slice into thin strips, about 1/4 inch wide. Be sure to cut the potatoes uniformly to ensure that the potatoes cook evenly.

Bring a pot of water to a boil, reduce heat to low and add potatoes. Cook for 3-4 minutes. Drain the sweet potatoes, gently dry with a paper towel.

In a large clean bowl add the sweet potatoes, olive oil and all the seasonings. Gently toss making sure that the potatoes are coated in the spice mixture.

Arrange on a sheet pan in a single layer. Bake for 15 minutes. Remove from the oven and flip the fries. Bake for an additional 10-15 minutes or until fries are golden brown and crispy. Serve with your favorite dipping sauce!