Crispy Smashed Potatoes are soft, and fluffy on the inside yet crisp and crunchy on the outside. Topped with savory seasonings and plenty of cheese, they're sure to become your new favorite side dish recipe!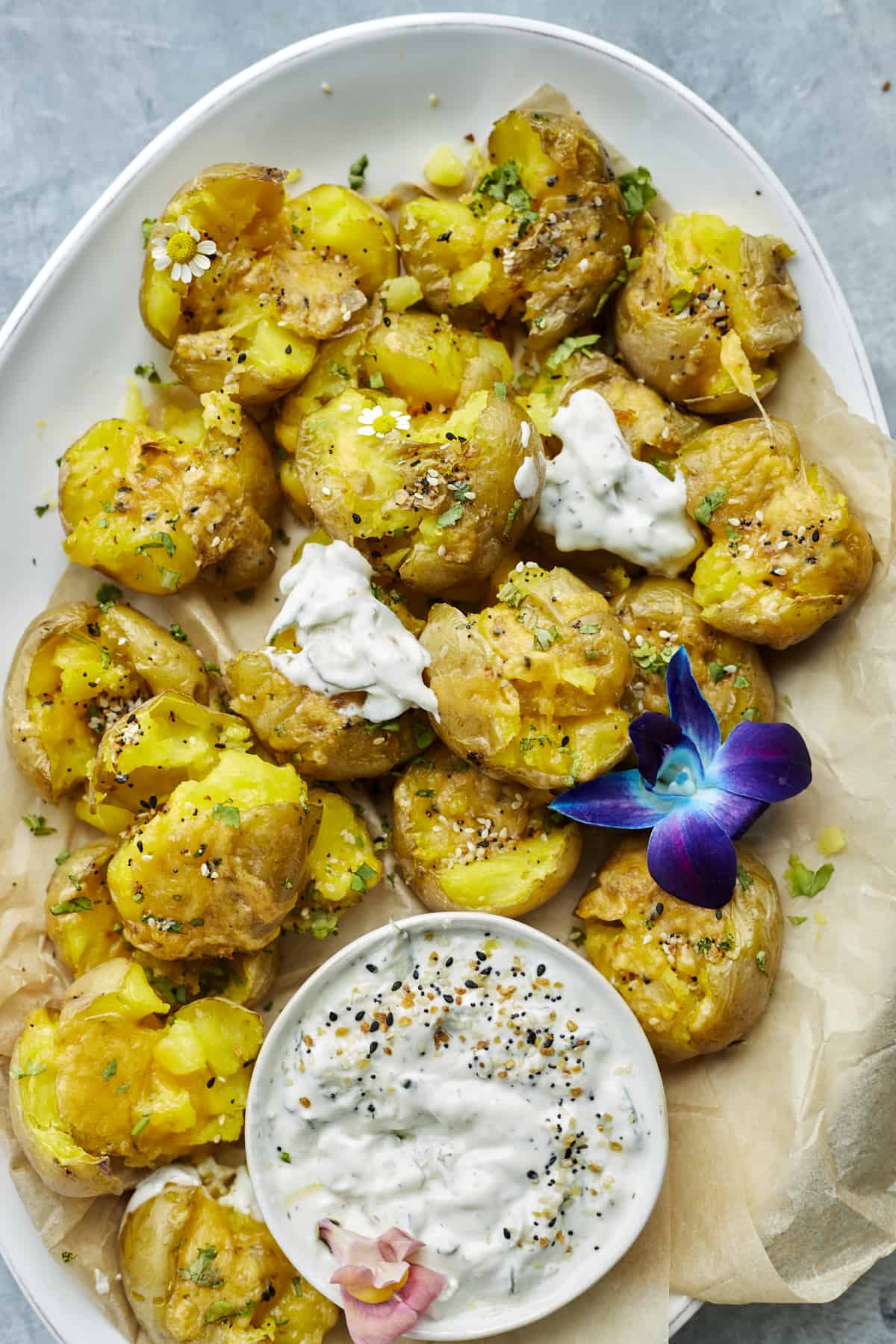 What Are Smashed Potatoes?
Smashed potatoes are exactly what they sound like! They're simply small potatoes that are arranged on a baking sheet and smashed until flat, creating jagged edges.
Then, they're baked in the oven until the outside is golden brown and crisp and the inside is soft and fluffy. Think of them sort of like a combination of potato wedges and baked potato chips!
What's the Difference Between Mashed and Smashed Potatoes?
The difference between mashed and smashed potatoes is in the method of preparation. For instance, mashed potatoes are made by cooking potatoes and using a potato masher to create a smooth, creamy texture.
Meanwhile, smashed potatoes are cooked whole and then flattened or smashed. As a result, they maintain a potato-like appearance and a crisp exterior.
Why These Smashed Potatoes in the Oven Work
As if potatoes weren't already incredible, this baked smashed potatoes recipe takes them to a whole new level! Seriously, they're so good our kids ask for them by name.
Honestly, there are so many reasons to love these crispy smashed potatoes we lost count. To name a few, this recipe is:
Made with minimal prep time and a total time of under an hour.
Created with just a handful of staple ingredients.
Crispy, fluffy, buttery, and oh-so-delicious!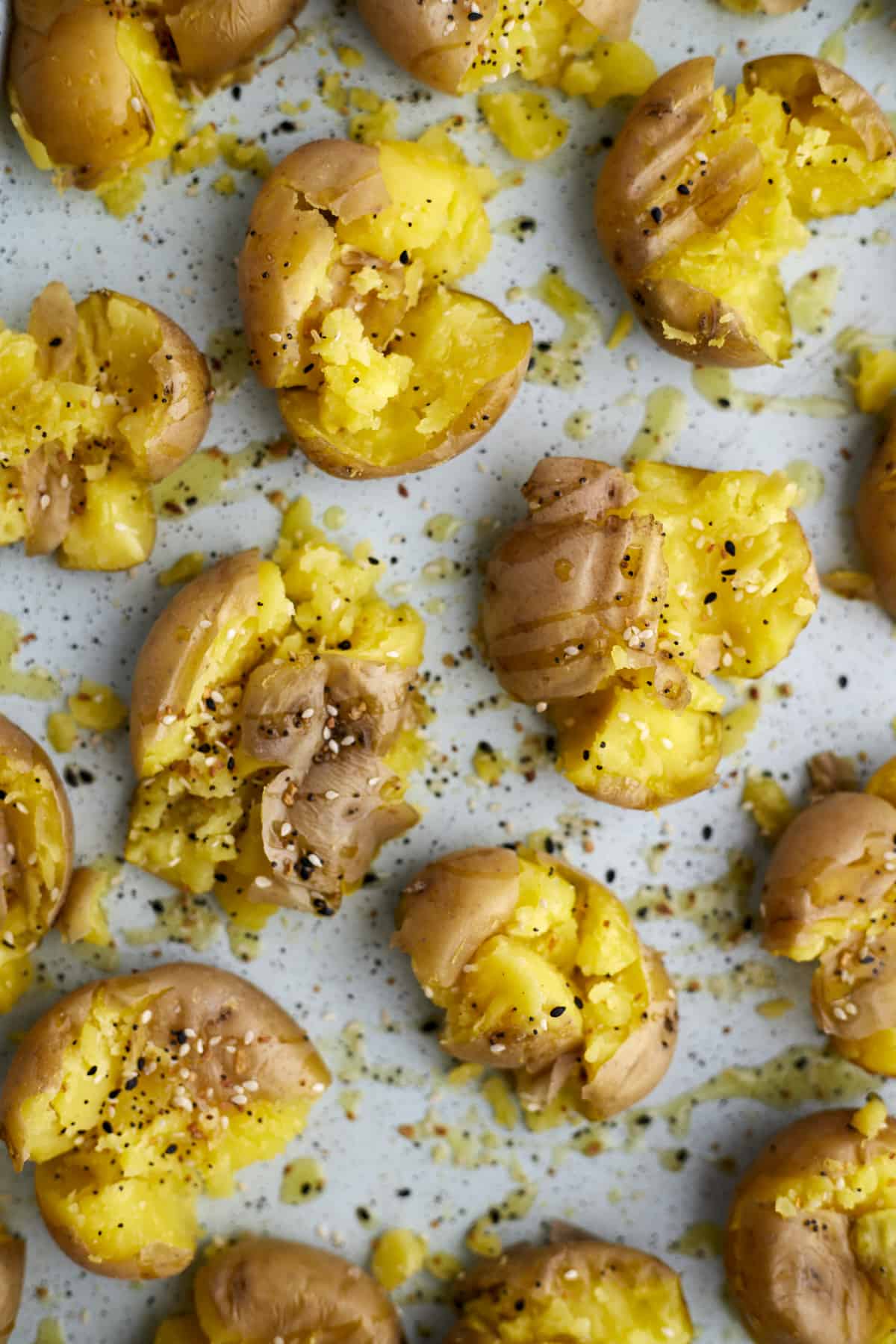 Simple Ingredients You'll Need
This smashed potatoes recipe is a great option to have on hand, because you're almost guaranteed to have the ingredients you need! If not, they're easy to find at your local grocery store.
Potatoes – We prefer to use golden potatoes for this recipe because they have an extra buttery taste and a soft texture that is easier to smash.
Seasonings – We use Everything But the Bagel Seasoning, salt, and black pepper, for a bold, onion and garlicky taste. However, feel free to experiment with whatever seasonings you like best and have on hand! Garlic powder and onion powder make for great options.
Olive Oil – Used to coat the potatoes, this is key to creating the crisp exterior we're looking to achieve. Plus, it adds a boost of healthy fats and a savory taste.
Cheese – A sprinkle of Cheddar cheese adds the finishing touch. For the best flavor and a melty consistency, use a block, and grate it yourself!
Boil, Smash, and Bake: How to Make Smashed Potatoes in the Oven
Smashed potatoes look super fancy, but they're actually pretty easy to make! Take a look at an overview of the instructions below, and scroll down to the recipe card at the bottom for the complete instructions.
Prepare. Preheat your oven, and grease a baking sheet with cooking oil spray. Wash the potatoes well.
Boil the Potatoes. Submerge the potatoes in a large pot of water. Add a pinch of salt, and bring the mixture to a boil over high heat. Reduce the heat to medium, and allow to potatoes to cook until they're fork tender. Drain the water.
Smash. Arrange the boiled potatoes in a single layer on the prepared baking sheet. Use the back of a fork to smash the potatoes down until they're flat.
Season. Drizzle olive oil on top, and sprinkle the potatoes with the seasonings.
Bake. Transfer the baking dish to the oven, and bake until the potatoes are tender and the outsides are crisp. Then, sprinkle the cheese on top, and continue to bake until it is melted and gooey.
We earn a commission if you make a purchase, at no additional cost to you.
Tips and Tricks for Success
Want to enhance the taste and texture of your potatoes even more? Take a look at a few of our favorite tips and tricks below!
Use Small Potatoes. You can make this smashed potatoes recipe with any type and size of potatoes. However, the extra small varieties will create the crispiest texture. Plus, they make for a great finger food option!
Use Equal Sized Potatoes. Try to find potatoes that are similar in size. This will ensure they bake at the same time so you don't have some that are over or under-done.
Dry the Potatoes. Set the potatoes aside after smashing, and allow them to dry a bit before baking. This will allow the edges to crisp up nicely!
Use Butter and Oil. Add a bit of melted oil to the olive oil for more flavor and the perfect amount of crispiness.
Brush the Baking Sheet with Oil. It creates a little more to clean up after but trust us, it's so worth it! Brushing a thin layer of oil on top of the baking sheet before adding the potatoes will create a richer taste and even crispier texture.
Keep the Skins On the Potatoes. Without the skins, the potatoes will not be able to be smashed while staying intact, and they definitely won't have a crunchy exterior.
Topping Ideas and Serving Suggestions
We love the sharp flavor of Cheddar cheese with this recipe, but you could also use feta or grated Parmesan if preferred. Then, try dipping, dunking, or drizzling your favorite sauce on top! Some great options include pesto, tzatziki, Ranch, toum, ketchup, or barbecue sauce.
In addition, if you want to transform your oven baked smashed potatoes from an appetizer or side into a complete meal, try pairing them with main courses like: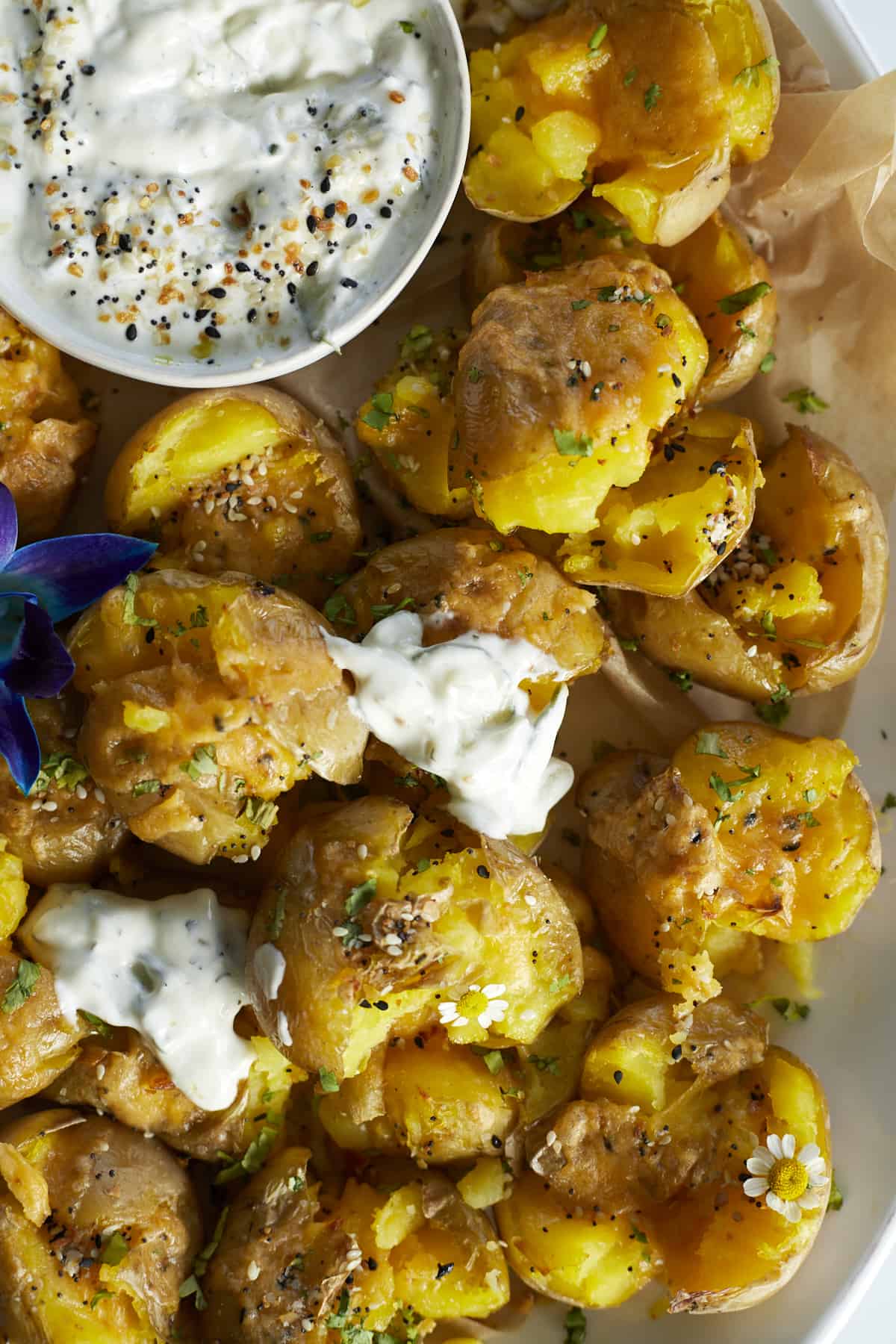 Storage Options
This recipe is best when served fresh from the oven.
However, you can also make them ahead of time and keep them in an airtight container in the fridge for up to five days. Just make sure they're completely cooled first!
Or, if you want to freeze them, boil and smash the potatoes. Then, arrange them in a single layer on a baking sheet, and place them in the freezer for three to four hours or until solid.
Next, transfer the potatoes to a sealable bag. Store them in the freezer for up to one month. When you're ready to eat, thaw them in the refrigerator overnight, and bake as instructed in the recipe card below!
Common Questions About This Crispy Smashed Potatoes Recipe
How long does it take for potatoes to soften in the oven?
In general, it takes about 45-60 minutes for potatoes to soften in the oven. However, for this recipe, we soften them by boiling them first. So, they bake much faster and become crisp in the oven.
Is it better to soak or boil potatoes before roasting?
We recommend boiling your potatoes to help speed up the cooking time and achieve crispy edges.
Why are my smashed potatoes falling apart?
If your potatoes are falling apart when smashed, it's likely because they're overcooked. Be careful to boil them just until they can easily be pierced with a fork.
How do you know when potatoes are ready to smash?
You'll know your potatoes are ready to smashed when a fork can easily be inserted and pierces the potatoes all the way through.
More Potato Recipes You'll Love
If you enjoy this oven baked crispy smashed potatoes recipe, you won't want to miss out on more of our favorite ways to make potatoes below!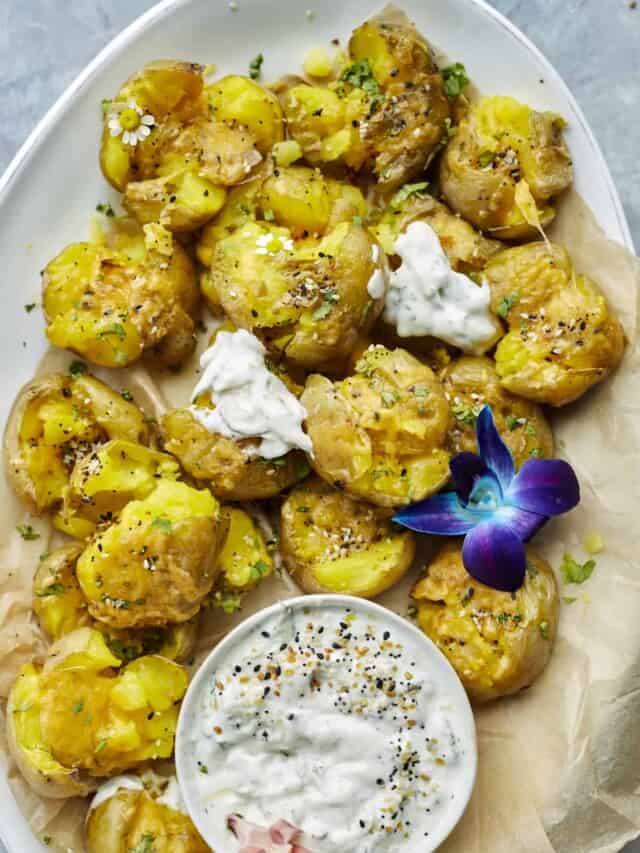 The Best Crispy Smashed Potatoes Recipe
Baked to golden perfect and topped with melty cheese, this Smashed Potatoes Recipe is the perfect family-friendly side dish, snack, or appetizer!
Ingredients
3

pounds

baby gold potatoes

2

Tablespoons

everything but the bagel seasoning to taste

¼

cup

extra virgin olive oil

8

ounces

Cheddar cheese

2

teaspoons

salt

for boiling potatoes
Instructions
Preheat oven to 400° F. Grase a baking sheet, and set aside.

Wash potatoes well.

3 pounds baby gold potatoes

In a large pot, submerge potatoes in water, and add 2 teaspoons salt. Bring to a boil, and reduce heat to medium. Boil for 20 minutes or until potatoes are fork tender. Drain.

Arrange potatoes in a single layer on a greased baking sheet. Using the back of a fork, smash potatoes until flat.

Drizzle olive oil on top, and sprinkle with seasonings.

¼ cup extra virgin olive oil,

2 Tablespoons everything but the bagel seasoning to taste

Bake for 15 minutes. Remove from oven, and add cheese on top of each potato.

Bake another 10 minutes or until cheese is melted and potatoes are crispy.

Serve warm with a side sauce of choice, if desired.

Store in an airtight container in the fridge for up to 5 days.
Nutrition
Serving:
1
serving
|
Calories:
204
kcal
|
Carbohydrates:
20
g
|
Protein:
7
g
|
Fat:
11
g
|
Saturated Fat:
4
g
|
Polyunsaturated Fat:
1
g
|
Monounsaturated Fat:
5
g
|
Cholesterol:
19
mg
|
Sodium:
649
mg
|
Potassium:
492
mg
|
Fiber:
2
g
|
Sugar:
1
g
|
Vitamin A:
192
IU
|
Vitamin C:
22
mg
|
Calcium:
148
mg
|
Iron:
1
mg
Nutrition information is automatically calculated, so should only be used as an approximation.
Like this recipe?
Please leave a comment!