These Garlic Parmesan Air Fryer Potato Wedges are tender on the inside, crisp and crunchy on the outside, and loaded with savory, cheesy flavor in every scrumptious bite. Cooked in the air fryer, they're ready in minutes and perfect for serving as an appetizer or side dish. We're even giving an oven option, too!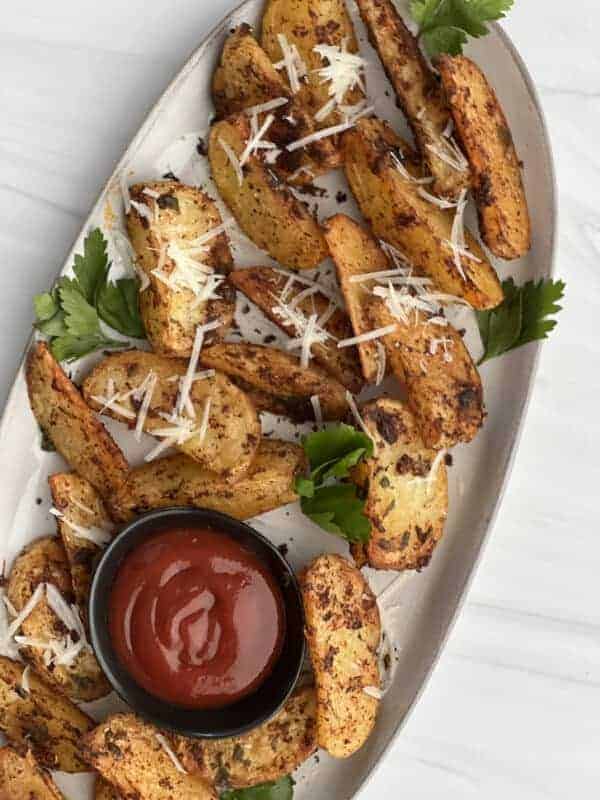 Perfect Parmesan Potato Wedges: Why You Need This Recipe In Your Life
Is there a food more perfect than potatoes? Easy to find, full of nutrients, and versatile, they're one of our staple ingredients. Whether we're making crockpot potato soup, baked cheesy mashed potatoes, or tossing them in with oven baked drumsticks, they always hit the spot.
However, one of our all-time favorite ways to enjoy potatoes is with garlic Parmesan air fryer potato wedges! These potatoes are:
Crisp on the outside yet soft and fluffy in the center.
Coated with warm, savory seasonings and plenty of cheese.
Cooked in the air fryer in about 30 minutes.
Full of vitamins, nutrients, and fiber.
Perfect for serving as an appetizer or side the whole family will love.
Are Potato Wedges the Same as French Fries?
Potato wedges are a type of French fry, but French fries aren't potato wedges. The primary differences are their shape, texture, and flavor.
Shape: Potato wedges are cut into thick, moon-like pieces whereas French fries are skinny and straight.
Texture: Potato wedges have a fluffy, almost mashed potato-like center. However, French fries are typically fairly crisp with much less filling.
Flavor: Potato wedges are nearly always coated in some kind of seasoning. However, more often than not, French fries are flavored with nothing more than salt and the oil used to cook them.
What Are the Best Potatoes for Air Fryer Potato Wedges?
We like to use Yukon gold potatoes because they have a softer texture and a more buttery flavor than other varieties. However, any type of potato you like best can be used for this recipe!
Ingredients You'll Need
The secret to creating restaurant-worthy potato wedges is all in the seasonings, and this recipe definitely doesn't skimp on flavor. Here's everything you'll need:
Potatoes – As mentioned, we use Yukon gold potatoes, but any potatoes like Russet, white potatoes, or red potatoes can be used.
Extra Virgin Olive Oil – Used to help the seasonings stick and create a crisp exterior.
Spices – A combination of smoked paprika, chili powder, Italian seasoning, black pepper, and salt creates a savory flavor with just a bit of heat.
Garlic – Whole, fresh cloves will taste best.
Cheese – Freshly grated Parmesan cheese adds a subtle, savory flavor you'll love! Feel free to use any cheese you like best.
Parsley – Use a sprinkle of fresh parsley to add bright, refreshing notes that balance out the warmth of the spices. Then, store your leftover parsley to use throughout the week!
Alternative Seasoning Options
One of the best things about potatoes is how versatile they can be, and that holds true with these Parmesan potato wedges, too!
Feel free to experiment with different herbs and spices to make the flavor your own. Some great alternatives include:
Ranch Seasoning
Buffalo Seasoning
How to Cut Potato Wedges
A crucial part of creating potato wedges is nailing their shape. Luckily, they're easy to cut!
Slice the potatoes in half lengthwise.
Place the cut side down on a cutting board, and slice it in half again (lengthwise) to form quarters.
Flip the pieces over, and slice down the center of the quarter to make wedges.
How to Make Parmesan Potato Wedges (2 Ways!)
If you know us, you know we love air fryer recipes. But if you haven't jumped on the bandwagon yet, we've got you covered with an oven baked option, too!
Air Fryer Potato Wedges
Boil. Bring a medium saucepan to a boil. Add the sliced potatoes, and reduce the heat to a gentle simmer. Boil until the potatoes are fork tender, strain the water, and dry the potatoes.
Season. Add the wedges to a medium bowl along with the olive oil, seasonings, and cheese. Toss to combine and coat the potatoes completely.
Air Fry. Arrange the potatoes in a single layer in a greased air fryer basket. Cook them in a preheated air fryer until they're golden and crisp on the outside, flipping them over halfway.
Serve. Garnish your Parmesan potato wedges with fresh parsley, and enjoy warm!
Oven Baked Potato Wedges
Prepare. Slice the potatoes, and coat them in the oil and seasonings.
Bake. Arrange the potato wedges in a single layer on a greased baking sheet, and transfer them to a preheated oven. Bake until they're golden and crisp, flipping them halfway through cooking.
Serving Suggestions
Enjoy these air fryer potato wedges as an appetizer with dipping sauces like ketchup, toum, aioli, Ranch, cheese sauce, or anything you like best!
Or, enjoy them as a side dish with main courses like:
How to Store, Freeze, and Reheat
Skip the store-bought bags of frozen potato wedges! Make a big batch of these homemade Parmesan potato wedges instead, and follow the tips below to keep them fresh!
To Store: Once fully cooled, transfer the potatoes to a sealable bag or airtight container, and keep them stored in the fridge for up to five days.
To Freeze: Transfer your wedges to a freezer-safe container, and keep them frozen for up to three months.
To Reheat: Reheat your wedges in the oven or air fryer from fresh or frozen at 400 degrees Fahrenheit until they're heated through.
Common Questions About These Garlic Parmesan Air Fryer Potato Wedges
Do you have to boil potatoes before air frying?
No! If you don't want to boil the potatoes, you can soak them in a large bowl of water for 30 minutes instead. However, it's important to do one or the other in order for them to become crisp.
Why are my air fryer potato wedges soggy?
If your potatoes are soggy, it's likely either because they were not soaked or boiled, were not cooked long enough, or were too close in the air fryer or oven. You want to allow enough room for air to circulate around all sides of each wedge!
Are potato wedges healthy?
In general, these garlic Parmesan potato wedges are a healthy side dish! Made without the need for deep frying, they're full of vitamins, minerals, fiber, and healthy fats. The cheese even adds a slight boost of protein!
How do I make air fryer potato wedges extra crispy?
Soaking the potatoes in ice-cold water is a great way to help ensure they turn out super crispy.
Do you have to peel Parmesan potato wedges?
You can, but we like to leave it on. Not only is the skin a good source of nutrients, but it also helps provide a thick, crispy crust to hold the potato wedges together.
How long do air fryer potato wedges take to cook?
The time will vary depending on your air fryer and the size of your potatoes. However, in general, we've found that this recipe cooks in about 20 minutes.
More Potato Recipes to Try
Looking for more ways to put potatoes to use? Try out the family-friendly recipes below!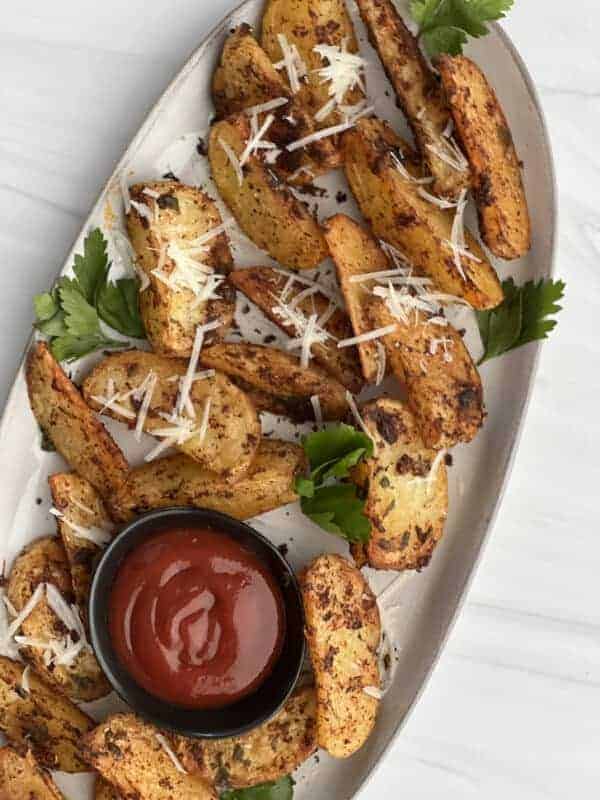 Garlic Parmesan Air Fryer Potato Wedges recipe
Learn how to make the best garlic Parmesan air fryer potato wedges with simple ingredients and 30 minutes!
Ingredients
4-6

medium Yukon gold potatoes

cut in 1-inch wedges (warm water as necessary, for soaking)

3

Tablespoons

extra virgin-olive oil

2

teaspoons

smoked paprika

3

teaspoons

chili powder

3

teaspoons

dried Italian seasoning

1/2

teaspoon

ground black pepper

2

teaspoons

kosher salt

3

cloves

garlic

peeled, minced

1/3

cup

Parmesan cheese, freshly grated

1/4

cup

fresh Italian flat leaf parsley, chopped
Instructions
In a medium saucepan bring water to a boil. Add the potatoes and, reduce the heat to a gentle simmer. Boil for 5-6 minutes. Strain and set aside to dry. (*See note below)

In a medium bowl, toss the dried potatoes wedges with olive oil, paprika, chili powder, Italian seasoning, pepper, salt, garlic, and Parmesan cheese.

Select AIR FRY on the air fryer, set the temperature to 350 degrees F, and set the time to 20 minutes. Press the setting dial to begin preheating.

While the unit is preheating, arrange the potato wedges in the air fryer basket, making sure they are not crowding each other. When the unit has finished preheating, open the door, and slide the basket into the top rails. Close the door to begin cooking.

After 10 minutes, use silicone-tipped tongs to flip the potato wedges. Close the door, and continue to cook for 10 minutes or until the potato wedges are golden and crisp.

When cooking is complete, remove the basket from the air fryer, and garnish potato wedges with Italian parsley. Enjoy warm!

Store in an airtight container in the fridge for up to 5 days or in the freezer for up to 3 months.
Equipment
Notes
* If you don't want to boil the potatoes, here are instructions for soaking:
– Place the potato wedges in a large bowl and cover with water as necessary. Let soak for 30 minutes, then strain and pat dry.
Oven Option:
Preheat the oven to 400 degrees Fahrenheit. Grease a baking sheet, and set it aside.

Slice the potatoes into wedges.

In a medium-sized bowl, add the potato wedges, oil, seasonings, and cheese. Toss to combine and coat the potatoes.

Arrange the potato wedges in a single layer on the prepared baking sheet.

Bake for 25-30 minutes or until golden and crisp, flipping halfway through.
Nutrition
Serving:
1
serving
|
Calories:
273
kcal
|
Carbohydrates:
33
g
|
Protein:
7
g
|
Fat:
13
g
|
Saturated Fat:
3
g
|
Polyunsaturated Fat:
1
g
|
Monounsaturated Fat:
8
g
|
Cholesterol:
6
mg
|
Sodium:
1335
mg
|
Potassium:
828
mg
|
Fiber:
5
g
|
Sugar:
2
g
|
Vitamin A:
1349
IU
|
Vitamin C:
39
mg
|
Calcium:
161
mg
|
Iron:
3
mg
Nutrition information is automatically calculated, so should only be used as an approximation.
Like this recipe?
Please leave a comment!