Stop wasting money buying bunches and bunches of fresh parsley! We'll show you the best tips and tricks for how to store parsley and keep it fresh.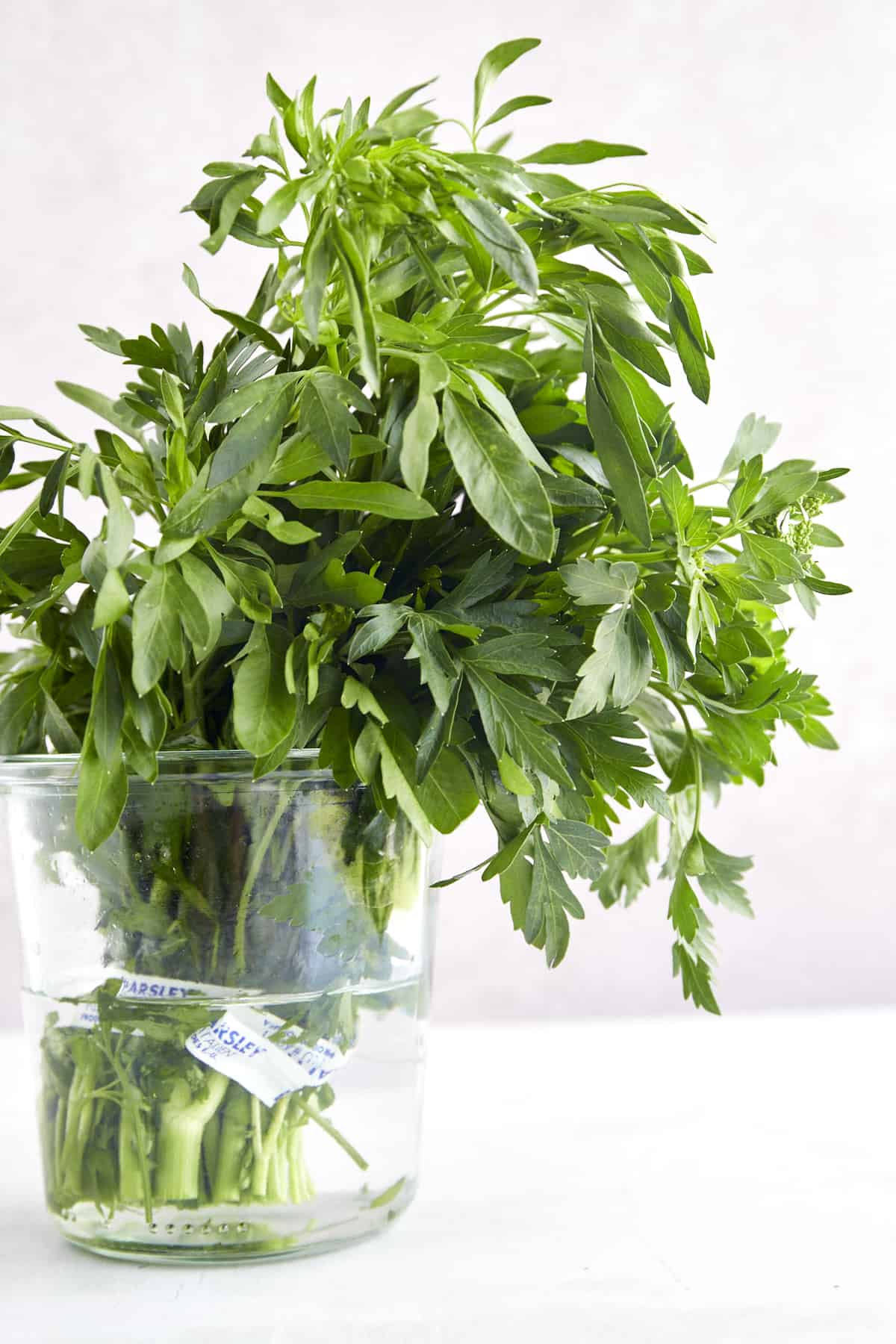 With recipes like Parmesan Potatoes, Chickpea Cucumber Feta Salad, Baked Feta Salmon, and so many more, we use fresh parsley in everything! Honestly, there's hardly a day that goes by where it's not present in our kitchen. However, as much as we love it, we often found ourselves buying bunch after bunch….after bunch.
We just couldn't get it to stay fresh! Then, we did a little research and learned how to store fresh parsley to keep it vibrant and flavorful for a whole lot longer. Turns out, it's not that difficult to do. So, to help you prevent waste, save money, and make all your meals taste great, we're sharing all our best tips and tricks with you.
What Is Parsley?
Parsley is a fresh, leafy herb that originated in the Mediterranean region. Although the exact origins of the plant are unknown, it has been grown in Greece, Italy, Spain, Portugal, Morocco, Algeria, and many other regions for centuries. Its name derives from the Latin word "petro" which means stone as it is believed to have first been grown in the rock-covered hills of Greece.
Health Benefits
Believe it or not, parsley is widely known as a disease-fighting plant! This is because it's rich in a variety of nutrients. For instance, it's a particularly great source of vitamin A, vitamin C, vitamin K, folate, and potassium!
As a result, consuming parsley as part of a healthy diet can help to support bone health, fight cancer, protect your eye health, improve your heart health, boost your immunity, and more.
What Does Parsley Taste Like?
Available in both fresh and dried varieties, parsley has a bright, herbaceous taste with slightly bitter or earthy undertones. Often used as a garnish, its green hue adds a beautiful pop of color to any dish while its veggie-like flavor works to balance out savory ingredients.
Types of Parsley
The most common types of parsley found in your local grocery store are flat-leaf and curly parsley. However, there are actually 4 different varieties!
Flat-Leaf – The most popular variety, flat-leaf parsley has a fresh, slightly bitter taste, making it popular as a garnish. You probably know flat-leaf parsley best as Italian parsley!
Curly – Slightly milder in flavor, curly parsley has ruffled leaves and a bright green appearance.
Hamburg – Native to Germany, hamburg parsley has larger leaves and thicker roots than other varieties and is used as decoration rather than for eating. However, it's also included in some soups and stews to add flavor much like bay leaves.
Japanese – The most bitter of the parsley varieties, Japanese parsley is native to Japan and China and is marked by its extra thick stems that can be eaten on their own.
How to Store Fresh Parsley
Parsley is delicate and tender, meaning it can be tricky to store. Think of it like a flower! The steps below will help you keep it fresh:
Trim. Arrange your parsley bunch on a cutting board, and use a sharp knife to cut off the bottom ½ inch or so of the stems. Then, pluck off any brown or discolored leaves.
Add the Parsley to a Jar. Fill a glass jar with about 1 inch of cold water, and add the herbs with their stems down.
Store in the Fridge. Cover the jar of parsley loosely with a plastic bag that has been clipped to the jar with a rubber band. This helps prevent the leaves from losing moisture and prevents oxygen from getting to the leaves and causing them to brown.
Maintain Fresh Water. Replace the water with fresh, cold water every 1-2 days.
Use. When you're ready to use, rinse your parsley with cold water. Place it in a salad spinner or lay it flat on a paper towel to dry. Once all the moisture is gone, mince it with a knife, and add it to your favorite meals!
We earn a commission if you make a purchase, at no additional cost to you.
How Long Does Sotred Parsley Last?
When stored properly and given fresh water every day, your parsley should stay fresh in the fridge for 1-2 weeks!
Can I Freeze Parsley?
Yes! There are two ways to freeze fresh parsley. Either way, it will stay fresh for up to an entire year!
Whole: Transfer the whole herbs to a freezer bag, and place them somewhere in your freezer where they won't get crushed.
Chopped: Mince your parsley into pieces. Then, place them in an ice cube tray, and cover them with a neutral-tasting oil like avocado oil or light olive oil. Pop out a cube or two for recipes that call for minced or chopped parsley like sauces, soups, and stews!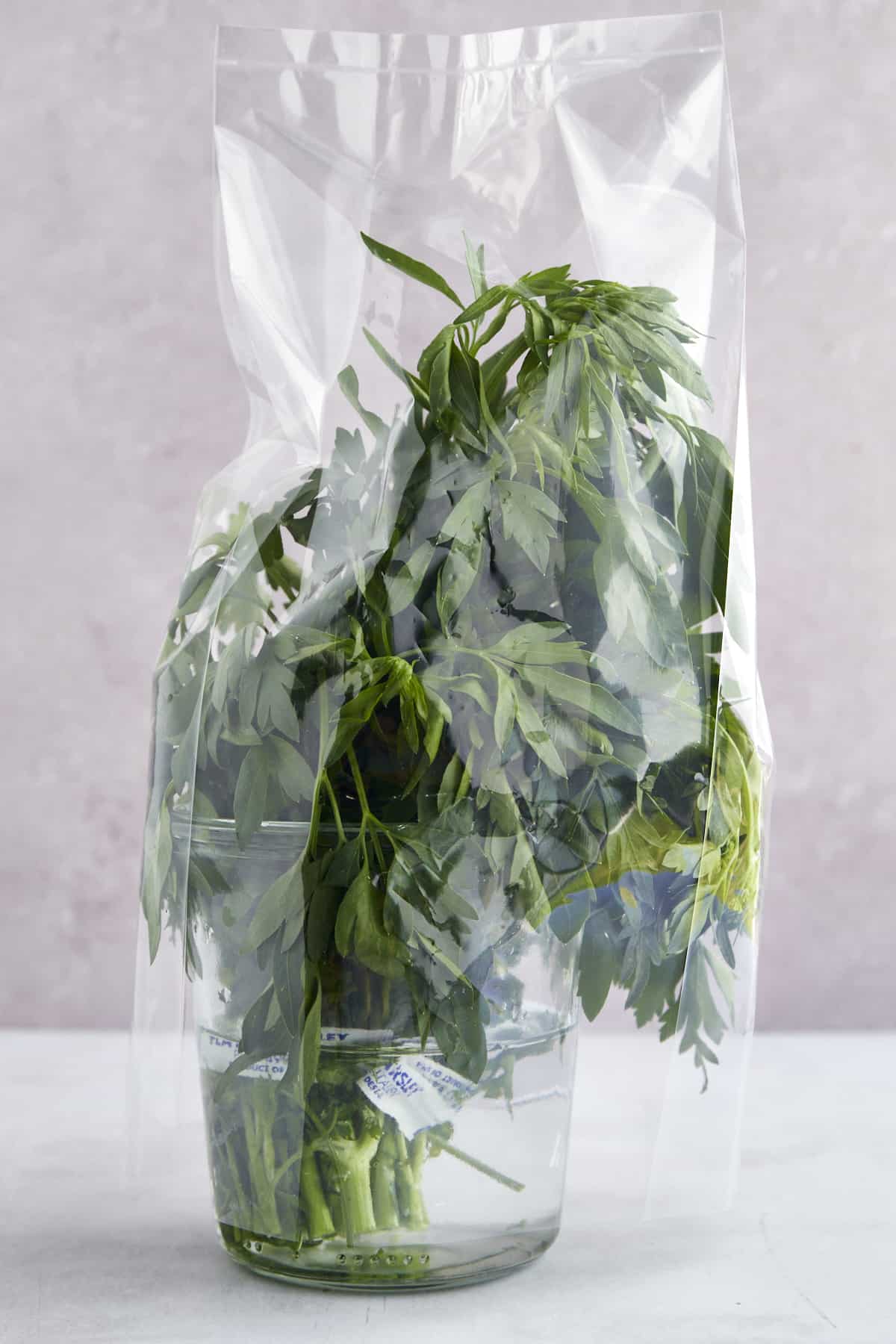 Recipes Using Parsley
Now that you know how to store parsley and keep it fresh for weeks, it's time to put it to use! Some of our favorite parsley-containing recipes include: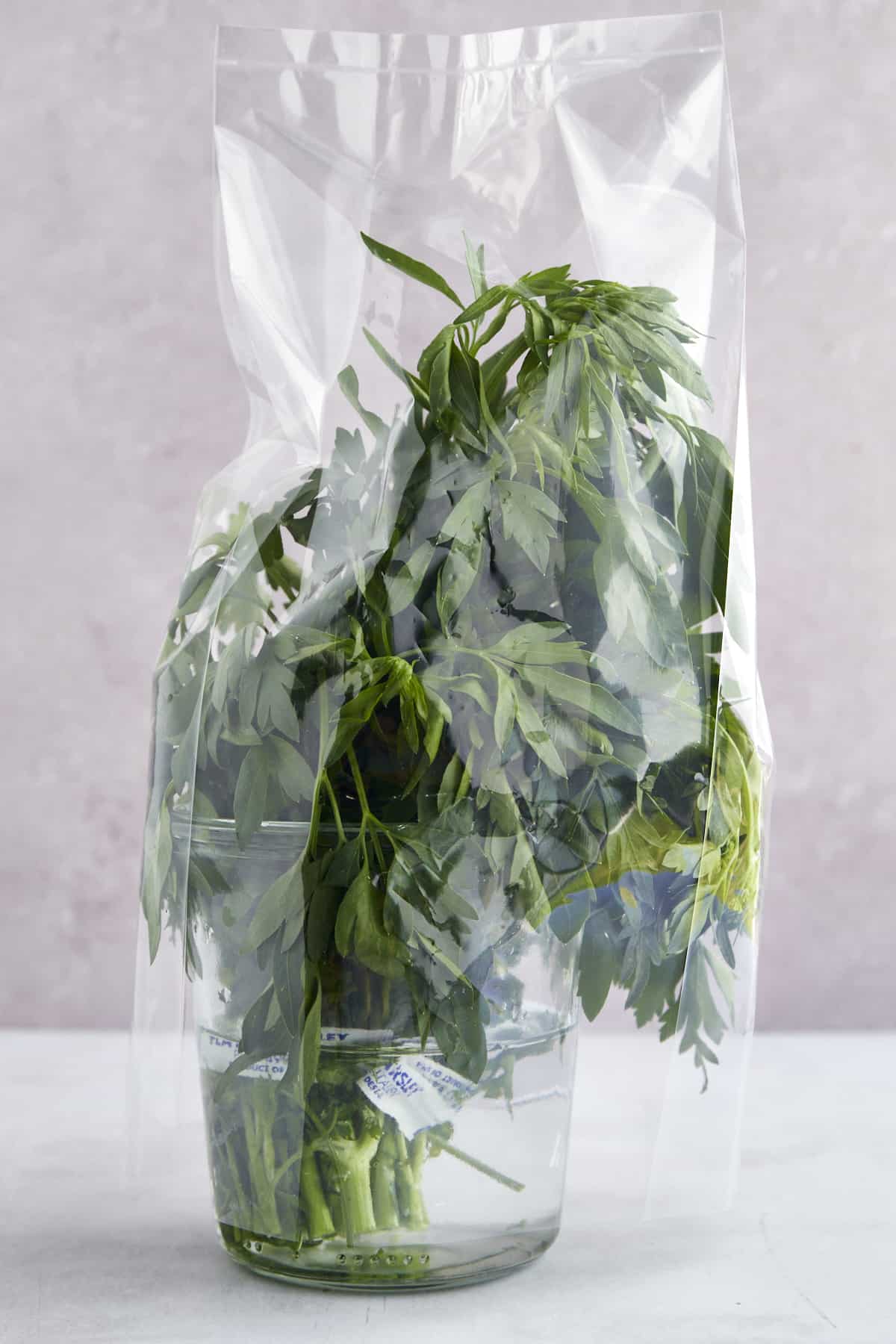 Learn how to store parsley to keep it fresh for weeks to save money, prevent waste, and have fresh herbs on hand for all your cooking needs!
Instructions
Arrange the parsley on a cutting board, and use a sharp knife to cut off the bottom 1/2 inch of the stems.

Pluck off any brown or discolored leaves.

Fill a glass jar with 1 inch of cold water, and add the parsley.

Cover loosely with a plastic bag fitted with a rubber band.

Store in the fridge 1-2 weeks, replacing the water every 1-2 days.
Nutrition information is automatically calculated, so should only be used as an approximation.
Like this recipe?
Please leave a comment!