This Oven Baked Chicken Drumsticks Recipe with Potatoes is the easiest way to get dinner on the table! All you have to do is combine the ingredients, add them to a baking dish, and pop them in the oven. In just about an hour, you'll have crisp, juicy chicken and tender veggies that are seasoned to perfection and ready to eat. Enjoy this dish on its own, or pair it with your favorite appetizers and desserts!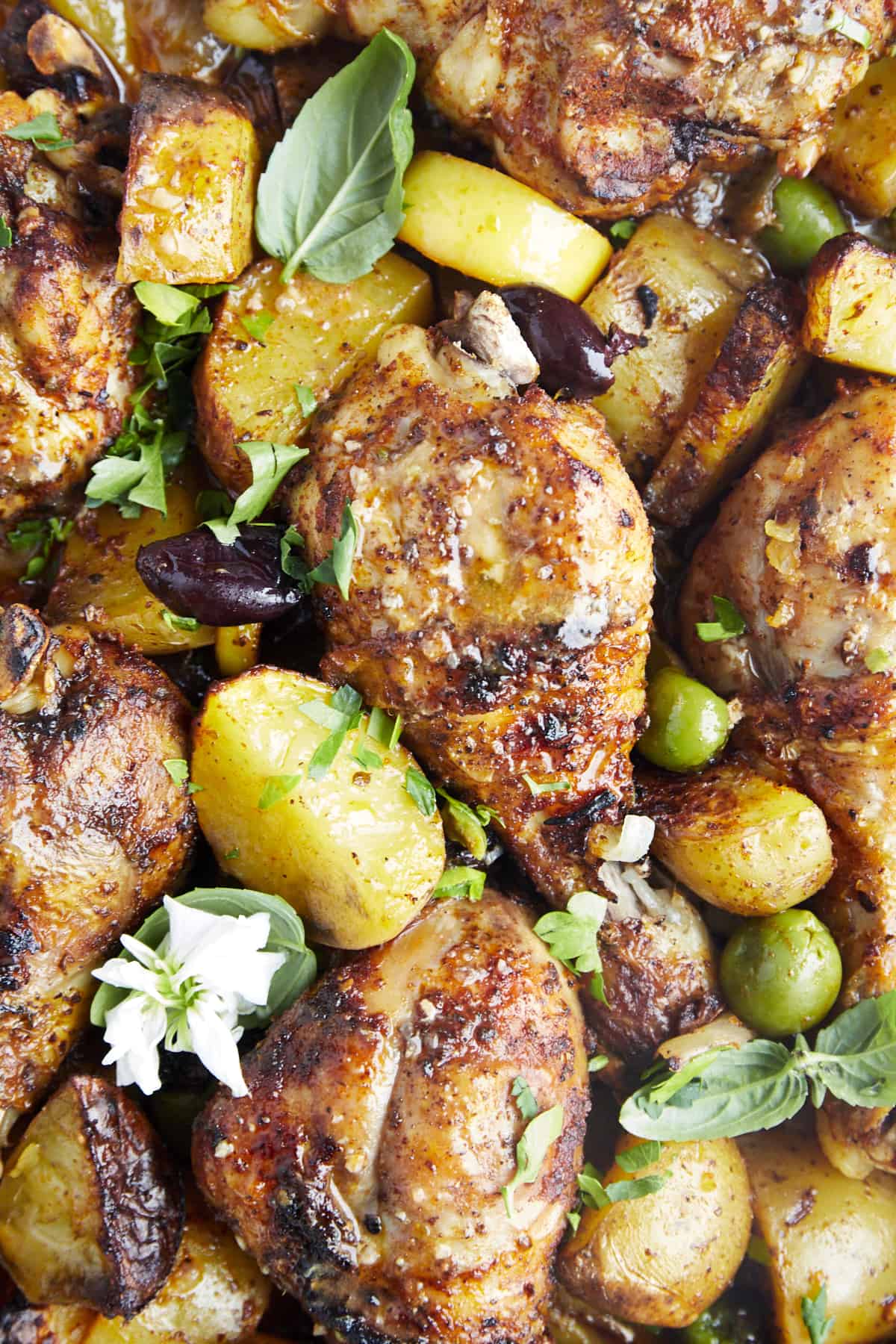 There's nothing easier than a chicken dinner! Especially when it's paired with veggies like our Black Pepper Chicken and Za'atar Chicken with Vegetables. Tossed all together and ready in no time, these meals save the day when it comes to getting a well-rounded meal on the table without spending hours fussing in the kitchen.
While we love using chicken breasts, every once in a while we want to switch things up with thighs and drumsticks. Not only do these cuts tend to be extra juicy and flavorful, but their higher content means they're a little more forgiving when it comes to seasoning and cooking. As a result, they're perfect for those nights when you're starving and just need to toss something together fast like this Oven Baked Chicken Drumsticks Recipe with potatoes!

Big on flavor and low on maintenance, it comes together in minutes for a complete meal that's so tasty you won't believe it's good for you, too. Even better, it bakes in a single dish for super easy cleanup. That means you'll be in and out of the kitchen in no time and will have plenty of time to enjoy a few Mini Chocolate Chip Cookies for dessert!
Why You'll Love This Oven Baked Chicken Drumsticks Recipe
It's high-protein and full of flavor.
Made with veggies, you won't need to spend time making any additional sides.
One batch makes enough to feed at least 6 people.
Prep time is minimal, and cleanup is a breeze.
You can easily make a big batch of baked chicken drumsticks to store for simple meal prep to enjoy throughout the week.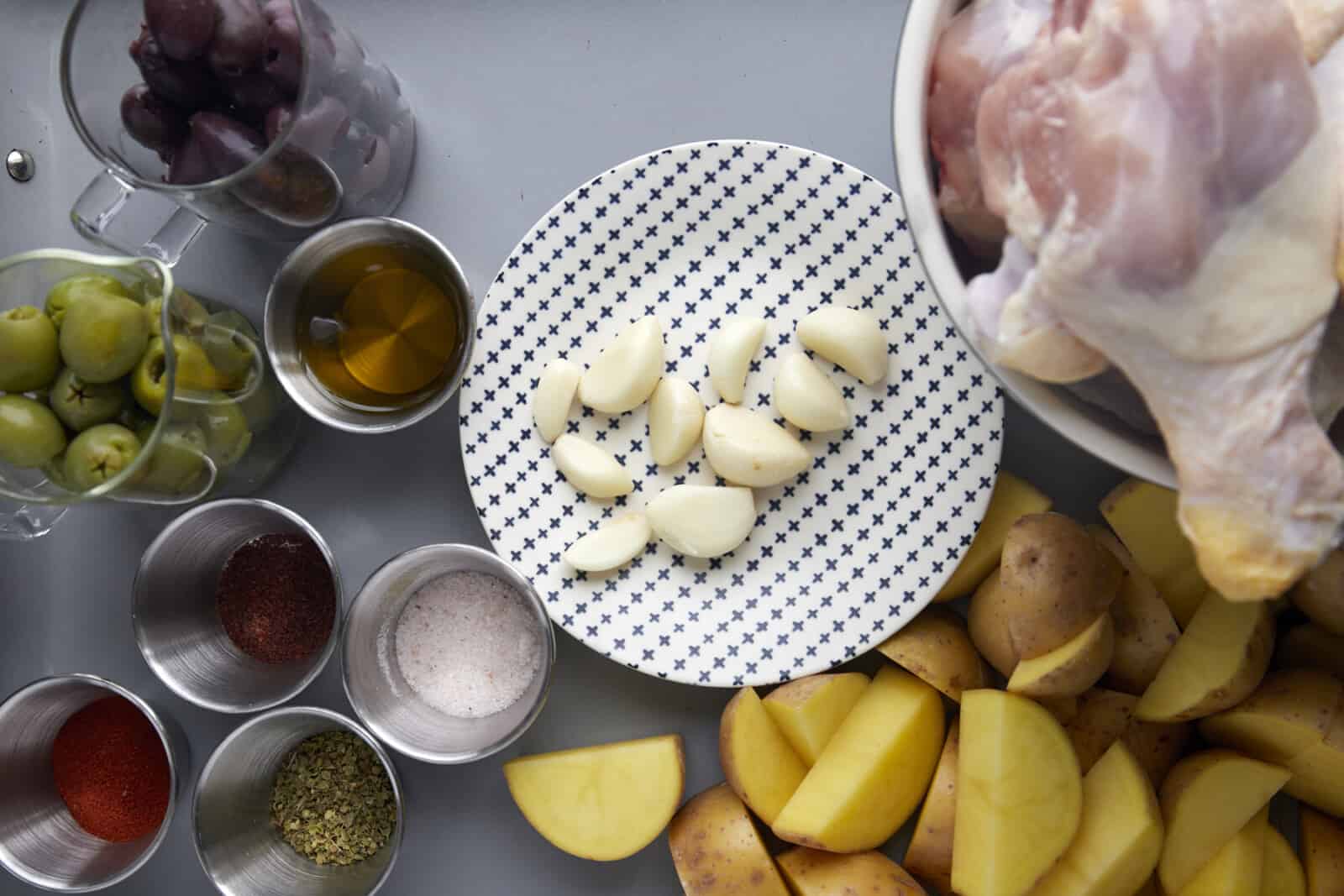 Ingredients You'll Need
This Oven Baked Chicken Drumsticks Recipe is inspired by classic chicken marbella with a bit of a twist. That means it's loaded with warm flavors and made with simple ingredients! Here's what you'll need:
Chicken – Bone-in, skin-on chicken drumsticks will have the most flavor, but boneless will work well, too. Whichever you choose, try to find pieces that are roughly the same size so they cook evenly.
Vegetables – Garlic and onion add a pungent, savory flavor. Then, we toss in buttery golden potatoes to transform this recipe into a complete meal.
Herbs and Spices – Paprika, oregano, sumac, salt, and pepper create a warm, Middle Eastern-inspired flavor.
Olive Oil – Used to coat the chicken, keeping it moist and helping the skin crisp while also adding healthy fats and allowing the seasonings to cling to the rest of the ingredients.
Olives – Their briny flavor adds an extra element of savory flavor along with healthy fats and fiber to keep you full.
Lemon – Layered on top, the acidity of lemon helps cut through the heaviness of the fats, creating a light, vibrant flavor for a complex taste and a well-rounded dish.
Garnish – We love to sprinkle lots of fresh parsley on top for a pop of color and a refreshing, herbaceous taste!
Are Chicken Drumsticks the Same as Chicken Legs?
Yes and no. Technically, a chicken drumstick is part of the chicken leg. However, it is not the whole chicken leg as that is split into the drumstick which is the calf part of the leg and the thigh which is the top portion of the leg above the knee.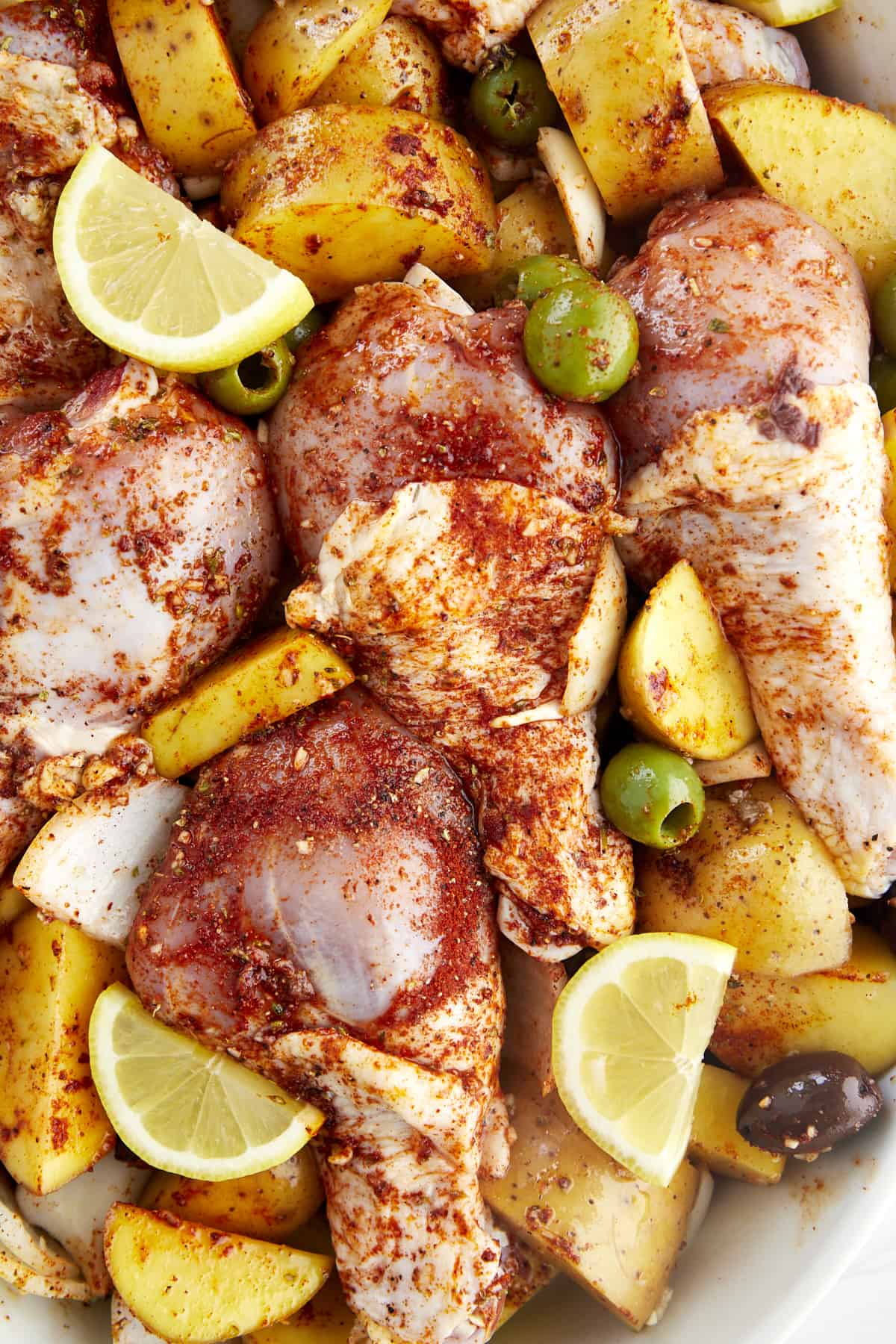 How to Make Easy Baked Chicken Drumsticks and Potatoes
Quick and easy is the name of the game around here, and this oven baked chicken drumsticks recipe does not disappoint!
Coat the Veggies. Mix the seasonings together in a small bowl. Then, add all the veggies, a drizzle of olive oil, and the olives to a baking dish. Sprinkle about ⅓ of the seasoning on top, and stir it all together.
Add the Chicken. Place the chicken on top of the veggies, add the remaining olive oil and seasonings, and mix everything really well, making sure it's all completely coated.
Arrange. Smooth the ingredients out in a single layer, making sure to nestle the chicken in between the veggies. You don't want much, if any, overlap if you can avoid it! Place lemon slices on top.
Bake. Cover the baking dish with aluminum foil, and place it in the oven until the chicken is done. Remove the foil, and place it under the broiler for 5 minutes or just until the skin crisps. Be careful not to let it burn!
Rest. Set the dish aside to rest for about 5 minutes. Then, add lots of fresh parsley, and dig in while it's warm!
Pro-Tips
Pat the Drumsticks Dry. Use a clean paper towel to remove any excess moisture from your chicken before you combine it with the rest of the ingredients. This will help you achieve extra crispy skin!
Use a High Temperature. We found that baking the drumsticks at 400° Fahrenheit is the best way to cook the chicken completely without drying it out. It's also the easiest way to achieve that crisp exterior we love.
Flip Halfway Through Cooking. While technically not necessary, flipping the chicken halfway through cooking can help it cook more evenly and ensures that both sides become crisp.
Check the Internal Temperature. Chicken drumsticks are considered fully cooked when they reach an internal temperature of 165° Fahrenheit. However, for the juiciest texture and most flavor, we highly recommend leaving them in the oven until they reach 170° Fahrenheit. Trust us, you can taste the difference!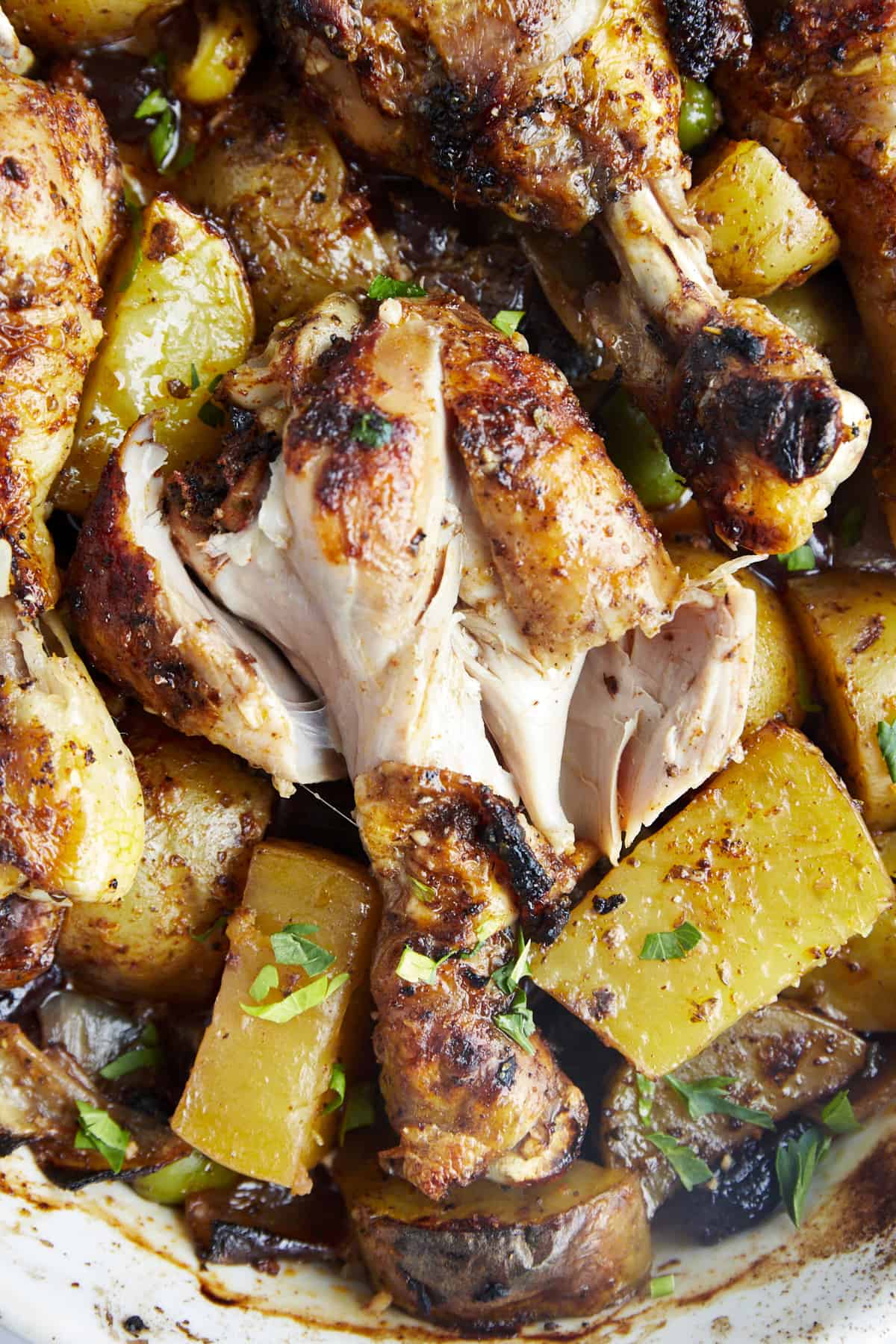 Serving Suggestions
One thing we love about this Oven Baked Chicken Drumsticks Recipe is that it can easily be served as a complete meal on its own. After all, with protein, fiber, nutrients, and plenty of healthy fats, it's got everything you need!
However, if you want to spruce it up even more, it pairs well with all your favorite sides and appetizers. For instance, some of our favorite pairings include:
And you can't forget dessert! Finish your meal with Easy Strawberry Cheesecake Bars or a slice of Basbousa.
How to Store and Reheat
Refrigerator: Store your baked chicken drumsticks and potatoes in an airtight container in the fridge for up to 5 days.

Freezer: Leftovers can be frozen for up to 3-4 months.

To Reheat: First, let your chicken and potatoes thaw in the fridge overnight. Then, for the best results, warm them in the oven at 350° Fahrenheit. To achieve crispy skin, place your leftovers under the broiler for a minute or two. Just be super careful not to let them burn! If you're in a pinch for time, you can also reheat this recipe in the microwave. The chicken just won't turn out crisp.
We earn a commission if you make a purchase, at no additional cost to you.
Common Questions About Baked Chicken Drumsticks
How long does it take to cook chicken drumsticks in the oven?
The baking time will vary slightly depending on the size and thickness of your drumsticks. However, on average, we find that 55-60 minutes works best.
Do you need to cover oven baked chicken drumsticks while they bake?
Yes, we recommend covering your baking dish with aluminum foil to lock in moisture and prevent the chicken from drying out.
How do you keep chicken drumsticks from drying out?
There are several factors that contribute to juicy chicken. First, pat it dry with clean paper towels before you begin. Second, preheat the oven to a high temperature (We like 400° Fahrenheit) so the chicken cooks quickly. Third, cover your baking dish with foil to lock in moisture. Finally, set the chicken aside to rest once it has been baked. This allows the juices to redistribute, keeping your baked chicken drumsticks moist.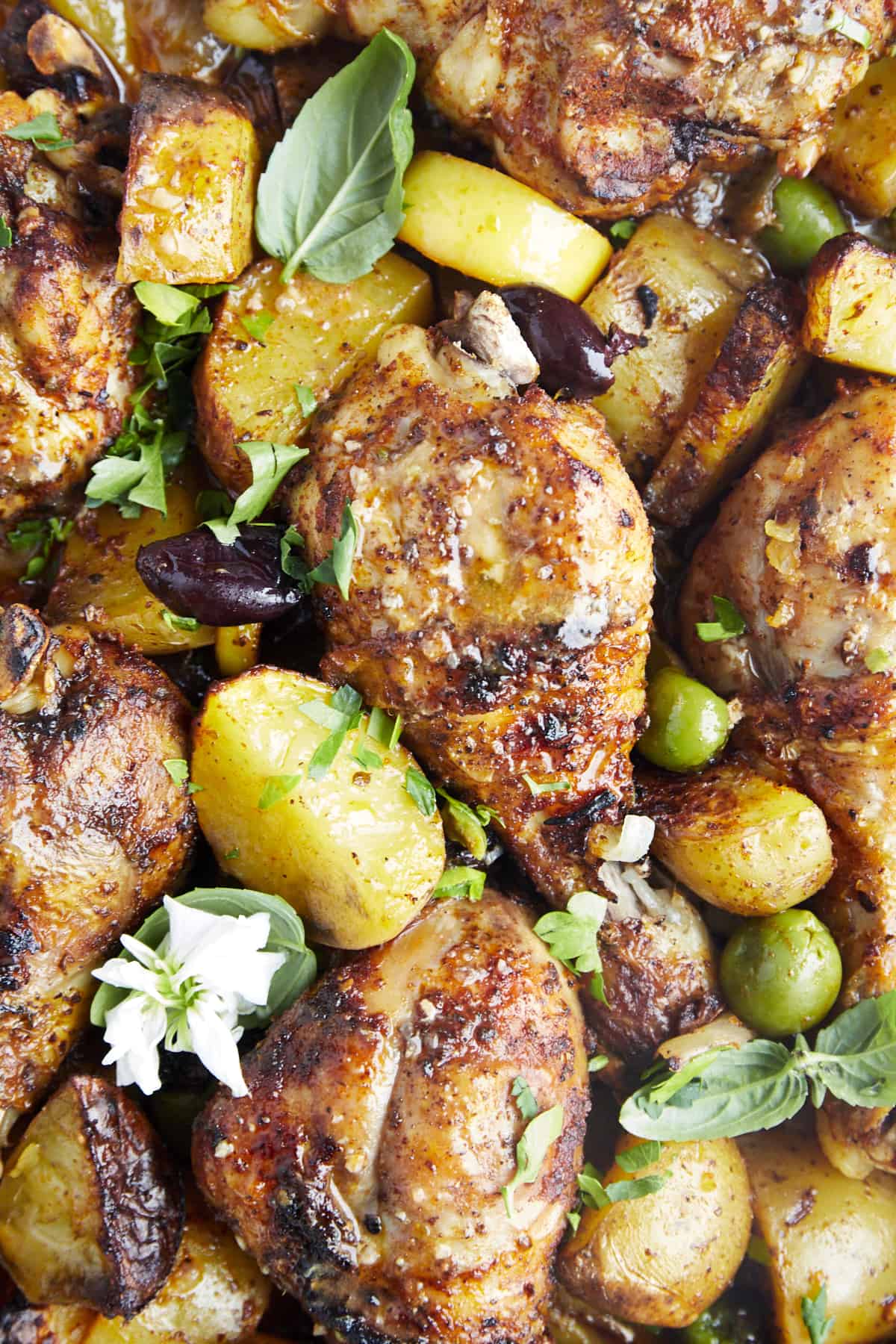 Oven Baked Chicken Drumsticks with Potatoes Recipe
This Oven Baked Chicken Drumsticks Recipe with Potatoes is the easiest way to get dinner on the table!
Ingredients
2

teaspoons

paprika

2

teaspoons

dried oregano

2

teaspoons

sumac

1

teaspoon

salt

½

teaspoon

black pepper

6

cloves

garlic

roughly chopped

1

yellow onion

chopped in big chunks

1

cup

Kalamata olives

1

cup

green olives

6

gold potatoes

quartered

¼

cup

olive oil

divided

6-8

chicken drumsticks

patted dry

1

large lemon

sliced into rounds and then halves

Optional: fresh parsley to garnish
Instructions
Preheat the oven to 400° F.

Whisk the paprika, oregano, sumac, salt, and pepper together in a small bowl.

In a large baking dish, add the garlic, onion, olives, and potatoes. Drizzle 2 tablespoons of olive oil on top followed by ⅓ of the seasoning mixture. Mix until the veggies are well-coated.

Add the chicken drumsticks on top along with the remaining oil and seasonings. Mix until the chicken is completely coated.

Arrange the ingredients in a single layer, nestling the chicken in between the veggies. Arrange lemon slices evenly over the ingredients.

Cover the baking dish with aluminum foil, and bake for 55-60 minutes or until the internal temperature of the chicken reaches 170° F.

Remove the foil, and place the baking dish under the broiler for 5 minutes or just until the skin crisps up. Be careful not to let it burn!

Rest for 5 minutes, garnish with fresh parsley, and enjoy!
Nutrition
Serving:
1
serving
|
Calories:
411
kcal
|
Carbohydrates:
35
g
|
Protein:
18
g
|
Fat:
23
g
|
Saturated Fat:
4
g
|
Polyunsaturated Fat:
3
g
|
Monounsaturated Fat:
14
g
|
Trans Fat:
0.03
g
|
Cholesterol:
70
mg
|
Sodium:
1180
mg
|
Potassium:
956
mg
|
Fiber:
6
g
|
Sugar:
2
g
|
Vitamin A:
279
IU
|
Vitamin C:
38
mg
|
Calcium:
73
mg
|
Iron:
2
mg
Nutrition information is automatically calculated, so should only be used as an approximation.
Like this recipe?
Please leave a comment!
More Baked Chicken Recipes
Looking for more quick, family-friendly chicken recipes? Try out some of our favorites below!