Peri Peri Chicken Drumsticks
*This post may contain affiliate links, please see our privacy policy for details.*
Boy do we have a treat for you today!! This Peri Peri chicken is next level savory. The flavors are out of this world, and we cannot wait for you to try this East African dish!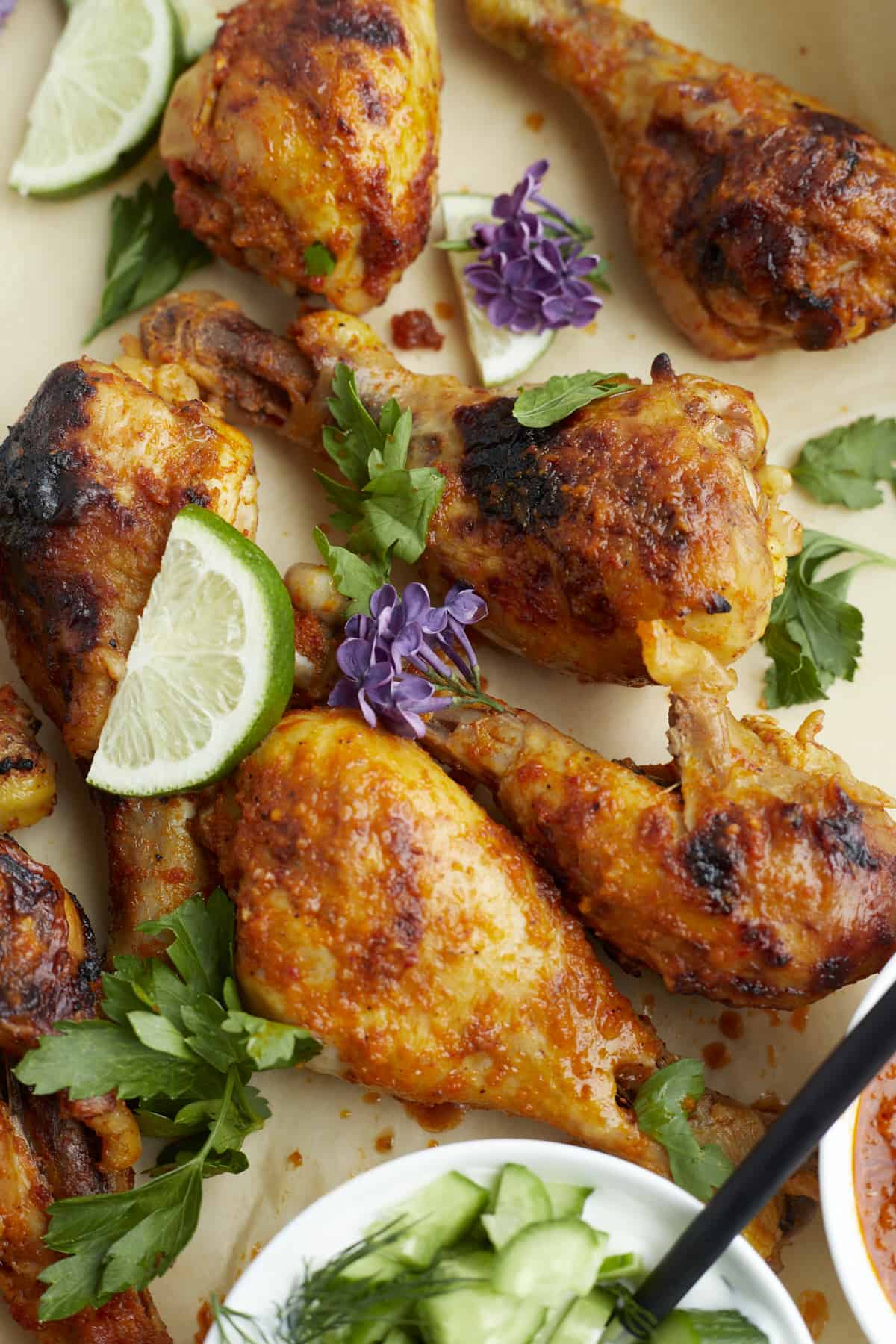 What is peri peri chicken
Peri peri chicken is a delicious chicken dish named for its fiery sauce. Peri peri is a rich and spicy chili sauce that is used to marinate chicken. Traditionally, the peri peri sauce is made with African bird's eye chili, a spicy pepper native to the Eastern African coastline.
The first peri peri recipe came about in Mozambique, a country bordering the Indian Ocean. As the dish became more popular, it spread to various regions of Africa.
Some regions use the African bird's eye chili that grows in Mozambique, but other use local peppers of a similar spice level. We personally use jalapeño and fresno peppers! We find that the combo of jalapeño and fresno peppers offers the perfect amount of heat without being overly spicy.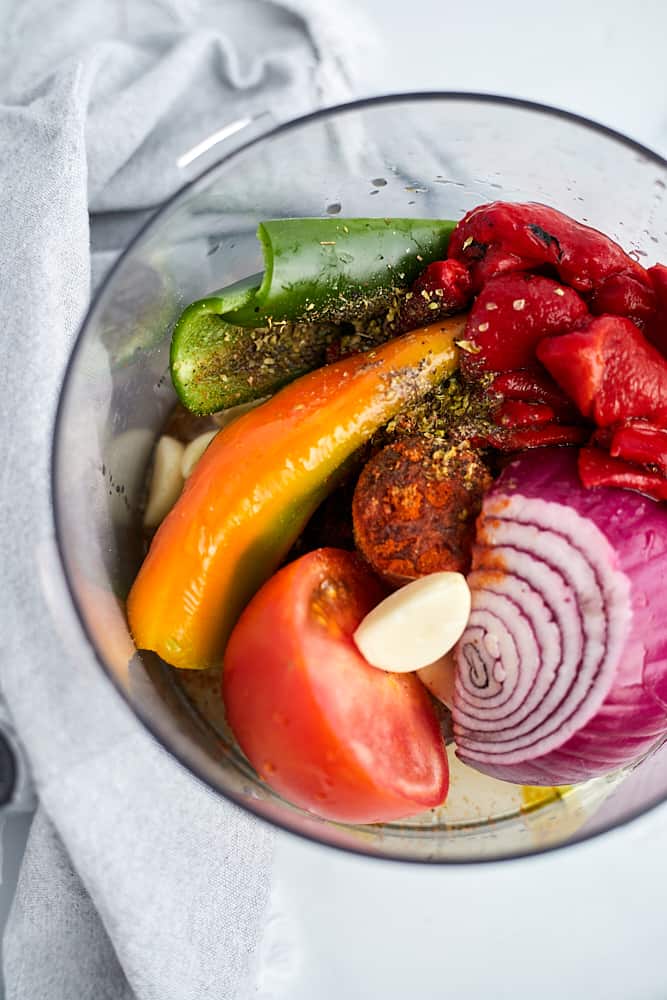 How did peri peri chicken get its name?
The name for this flavorful chicken recipe has a pretty simple origin story! The African bird's-eye chili historically used for the chicken marinade is called piri-piri in Portuguese, the native language of Mozambique.
How to make Peri Peri chicken
Preheat your oven to 400 degrees.
Make the peri peri sauce:

Add the roasted red bell pepper, garlic cloves, tomato, fresno pepper, red onion, and jalapeño pepper to a food processor.
Squeeze lemon juice in the food processor, then pour in apple cider vinegar, olive oil and honey.
Next, add in the oregano, paprika, pepper and cumin.
Pulse until you have a saucy marinate

Sprinkle salt and pepper on the chicken drumsticks
Pour the marinade over the drumsticks.
Bake the marinated chicken drumsticks in the oven at 400 degrees for 45 minutes. Broil for an additional 5 minutes to get the skin nice and crispy!
Serve hot!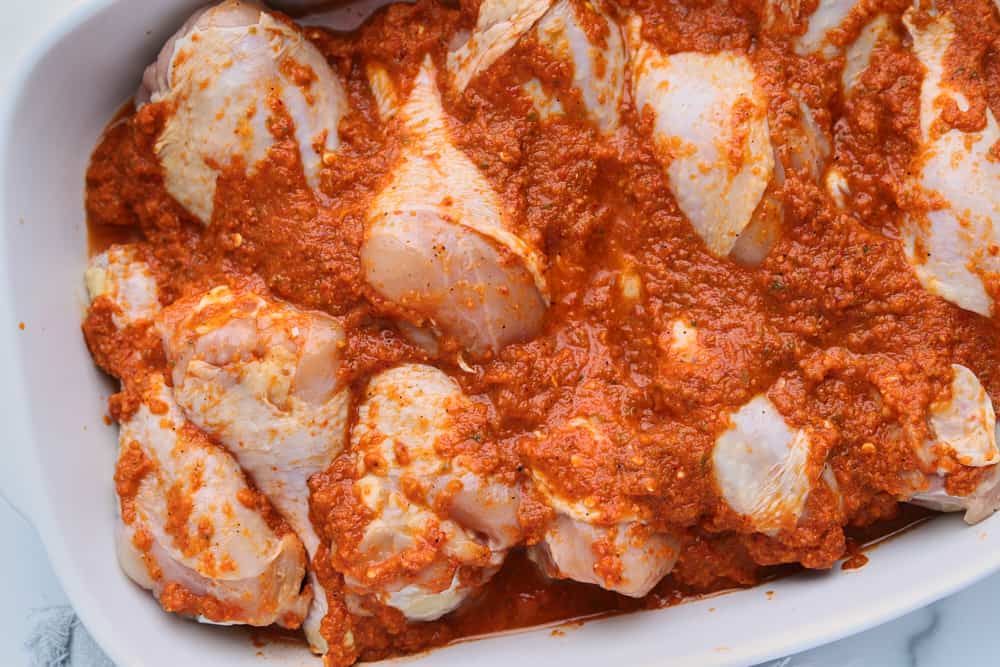 How to store Peri Peri chicken
Peri peri chicken is so delicious it is doubtful that you will have any leftover. But if you do, it is super easy to store! Just pack the extra chicken in an airtight container. It will last in the fridge for 3-5 days.
If you have kids who like a little spice, we have a trick for you! We pull any leftover chicken off of the bone and store it in shreds / strips. This makes preparing lunch boxes so easy!!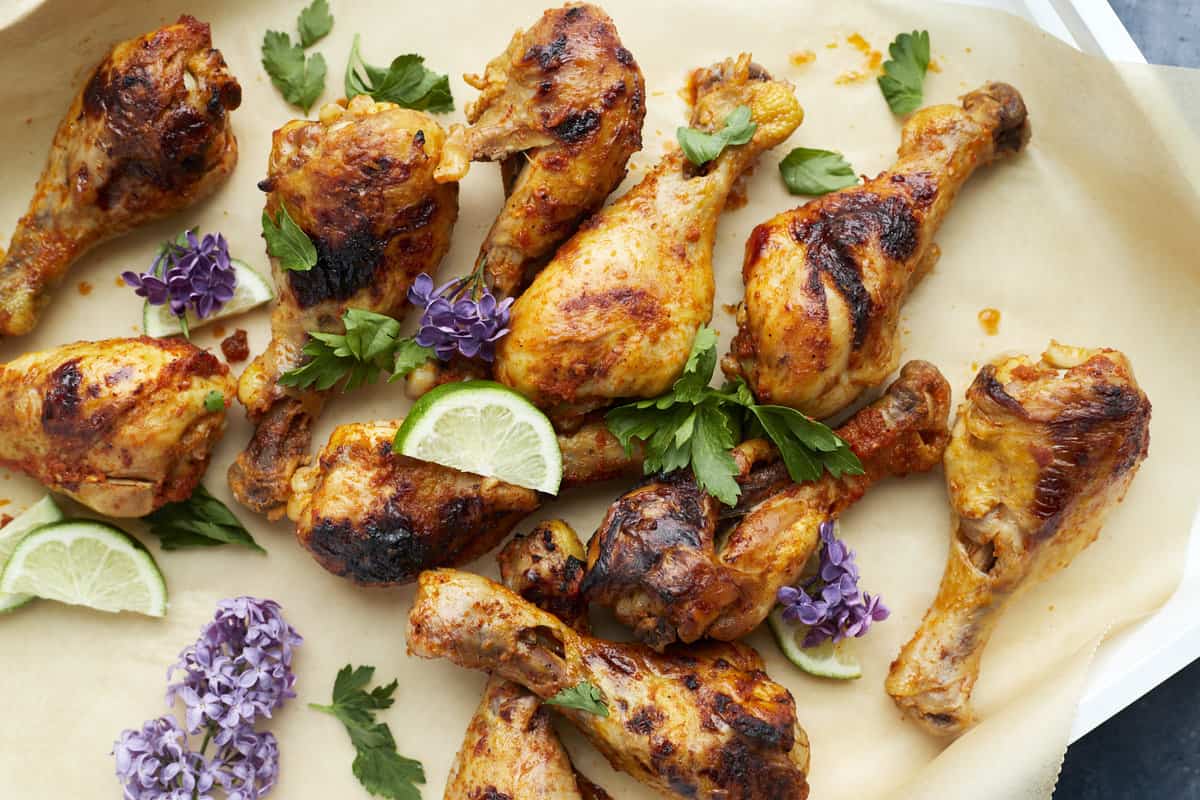 Other fantastic chicken recipes to make this week
We love a solid chicken dinner in our home! It is so easy to cook, and our kids love it. Here are some other chicken recipes that we make regularly:
Peri Peri Chicken Drumsticks
Easy Peri Peri Chicken with a fiery kick and bold flavors!
Ingredients
4-5

lbs

chicken drumsticks (about 12 drumsticks)

8

oz

jarred roasted red peppers

1/2

medium

tomato

8

cloves

peeled garlic

1

large

fresno peppers

1

squeeze lemon juice

2

tbsp

apple cider vinegar

1

tbsp

dried oregano

1

tbsp

paprika

2

tsp

kosher salt, plus more for chicken

(to taste)

1

tsp

ground black pepper

(to taste)

4

tbsp

extra virgin olive oil

1/2

red onions

1

jalapeno, seeded

1

tsp

cumin

1

tsp

honey
Instructions
Preheat your oven to 400 degrees.

Make the peri peri sauce: Add the roasted red bell pepper, tomato, garlic cloves, fresno pepper, red onion, and jalapeño pepper to a food processor. Squeeze lemon juice then pour in apple cider vinegar, olive oil and honey. Next, add in the oregano, paprika, pepper and cumin. Pulse until you have a saucy marinate.

in a 13×9 baking dish arrange your drumsticks. Sprinkle salt and pepper

Pour the marinade over the drumsticks. Give it a mix to make sure everything is coated in the marinade. Cover and refrigerate overnight or for at least 30 minutes. (The longer it marinates, the better!)

Bake the marinated chicken drumsticks in the oven for 45 minutes. Broil for an additional 5 minutes to get the skin nice and crispy! (keep an eye on it so it does not burn!)
Nutrition
Serving:
8
g
|
Calories:
408
kcal
|
Carbohydrates:
10
g
|
Protein:
28
g
|
Fat:
29
g
|
Saturated Fat:
6
g
|
Polyunsaturated Fat:
5
g
|
Monounsaturated Fat:
16
g
|
Trans Fat:
0.1
g
|
Cholesterol:
140
mg
|
Sodium:
2101
mg
|
Potassium:
534
mg
|
Fiber:
2
g
|
Sugar:
3
g
|
Vitamin A:
545
IU
|
Vitamin C:
44
mg
|
Calcium:
82
mg
|
Iron:
3
mg