Sheet Pan Salmon with Vegetables (Ready in less than 30 minutes!)
*This post may contain affiliate links, please see our privacy policy for details.*
Easy and delicious oven baked salmon with roasted carrots and asparagus. This quick dinner is ready in less than 25 minutes from start to finish.
If you love our Baked Feta Salmon, then you will love this easy sheet pan recipe. If you love seafood, you will love this recipe. You can use any good wild caught salmon. We went to our local seafood shop in Minneapolis, and discovered a sushi grade salmon called Ora King. It is life changing! Since it is sushi grade, it is delicious in sushi, however, when you bake this, it is soo buttery and delicious!
Why sheet pan dinners are game-changer
Sheet pan meals like this sheet pan chicken thighs and veggies recipe are one of the best things ever created. First of all, life is so much easier when you are able to pop everything onto one pan and bake in the oven. Second, let's not forget the clean up aspect (because who wants to clean a million dishes). Lastly, it's an awesome way to throw together a healthy meal and have it ready in less than 30 minutes. Are you sold yet?
How to make sheet pan baked salmon and veggies
The best part of making this sheet pan salmon is being able to customize the veggies and seasonings! We found the cutest little baby carrots from our local Trader Joe's and knew we had to use them. We also throw in some asparagus.
Preheat oven while you prepare the seasonings.
Add parchment paper on the sheet pan – so much easier for clean up!
Arrange the salmon and veggies on the tray.
Drizzle salmon with olive oil and sprinkle half the seasoning on the salmon. Gently rub the seasoning around on the salmon to insure that the seasoning is covering the whole piece.
Add the remaining seasonings on the veggies, and drizzle with olive oil. With your hands, toss together so the olive oil and seasonings have coated the veggies. Arrange the veggies in a single layer.
Bake for 20-25 minutes or until salmon is cooked.
How long does salmon bake
Depending on the side of your salmon this can really vary. We use a large 3 pound piece and it cooked in just under 25 minutes. However, a lot of factors determine the time. First, the size of the salmon as well as the type of salmon you use. Second, we notice that wild caught salmon, cooks faster than Norwegian. Lastly, if you like your salmon with a little pink inside, you can bake it closer to the 20 minute time.
Health benefits of salmon
Salmon is one of the most nutrient dense fish. It's great for the heart, and brain, as well as the nutrients that help counteract diseases related to inflammation, such as heart disease, arthritis, and some types of cancer.
Heart health benefits: Salmon is a great source for DHA and EPA, which is a high quality polyunsaturated fats, this is known as Omega 3 fatty acids. Why is this important? It help's reduce high blood pressure, improve artery function, and reduce inflammation related to connected to heart disease.
Brain benefits of salmon: The oils and fats in salmon is linked to reduce symptoms of anxiety, depression, and memory loss.
Fights inflammation: Inflammation is connected to so many diseases and poor gut health, which includes diabetes, cancer, crohns disease, and many others.
Notes
Seasonings – If you do not like a lot of seasoning here is our suggestion: Mix all of your seasoning together. If you like a lot of seasoning on your food, we suggest using all of the spice mix. If you do not like a lot of seasoning, we suggest using half of the mix and reserve the remaining seasoning to use for a later time.
Sheet Pan Salmon with Vegetables
Large piece of salmon that is seasoned and baked with colorful carrots and asparagus. Easy and healthy weeknight meal.
Ingredients
3

lbs

wild caught salmon

(bones removed (or salmon of choice))

16

oz

colorful petite whole carrots

16

oz

rinsed and dried asparagus

3

tbsp

chili powder

2

tsp

smoked paprika

2

tsp

garlic powder

2

tsp

sea salt

(more or less to taste)

3/4

tsp

ground black pepper

(more or less to taste)

extra virgin olive oil

lemons for garnish
Instructions
Preheat oven to 350 degrees F.

In a large sheet pan add parchment paper. Add the salmon.

In a small mixing bowl add all the spices. Sprinkle half the seasonings over the salmon. Rub the salmon until the salmon is coated in the spice mixture. Drizzle olive oil.

Sprinkle the remaining seasoning over the vegetables.

Drizzle olive oil on the vegetables and gently toss and place in a single layer.

Bake for 20-22 minutes or until salmon and veggies are cooked.
Tips and Variations
If you want to substitute the vegetables, feel free to do so. However, if you are substitute with potatoes be sure to slice thin so make sure that the potatoes cook the same time as the salmon.
For really tender vegetables, you have the option is to bake the vegetables for 10 minutes before adding the salmon onto the sheet tray.
Seasonings: Have fun with it! Feel free to use your favorite spice/seasoning blend or marinade.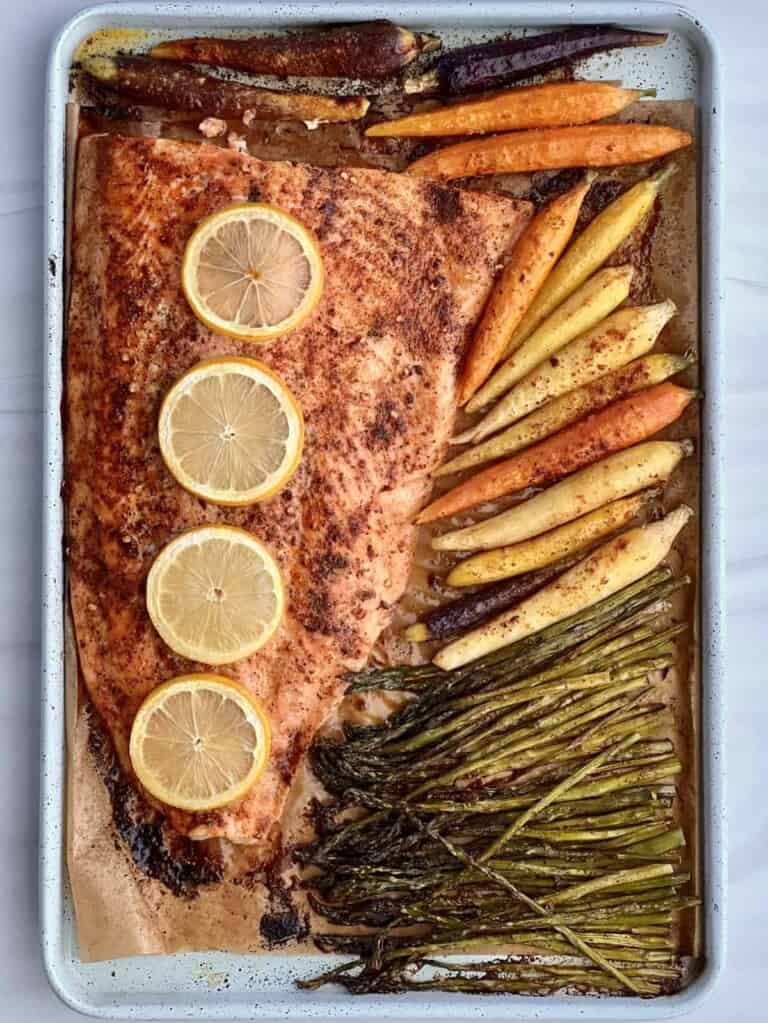 Let us know if you try this recipe by giving us a review, or tagging us on social!