This Easy Chicken Kofta is a super simple twist on a classic Middle Eastern recipe. Made with less than ten ingredients, it's ready in under an hour and can ber served a variety of ways so you never get bored!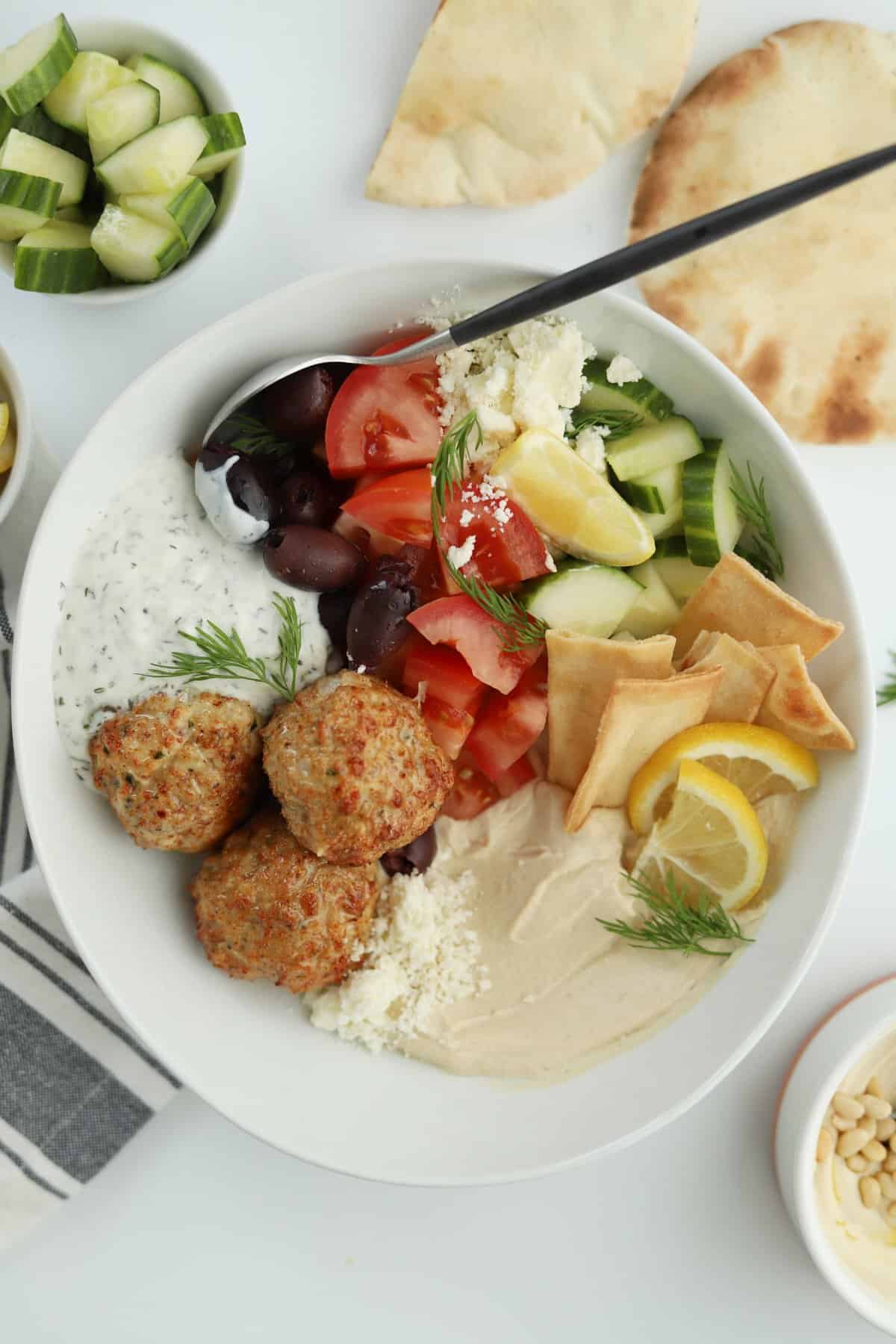 What Is Chicken Kofta?
Kofta is a delicious dish commonly found in Middle Eastern, South Asian, and Mediterranean cuisines. It consists of seasoned ground meat (such as beef, lamb, or chicken) or even vegetables combined with a variety of herbs and spices and is often shaped into meatballs.
Kofta can be grilled, fried, or baked, and is commonly cooked in a savory sauce, making it a popular and satisfying recipe. Over time, many different variations of kofta have evolved like beef kofta and these chicken kofta meatballs.
However, no matter the protein source or specific ingredients, this dish is almost always comprised of ground meat, spices, herbs, breadcrumbs, garlic, and onions. Keep reading to learn everything you need to know to make easy chicken kofta meatballs at home!
What does kofta mean?
The word "kofta" is believed to have originated in Iran. The Persian word, kufte, directly translates to mean "pounded meat" or "finely chopped meat."
No matter where you find it in the world, each culture's take on kofta involves some sort of ground meat. That is why this word is the perfect descriptor for this food!
Is Chicken Kofta Healthy?
Chicken kofta can be a healtheir option compared to traditional kofta recipes made with fattier meats liek beef or lamb as chicken is generally lower in saturated fat. However, the healthiness of the dish largely depends on how it is prepared and cooked.
For this recipe, we use just a handful of simple ingredients and no extra oil or butter. As a result, it's a well-balanced recipe made with lots of protein and moderate amounts of carbs and fats.
Chicken Kofta vs Chicken Kabobs
Kofta and kabobs are similar and often used interchangeably. However, they are not the same things.
The primary difference between chicken kofta and chicken kabobs is in the way the chicken is prepared.
Chicken kofta is made with ground chicken mixed with other ingredients and molded into balls.
Chicken kabobs are skewers of meat (often chicken breast) and sometimes veggies like onions and bell peppers. Kabobs are not made with a patty-like mixture and are seasoned much differently than kofta.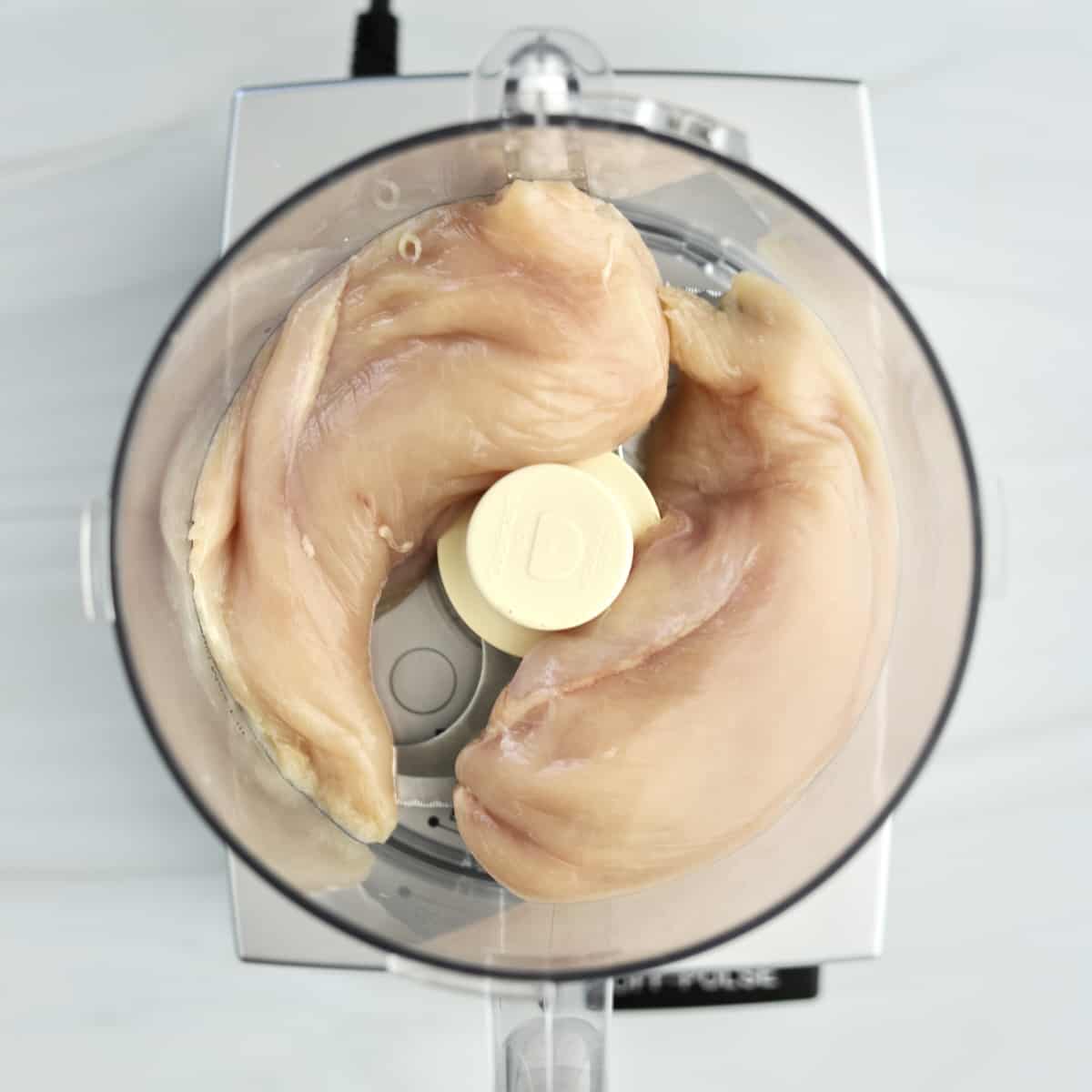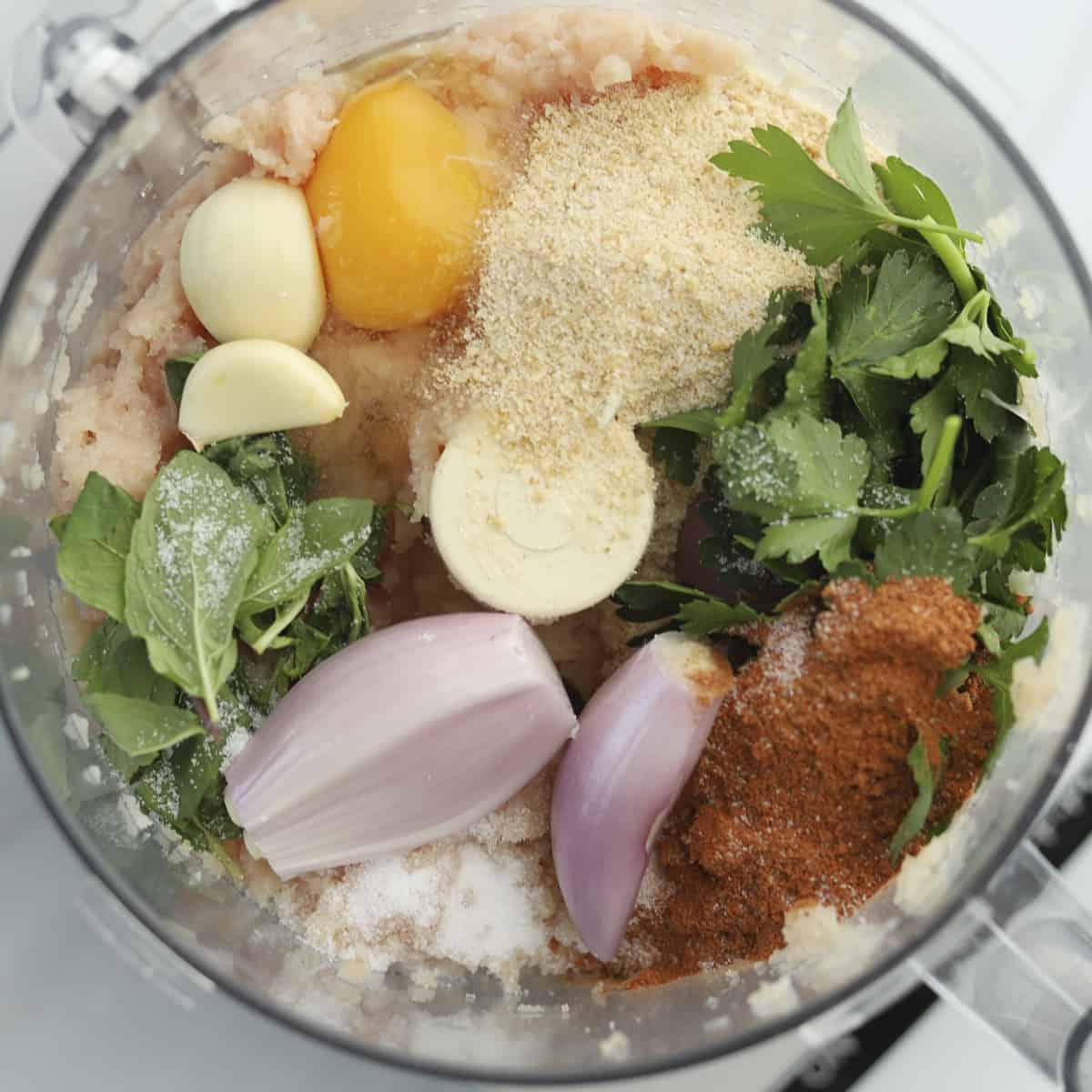 What's In Kofta?
Everyone has their own way of making kofta, incorporating a variety of different ingredients. However, for our version, we stuck to simple, easy-to-find items that add loads of flavor with minimal effort!
Chicken – We use boneless, skinless chicken breast, and ground it up. However, you could skip a step and use ground chicken instead.
Aromatics – Use two small shallots and two whole garlic cloves for a pungent, tangy, slightly sweet taste.
Seasonings – The use of shawarma spice and salt creates a bold flavor that is sweet, warm, and earthy all at once. We almost always have homemade shawarma spice on hand, but you can also easily find shawarma spice online or at your local grocery store.
Egg – Use a large egg to help bind the ingredients and ensure the meatballs hold their shape.
Dried Breadcrumbs – These help absorb excess moisture from the kofta balls, giving the meat mixture body and helping keep it moist and tender as it cooks.
Fresh Herbs – Fresh mint and fresh flat-leaf Italian parsley add a bright, peppery, herbaceous flavor that balances out the warmth of the spices. If you can't find spearmint, feel free to use any other fresh herbs like dill instead.
Flavor Variations
As mentioned, there are endless ways to make homemade chicken kofta. So, feel free to mix and match different ingredients and combinations to make this recipe your own!
Swap the Meat. Use ground turkey, beef, or lamb.
Experiment with Seasonings. Mix and match a variety of spices and seasonings. For instance, cumin and coriander add a nice kick. Or, you could include a pinch of cayenne pepper or red pepper flakes if you want a bit of spice.
Use Bread. Swap the pre-made breadcrumbs with a small, end piece (butt) of bread.
Add Olive Oil. Just a tiny drizzle can help add a rich flavor and a boost of healthy fats.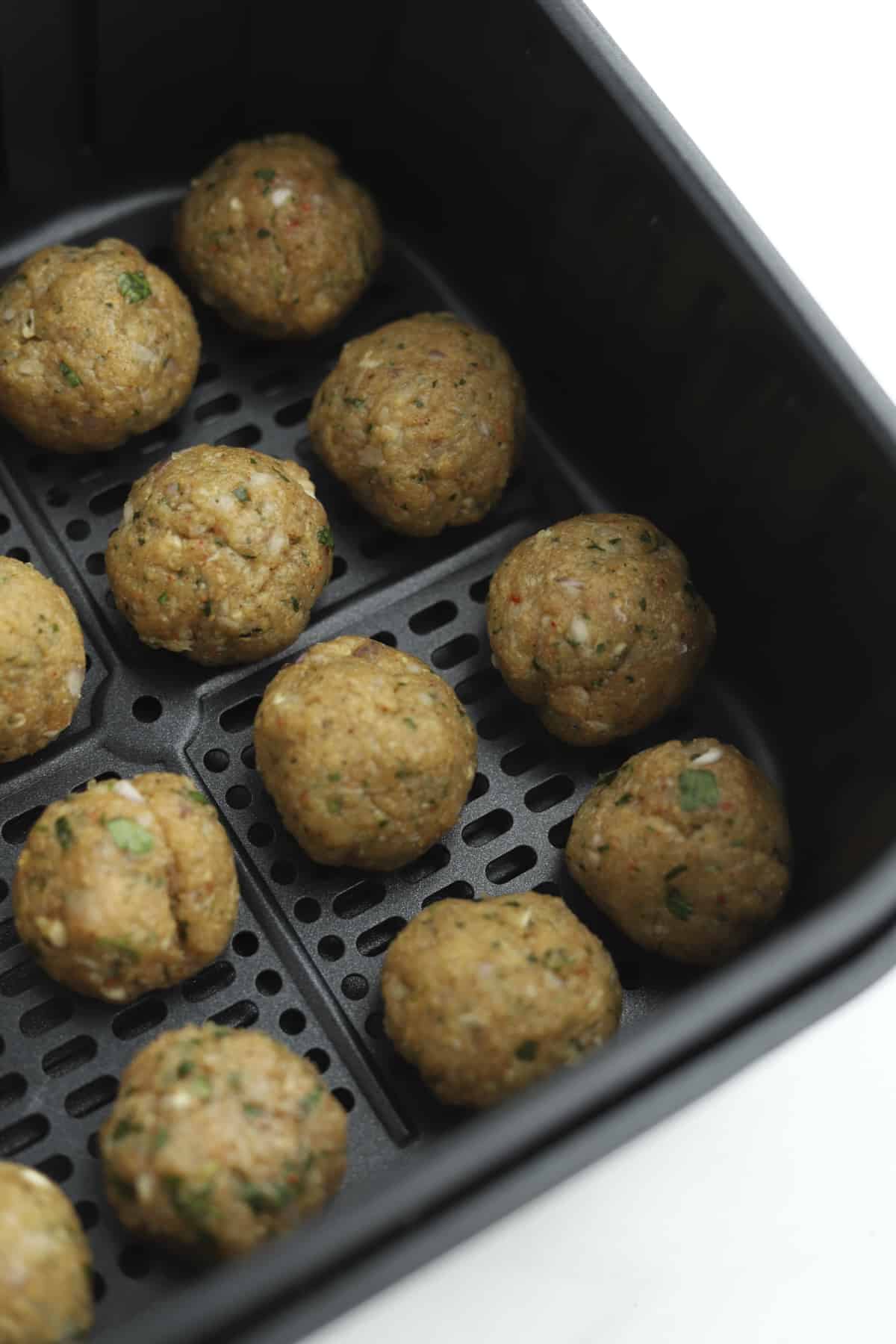 How to Make Air Fryer Chicken Kofta in Just a Few Simple Steps
Unlike other chicken kofta recipes that are made in the oven or on the grill, ours cooks in the air fryer! As a result, it requires minimal prep time, has a cook time of about 20 minutes, and a total time under an hour so you can get in and out of the kitchen fast!
Grind the Chicken. Place the chicken breast in the bowl of a food processor, and pulse until it is minced.
Combine the Ingredients. Add the remaining ingredients, and pulse again until the mixture is well combined.
Shape the Meatballs. Use a small ice cream scoop to portion the meat mixture, and roll each scoop between your palms to form round balls.
Air Fry. Grease an air fryer basket with cooking oil spray or a little bit of olive oil. Arrange the kofta balls in an even layer, and air fryer until they're cooked all the way through.
Tips for Success
We paired this quick chicken kofta recipe down to make it nearly failproof. However, we have a few extra tricks to guarantee you always have success!
Wet Your Hands. Wet your hands with a bit of water before shaping the meatballs. This will help prevent them from clinging to your fingers and becoming a sticky mess.
Use About Two Tablespoons Per Kofta Piece. You'll want to scoop up about two tablespoons of the raw mixture for every single kofta ball. Make them too small and they'll burn and dry out. Make them too large, and they won't cook enough.
Space the Kofta Meatballs Out. You want to allow a bit of space between each kofta ball to ensure the air circulates and cooks them on all sides. Work in batches if needed!
Use a Meat Thermometer. Insert a meat thermometer into the thickest part of your kofta to make sure it has reached an internal temperature of 165 degrees Fahrenheit and is safe to eat.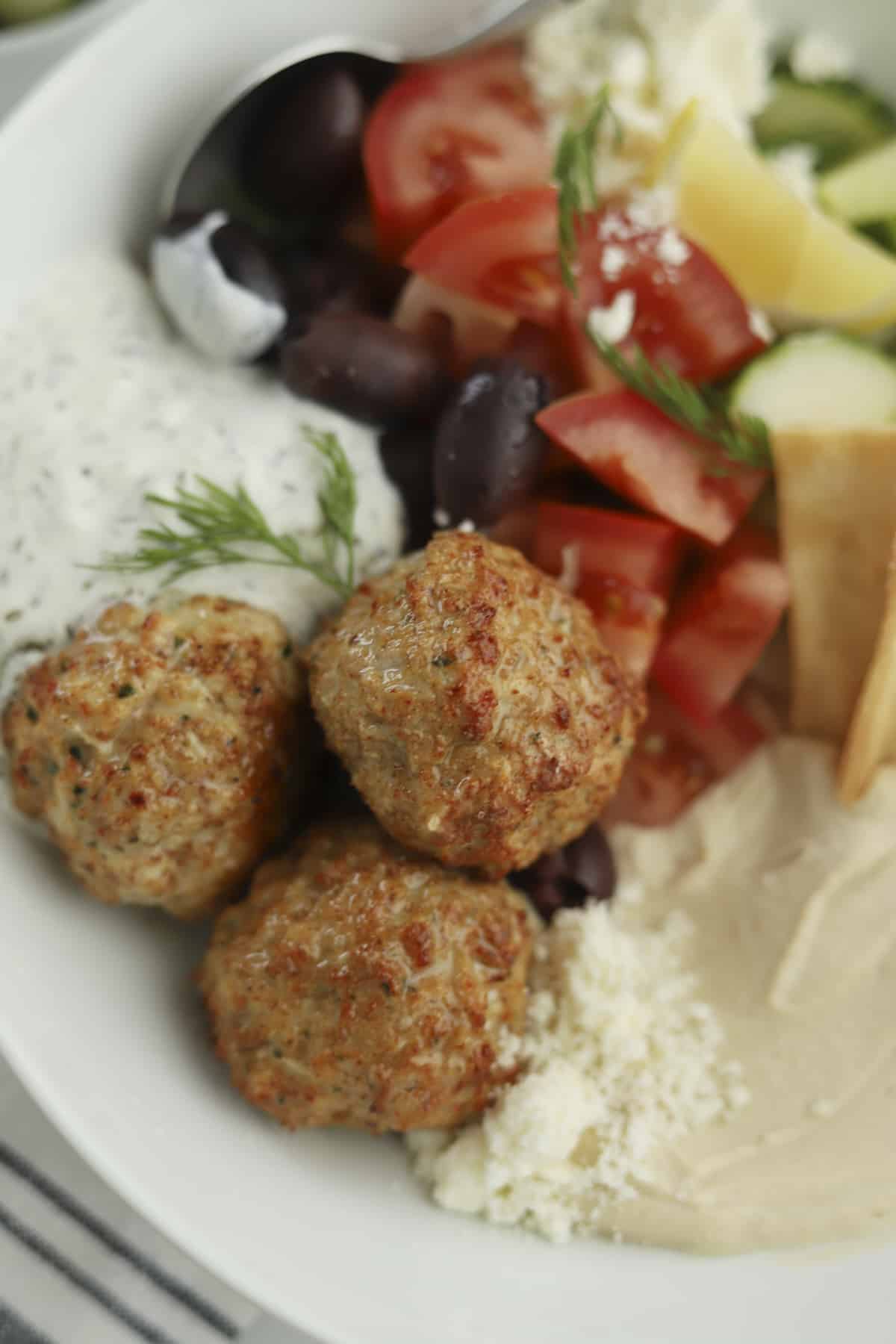 Serving Suggestions
Chicken kofta is super versatile and can be served in a variety of fun ways! Some of our favorites include:
How to Store and Reheat
Chicken kofta meatballs are a great meal prep option and stay fresh for days.
To Store: Once cooled, leftovers can be transferred to an airtight container and stored in the fridge for up to five days.
To Freeze: Transfer cooked or raw kofta to an airtight container or sealable bag, and keep it frozen for up to three months. Then, thaw it in the fridge overnight when you're ready to eat.
To Reheat: Preheat your air fryer to 350 degrees Fahrenheit, arrange your leftovers in a single layer, and warm them just until they're heated through.
Note: Make sure to store any leftover kofta in an airtight container on its own, separate from any sides or sauces!
Common Questions About This Easy Chicken Kofta Recipe
Can I use chicken thighs instead?
Yes, but keep in mind that chicken thighs have more fat than breasts. So, the ratio of breadcrumbs and eggs needed would change.
Can I bake chicken kofta?
Sure! Follow the recipe as normal. Then, instead of air frying, arrange the kofta in a single layer on a greased baking sheet. Bake at 375 degrees Fahrenheit for about 20 minutes or until the kofta is fully cooked, flipping it over halfway through.
Can I cook this recipe on the grill?
Yes, follow the recipe as normal, combining the ingredients. Then, instead of forming balls, shape the meat mixture around skewers. Heat the grill to medium-high heat, and place the chicken kofta skewers on oiled grates, letting them cook for about three minutes on both sides.
More Middle Eastern-Inspired Recipes
Looking for more ways to enjoy Middle Eastern flavors? Try out more of our easy family-friendly recipes below!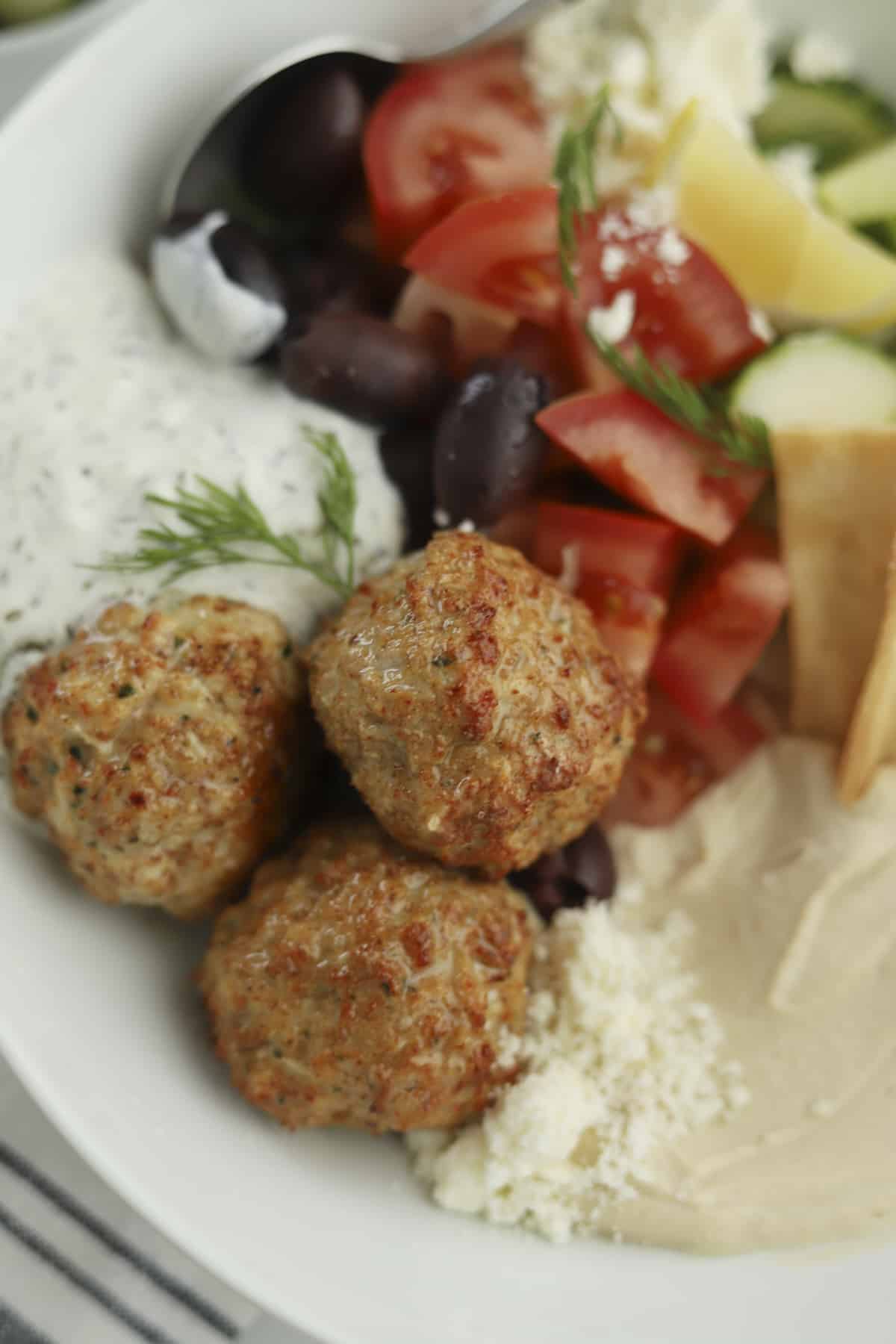 Easy Chicken Kofta Recipe
Make easy chicken kofta in the air fryer with nine ingredients and forty minutes for a high-protein meal you can enjoy throughout the week!
Ingredients
1

pound

boneless

skinless chicken breast

1

fresh mint leaves

1

small bunch flat leaf Italian parsley

2

small shallots

2

garlic cloves

1

large egg

¼

cup

dried breadcrumbs

2

Tablespoons

shawarma spice

See notes below

1

teaspoon

salt

See notes
Instructions
Add the chicken breast to the bowl of a food processor. Grind until the chicken is minced.

Add the fresh mint, parsley, shallots, garlic, egg, breadcrumbs, shawarma spice, and salt. Pulse again until the ingredients are well combined.

1 fresh mint leaves,

1 small bunch flat leaf Italian parsley,

2 small shallots,

2 garlic cloves,

1 large egg,

¼ cup dried breadcrumbs,

2 Tablespoons shawarma spice,

1 teaspoon salt

Using a small ice cream scoop, shape the meat mixture into small balls (approximately two tablespoons each).

Preheat an air fryer to 350 degrees Fahrenheit, and grease the basket with cooking oil spray or a small amount of olive oil.

Arrange the chicken kofta balls in an even layer in the air fryer, leaving space between each piece. Air fry for 13-15 minutes or until the chicken kofta is fully cooked and has reached an internal temperature of 165 degrees Fahrenheit.

Store in an airtight container in the fridge for up to five days.
Equipment
Notes
Note: Feel free to use store-bought shawarma spice, or make your own homemade shawarma spice blend using 1 tablespoon garlic powder, 1 tablespoon coriander, 1 Tablespoon ground cumin, 2 teaspoons smoked paprika, ½ Tablespoon ground cardamom, 1 teaspoon ground turmeric, 1 teaspoon black pepper, ½ teaspoon ground cinnamon, ½ teaspoon ground ginger, ¼ teaspoon allspice, ¼ teaspoon cloves, ⅛ teaspoon cayenne pepper (optional). Note: Use less salt if your shawarma spice has salt included. Oven Option: Combine the ingredients as normal. Then, arrange the kofta on a greased baking sheet, and bake the kofta at 375 degrees Fahrenheit for 18-20 minutes or until it is cooked all the way through, flipping it over halfway. To Freeze: Transfer cooked or raw chicken kofta balls to an airtight container or sealable bag, and freezer for up to three months. Thaw in the fridge overnight, and cook as normal. Or, warm them in the air fryer at 350 degrees just until heated through.
Nutrition
Serving:
1
serving
|
Calories:
68
kcal
|
Carbohydrates:
4
g
|
Protein:
9
g
|
Fat:
2
g
|
Saturated Fat:
0.4
g
|
Polyunsaturated Fat:
0.3
g
|
Monounsaturated Fat:
0.5
g
|
Trans Fat:
0.01
g
|
Cholesterol:
38
mg
|
Sodium:
261
mg
|
Potassium:
197
mg
|
Fiber:
1
g
|
Sugar:
1
g
|
Vitamin A:
84
IU
|
Vitamin C:
1
mg
|
Calcium:
50
mg
|
Iron:
1
mg
Nutrition information is automatically calculated, so should only be used as an approximation.
Like this recipe?
Please leave a comment!