A classic dish, this Moroccan Zaalouk Recipe is made with healthy vegetables, fresh herbs, and spices for a flavorful plant-based recipe that's full of nutrients. Serve it with crusty bread for an irresistible side dish!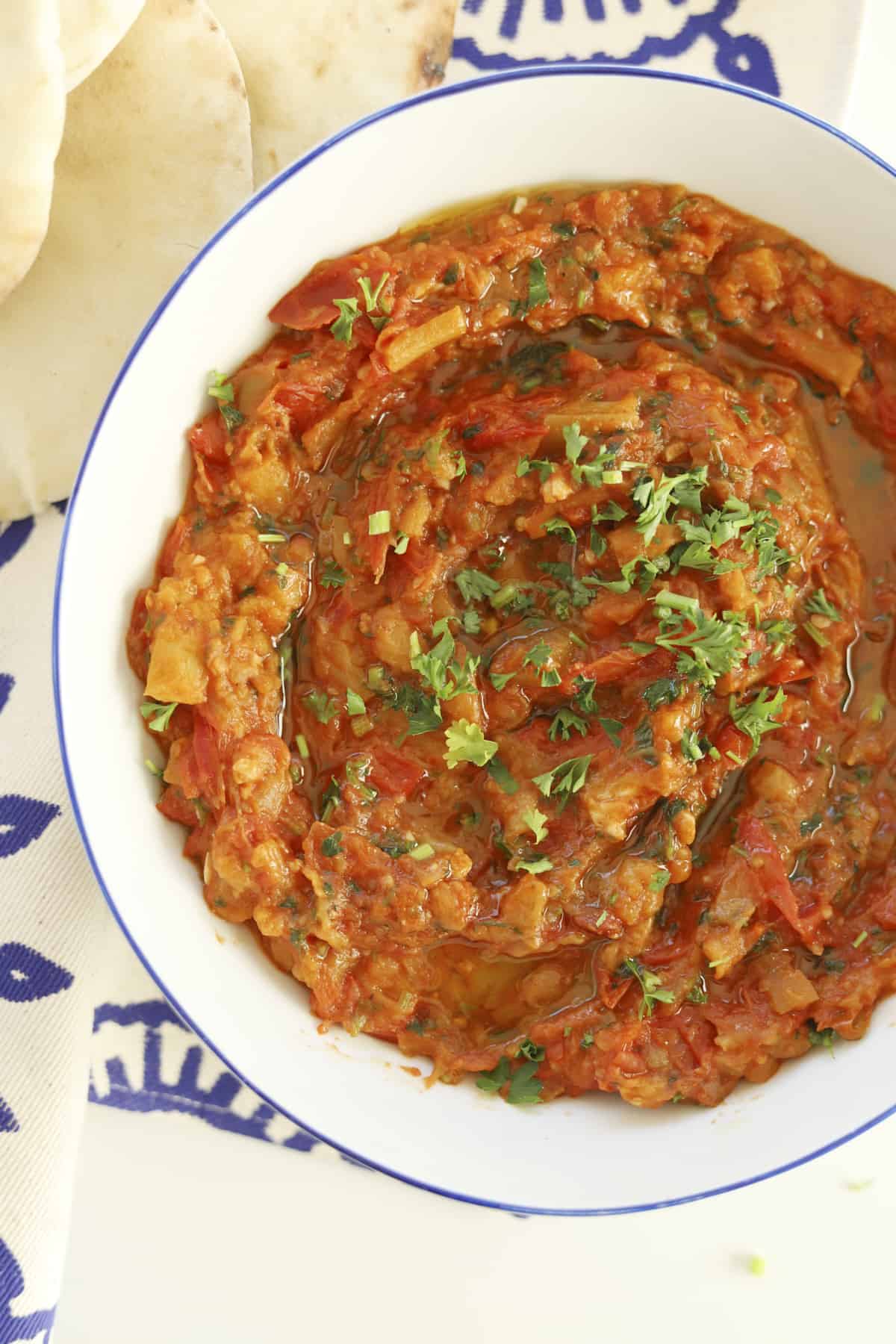 Not Your Typical Salad Recipe
Did you know that salads are common in Moroccan cuisine? It's true! However, they don't usually resemble the American versions you may be used to. You see, instead of the layers of leafy greens and cold vegetables commonly associated with American salads, most Moroccan salads are cooked and served hot, cold, or at room temperature. As a result, they resemble something we might call a dip. In addition, a typical meal has anywhere from 1 to 3 different salads served with it as side dishes. Each option features a wide variety of ingredients, flavors, and spices. Yet, more often than not, they contain eggplant and tomatoes, both of which are found in Zaalouk as well.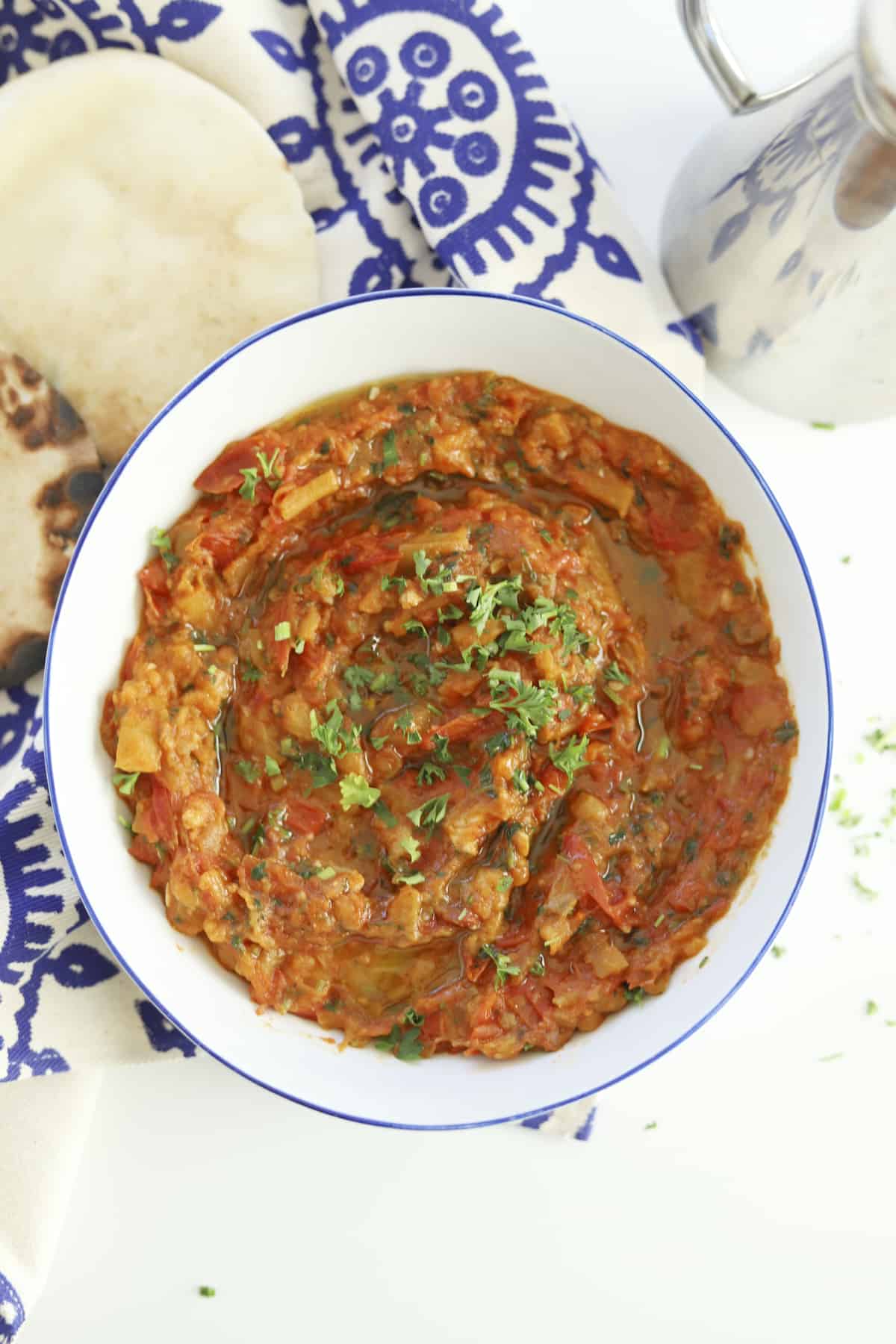 What is Zaalouk?
As you might have guessed, Zaalouk, or eggplant dip, is a type of Moroccan salad that has been cooked. It is characterized by the use of eggplant and tomatoes and features a variety of herbs and spices for a unique flavor combination that is super tasty! The key to making the perfect Zaalouk recipe is to cook the eggplant before you begin, but we'll get into that later.
Ingredients You'll Need
For this Zaalouk recipe, we used simple pantry staples, but there are many ways to make this dish your own! Keep reading to find everything you'll need and flavor variations below.
Eggplant
Tomatoes
Water
Cumin
Smoked Paprika
Salt
Pepper
Olive Oil
Parsley
Variations
While some cooks add their own spice combinations and adjust the ratio of eggplant to tomato used, to make this dish their own the main differences in how Zaalouk is prepared are in the preparation of the eggplant. For instance, you could roast it, broil it, or even place it on the grill! Each method adds its own flavor and texture to Zaalouk, and all are equally delicious.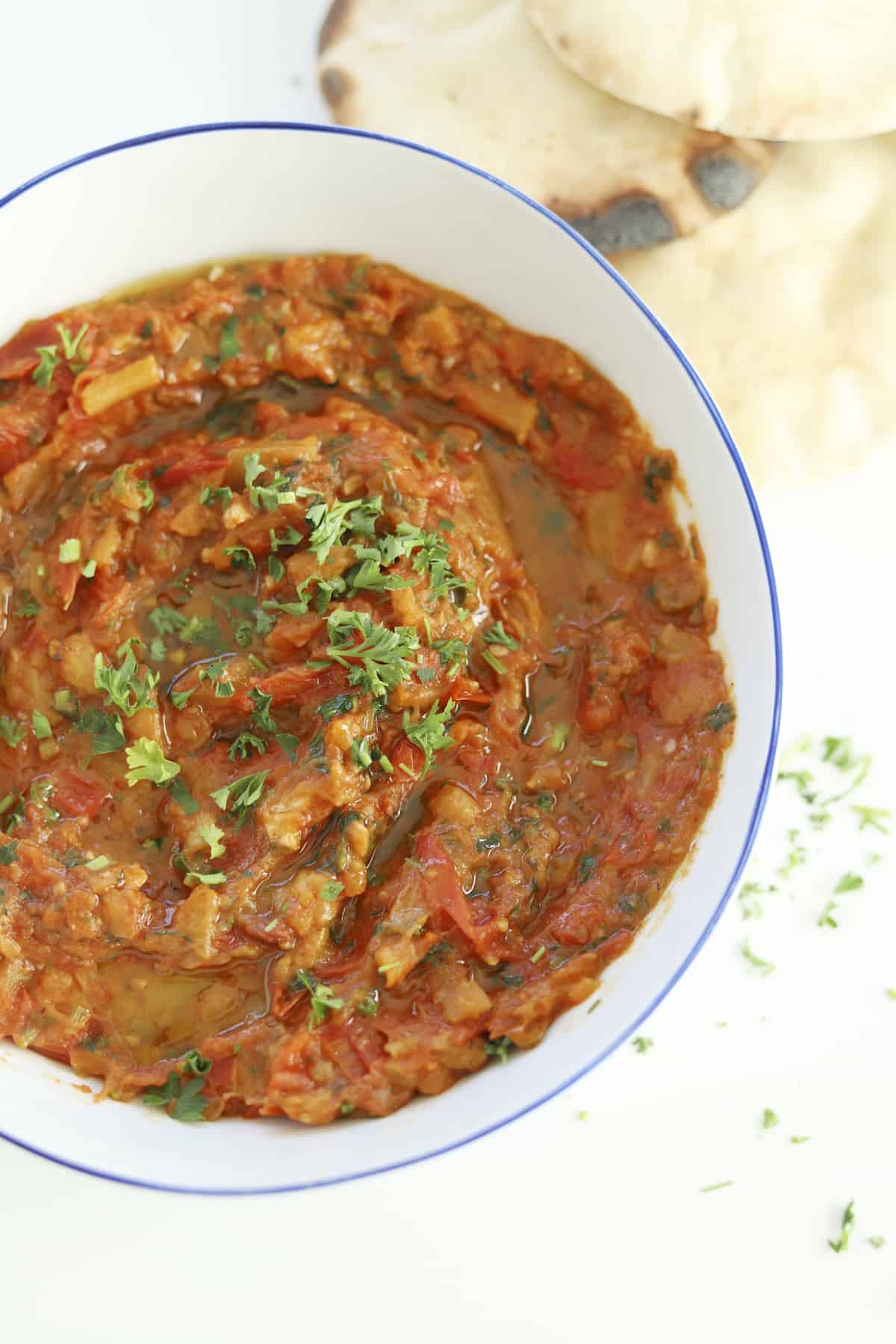 How to Prepare Eggplant for Zaalouk (3 Ways)
Roasting: Slice the eggplant, drizzle it with olive oil, and place it on a lined baking sheet. Let it roast in the oven at 450° Fahrenheit for 20 minutes, flipping over halfway through cooking.
Boiling: Bring a large pot of water to a boil. Then, add the chopped eggplant, and cook for 12-15 minutes or until it is soft and tender.
Grilling: Slice the eggplant, and place it on a heated grill for a few minutes on each side or until it is tender and charred.
*Note: You can vary your Zaalouk recipe even more by varying the size and shape of your eggplant pieces as well as how much oil you use.
How to Make this Zaalouk Eggplant Dip
For this recipe, we kept things as simple as possible. Just follow the instructions below!
Chop

your veggies.

Add all of the ingredients to a large pot over

medium-high hea

t.

Cover, and let

simmer for 20 minutes

, stirring occasionally.

If you'd like, you can

crush the ingredients

with a wooden spoon or potato masher for a more pureed-like consistency.
What Should the Consistency Be?
Whatever you like! We prefer a slightly chunkier Zaalouk. So, we do not mash the ingredients much. However, if you prefer a smoother texture, you could completely crush the veggies into a paste-like consistency. It's totally up to you.
How Do I Serve Zaalouk?
Traditionally, this eggplant dip recipe is served with a side of crusty bread! From time to time, we also like to use naan or pita for dipping.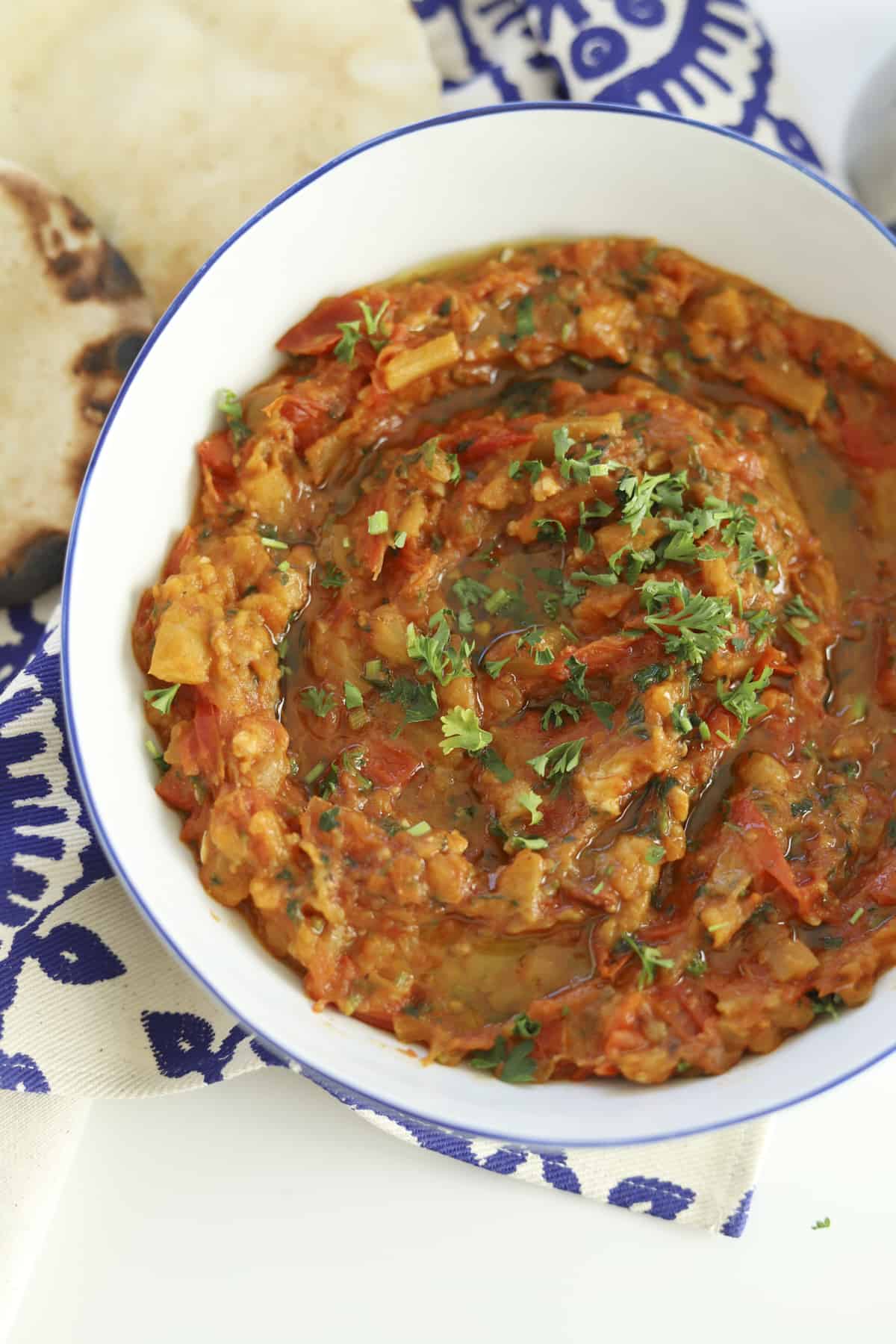 Storage Options
If you'd like to make this recipe ahead of time, it's super easy to store! Just place it in an airtight container in the fridge for up to 4 days. Or, store it in the freezer for up to 3 months.
Then, when you're ready to eat, thaw it in the fridge overnight. If you'd like to serve it warm, just heat it in a saucepan on the stovetop, and adjust the seasonings as needed.
Should I Include Lemon?
You can finish off your dish by adding a squeeze of fresh lemon juice for an added tangy taste, but you don't have to include it. We don't!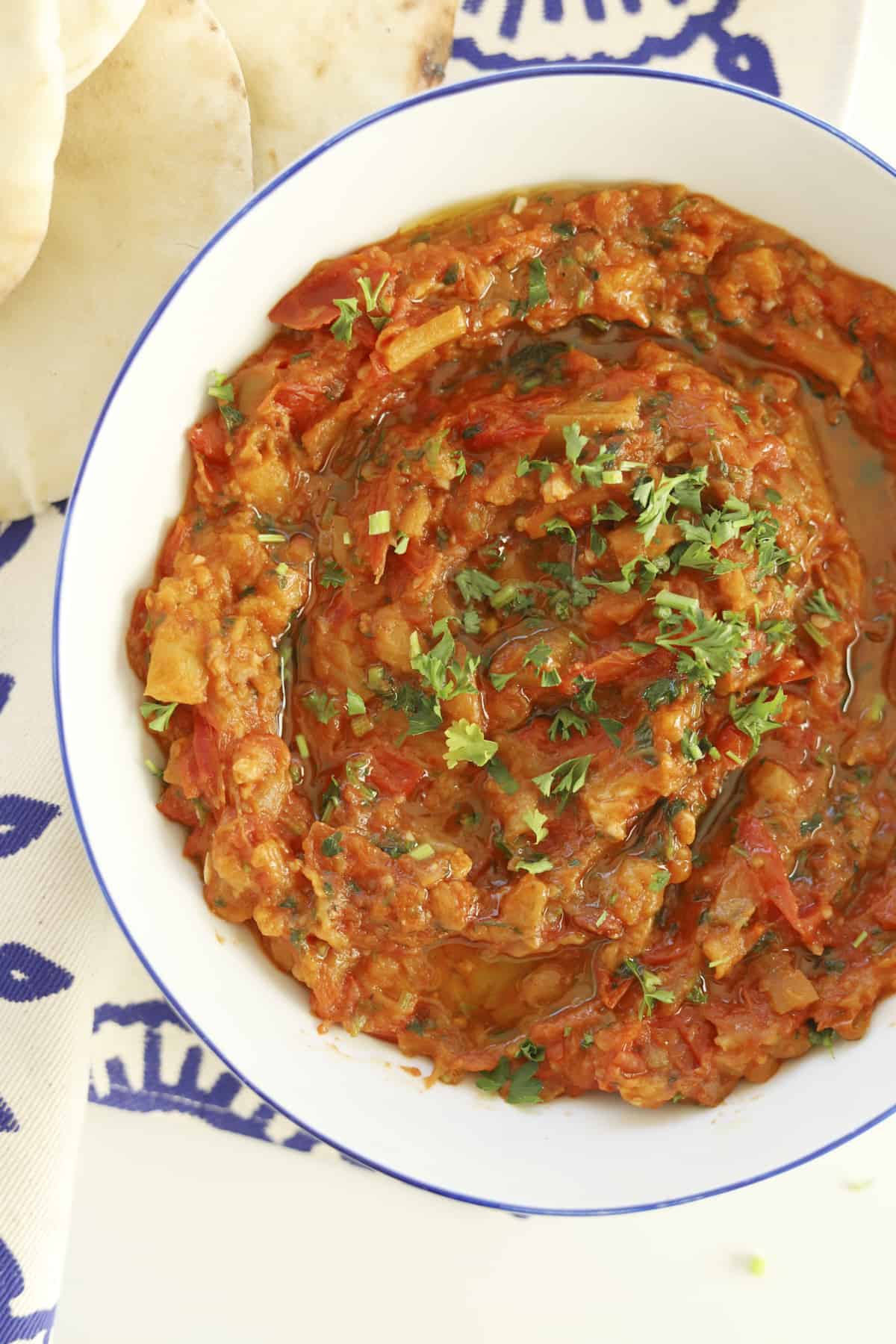 The perfect addition to any meal, this Moroccan Zaalouk Recipe is made with fresh produce and warm spices for a plant-based meal that's full of flavor!
Ingredients
1

large eggplant

peeled, chopped

3

cloves minced garlic

2

cups

tomatoes

chopped

¼

cup

water

½

teaspoon

cumin

½

teaspoon

smoked paprika

1

teaspoon

salt

½

teaspoon

pepper

3

Tablespoons

olive oil

¼

cup

chopped parsley
Instructions
Prepare the eggplant and tomato.

Combine all of the ingredients in a large pot.

Cover, and let simmer over medium-high heat for 20 minutes or until the liquids have reduced, stirring occasionally.

Use a spoon or tomato masher to slightly crush the eggplant and tomato, if desired.

Serve with crusty bread.
Nutrition
Serving:
4
g
|
Calories:
109
kcal
|
Carbohydrates:
3
g
|
Protein:
1
g
|
Fat:
11
g
|
Saturated Fat:
1
g
|
Polyunsaturated Fat:
1
g
|
Monounsaturated Fat:
8
g
|
Sodium:
587
mg
|
Potassium:
190
mg
|
Fiber:
1
g
|
Sugar:
2
g
|
Vitamin A:
748
IU
|
Vitamin C:
10
mg
|
Calcium:
12
mg
|
Iron:
1
mg
Nutrition information is automatically calculated, so should only be used as an approximation.
Like this recipe?
Please leave a comment!
Have you ever tried Zaalouk before? If you give our version a shot, we would love to know what you think in the comments below!