This Shirazi Salad Recipe, also known as Salad-e Shirazi, is a refreshing cucumber and tomato salad that's full of fresh produce, herbs, and an olive oil dressing. A simple, lettuce-less salad, it's the perfect side dish for any main course!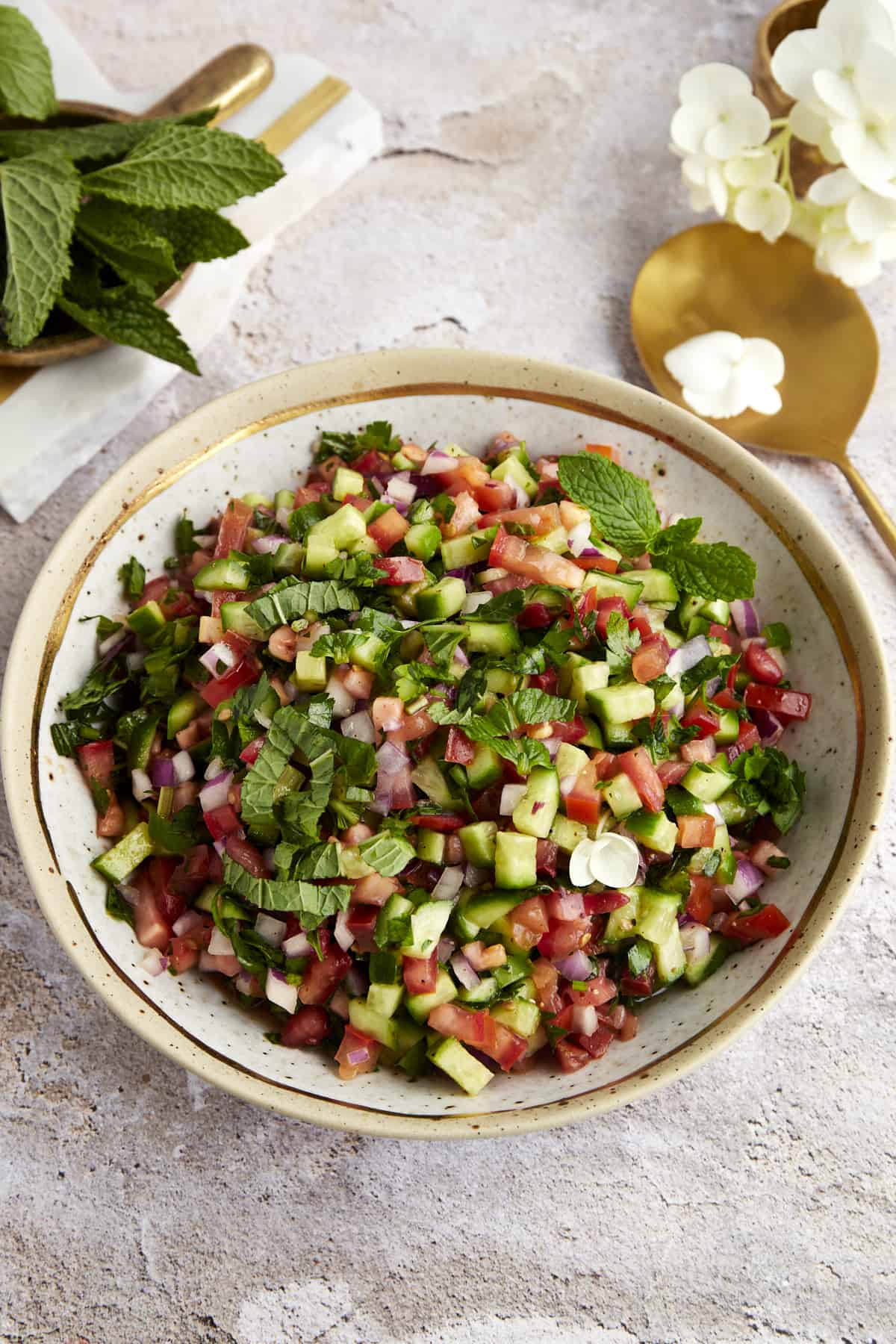 What Is a Shirazi Salad?
Shirazi, or Salad-e Shirazi in Farsi, is a Middle Eastern recipe that originated and got its name from a city in Iran known as Shiraz. At first sight, it looks similar to Egyptian salata baladi (tomato and cucumber salad), but the two are not the same!
Although they contain similar items, Shirazi salad has a slightly longer ingredient list and a slightly more herbaceous taste. Traditionally, the Iranian dish is made with Persian cucumbers, tomatoes, and onions tossed with a dressing made of olive oil and Ab Ghooreh (an unripe sour grape juice).
For our version, we make a few substitutions to recreate the same bold, tangy flavor with easy-to-find ingredients. The end result is a quick salad that pairs well with virtually everything!
What Is Shirazi Made Of?
This Shirazi salad recipe isn't completely authentic, but it's just as delicious as the original and is easy to make at home with just a handful of ingredients. Here's what you'll need:
Tomatoes – We recommend using Roma tomatoes. Make sure they're firm with just a little give. You don't want them to be soft and mushy when diced! However, if they are a little more liquidy than you'd like, just toss them in a colander to drain.
Cucumber – Persian cucumbers are best for this recipe! They're crisper, sweeter, and less watery than other varieties. However, if needed English cucumbers can be substituted. Whatever you do, do not use slicing cucumbers which have a thick, waxy skin that is difficult to chew.
Red Onion – Chop your onion as finely as possible. If you prefer a less pungent flavor, shallots may be substituted.
Fresh Herbs – Fresh mint and fresh parsley are what truly set this salad apart from other recipes, creating a bright, slightly sweet taste.
Tip! Store leftover parsley and mint to add extra flavor to all your meals throughout the week.
Olive Oil – This forms the base of the dressing.
Lime Juice – This is used in place of the Ab Ghooreh. Lemon juice will also work. Whichever you choose, freshly squeezed will taste best.
Spices – Sumac, salt, and pepper add extra depth and just a slight tang.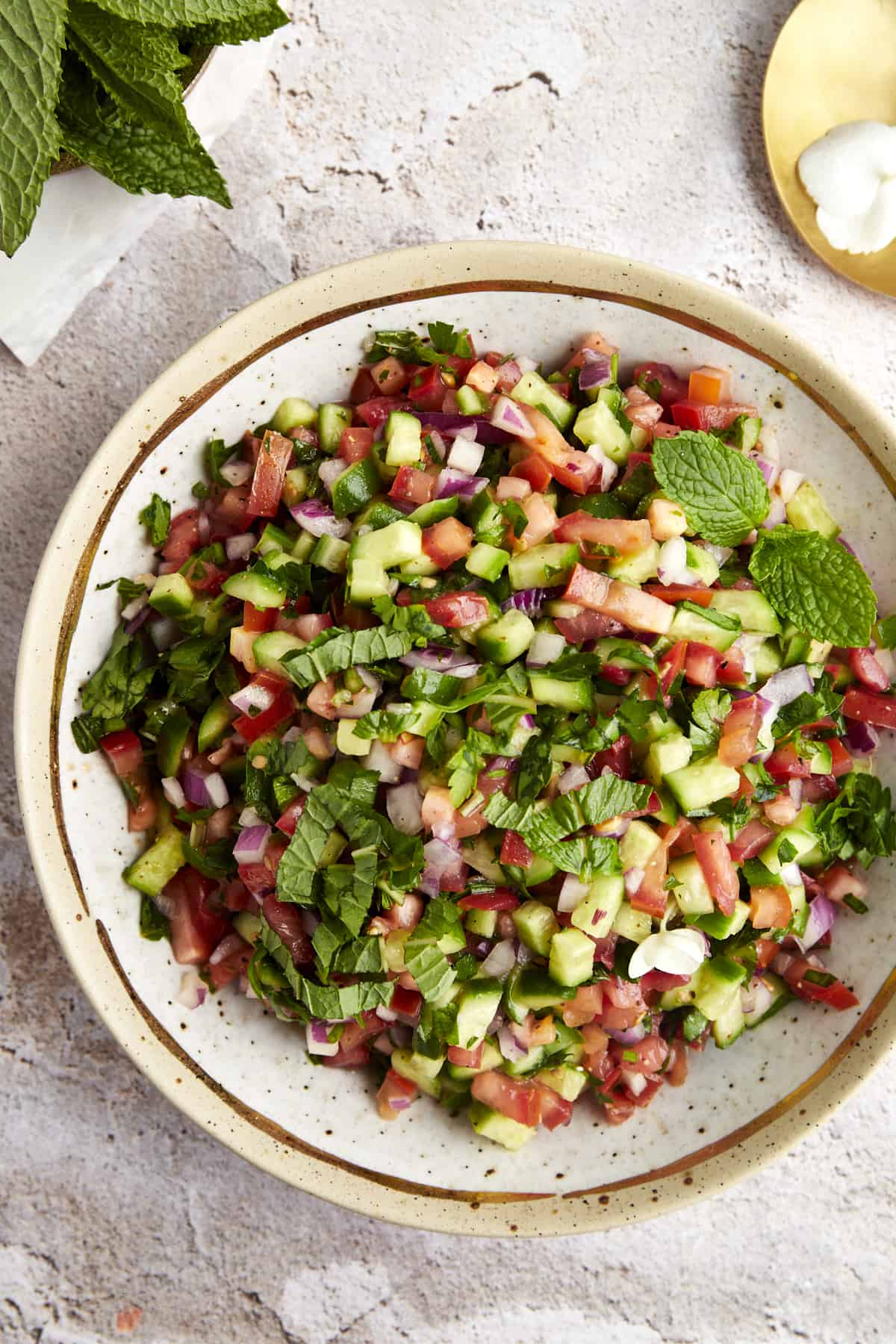 What Is a Persian Cucumber?
A Persian cucumber is a specific type of cucumber that is known for having smooth, thin skin and fewer seeds than other varieties. They're narrower in shape than other cucumbers contain less water, and have a crisper texture.
As a result, they're perfect for adding to salads, like this Shirazi salad for extra flavor and crunch!
What's the Difference Between a Persian Cucumber and an English Cucumber?
The primary (and really only detectable) difference between the two is their size. For example, the typical size of a Persian cucumber is about five to six inches whereas English cucumbers are usually around twelve inches.
However, Persian cucumbers can sometimes be difficult to find. Therefore, because they're nearly identical in taste and texture, the two can be used interchangeably.
Toss, Rest, and Serve! How to Make This Easy Shirazi Salad Recipe
With no cooking required, this salad is one of our all-time favorite side dish recipes. Seriously, it can't get any easier to make, especially if you use a veggie chopper like we do!
Combine the Salad Ingredients. Chop the veggies, and add them to a large bowl along with the herbs.
Prepare the Dressing. In a separate small bowl, whisk the ingredients for the salad dressing together until smooth.
Toss. Pour the dressing over the salad ingredients, and gently toss to combine and coat the produce.
Rest. Adjust the seasonings to taste, and set the salad aside for a few minutes to allow the flavors to meld together.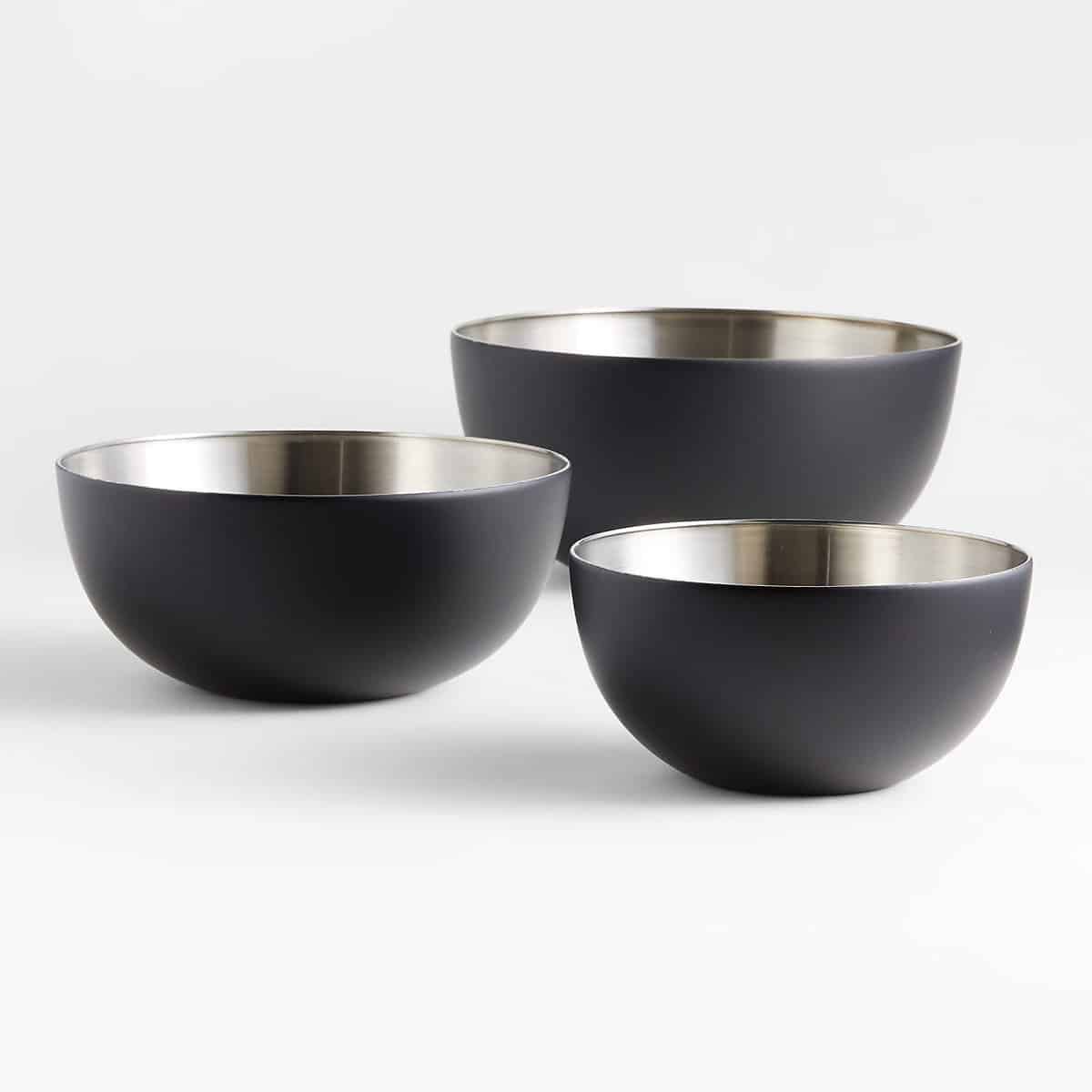 We earn a commission if you make a purchase, at no additional cost to you.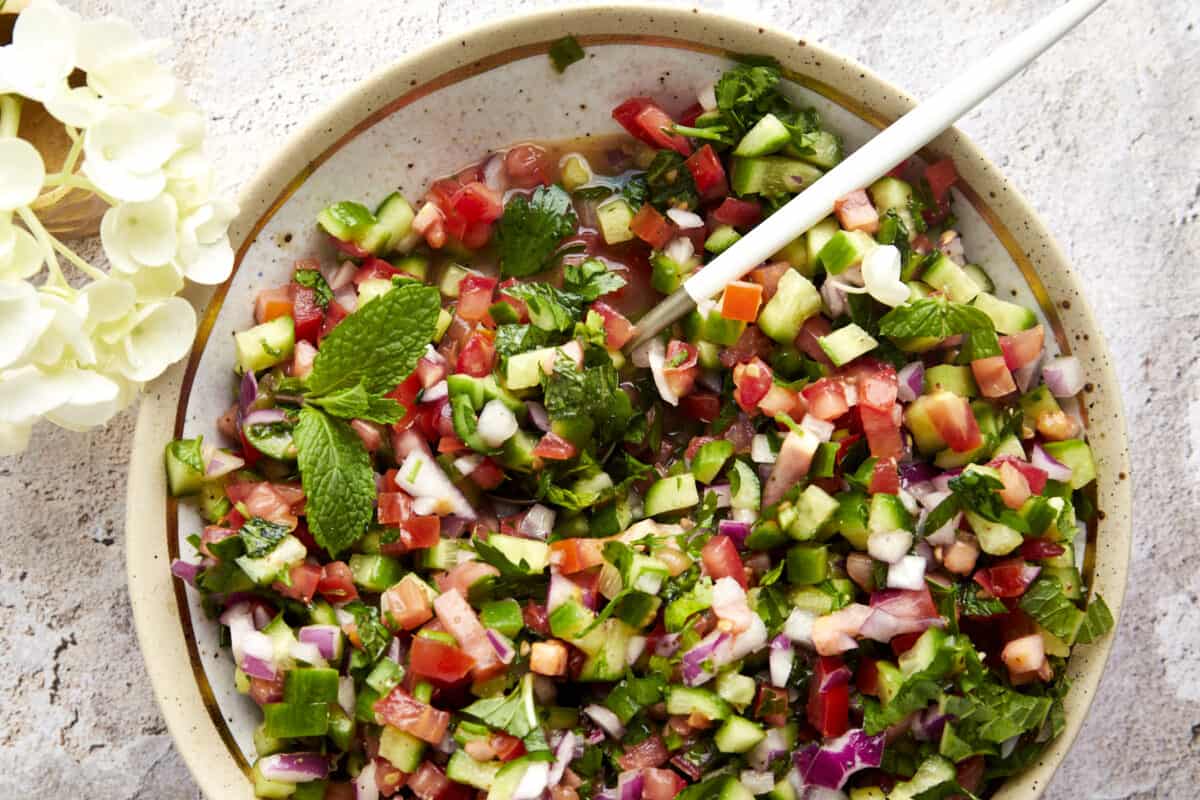 Tips for the Best Results
Chop the Veggies Uniformly. For the best results, chop the veggies small and as evenly as possible. That way you get chunks of everything in each bite.
Keep Your Salad Crunchy. If you prefer your veggies to be really crisp, hold off on adding the dressing until just before serving. The flavor won't be quite as strong, but you'll have lots of crunch.
Deseed the Tomatoes. If you're concerned about your Shirazi salad becoming watery, go ahead and deseed the tomatoes before adding them to the dish.
Flavor Variations
We kept this Shirazi salad recipe pretty close to the traditional version, but that doesn't mean you can't experiment! Go ahead and have fun in the kitchen, adding your favorite ingredients for a unique spin.
Some tasty mix-ins to get you started include:
Cheese such as crumbled feta or Mozzarella balls
Different herbs like basil, cilantro, or dill
Bell peppers are a fun way to add extra nutrients and texture
A different dressing like Italian dressing or balsamic vinaigrette
Common Questions About This Shirazi Salad Recipe
Can I make this recipe ahead of time?
Yes, in fact, we recommend it! You'll want to plan to make your salad at least 15 minutes ahead of time to allow the flavors to soak in. However, it can sit at room temperature or in the fridge for up to 30 minutes.
How long does this salad last?
Shirazi salad is best enjoyed right away, because the longer it sits, the soggier the veggies will get. However, if you happen to have leftovers, they can be stored in an airtight container in the fridge for up to three to four days.
What should I serve with Shirazi salad?
This simple salad pairs well with any main course, but we're particularly fond of serving it alongside grilled meats, kebabs, or kofta.
What can I substitute for Persian cucumbers?
English cucumbers are the best substitute for Persian cucumbers
More Tasty Salad Recipes
Looking for more easy salad recipes? Try out more of our favorite options below!
Easy Shirazi Salad Recipe
Prepare this easy Shirazi salad recipe with simple ingredients for a nutritious side dish that pairs well with all your favorite meals!
Ingredients
2

cups

(4-6) small Roma tomatoes, chopped

2

cups

Persian cucumbers

chopped*

1

small red onion

chopped

1/4

cup

fresh parsley

chopped

3

Tablespoons

fresh mint

chopped

3

Tablespoons

olive oil

Juice of 1 lime

1

teaspoon

sumac

1

teaspoon

salt

1/2

teaspoon

pepper
Instructions
In a large bowl, combine the chopped tomatoes, Persian cucumbers, red onion, parsley, and mint.

In a separate small bowl, whisk together the olive oil, lime juice, sumac, salt, and pepper.

Pour the dressing over the salad ingredients in the large bowl.

Gently toss all the ingredients together until well coated with the dressing.

Taste, and adjust the seasonings if needed.

Let the salad sit for about 10-15 minutes to allow the flavors to meld together.

Serve the Shirazi Salad chilled as a refreshing side dish or accompaniment to grilled meats or kebabs.

Store leftovers in an airtight container in the fridge for up to 3-4 days. NOTE: The longer the salad sits, the soggier the veggies will get.
Notes
*If you can't find Persian cucumbers, English cucumbers may be substituted.
Nutrition
Serving:
1
serving
|
Calories:
138
kcal
|
Carbohydrates:
10
g
|
Protein:
2
g
|
Fat:
11
g
|
Saturated Fat:
2
g
|
Polyunsaturated Fat:
1
g
|
Monounsaturated Fat:
8
g
|
Sodium:
593
mg
|
Potassium:
443
mg
|
Fiber:
3
g
|
Sugar:
5
g
|
Vitamin A:
1517
IU
|
Vitamin C:
26
mg
|
Calcium:
42
mg
|
Iron:
1
mg
Nutrition information is automatically calculated, so should only be used as an approximation.
Like this recipe?
Please leave a comment!