Easy Tabbouleh Salad Recipe
*This post may contain affiliate links, please see our privacy policy for details.*
This Easy Tabbouleh Salad recipe, also known as tabouli, is made with crisp, refreshing vegetables, hearty bulgur wheat, and a rich lime olive oil dressing for a healthy appetizer or side dish. Quick and easy to make, it's perfect for pairing with all your favorite meals and is guaranteed to satisfy your tastebuds!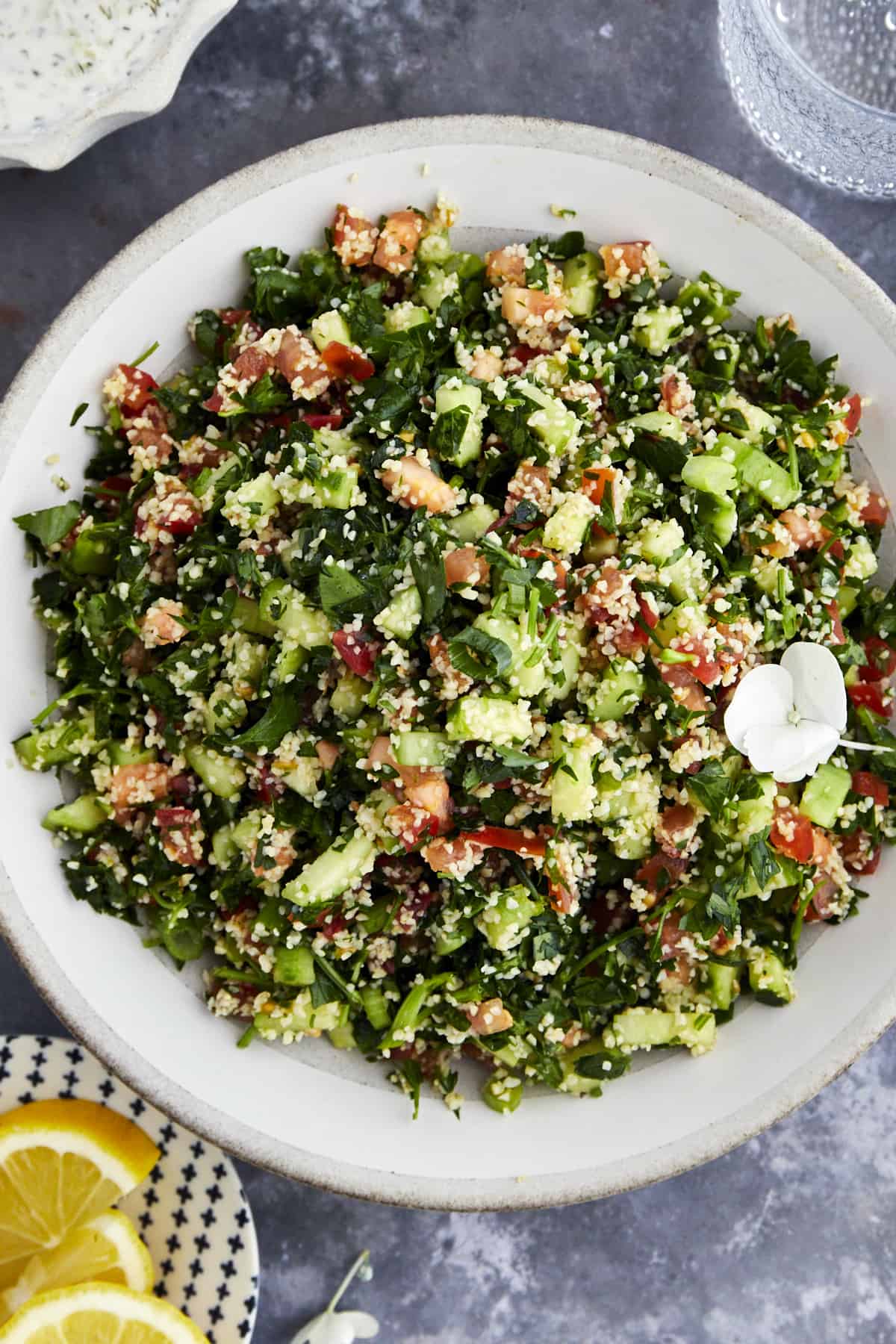 Tabbouleh salad goes by a ton of different names including tabbouli, tabouli, and taboulah. However, no matter how you spell it, it consists of plenty of fresh veggies, vibrant herbs, and a hearty grain like quinoa or bulgur. A Lebanese dish, it has exploded in popularity around the world and can now be found in most grocery stores.
While we never shy away from options that make life and meals a little easier, we grew up eating freshly made tabbouleh salads, and pre-made versions just can't compare. Luckily, like most of our salad recipes, tabbouleh is quick, affordable, and super easy to create!
What Is Tabbouleh?
Alongside fattoush, tabbouleh salad is one of the most popular Middle Eastern salad recipes. Traditionally, it is made with chopped parsley, tomatoes, onions, mint, and bulgur wheat tossed with olive oil and lemon or lime juice. Healthy and refreshing, it's usually served as a side dish or is sometimes found being used as a filling for sandwiches or wraps.
Easy to make at home, tabbouleh is naturally vegetarian, vegan, and gluten-free, meaning it's suitable for a wide variety of dietary needs and a safe bet when you're feeding a crowd. Today, you can find tabbouleh salad all across the globe! Its popularity has particularly exploded in American markets.
However, one difference we've noticed is that American versions of the salad tend to feature way more bulgur wheat or quinoa than is used in more traditional recipes. When it comes to creating an authentic tabbouleh salad, you really want the parsley and bright flavors of the herbs and veggies to be the star of the show!
That said, no matter how you make them, tabbouleh salads are always delicious!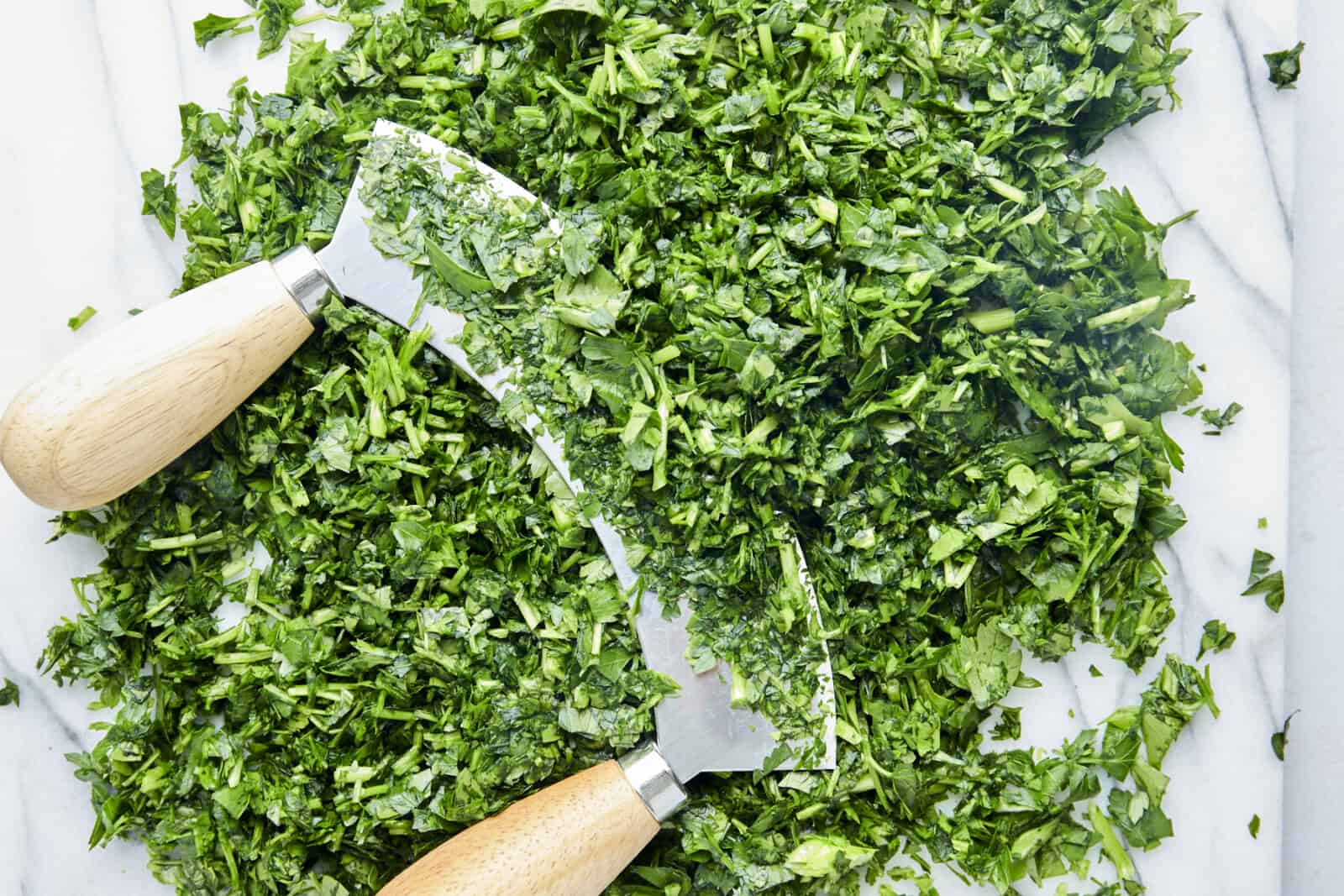 What You'll Need
For this recipe, we stuck with more classic Lebanese inspiration, using just a sprinkle of bulgur in combination with fresh produce. Here's what you need:
Bulgur Wheat – Bulgur is sold in four different sizes ranging from coarse to find. Be sure to use fine bulgur! It will look like couscous and does not need to be boiled, making it super easy to use.
Parsley – Flat-leaf parsley tends to have a stronger, more robust flavor, but curly parsley works well, too. Whichever you choose, make sure to rinse it under cold water and let it dry completely. This helps prevent it from wilting.
Vegetables – Persian cucumbers, firm Roma tomatoes, and green onions create a vibrant, colorful salad with tons of vitamins, nutrients, and fiber as well as a satisfying crunch. For the green onions, be sure to use both the white and green parts.
Mint Leaves – Although these are optional in many tabbouleh salad recipes, we consider them absolutely necessary! Their subtle sweet flavor and cooling sensation makes for the most refreshing dish.
Lime Juice – This combines with the olive oil to reduce the heaviness of the fats and add a bit of a tangy taste. For the best results, make sure it's freshly squeezed!
Extra Virgin Olive Oil – Opt for high-quality extra virgin olive oil for a robust, peppery flavor. Trust us! You'll be able to taste the difference.
Salt and Pepper – Use as little or as much as you'd like.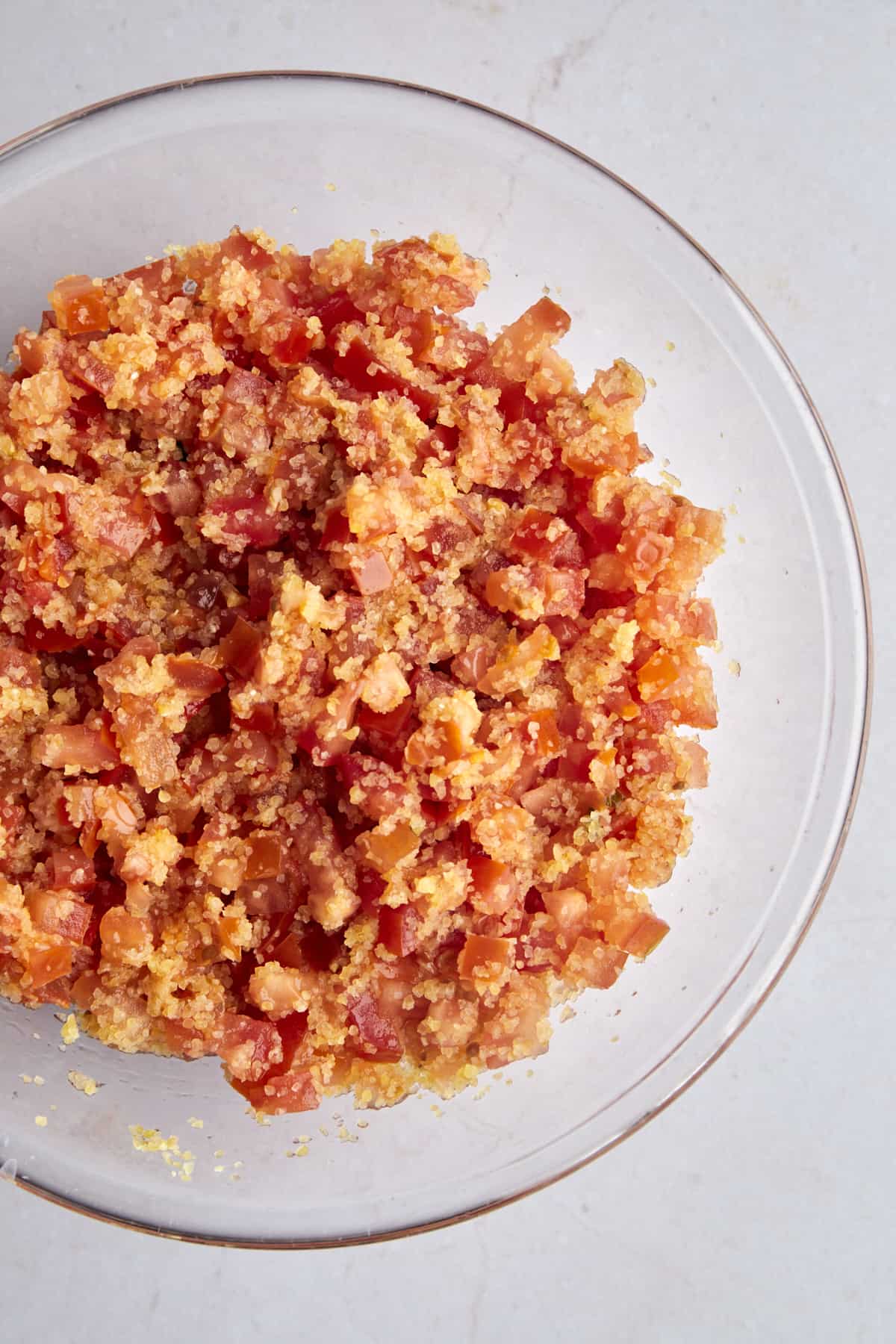 How to Make an Easy Tabbouleh Salad
We won't lie. Tabbouleh salad requires quite a bit of chopping, but that's the extent of the work! Plus, if you have a veggie chopper, it comes together so fast. Here's what to do:
Prepare the Bulgur. Rinse the bulgur under cold water, and drain it in a mesh colander. Then, chop the tomatoes, and place them in a large mixing bowl adding a dash of salt and pepper on top. Add the bulgur to the bowl, stir to combine, and set the mixture aside to soak. This allows the tomatoes to release their natural juices, softening and adding flavor to the bulgur.
Chop the Ingredients. Use a sharp knife to finely chop the cucumbers, green onions, and herbs.
Make the Dressing. In a measuring cup, whisk the olive oil, lime juice, salt, and pepper.
Combine the Ingredients. Add all the ingredients to a large bowl. Drizzle the dressing on top, and gently toss to combine.
Chill. Place your tabbouleh salad in the fridge to chill, and enjoy!
*Note: The more finely you chop your ingredients, the more cohesive and flavorful your tabbouleh salad will be!
Serving Suggestions
Tabbouleh makes for a great side dish when paired with protein sources like chicken kofta, beef kofta, or shawarma. However, it's also an excellent addition to a mezze platter or appetizer spread alongside dishes like fire roasted baba ganoush, muhammara, pita bread, and whipped feta.
In Lebanon, it's also not uncommon to serve tabbouleh as a main course salad! To do so, it is often paired with or stuffed inside lettuce leaves that can be rolled up and eaten with one's hands.
Common Questions About Tabbouleh Salad
Is tabbouleh healthy?
Yes! Full of vitamins, protein, fiber, carbs, and healthy fat, tabbouleh salad is a nutrious, well-rounded dish. Thanks to the healthful ingredients, it can help improve digestion, reduce inflammation, boost your immune system, and more!
Is tabbouleh salad grain free?
No, bulgur is considered a grain, meaning this tabbouleh salad is not grain free. However, if needed you could easily swap it out for quinoa or cauliflower rice!
Can I make this recipe ahead of time?
Absolutely. In fact, we recommend it, because it allows plenty of time for the flavors to combine. Stored in an airtight container, this tabbouleh salad will stay fresh in the fridge for 2-3 days. However, we do not recommend freezing it as it will not thaw well.
More Flavorful Salad Recipes
Looking for more tasty salads to add nutrients to your diet? Check out the easy recipes below!
Easy Tabbouleh Salad Recipe
Learn how to make a classic Middle Eastern tabbouleh salad with fresh veggies, herbs, and an olive oil dressing for a healthy, refreshing, vegan dish!
Ingredients
1/2

cup

fine bulgur wheat

2

cups

firm Roma tomatoes

(finely chopped)

Salt to taste

Black pepper to taste

4

Persian cucumbers

(peeled and finely chopped)

3

green onions

(white and green parts, finely chopped)

3

bunches parsley

(with stems removed, washed and dried, very finely chopped)

1

small bunch

(about 10-12 leaves fresh mint leaves , with stems removed, washed and dried, finely chopped)

1/4

cup

extra virgin olive oil

1/4

cup

lime juice

(freshly squeezed)
Instructions
Wash the bulgur wheat with cold water, and drain it in a mesh colander. Set aside.

Chop the tomatoes finely, and place them in a bowl. Add a sprinkle of salt and pepper along with the drained buglur. Mix well, and set aside for 15 minutes.

Using a sharp knife, finely chop the cucumbers, green onions, parsley, and mint. Set aside.

In a small measuring cup, whisk the olive oil, lime juice, salt, and pepper.

Add the cucumbers, green onions, herbs, and tomato and bulgur mixture to a large mixing bowl. Pour the dressing on top, and gently toss to combine.

Chill in the fridge until ready to serve.

Store in an airtight container for up to 2-3 days.
Nutrition
Serving:
1
serving
|
Calories:
232
kcal
|
Carbohydrates:
25
g
|
Protein:
5
g
|
Fat:
14
g
|
Saturated Fat:
2
g
|
Polyunsaturated Fat:
2
g
|
Monounsaturated Fat:
10
g
|
Sodium:
36
mg
|
Potassium:
720
mg
|
Fiber:
7
g
|
Sugar:
5
g
|
Vitamin A:
4787
IU
|
Vitamin C:
81
mg
|
Calcium:
97
mg
|
Iron:
4
mg