A powerhouse plant-based recipe, this Mediterranean Quinoa Salad is loaded with plant-based protein, a myriad of veggies, and a refreshing dressing for a healthy salad you'll love! Serve it as a tasty appetizer or a satisfying main course that's guaranteed to please.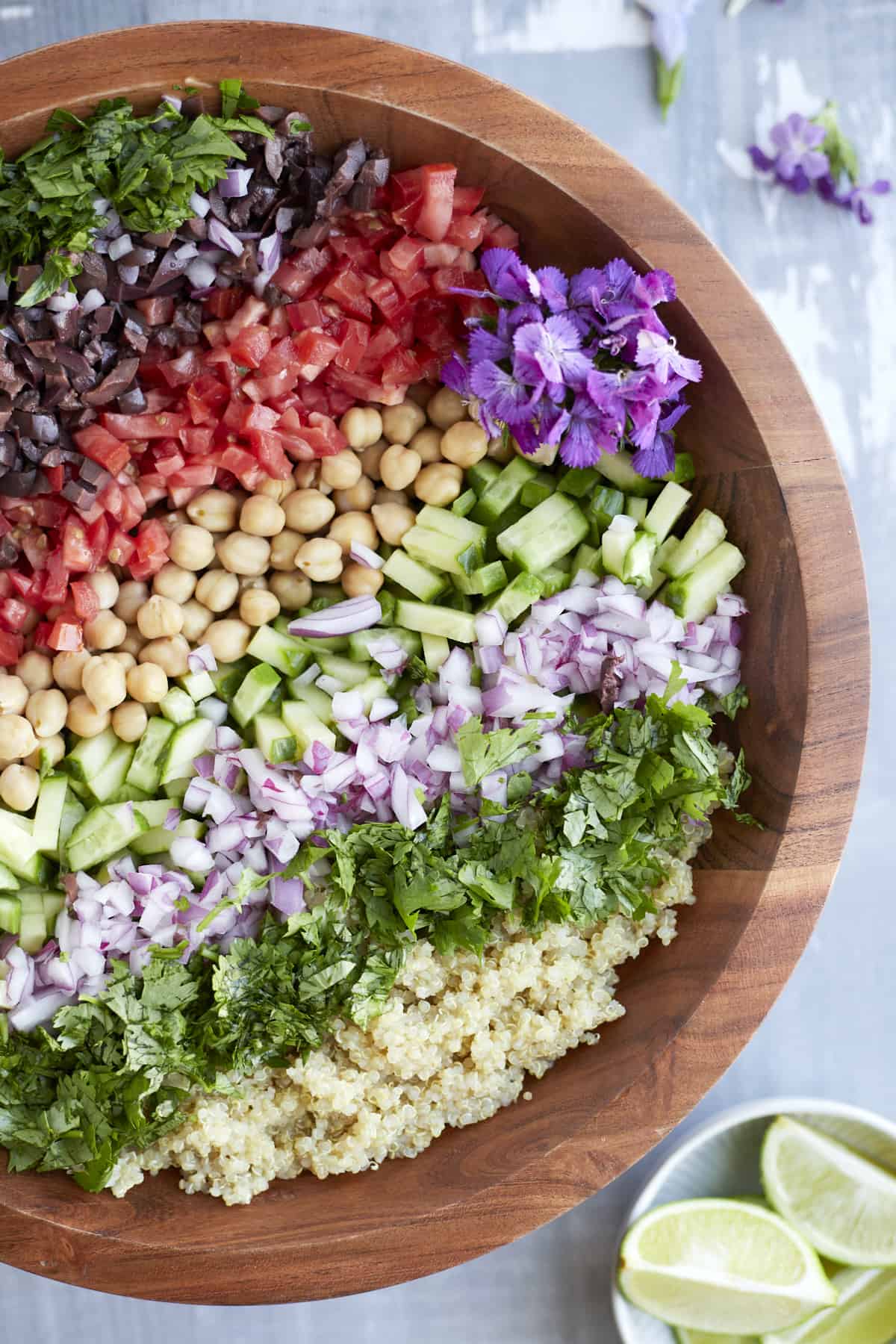 Why You'll Love This Mediterranean Quinoa Salad
We can never say no to a good salad recipe, and this healthy Mediterranean quinoa salad is one of our all-time faves! Hearty yet light and refreshing, it's delicious year-round and unbelievably easy to whip up, but that's not all! It's also:
Made with fresh, budget-friendly ingredients.
Great for meal prep and even tastier when served the next day.
Super versatile to fit your flavor preferences and dietary needs.
Loaded with vitamins, nutrients, fiber, and plant-based protein to keep you full.
Perfect for feeding a crowd!
What Is Quinoa?
The base of this Mediterranean salad, Quinoa is a superfood grain that is incredibly easy to make, and a great base for non-leafy salads! While there are over 100 different kinds of quinoa, the most common are red, black, and white.
Quinoa is packed with plant-based protein and has a super high fiber content. In fact, one serving of quinoa offers 15% of your daily fiber requirements (note that this value is an average and will vary based on height and weight). It is also a great source of iron and vitamin E and quick to make.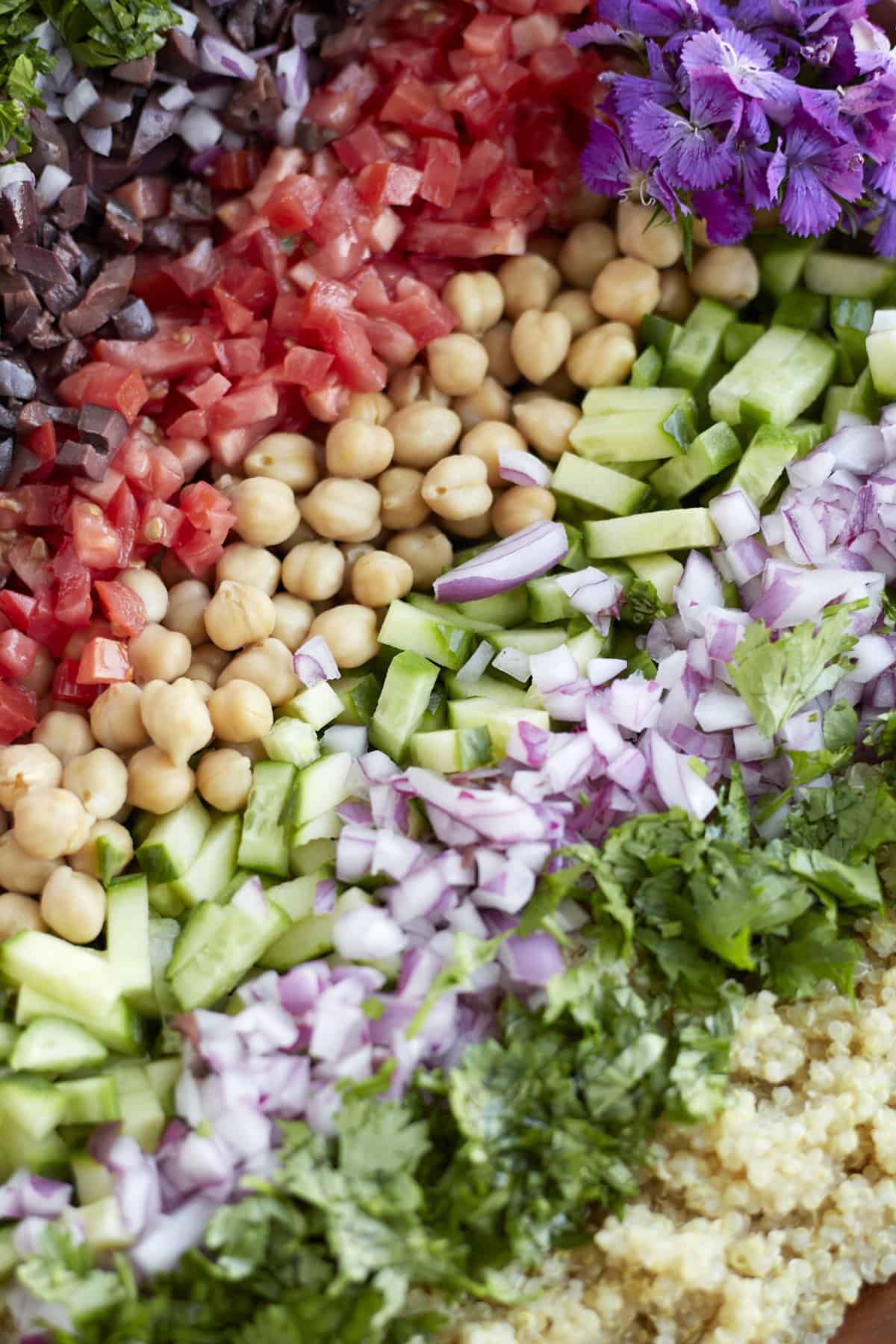 What You'll Need for the Best Mediterranean Quinoa Salad
The beauty of this salad is that once you gather and prepare the ingredients, it comes together in minutes! Here's everything you'll need:
Quinoa – Used as a grain, quinoa is actually a seed! Simple to make and loaded with fiber and protein, it's a staple in our diets and used in a wide variety of recipes including One Pot Mexican Quinoa, Vegan Roasted Eggplant Salad, and this Mediterranean Quinoa Salad Recipe.
Chickpeas – A type of legume, chickpeas are super high in fiber and protein and provide a poppable texture we love.
English Cucumbers – We prefer to use English cucumbers over other varieties because they have a slightly sweeter taste.
White Vinegar – Used to slightly pickle the onions, creating a tangy taste.
Red Onions – We include these to add just a hint of heat to this recipe. Just be sure to slice them small! Or, if you prefer, swap them out with yellow or white onions instead.
Kalamata Olives – Tart and salty, olives help balance out the sweeter flavor of the rest of the ingredients while adding a great source of healthy fats!
Red Bell Peppers – Used to add extra crunch and a pop of color. Feel free to mix and match any peppers you have on hand. Just note that green peppers will be slightly less sweet than yellow, orange, and red peppers.
Tomatoes – Used to add moisture and texture to the salad. We like on-the-vine tomatoes for bold flavor, but cherry or grape tomatoes work well, too.
Fresh Herbs – We love to include a mixture of cilantro and parsley for a hint of freshness.
Lemon Zest & Lime Juice – These help cut through the heaviness of the oil and fats and add a refreshing light flavor to this Mediterranean quinoa salad.
Extra Virgin Olive Oil – Used to coat the ingredients, acting as a dressing and bringing an element of savory flavor and healthy fats.
Should I Use Dry or Canned Chickpeas?
Like most legumes, chickpeas can be stored both dry or canned. Once dried chickpeas are rehydrated, there is no noticeable difference in flavor or texture compared to the canned version. So regardless of which you use, this healthy Mediterranean quinoa salad recipe will turn out great!
That said, we opt for canned chickpeas, because they require no prep work. All you have to do is open the can, drain the extra liquid (known as aquafaba), and they're ready to go!
Dried chickpeas, on the other hand, must be rehydrated before they are ready to use. This means you'll have to prepare in advance and allow plenty of time for the chickpeas to soak. However, if you've got the time, they're just as tasty! All you have to do is add the dried chickpeas to a bowl, and fill filled with water. You want the water to come up at least an inch or two above the chickpeas. Then, leave the chickpeas to soak for at least 8 hours, but overnight is ideal. It's important to note that dried chickpeas will triple in size when rehydrated, so make sure you are using a large enough bowl!
Flavor Variations
There are endless ways to make this Mediterranean quinoa salad your own. For example, some of our favorite mix-ins include:
Feta Cheese
Artichoke Hearts
Sun-Dried Tomatoes
Black Olives
Steak
Shrimp
Whole Grains like Buckwheat and Millet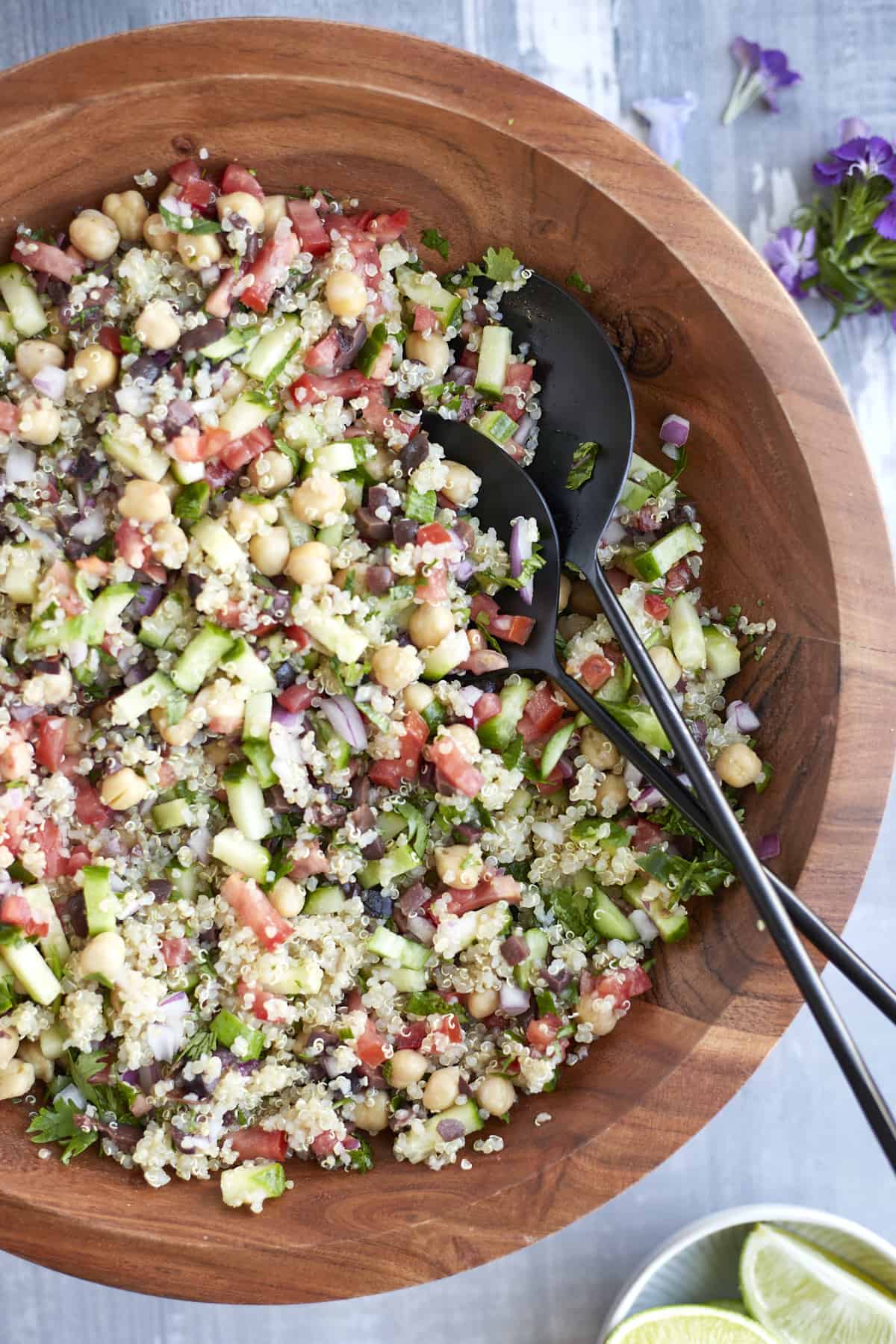 How to Make the Best Mediterranean Quinoa Salad
Although it looks super fancy, this Mediterranean quinoa salad recipe is a breeze to make!
Marinate the Red Onion. To begin, place the red onion in a jar or bowl with the vinegar, making sure they are completely submerged. Set them aside.
Prepare the Quinoa. Cook the quinoa according to the package instructions, and set it aside.
Combine the Salad. Add all of the ingredients including the red onions and quinoa to a large bowl. Toss to combine, ensuring all of the veggies are well coated in olive oil. Serve immediately, or transfer to the fridge to chill, and enjoy!
We earn a commission if you make a purchase, at no additional cost to you.
Mediterranean Quinoa Salad Common Questions
How long does this recipe last?
For the best results, we recommend serving this salad right away. However, if you happen to have leftovers, they can be stored in an airtight container dressed (tossed with the dressing) in the fridge for up to 2 days or undressed for up to 4 days. If you can, we highly recommend storing the olive oil dressing separately from the salad to prevent the veggies from becoming soggy.
What's the best type of quinoa to use?
Any type of quinoa can be used for this healthy Mediterranean quinoa salad. However, we recommend opting for white quinoa as it has a fluffier texture and a softer, more mild taste than red or black varieties.
Is quinoa best served cold or at room temperature?
Quinoa is super tasty at any temperature! For this salad, we recommend keeping it cool so it doesn't heat up the other veggies.
Can you put raw quinoa in a Mediterranean quinoa salad?
No. You'll want to make sure to fully cook your quinoa before adding it to the salad.
More Easy Salad Recipes You'll Love
If you enjoyed this Mediterranean quinoa salad recipe, you won't want to miss out on more of our favorites below!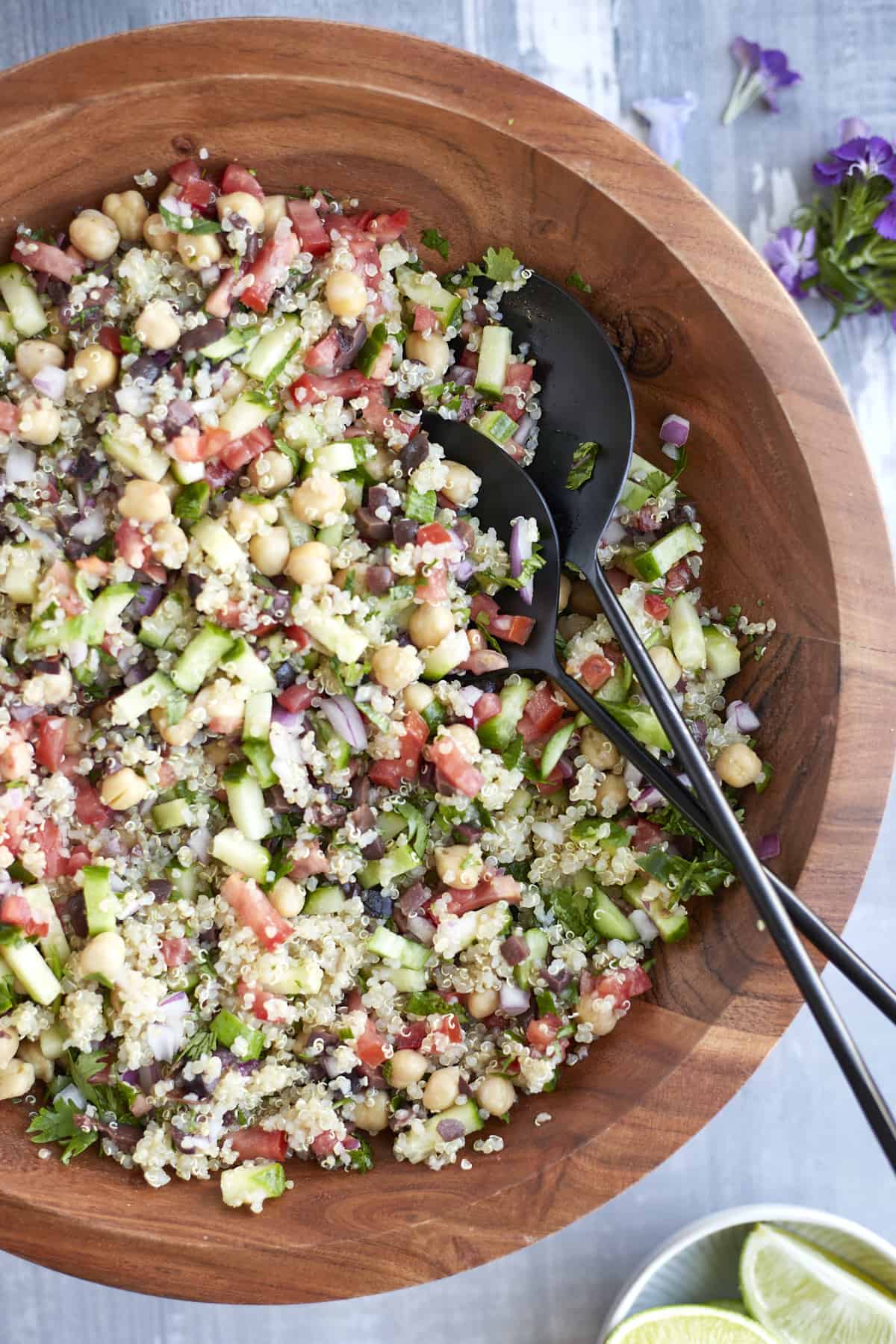 Mediterranean Quinoa Salad
This powerhouse quinoa salad is delicious and full of flavor. There's an easy option to make it grain free, too!
Ingredients
1/2

cup

quinoa

1

cup

water

16

ounces

canned chickpeas

rinsed and drained

1

cup

chopped and peeled english cucumber

about 1 small or 1/2 large

2

teaspoons

white vinegar

1/2

large chopped red onion

1/2

cup

chopped pitted kalamata olives

1

medium chopped red bell pepper

1

large tomato on the vine

3/4

cup

chopped cilantro

3/4

cup

chopped Italian parsley

zest of 1 lemon or lime

juice of 1 lime

salt and pepper to taste

2

Tablespoons

extra virgin olive oil
Instructions
In a small bowl, add the chopped red onion and vinegar, stirring to combine. Set aside, and chop the rest of the veggies and herbs.

Cook the quinoa according to package instructions. Set aside to cool

Add all ingredients to a large bowl. Toss to combine, and adjust the seasonings to taste.

Serve at room temperature, or refrigerate until ready to serve.
Notes
For a grain-free recipe, feel free to omit the quinoa.
Nutrition
Serving:
1
serving
|
Calories:
195
kcal
|
Carbohydrates:
24
g
|
Protein:
7
g
|
Fat:
9
g
|
Saturated Fat:
1
g
|
Polyunsaturated Fat:
2
g
|
Monounsaturated Fat:
5
g
|
Sodium:
396
mg
|
Potassium:
379
mg
|
Fiber:
6
g
|
Sugar:
2
g
|
Vitamin A:
1632
IU
|
Vitamin C:
40
mg
|
Calcium:
61
mg
|
Iron:
2
mg
Nutrition information is automatically calculated, so should only be used as an approximation.
Like this recipe?
Please leave a comment!