This Cobb Salad Recipe with Green Goddess Dressing is a vibrant and refreshing take on a classic meal. Made with all the classic cobb salad ingredients and tossed in a homemade dressing, it's crisp, delicious, packed with protein, and full of flavor to keep you full and satisfied. Serve it on its own or as a side dish with all your favorite meals!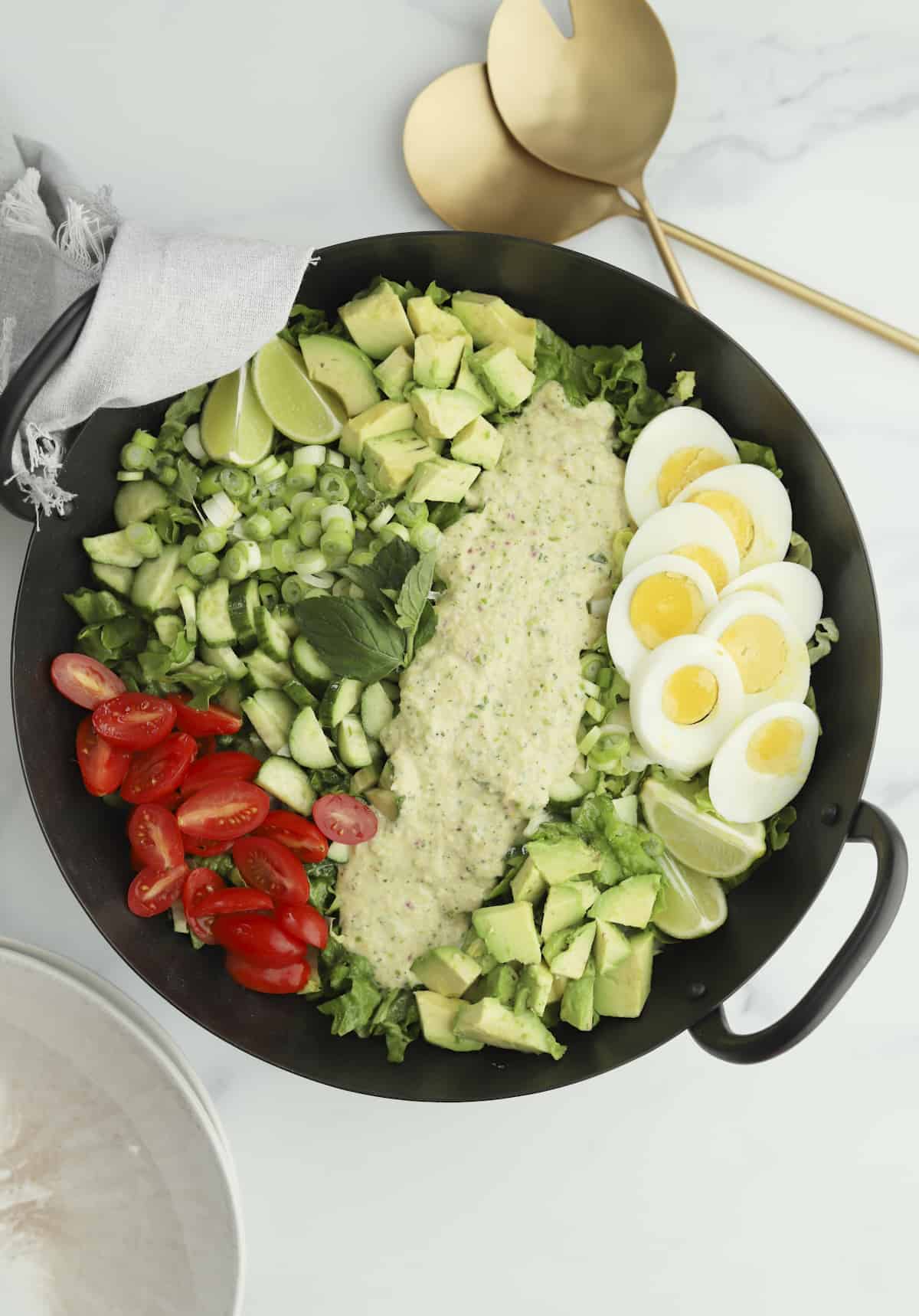 What Is A Cobb Salad?
A cobb salad is a classic American dish consisting of chopped salad greens, tomatoes, crispy bacon, hard-boiled eggs, chicken, avocado, chives, and bleu cheese that is often tossed with a vinaigrette dressing.
History of the Classic Cobb Salad Recipe
Although there are many different stories of how the cobb salad was created, the truth is that it was invented in 1937 in Hollywood, California by the owner of the popular Brown Derby restaurant, Bob Cobb. As the story goes, Mr. Cobb created the salad for himself and his friend in the early morning by simply rummaging through the restaurant's kitchen and tossing ingredients together. The resulting recipe was a complete accident, but his friend was so impressed by the combination of flavors, he returned to the Brown Derby the next day and asked for the Cobb Salad. Clearly, the name stuck, and so did the salad! As a result, you can now find at least some variation of the Cobb Salad on restaurant menus across the United States.
Cobb Salad vs Chef Salad
As previously mentioned, a cobb salad is made with very specific ingredients that do not change (at least in traditional recipes). However, chef salads are made with more generic or general ingredients including cucumbers, tomatoes, carrots, cheddar cheese, and meat like ham, turkey, or bacon. However, unlike cobb salad recipes, the ingredients in a chef salad can be swapped, substituted, and changed and are often paired with a wide variety of dressings.
Why You'll Love Our Version
Although our cobb salad recipe isn't identical to the original, it's still super delicious! You see, instead of using a classic vinaigrette dressing, we combined all the classic cobb salad ingredients with our homemade green goddess dressing. The end result is light, herbaceous, and unbelievably delicious. But that's not the only reason why we love this cobb salad recipe! It's also:
Great to serve as a complete meal or easy side
Quick to make
Perfect for feeding a crowd
Healthy, filling, and loaded with flavor
Cobb Salad Ingredients
The ingredient list for this salad is simple and easy, even with our homemade dressing! Here's everything you'll need:
Pine Nuts – Included to add a rich, nutty flavor and a smooth, buttery texture.
Fresh Basil – Adds color and a light, refreshing flavor.
Shallot and Garlic – When combined, these two add a slightly sweet and super savory flavor you'll love.
Jalapeño – Use as little or as much as you'd like for a kick of spice!
Seasoned Rice Wine Vinegar – We prefer to use seasoned rice wine vinegar, but white wine vinegar would work as well. Either ingredient helps to balance out the heavy oils and rich flavors with their acidity.
Limes – For a bit of zest.
Extra Virgin Olive Oil – This helps to combine the ingredients, forming the base of the green goddess dressing and adding a boost of healthy fats.
Salt – Used to help enhance the flavor of the rest of the ingredients.
Parmesan Cheese – Sharp, savory, and slightly salty, Parmesan takes this dressing from good to great. If needed, you could use a dairy-free Parmesan option to keep it dairy-free.
For the Cobb Salad Recipe
Greens – Hard leafy lettuce or whatever greens you like best can be used. We recommend lighter varieties with higher contents, but whatever you have on hand will taste great!
Eggs – Hard-boiled eggs add a slightly creamy texture along with healthy fats and protein.
Bacon – We use turkey bacon, but regular bacon works, too.
Tomatoes – For a sweeter taste, we recommend choosing small tomatoes like grape or cherry.
Avocado – This adds a smooth texture and rich fats to keep you full.
Bleu Cheese – Soft in texture and sharp in flavor, blue cheese is a stable in the best cobb salad recipes. However, if you aren't a fan, you can replace it with any other cheese you like best.
Green Onions – Sprinkled on top for a pop of color, a little crunch, and just a hint of spice.
How to Make The Best Cobb Salad Recipe
For the Green Goddess Dressing
Combine the ingredients. Add all of the ingredients to the bowl of a food processor.
Pulse. Pulse the food processor until the ingredients are smooth and creamy.
For the Cobb Salad
Prepare the ingredients. Slice your greens into thin strips, and add them to a large salad bowl. Add the tomatoes, bacon pieces, sliced eggs, avocado, and green onions. Then, sprinkle the bleu cheese on top.
Toss. Drizzle the green goddess dressing on top of the ingredients, and toss to combine.
Enjoy. Serve immediately, or place your salad in the refrigerator to chill.
We earn a commission if you make a purchase, at no additional cost to you.
Can I Make This Recipe Ahead of Time?
Yes! If you want to prep your cobb salad recipe in advance or think you'll have leftovers, we recommend storing the ingredients separately. Or, at the very least reserving the dressing until just before serving. Kept in an airtight container or a sealable jar, the green goddess dressing will stay fresh in the fridge for up to 3 days.
To store the salad itself, keep the toppings separate from the greens in airtight containers, and place a paper towel in each to absorb any excess moisture. They will keep fresh in the fridge for several days.
Then, when you're ready to eat, combine all of the ingredients in a bowl, toss them with the dressing, and enjoy!
Serving Suggestions
This cobb salad recipe is filling enough to be served as a complete meal on its own especially when paired with a piece of crusty bread. Or, it makes for a great side dish or appetizer with main courses like roasted chicken, beef kofta, and sheet pan salmon!
More Easy Salad Recipes
Looking for more healthy salad recipes? Take a look at these options the whole family will love!
Cobb Salad With Green Goddess Dressing
If you love a good cobb salad, try this easy recipe with green goddess dressing! It is great for lunch, dinner, or as a side salad!
Ingredients
1/4

cup

pinenuts

1/2

cup

fresh basil

1

small shallot

1/2

jalapeño

seeded for less spice

2

garlic cloves

2

tbsp

seasoned rice wine vinegar or white wine vinegar

2

tbsp

chopped green onion

2

squeezed limes

1/3

cup

extra virgin olive oil

1

tsp

salt

more or less to taste

1/4

cup

parm cheese

Salad

1

head leafy lettuce or your favorite greens

3

hard boiled eggs

2

strips cooked organic turkey bacon

1

cup

sliced cherry tomatoes

1

ripe avocado

chopped

1/4

cup

bleu cheese crumbles

1/2

cup

chopped green onions
Instructions
Make your salad dressing:
Place pine nuts, fresh basil, a small shallot, jalapeño, garlic, and chopped green onions into a food processor.

Use a citrus juicer or hand reamer to squeeze the juice from two limes into the food processor.

Pour in olive oil and your choice of vinegar.

Sprinkle on salt and add the shredded parmesan cheese.

Blend the ingredients together in your food processor until the ingredients are combined.

Assembly

Slice the leafy greens into thin ribbons and add in a large salad bowl

Dice up tomatoes.

Chop the crispy turkey bacon.

Slice the eggs.

Slice the avocados and green onions.

Crumble up your bleu cheese.

Add everything on top then greens.

Pour the dressing over and toss together or serve with the dressing on the side.
Nutrition information is automatically calculated, so should only be used as an approximation.
Like this recipe?
Please leave a comment!