Wow your guests with this Mediterranean Mezze Platter! Complete with fresh veggies, cheese, dips, and more, it's got everything you could ever want to satisfy all your cravings. Serve it as a fun appetizer or healthy main course.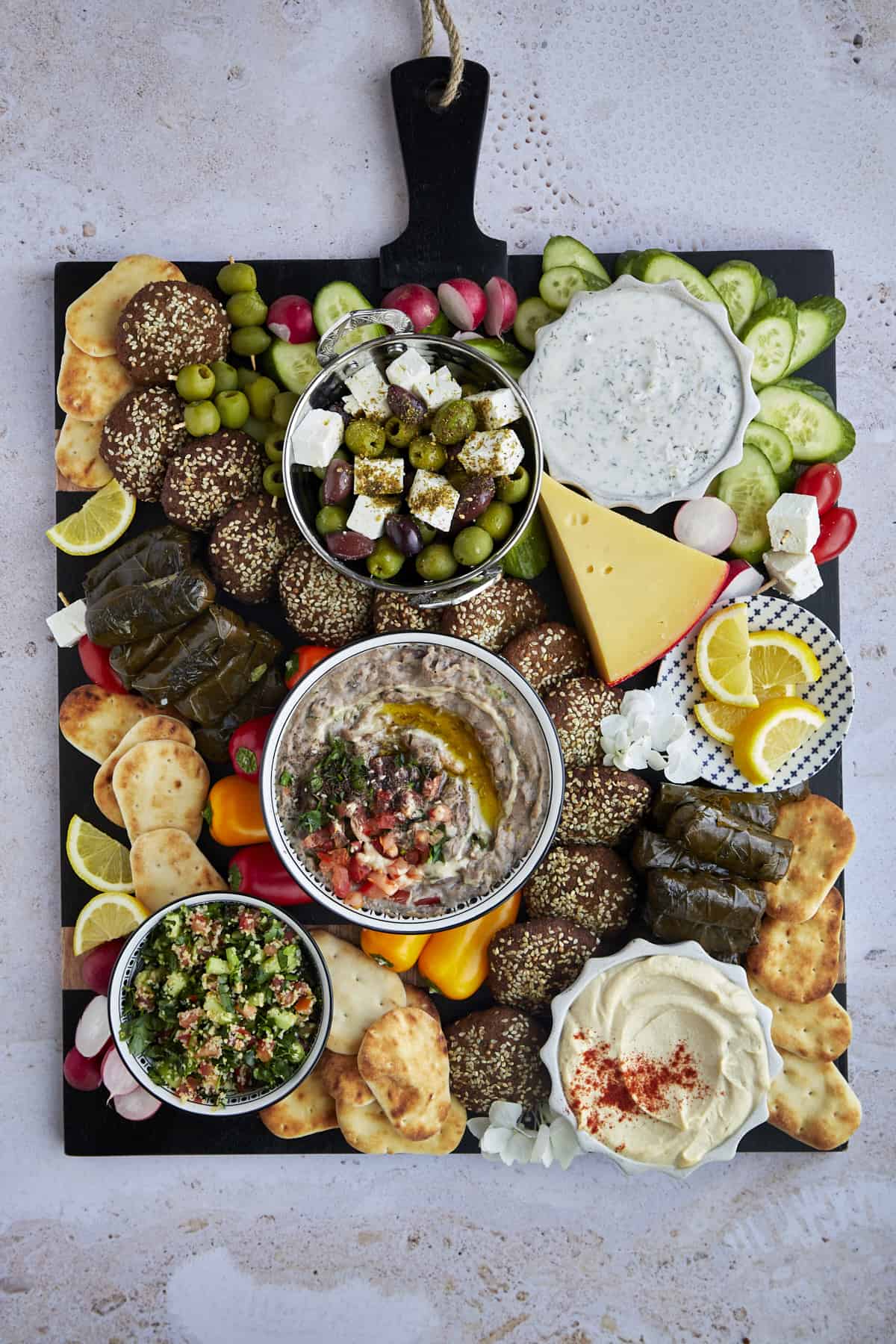 While charcuterie boards and snack platters have been popular on social media for the last several years, they've been a staple in Middle Eastern culture for decades. No gathering is complete without a spread of dips, meats, cheeses, and snacks. And preparing a mezze platter is by far our favorite way to feed a crowd!
Not only do they look great on any table, but they're also super fun to make and perfect for offering a wide variety to fit everyone's needs. After all, variety is the spice of life! Why choose between a single main course when you can have appetizers, main dishes, snacks, and desserts all on one board.
Plus, instead of spending hours in the kitchen, you can prepare different items in advance. Then, all you have to do is put them together, and enjoy! Your guests will love getting to sample a variety of items, and you'll love how quick it is to assemble and clean up. It's a win win!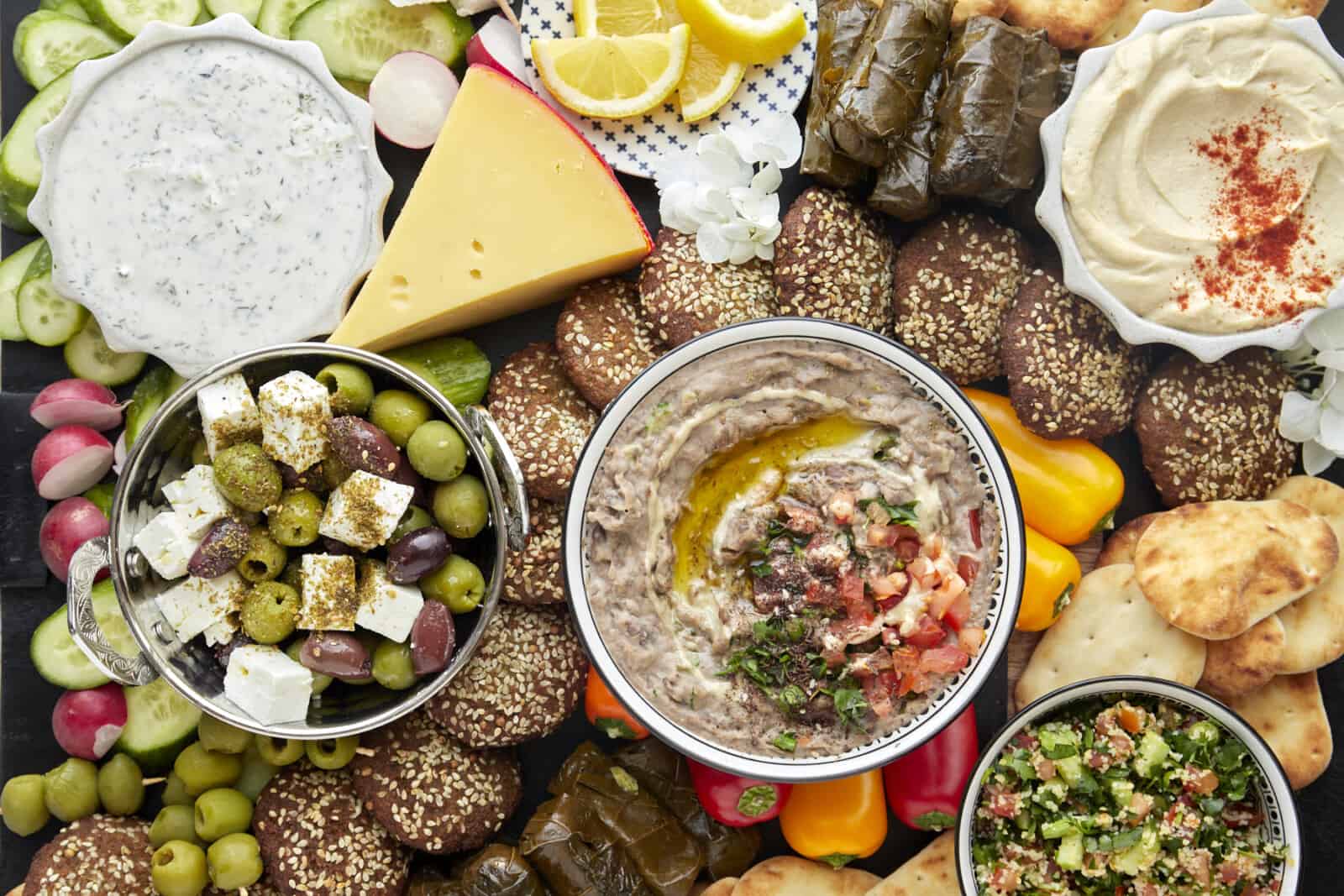 What Is A Mezze Platter?
A staple in Middle Eastern cuisine, mezze platters are an assortment of small dishes served together as an appetizer or a light meal and eaten family-style. The exact components of mezze platters vary but usually contain plenty of colorful options such as hummus, tabbouleh, stuffed grape leaves, cheese, olives, and pita bread.
How Do You Pronounce Mezze?
The word "mezze" comes from the Persian word "mazze" which means "taste" or "snack". Mezze is typically pronounced as "mez-ay" or "mez-eh" with the emphasis on the first syllable. The "zz" in mezze is pronounced like a soft "z" sound, similar to the "s" in the word "measure". So, the correct pronunciation is "MEZ-ay" or "MEZ-eh".
What's the Difference Between Tapas and a Mezze Platter?
Although both consist of small dishes, there are several distinct differences between tapas and mezze.
For example, tapas is a Spanish tradition that is believed to have started when bartenders would place small pieces of food on top of customers' drinks to keep flies away. The word itself actually translates to mean "lid" or "cover". Tapas platters often consistent of Spanish dishes such as patatas bravas, croquetas, and tortilla española.
Meanwhile, mezze platters originate from the Middle East and Mediterranean regions and consist of more dips, spreads, and toppings served with bread for dipping. In addition, mezze components are typically arranged on a large platter while tapas dishes are served in small plates or bowls.
To summarize, tapas platters are rooted in Spanish culture and served in individual plates and bowls while mezze platters consist of Middle Eastern and Mediterranean foods presented on a single platter.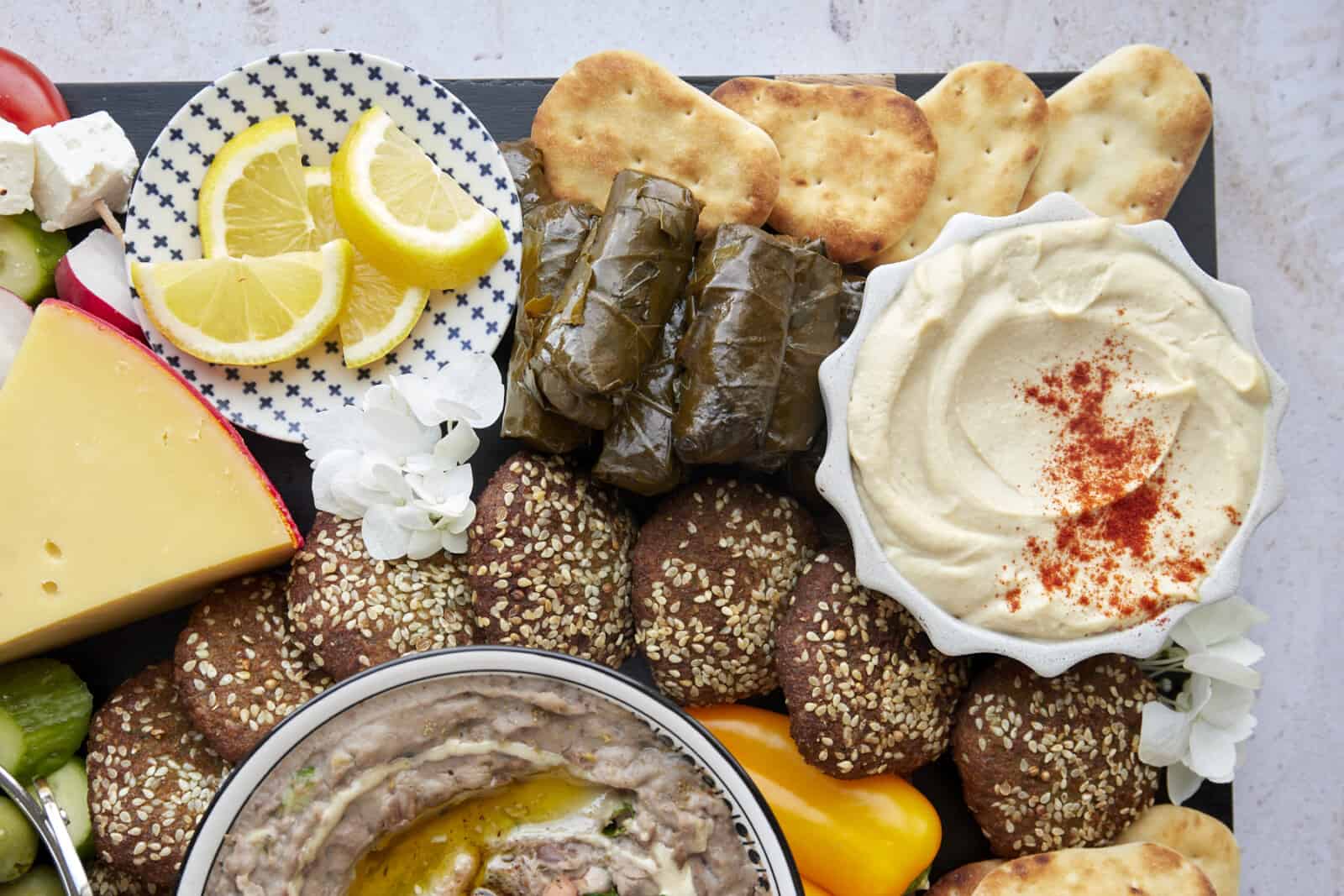 How to Make the Best Mezze Platter
If you've ever made a charcuterie board, you know how to make a mezze platter! It's super simple!
Find a Large Platter. Mezze is meant for sharing, so the bigger, the better! You want to make sure you have a board big enough to comfortably fit a large variety of items to feed a crowd.
Gather Spreads. Dips and spreads form the foundation of any mezze platter, adding tons of texture, color, and flavor. Gather your favorites, add them to small bowls, and arrange them on your board.
Veggies Galore! Vegetables are crucial to creating a vibrant, well-rounded platter. No proper board is complete without them. Choose a wide variety of options to add lots of color and texture.
Add Briny Items. Olives and pickles are great to fill in any gaps and add a contrast of salty, savory flavor.
Don't Forget the Extras! Mediterranean cheese, cured and dried meats like salami and prosciutto, dried and fresh fruit, and nuts are great extras for sweet and savory flavors that pair well with everything and work well to fill any sparse areas on your platter.
Include Dipping Items. Bread like pita and lavash is always included for scooping up all the dips. Crostini and crackers work great, too!
We earn a commission if you make a purchase, at no additional cost to you.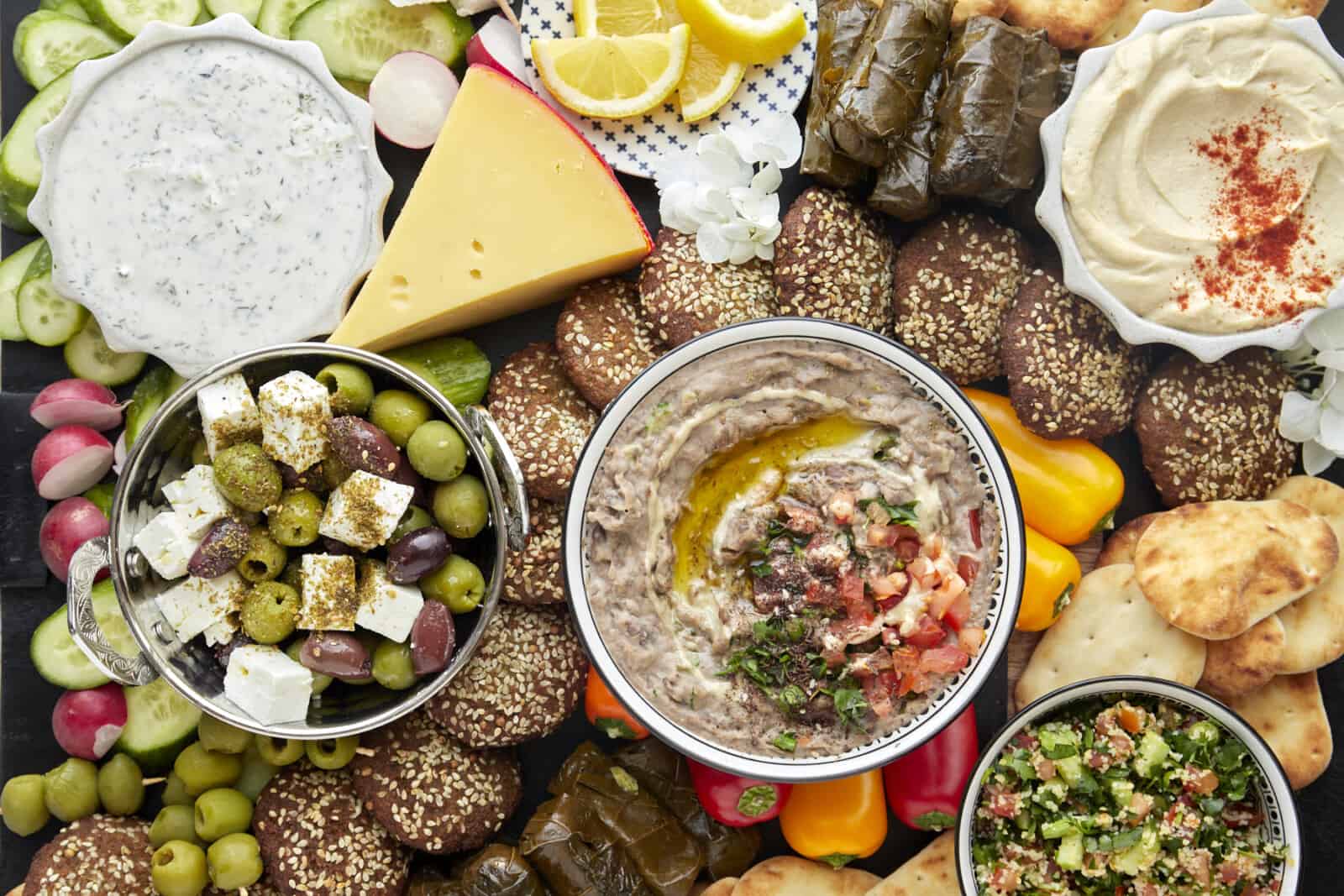 Tips and Tricks
Alright, now that you know how to make a mezze platter, we're going to share a few extra tips and tricks we've learned throughout the years to make sure they always turn out Instagram-worthy.
Don't Forget Garnishes. Garnishes like fresh herbs, citrus slices, and edible flowers make for a super pretty platter and help fill in any sparse spaces that may crop up.
Variety is Key. When it comes to crafting a mezze platter that's not only tasty but also visually appealing, you'll want to choose options that are different in size, shape, color, and texture. Then, alternative their placement on your board to create lots of contrast.
Prepare in Advance. To make serving easy, prepare as much as you can a day or two in advance. Make your dips in spreads, bake your bread, slice your veggies, etc. Then, all you have to do is put it all together, and your mezze platter is ready to go!
Use Store-Bought Options. There's no shame in using a few shortcuts! To save time, feel free to buy various items from your local grocery store. For instance, pre-made pita, hummus, baba ganoush, and sliced veggies are super easy items to find.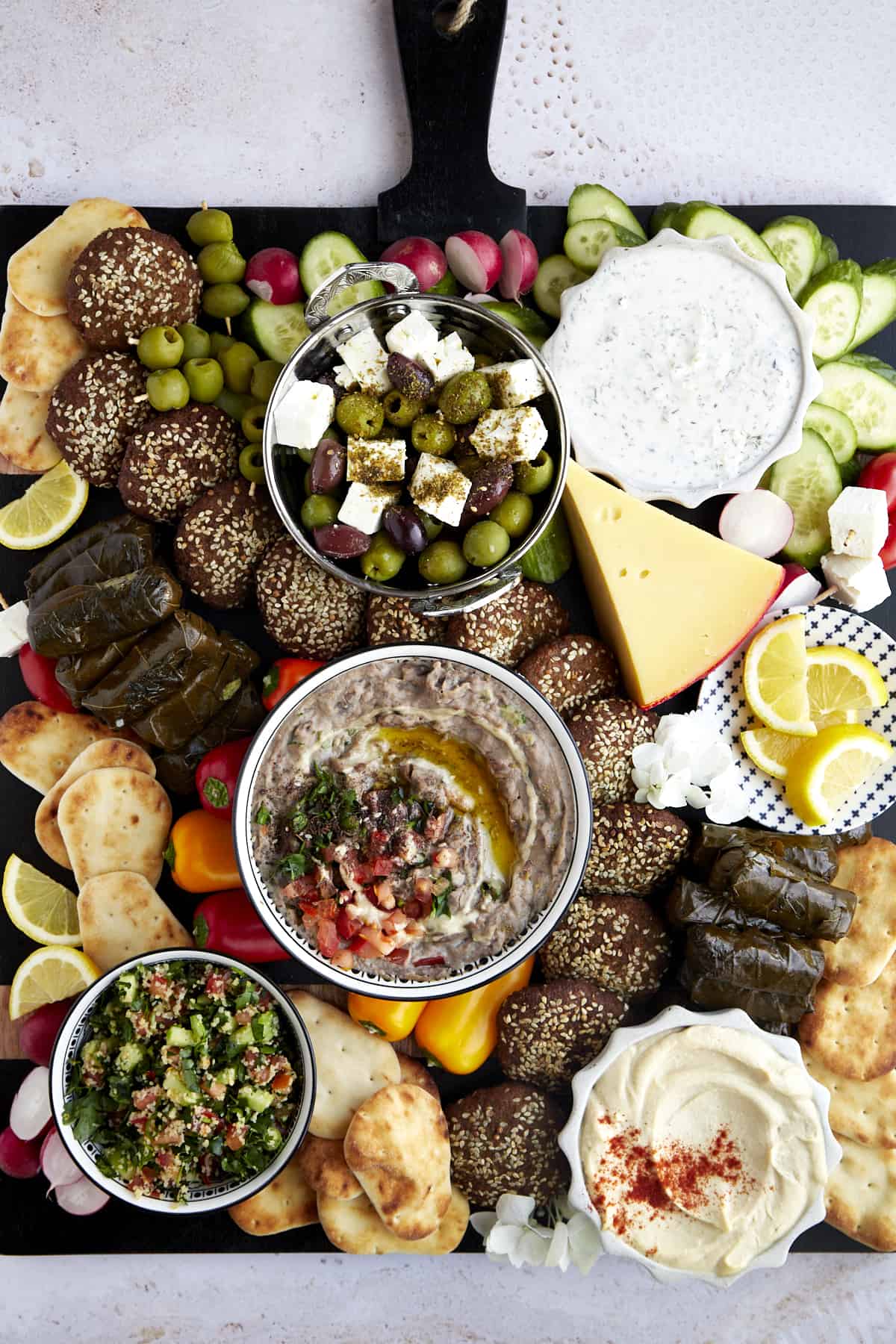 What to Include on Your Mezze Platter
Of course, you can include whatever you want on your platter. There's no right or wrong! However, if you're looking for inspiration, our favorite items include:
Dips and Spreads like hummus, baba ganoush, tzatziki, toum, and dipping oil.
Sides and Salads including tabbouleh, roasted eggplant salad, and stuffed grape leaves
Main Courses such as falafel and beef kofta
Extras including olives, feta cheese, Mozzarella, Gouda, and fresh vegetables
Bread like pita bread, lavash, crostini, and even crackers for dipping
More Boards, Platters, and Spreads
If you enjoy this mezze platter, don't miss out on more of our favorite options for every occasion!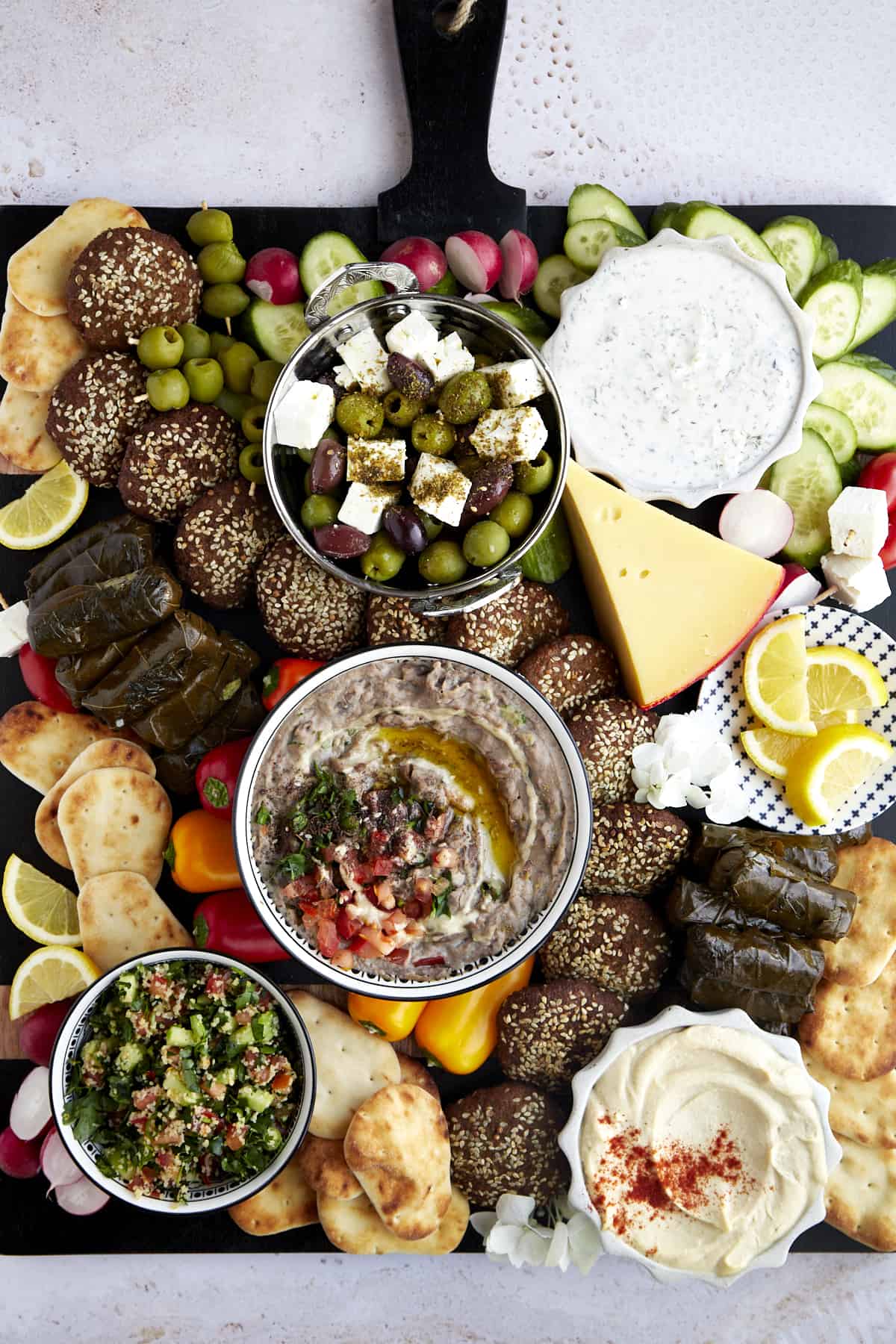 Mediterranean Mezze Platter Recipe
Learn how to make an easy Mediterranean Mezze Platter for a healthy appetizer or main course perfect for feeding a crowd!
Ingredients
Hummus

Baba Ganoush

Tzatziki

Toum

Bread Dipping Oil

Tabbouleh

Roasted Eggplant Salad

Stuffed Grape Leaves

Falafel

Beef Kofta

Fresh Vegetables

Assorted Cheese

Olives

Pita Bread

Lavash

Crackers
Instructions
Choose as many ingredients listed above as desired.

Place the dips and spreads in small dishes.

Arrange the items on a large serving board or platter.

Garnish with fresh herbs, lemon slices, and edible flowers, as desired.
Nutrition
Nutrition information is automatically calculated, so should only be used as an approximation.
Like this recipe?
Please leave a comment!