We don't know about you, but in our house homemade hummus always wins the hearts of our family over store bought hummus. Homemade hummus tastes great, and even better it is one of the easiest recipes to make. Once you get comfortable with it, you can adjust it with your seasonings or toppings.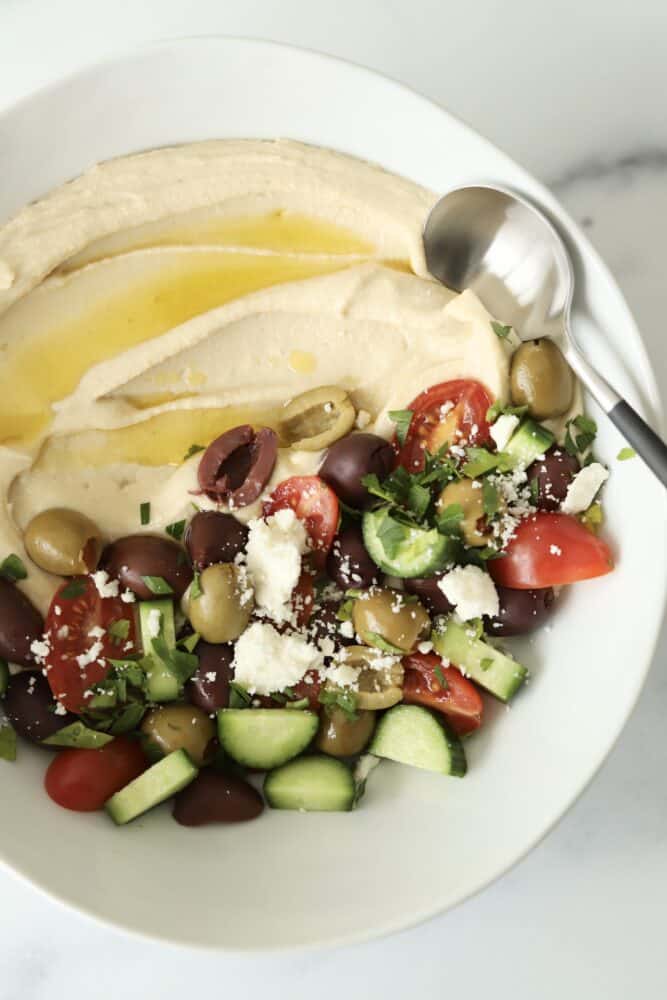 Our go-to way to spruce up hummus is with roasted chickpeas and a simple yet refreshing cucumber salad and toasted pine nuts. And not only do roasted kalamata olives and tomatoes make for the best snack, but they are the perfect way to add texture to your homemade hummus bowl.
If you love the Whipped Feta with Roasted Tomatoes and Chickpeas, then you have to give this recipe a try!
How to make hummus with roasted chickpeas with kalamata olives
roasted tomatoes and olives If you've been with us for a while, you know we love creating easy recipes that are hands-off with minimal cleanup. Although this isn't a single dish meal, we do love that it only takes a couple of tools and dishes to bring this recipe to life. After all, the less we use to cook means the less dishes for us after dinner!
First you're going to get your food processor and add all of the ingredients for the hummus. Make sure to rinse and drain your chickpeas before popping them in (and if you are using dried chickpeas – see our notes below – make sure they are soaked in advance).

Pulse all of your ingredients together until you have a smooth, creamy texture. If you are finding that your hummus is too grainy or thick, feel free to add more water one tablespoon at a time.

Next, preheat your oven to 400 degrees F.

Add all the ingredients for your roasted tomatoes to a baking dish and toss everything together until all the chickpeas are coated. Spread them out into a single layer to ensure they cook evenly. Bake for 15-18 minutes, or until you reach your desired texture.

Set aside the roasted tomatoes to cool.

Lastly, top with the diced cucumbers, and pine nuts.

When all components are ready, plate and serve!
Why it is important to pulse hummus in a food processor
If you've made homemade hummus before and thought 'why does my hummus taste bitter?' you're not alone! But don't worry, we are here to help.
Oftentimes, your hummus can turn bitter simply from the method you use to combine the ingredients rather than the balance of the ingredients themselves. It is important to pulse your ingredients together instead of blend them or keep the food processor running because you want to limit the amount of heat transfer from your kitchen equipment.
Your food processor blades will likely never get so hot that you can get burned, but if they get warm it can change the taste of extra virgin olive oil and tahini due to how these ingredients are made. Luckily, by using the pulse feature, you can easily prevent this temperature change and voila – your hummus is saved!
Prefer to use dried chickpeas instead of canned?
If you're someone who likes to stock up on dry goods, you may be wondering 'can I use dried chickpeas to make hummus instead of canned chickpeas?' We are happy to be the ones to tell you – absolutely yes! You can make delicious homemade hummus just as easily with dried chickpeas, although you will definitely have to start the preparations in advance.
Basically, the difference between dried chickpeas and canned chickpeas is hydration and readiness to use. The beauty of canned chickpeas is that they are fully hydrated when you open the can. But the benefit of dried chickpeas is that they can take up less space, and also may have less packaging materials if you buy in bulk.
If you want to use dried chickpeas for this recipe, there is one additional step you will need to take the day before you want to dive into this hummus recipe. You'll take one cup of dried chickpeas and soak it in chicken or vegetable broth (for extra flavor) or water overnight. You can leave them in the fridge while they soak, but make sure to give them a full 12 hours. One cup of dried chickpeas will double in size, and will be almost exactly the same amount as a 16 oz can!
Once your dried chickpeas are rehydrated, you will use them just as you would canned! It is that easy to rehydrate dried chickpeas to make delicious homemade hummus.
Notes
For a dairy-free option, feel free to omit the feta cheese.
What to serve this with
This goes well with warm pita bread, pita chips, or a nice crusty bread!
What is Sumac (Soo-Mak)
Sumac is made from dried and ground berries, it comes from the wild sumac flower. It's has a lemony flavor with a deep red hue. It's used a lot across the Middle East. It's a great spice to add to chicken, fish, and beef!
You can find sumac in specialty grocery stores, or find it here.
Hummus with Roasted Tomatoes and Olives
Easy hummus recipe with roasted tomatoes, kalamata olives, feta cheese, and chickpeas. Topped with cool cucumbers, toasted pine nuts and feta cheese crumbles!
Ingredients
1/3

cup

tahini

stirred

1/4

cup

extra virgin olive oil

1/4

cup

greek yogurt

1 16

oz

canned Chickpeas

rinsed and drained

1/2

tsp

cumin

1/2

tsp

sea salt

more or less to taste

1/8

tsp

cayenne pepper

optional

3

ice cubes

1/4

cup

water
Roasted Tomatoes and Olives
8

oz

cherry tomatoes

1/2

cup

kalamata olives

1/2

cup

washed and drained chickpeas

1/2

small chopped red onion

2

tbsp

chopped cilantro

1/4

cup

crumbled feta

1/2

tsp

ground sumac

1/2

tsp

cumin

1

tbsp

fresh squeezed lemon juice

2

tbsp

extra virgin olive oil

1/2

tsp

salt

more or less to taste

1/2

tsp

freshly ground black pepper

more or less to taste
Topping/Garnish
2

tbsp

toasted pine nuts

1/4

cup

diced cucumber

1

tbsp

feta crumbles

a drizzle of extra virgin olive oil

optional

sprinkle of sumac

optional
Instructions
Hummus
In a food processor, add all your ingredients. Pulse until smooth. Add an extra splash of water if the hummus is too thick.

Preheat oven to 400 degrees F.

Add all the ingredients in a large baking dish or sheet pan. Toss everything together until it is all coated. Spread into a single layer. Bake for 15-18 minutes Set aside to cool slightly.

To assemble, spread the hummus on a plate. Top with the roasted tomato and olive mixture. Sprinkle the cucumbers, toasted pine nuts, feta cheese crumbles on top. Drizzle with extra virgin olive oil and a sprinkle of sumac.
Nutrition information is automatically calculated, so should only be used as an approximation.
Like this recipe?
Please leave a comment!