This giant indoor s'mores board is the ultimate dessert platter that is perfect for feeding a crowd and will have all your guests raving for days. Fill it up with cookies, chocolate, marshmallows, and more to create the most epic indoor smores!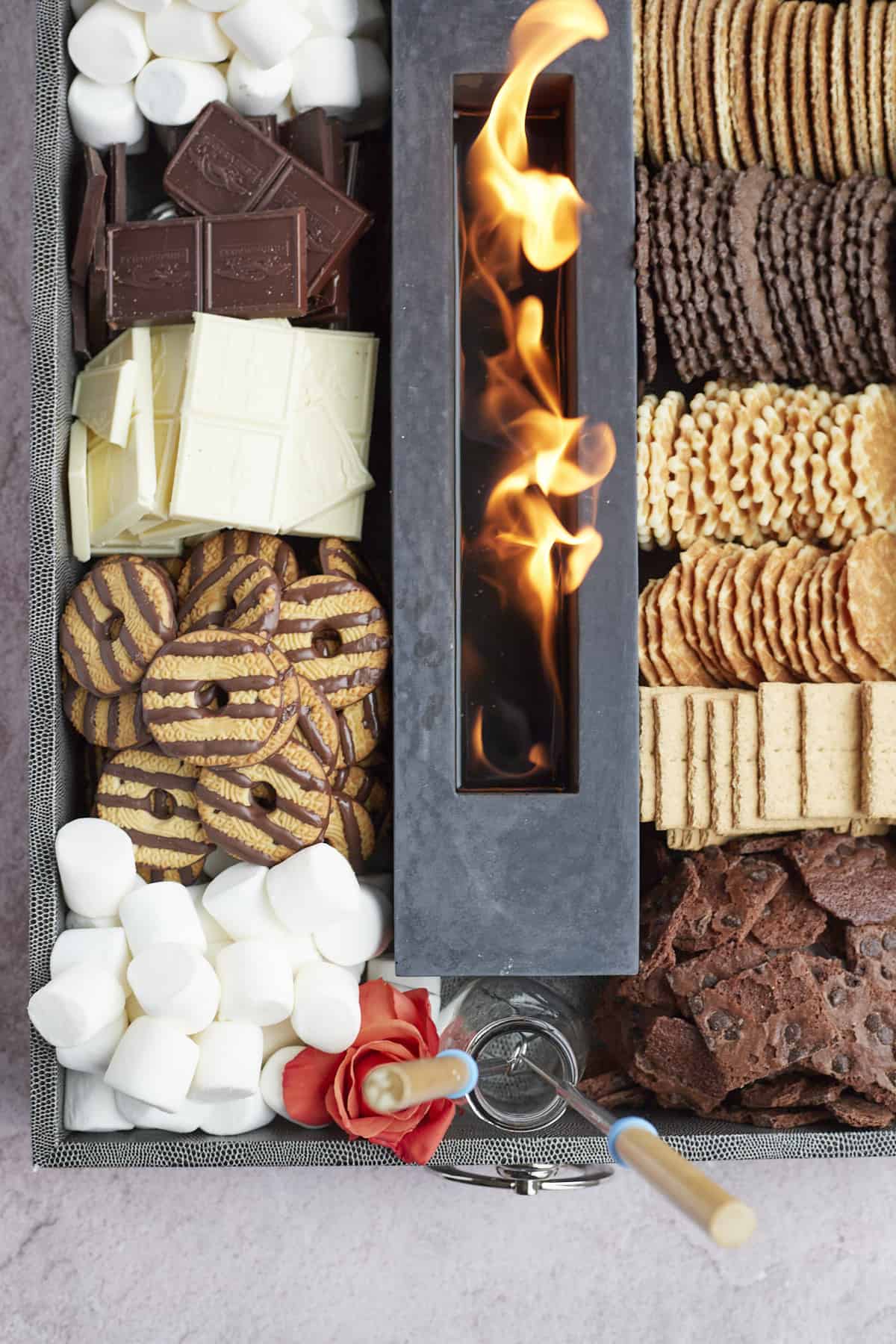 What Is a S'mores Board?
A smores board is our take on a dessert-inspired charcuterie board! Instead of traditional ingredients like meat and cheese, we load up a large platter with all our favorite smores ingredients. However, unlike traditional charcuterie boards or even dessert platters, our smores boards feature an indoor firepit! This is what takes the platter over the edge, allowing you to take the outdoors in. For small gatherings, we use a simple portable fire pit featured here. However, when we really want to throw a party, we pull out all the stops with our extra large fire pit and all the goods!
Why We Love This Dessert
If you've been following the blog, you'll already know that we're pretty much smores-obsessed. With recipes like s'mores cookies, our easy s'mores brookie, and the best s'mores chocolate cake, we can't stop! However, this smores board might be our favorite creation yet. For instance, it's:
Super quick to put together and ready in minutes.
Easy to customize with all your favorite treats.
Great to serve all year long.
Extra kid-friendly and a fun way to entertain a crowd!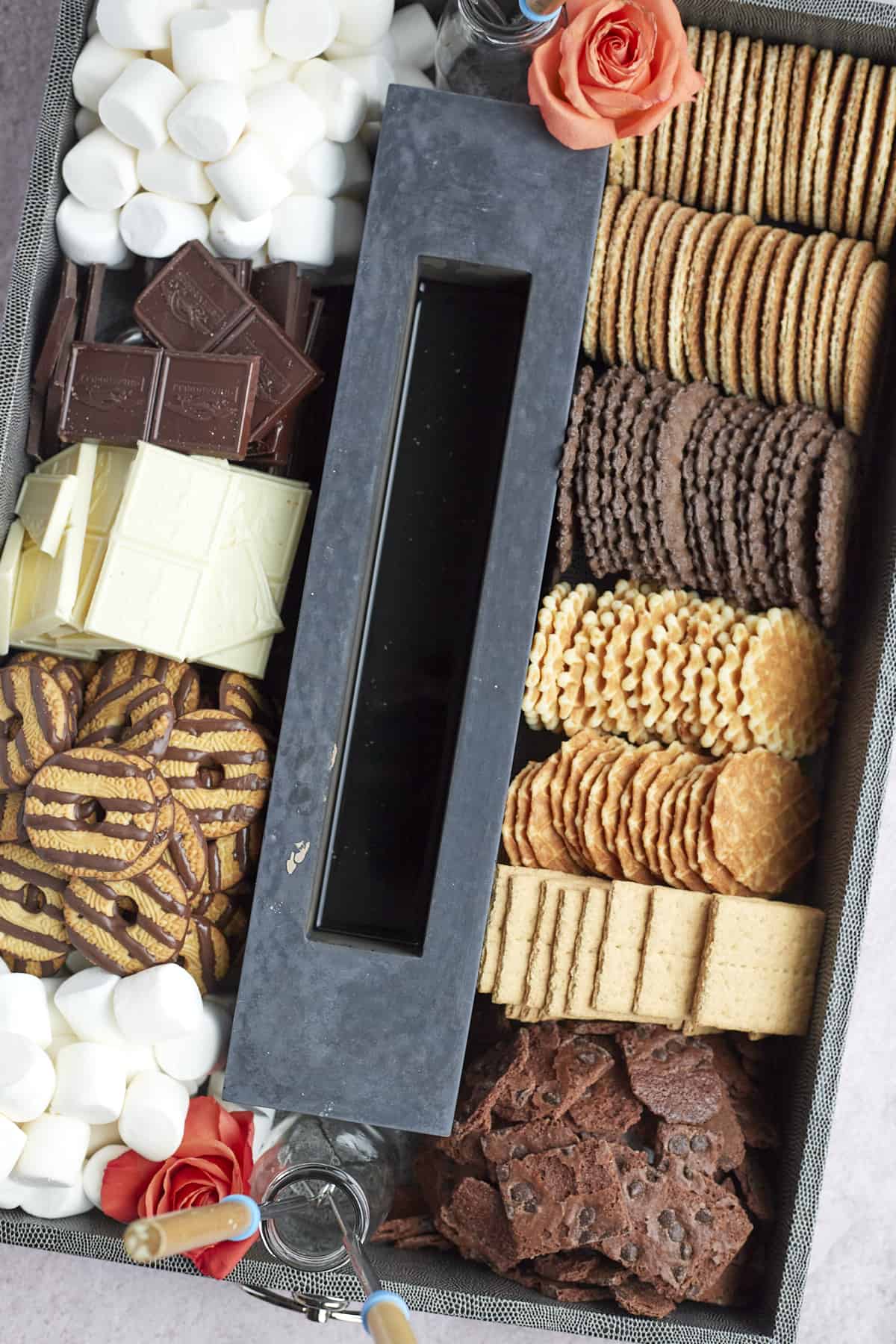 What You'll Need
Of course, you could stick with basic smores ingredients and just load your board up with graham crackers, chocolate, and marshmallows. It would still be super fun and obviously delicious. However, since we're already using a massive fire pit, we figured go big or go home and pulled out all the stops with our favorite treats! Here's what we used:
Le Chic Patissier Stroopwafels
Ghirardelli White Chocolate Bar
Jules Destrooper Butter Crisps
Optional Add-Ins and Substitutions
Of course, when it comes to smores the ingredients and add-ins are endless. So, just in case you want to switch things up, we thought we'd include some more of our favorite items to include in our board!
Fruit (strawberries, blueberries, bananas, etc.)
Reeses
Peanut Butter
Chocolate Graham Crackers
Thin Mints
Oreos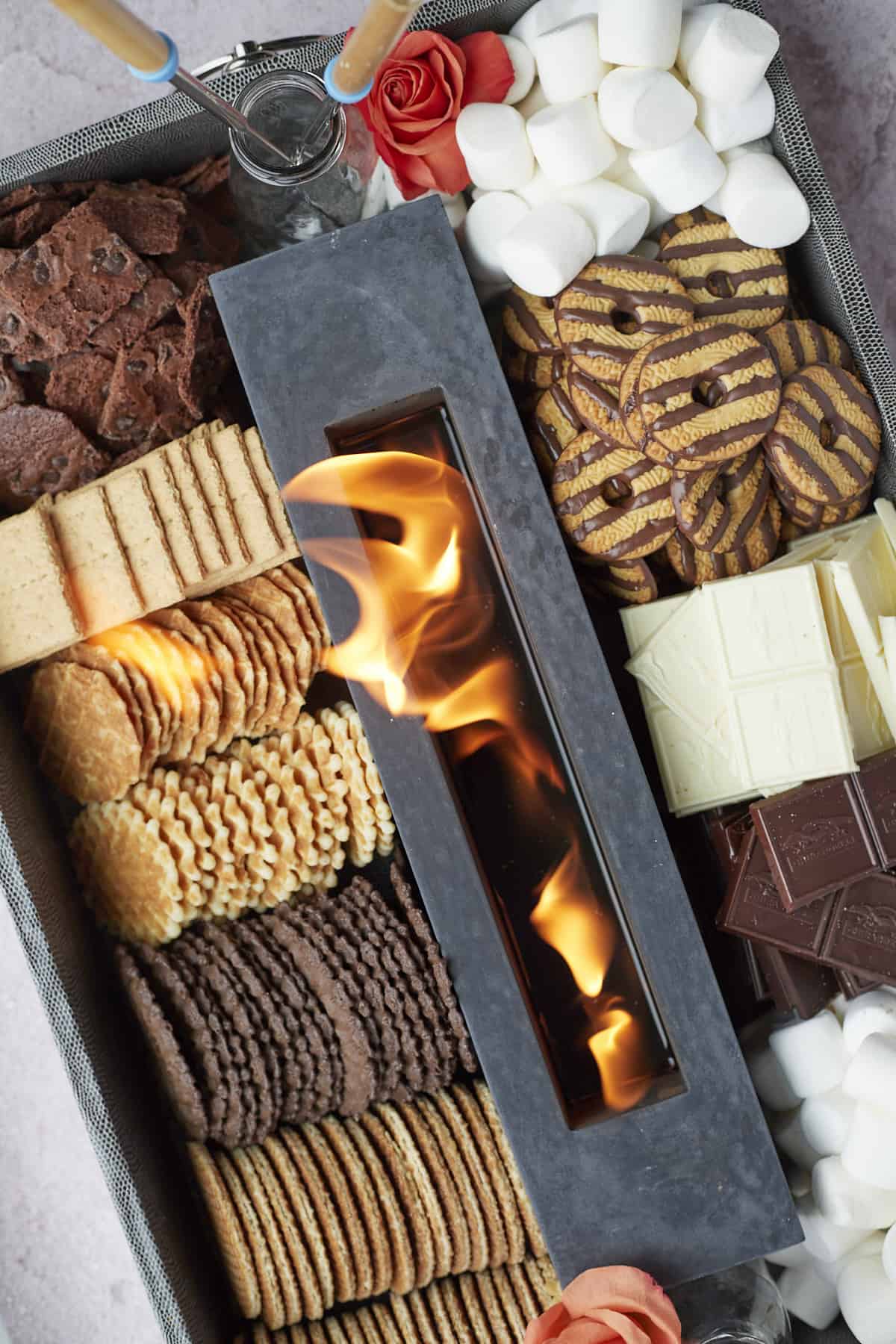 How to Make an Indoor S'mores Board
Making an indoor smores board is a simple as layering ingredients, and lighting a fire. Watch how we put ours together below!
Place your indoor fire pit in the center of your board.
Arrange sections of your favorite ingredients on one side.
Add two vases on either side of the fire pit to hold marshmallow sticks.
Then, add more sections of different ingredients on the other side.
Add lighter fluid to the fire pit, light, and enjoy!
We earn a commission if you make a purchase, at no additional cost to you.
More S'mores-Inspired Desserts
Love a good s'more as much as we do? You won't want to miss out on these sweet treats!