Learn how to make the best indoor s'mores dessert board & create a show-stopping tablescape with cute, budget-friendly Halloween table decor! These indoor s'mores are a sweet treat great for holiday parties, after-dinner dessert, and everything in between. Meanwhile, the tablescape is the perfect way to set the mood and impress all your guests, and it's so easy to create!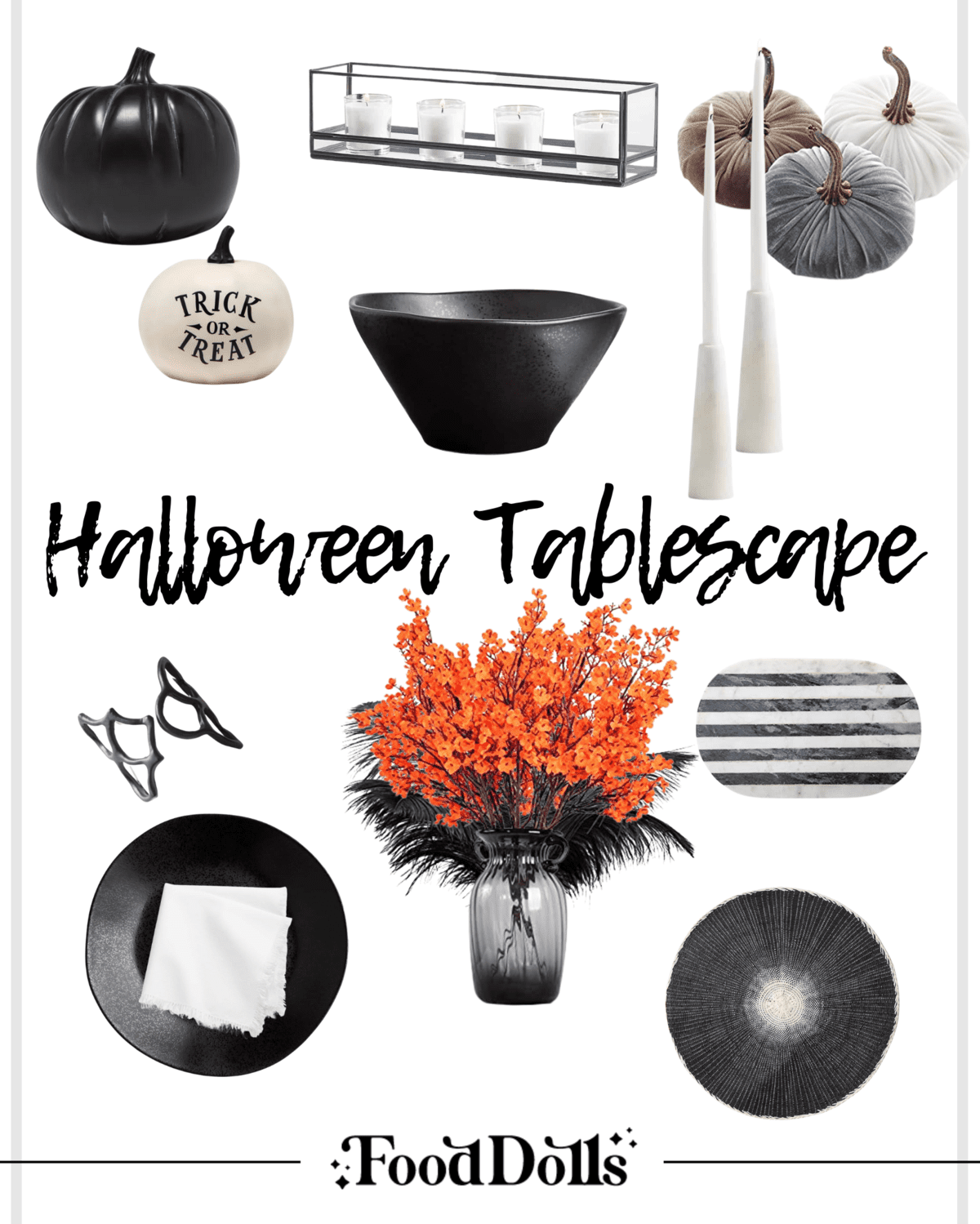 Impress Your Guests with Halloween Table Decor & Indoor S'mores
If you have been following us on Instagram, you've probably noticed we've been all about interior design lately. What can we say? As soon as we successfully completed a DIY accent wall, we caught the bug, and we're not turning back any time soon! We're officially obsessed with home design and organization. Especially when it makes our homemade treats look even more delicious, if that's even possible.
Lately, our most recent passion has been creating themed tablescapes to go along with our favorite treats. So, when fall rolled around we ran to the store and picked up all the pumpkin-shaped goodies to celebrate the season and gear up for Halloween. As a result, we're so excited to share our Halloween table decor and accompanying indoor smores board with you today!
They're the perfect way to spruce up your living space and can be converted to last all season long. Plus, who doesn't love s'mores? We're guilty of setting up the dessert board and enjoying an indoor s'more all to ourselves! With such a cute setting, who can resist? We'll show you how we created it all, link to our favorite products, and more so you can recreate the setting in your own home!
How to Create the Perfect Tablescape with Halloween Table Decor
We love this tablescape setup because it transforms an otherwise boring kitchen table into a magazine-worthy place to dine! Plus, as long as you use neutral fall colors like brown, black, orange, and beige, it can be used all season long.
What You'll Need
How to Create a Halloween-Inspired Fall Tablescape
Of course, there are no right and wrong ways to create your ideal Halloween table decor tablescape. However, we do have a few guidelines we tend to follow.
Determine how many places you will set, and arrange the placemats accordingly followed by dinner plates, salad plates, and bowls. We love to layer different colors and textures for a beautiful contrast!
Add your folded napkins, and place decorative pumpkins or similar items inside of the bowls or next to the placemats.
Create your centerpiece by placing flowers, foliage, or feathers into a large pot, and place it in the center of your table.
Decorate! Arrange candles, cauldrons, and other festive decor on either side to complete your tablescape.
Feel free to mix and match items you already have, incorporate your own style into your Halloween table decor, and watch how we create our own fall tablescape in minutes here!
How to Create an Indoor S'mores Board
We love campfire s'mores during the summer and always miss them when the weather turns cold. Until now! Because we discovered life-changing indoor smores. Cooked over a flame instead of in the oven or microwave, they're every bit as delicious as the original version and the perfect option for an easy dessert board recipe just in time for Halloween!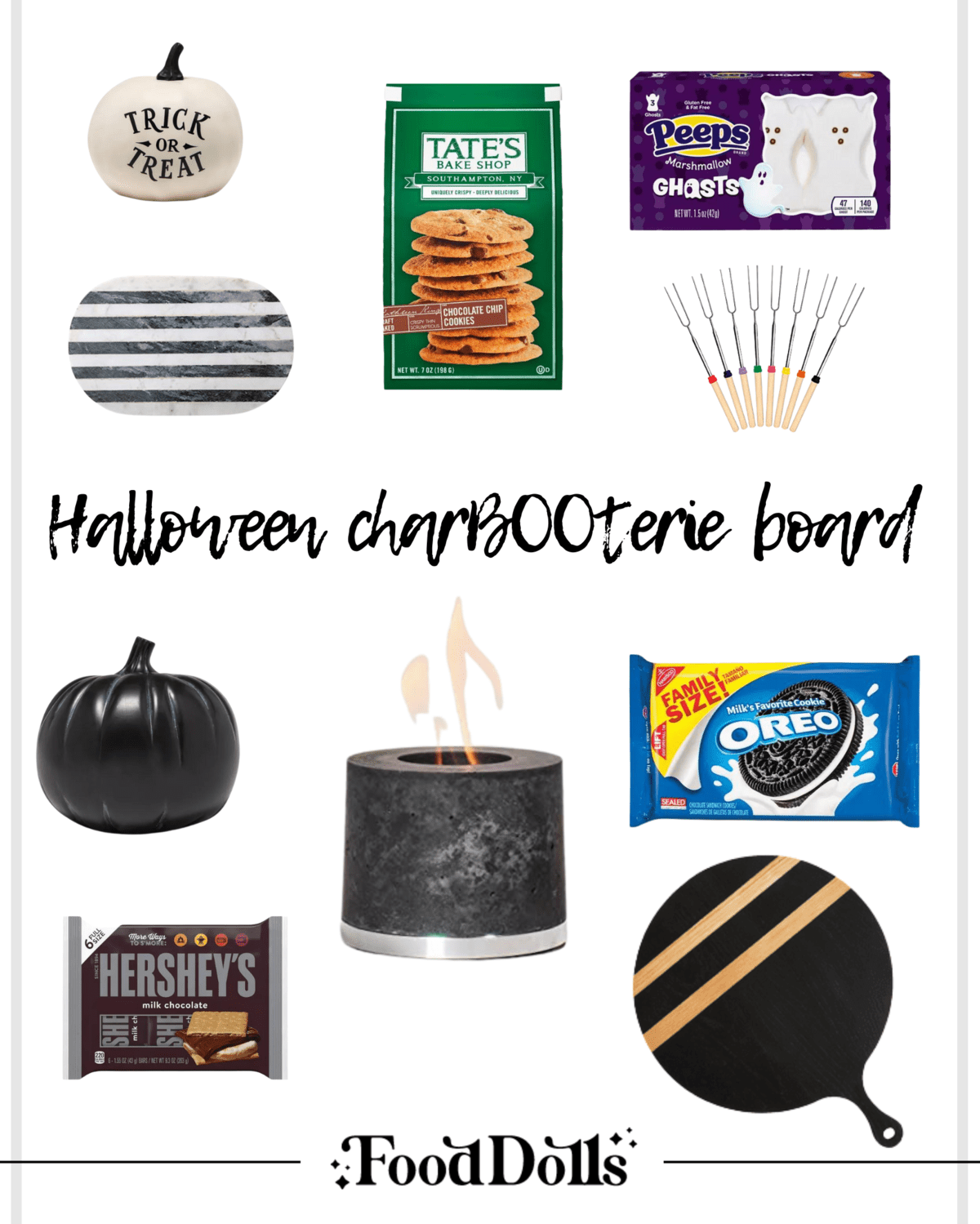 Ingredients
These indoor s'mores are anything but basic. Fully embracing the spirit of the season, we went all out with cookies, ghost-shaped peeps, and more for a super fun (and always tasty) dessert! Here's what you'll need:
Can I create a tablescape for other seasons?
Yes! Feel free to switch out the colors and decor for every season, and stay tuned for more designs from us.
Can I prepare an indoor s'mores dessert board in advance?
Indoor smores boards are best served right away to prevent the unwrapped ingredients from becoming stale. However, if you want to cover yours with clingfilm or saran wrap, it can be kept at room temperature in a cool, dry place for 1-2 days.
Can I make indoor s'mores without a portable fireplace?
Yes! You could easily assemble your board, add more ingredients to fill the space of the fireplace, and pop your smores in the oven or microwave to warm them up.