Say goodbye to messy and stressful kitchen drawers and make meal prepping a breeze with the best Ziploc bag organizer options! Find the best kitchen drawer organizers to fit your needs, tips, and tricks to keep your drawers tidy, and more.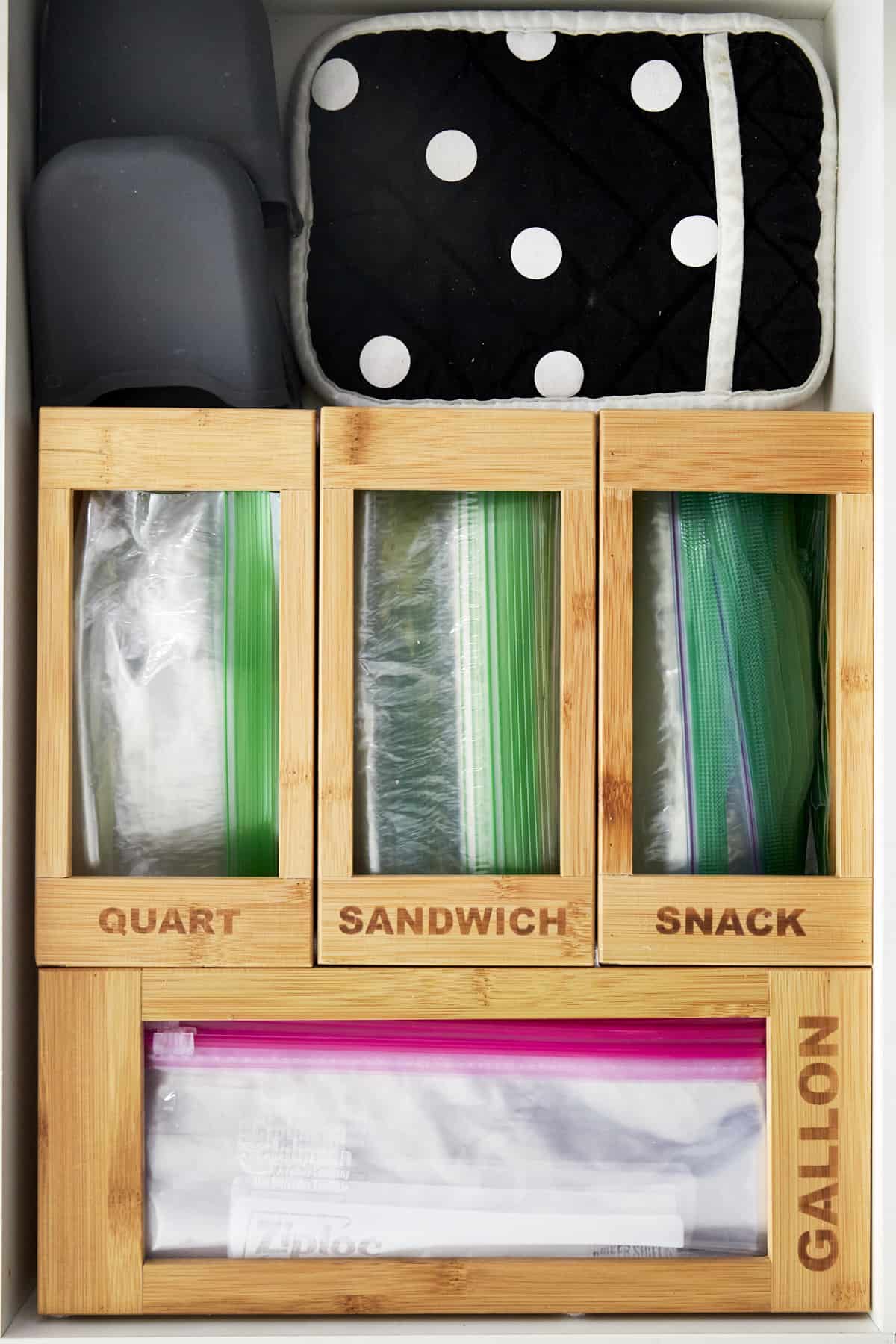 The Best Organizing System for You Ziploc Bags
We don't know about you, but our biggest pet peeve is the "bag" drawer. You know that eyesore in the corner of your kitchen that's literally bursting open because it's so stuffed full of various Ziploc and sealable bags? Yeah, that drawer. Don't worry, though! Once you read this post, you'll never have to look at it again. We've got you covered with the BEST organizing system for your Ziploc bags. In just a matter of minutes, we'll help you transform that chaotic clutter into a neatly organized drawer that makes meal prepping a breeze.
The Best Ziploc Bag Organizer Options
If you're anything like us, you probably have a myriad of different-sized bags crammed into your kitchen drawer. Honestly, we couldn't stand the sight of them all crammed together and went on a hunt to find the best kitchen drawer organizers. Luckily, Amazon came to the rescue with the best options for all shapes and sizes. Not only are these Ziploc bag organizer options super useful, but they're also aesthetically pleasing for Instagram-worthy organization and so easy to wipe off and keep clean. That's a huge win in our book! Take a look at our favorites, and find the best options to fit your needs below.
The separate containers are our favorite because they're so easy to organize and rearrange! No matter how big your drawer is, you can easily mix and match the containers and turn them around to make them fit. Even better, they come in a set that includes a gallon size, quart size, sandwich size, and snack size. That means that all your needs are met! We've tried this set with all kinds of different brands and bags, and no matter what we use they always easily fit in the containers. Plus, the labels are engraved into the bamboo with lasers so they won't wear off, and all you have to do to wipe them off is use a wet rag, and they're good as new!
One Piece Ziploc Bag Organizer
This option is just as great and features all the same perks including the 4 different-sized storage slots, engraved labels, and easy-to-clean features. However, given that it is one piece, it does require a slightly wider drawer. That said, as long as it fits, it looks great and keeps all of your bags in one place!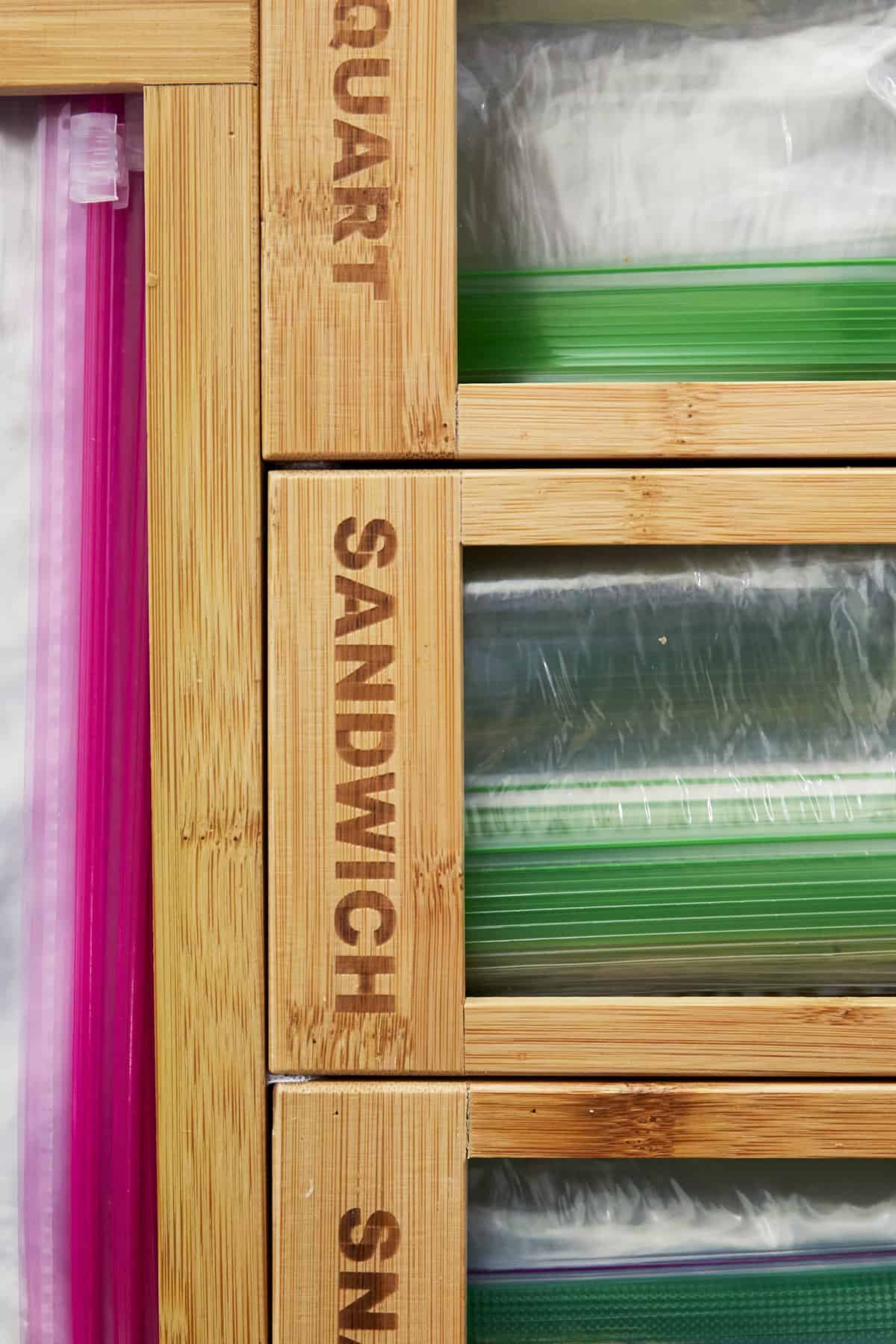 How to Organize Your Kitchen Drawers
Alright, now that you've picked out your favorite kitchen drawer organizer, let's talk about how to arrange and keep those drawers clean. Of course, these are just our favorite tips and tricks. So, feel free to take what works for you, and leave what doesn't!
Organize According to Use. We all have those items that we use daily such as Ziploc bags, tin foil, silverware, and specific pots and pans. So, be sure to place these items in drawers that are near your workspace. Then, keep them front and center so you don't have to dig to the back and create a big mess every time you pull them out.
Have Dedicated Drawers. Instead of keeping your kitchen tools and utensils all over the place in random drawers, have dedicated spaces so you always know where everything is, and you never feel disorganized.
Think Outside of the Box. You don't have to prescribe to any specific way of organizing. Store items in places that make sense to you! Don't be afraid to stack things vertically, utilize bespoke containers, and more.
Clear the Clutter. We're all guilty of having too much "stuff". Try to store only what you need, and donate or get rid of the rest. Trust us, it will pay dividends in keeping you organized, and having a clean space eliminates lots of unnecessary stress.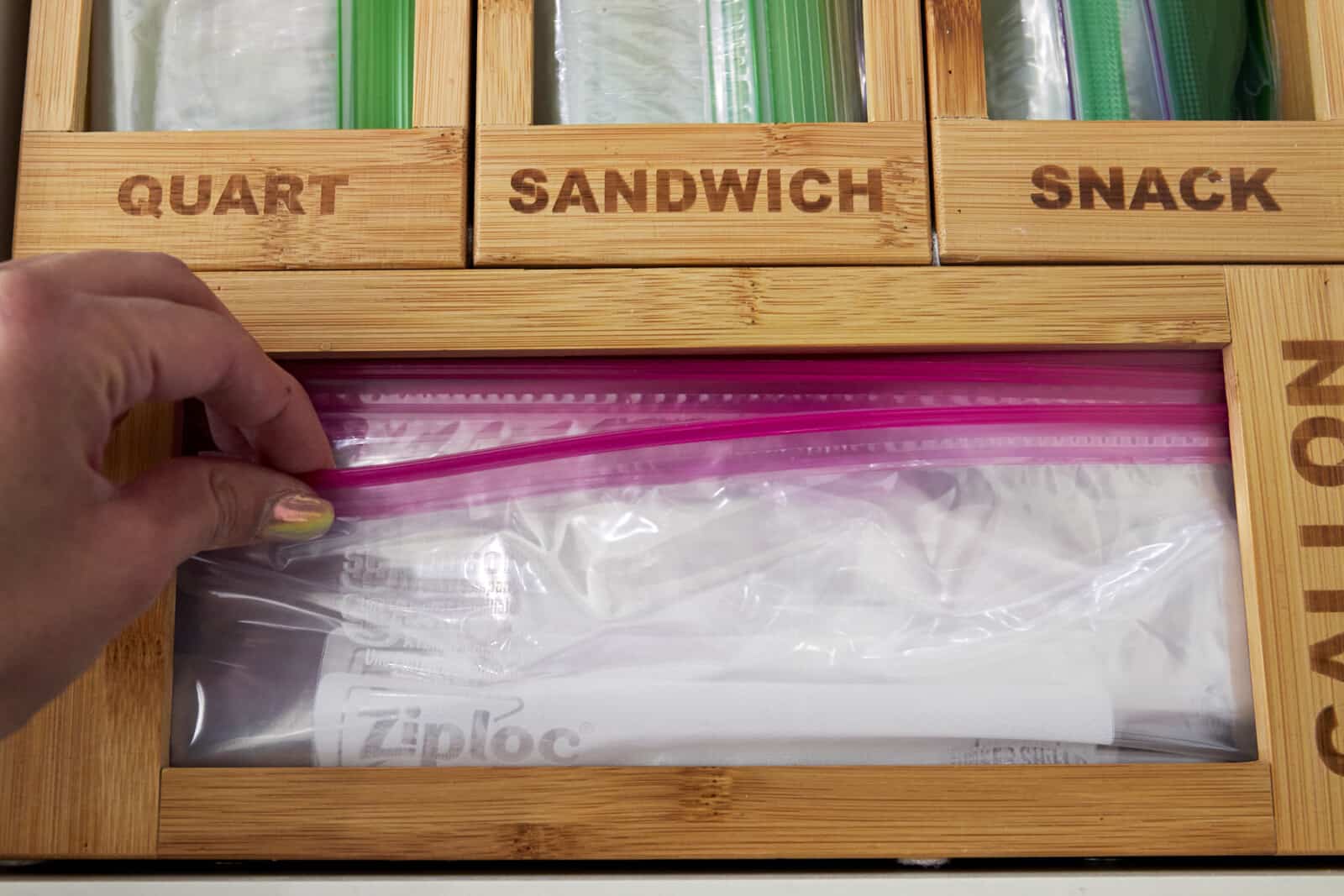 More Kitchen Drawer Organizers We Love
Be warned. Once you start clearing up your kitchen, it can become a bit addicting. But, that might be a good thing! If you find yourself on an organizational roll, check out more of our favorite tools and utensils.