Black accent walls are everywhere right now, and, like everyone else, we're obsessed! We love a good accent wall and jumped at the chance to upgrade our bedroom with a fresh look. Turns out black accent walls are pretty simple to make, and we'll walk you through all the steps!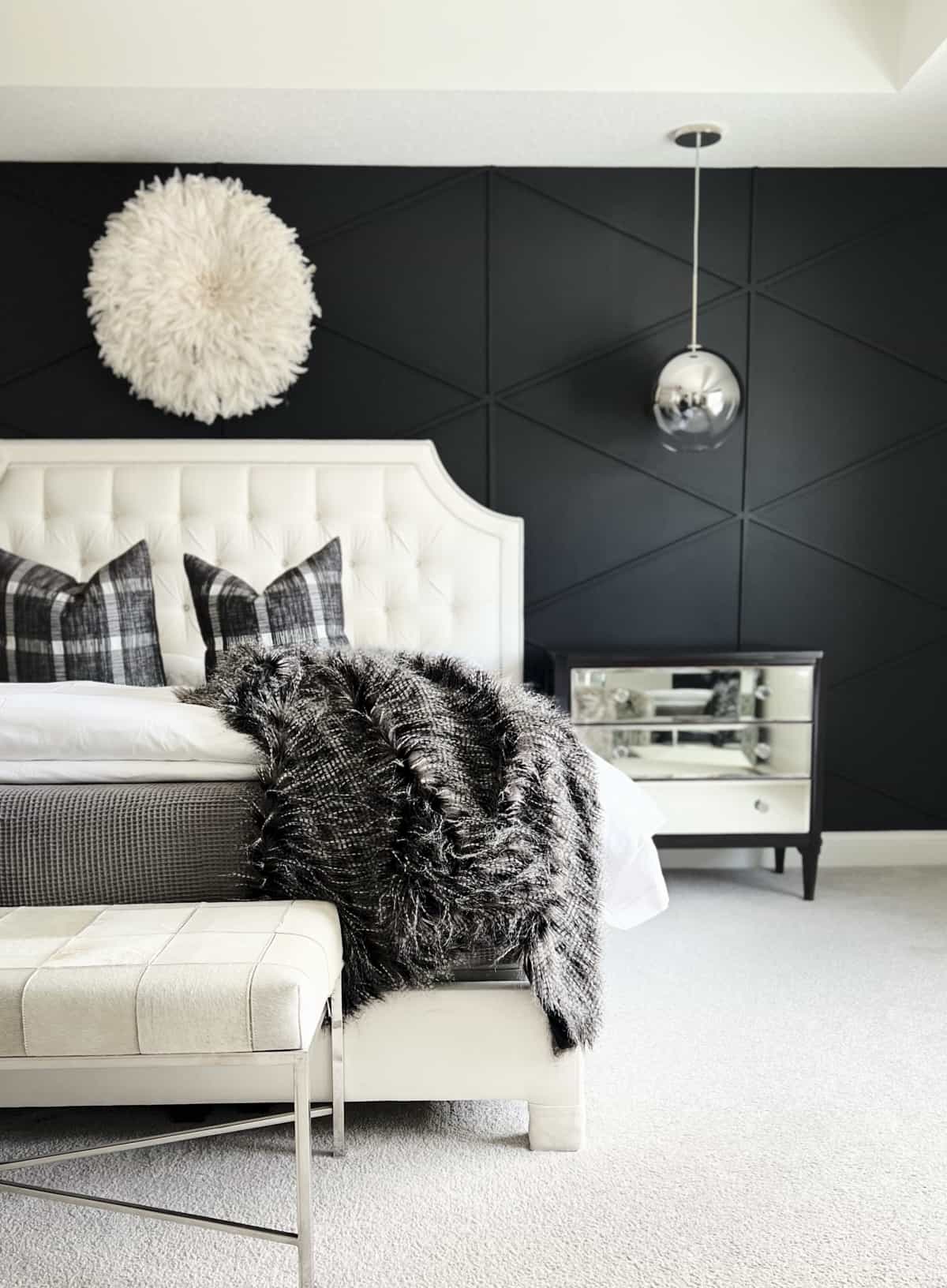 We adore DIY projects and recently decided to renovate our bedroom. So, naturally, we went right to Pinterest for inspiration! While browsing, we came across stunning images of black accent walls that immediately caught our eye.
They're elegant, fun, and a great way to break up boring space. However, hiring a professional to recreate the designs we were seeing would be pretty costly. So, we decided to take on the task ourselves while saving money! We're pretty happy with the end result. Not only was it cost-effective, but it was pretty simple to do. We hope you love it as much as we do and are inspired to tackle the project in your own home.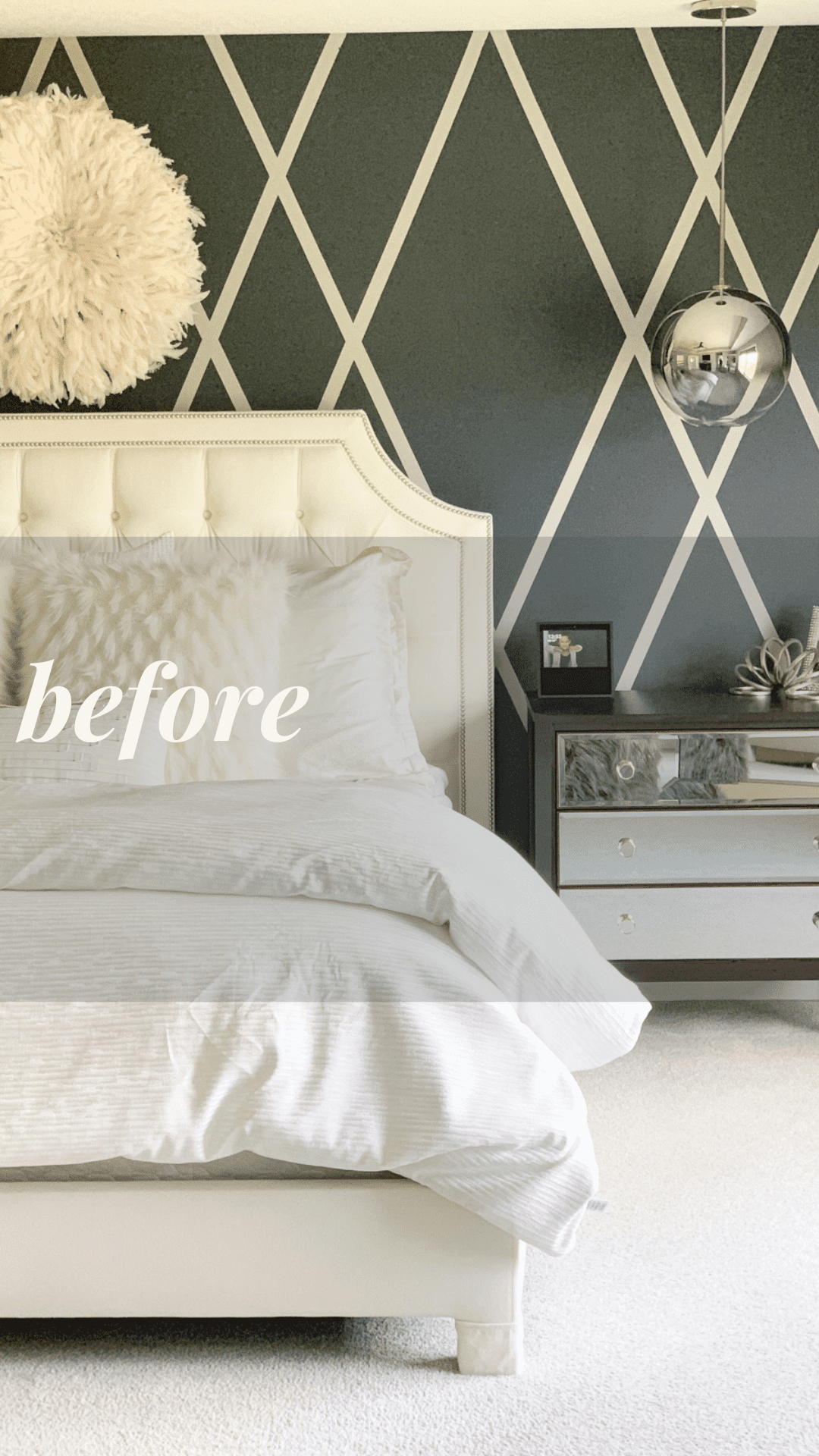 Why Paint a Black Accent Wall
They add depth to big, blank walls.
They're a great way to create visual appeal.
It's fun to play with a bold color without going all in.
You can mix and match designs and decorations to transform your bedroom into a magazine-worthy space.
Where to Paint a Black Accent Wall
Because black is such a statement color, it's important to ensure you have the right space for it. For instance, you definitely don't want to paint all four walls of a room black. This will only make it look small, dark, and cramped. Similarly, you want to make sure you have a pretty big wall that showcases a focal point like a headboard or dining table.
This means black accent walls are great for bedrooms and elegant dining rooms as they have enough open space so as not to be overwhelmed. In addition, you want to make sure the room in which you're painting has lots of visual appeal with decorations and shapes without being overcrowded. This adds depth and gives the eye somewhere to look without becoming too overwhelming.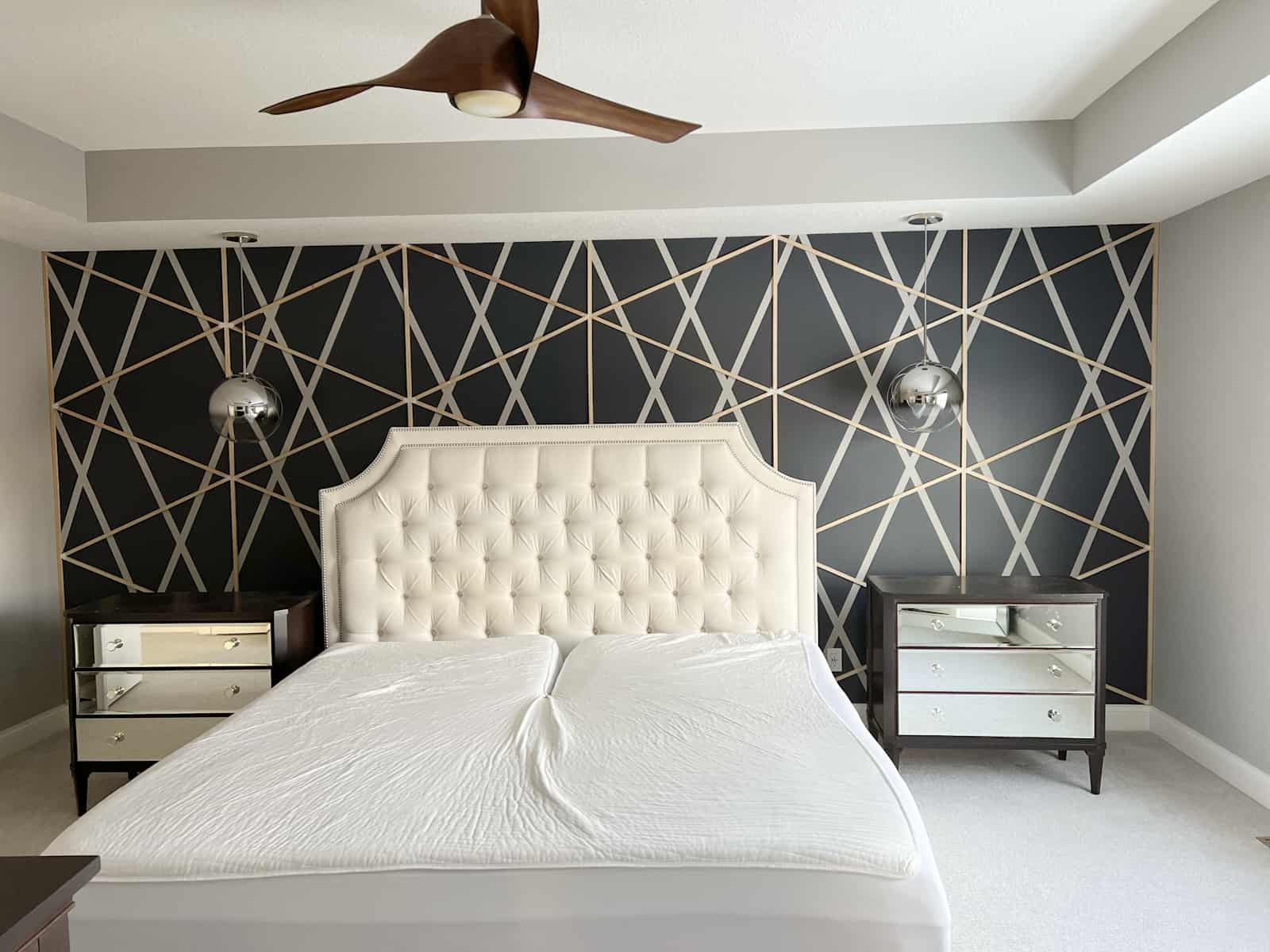 How to Create a Black Accent Wall in a Bedroom
As you can see, we had previously decorated our bedroom wall with tape and paint. However, we felt it was time for something new, and we find it very fulfilling to transform an ordinary space into something remarkable. So, off to Home Depot we went! The most difficult part of the process for us was calculating the amount of supplies we would need and the measurements for the wood. Luckily, with the help of Google and calculators, the process went fairly smoothly.
Materials You'll Need
A Tape Measure
1×2 Strips of Wood
Pencil
Tape
Nail Gun
Caulking
Black Paint
Step-By-Step Process
Measure. To begin, take measurements of the height and width of the entire wall. Determine how many vertical lines you'll need to form the diamond shape. We opted for 7! Then, purchase the appropriate amount of 1×2 wood planks to make your vertical lines.

Attach. Using a nail gun with the method used here, position the vertical slats on your wall.

Make Your Diamonds. Now that you have your vertical lines, determine how many diamond shapes you want. We chose seven and a half. Divide that number by the vertical wood piece's height, and mark the points of the diamonds along the vertical boards.

Starting with the first vertical slat, measure to the marked spot on the slat next to it. Cut a 1×2 slat to fit this length, and place it diagonally from the first board to the adjacent slat. Miter the ends of the wood pieces that meet to create a 45-degree angle where the wood pieces join. Repeat this process moving up the wall to form your diamond shapes.
Caulk. Be sure to fill in any holes that may be present by caulking your walls.

Paint. Let the wood rest, and allow the caulking to dry. Then, paint 2-3 coats of your favorite black on top, making sure to coat every nook and cranny of the boards. Allow the wall time to dry, and step back to admire your work!
*Tip: Cover all your furniture and walls before you begin painting to protect them from any splatters!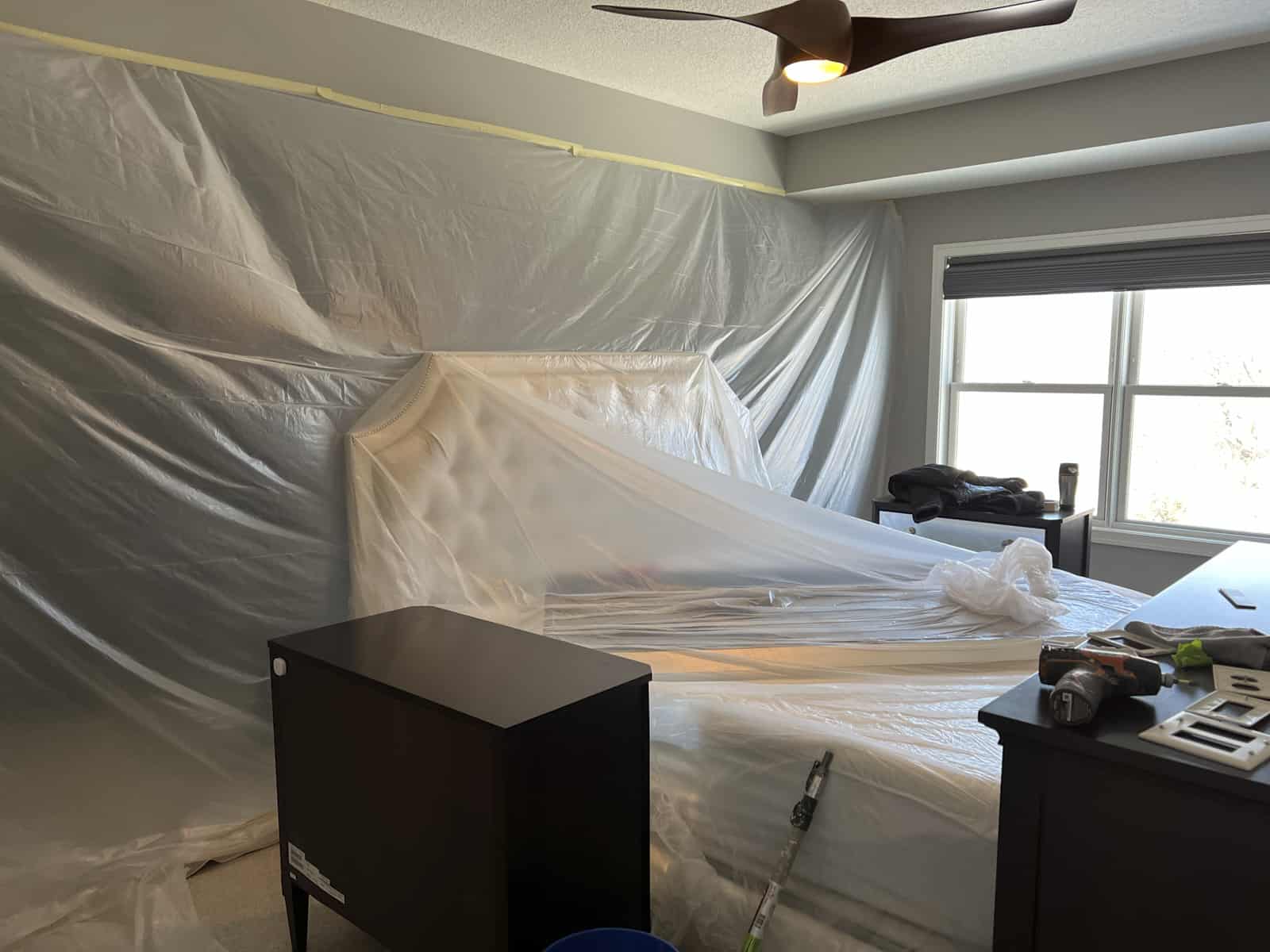 More Home DIY Projects
Looking for more affordable ways to elevate your home? Take a look at our favorite DIY projects and storage tips below!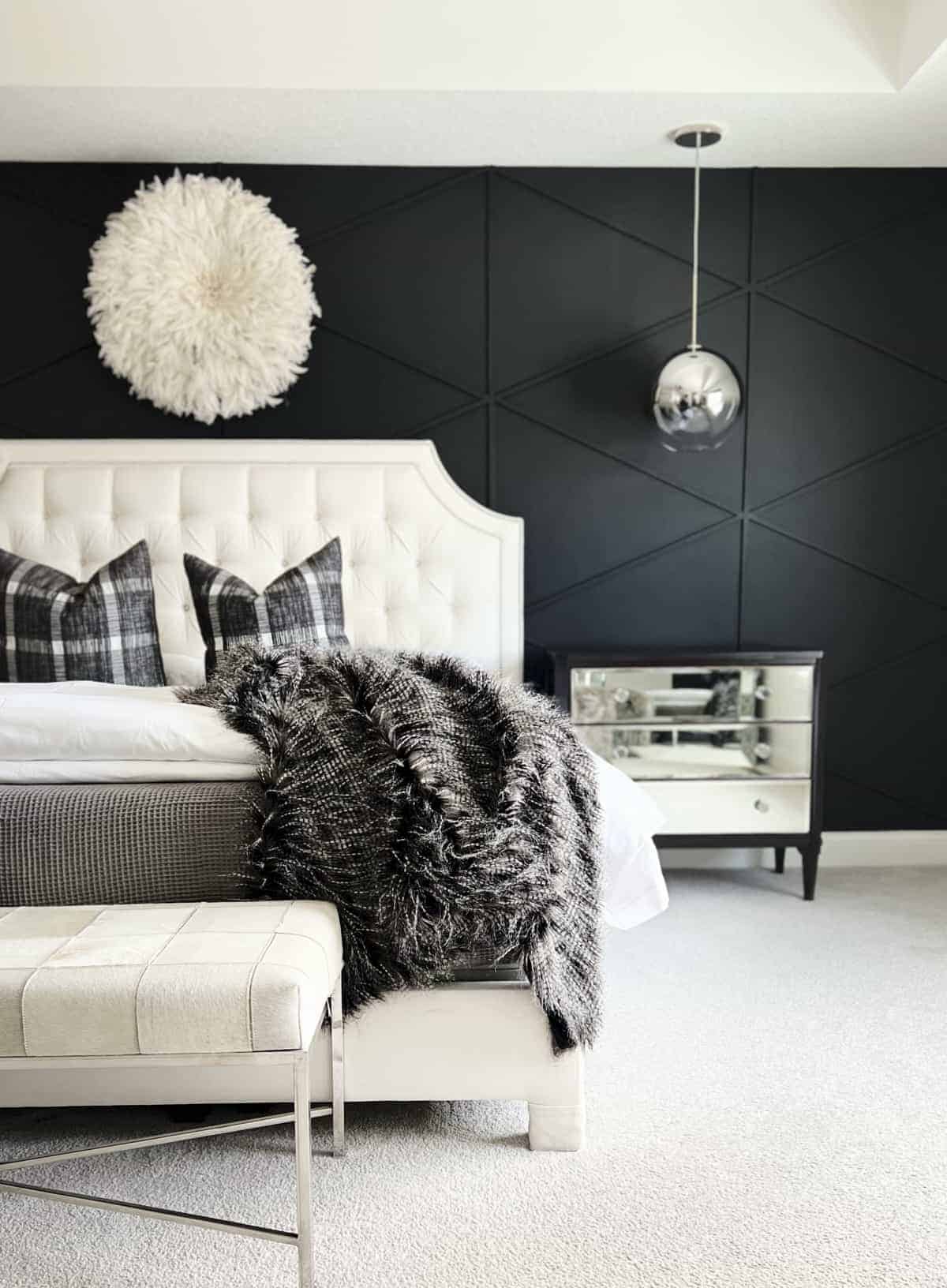 DIY Bedroom Black Accent Wall
Learn how to make a Pinterest-worthy black accent wall with budget-friendly items and simple steps!
Ingredients
1

Nail Gun

1

x2 Strips of Wood

Pencil

Tape

Nail Gun

Caulking

Black Paint
Instructions
Measure the length and width of the wall, and determine how many vertical pieces are needed. Gather the corresponding number of 1×2 wood slats.

Choose how many diamond shapes are needed, and divide the number by the length of the vertical slats. Mark this number along the length of the boards.

Use a nail gun to position the slats vertically on the wall.

Starting with the first slat, position a slat horizontally to the adjacent slat, and miter the pieces of wood. Repeat moving up the wall until the diamond shapes are formed.

Caulk any holes that may have formed.

Paint the wall with 2-3 coats of black paint, and let it dry completely.
Notes
*Cover all your furniture and carpet before painting to protect it from splatters!
Nutrition information is automatically calculated, so should only be used as an approximation.
Like this recipe?
Please leave a comment!