How To Transform A Wall Just Under ONE DAY! 
*This post may contain affiliate links, please see our privacy policy for details.*
How To Transform A Wall Just Under ONE DAY! 
Our first official Home DIY blog post! We hope you enjoy and we are open to hearing what you'd like to see next!
Looking to transform a wall? We will show you just how easy it is! Most people are intimidated with the idea of doing a transformation, or they think it'll cost too much. It is quite the opposite. It's easy enough to do yourself and it is VERY cost effective. There are some links added at the bottom on how to get a hold of some of the items used. Of course, if you have any questions or need clarity, please reach out and we will be happy to answer your questions!
It might come to surprise you, but we don't actually have a filming studio. This photo is our filming "studio," which also doubled up as a workout room! Hey, we have to maximize our space! The room definitely needed some serious love! If you are a serious DIY'er or have never picked up a tool before. I promise you, THIS is the one to try out. You'll be surprised at how much of a difference it will make.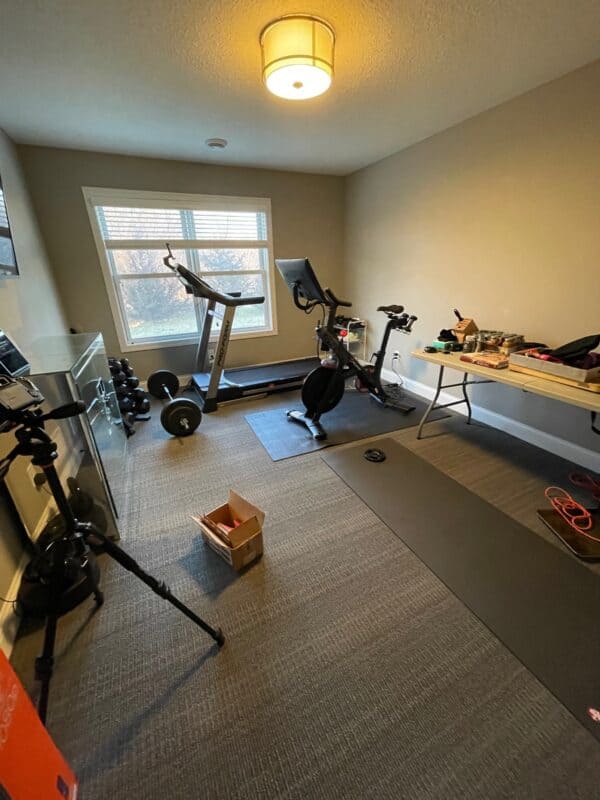 Step One:
Choose a paint color for the three adjacent walls (if planning on using a different one, you'll see why below).
Empty out your space, I know, seems like common sense but you'd be surprised to hear that a lot of people try to work around it. It makes life easier to work on a blank canvas. Now, you're going to paint the three adjacent walls. We picked the same color of the trim, Benjamin Moore – Dove White. I love this white, it's super clean, crisp, without giving it a 'hospital'  or 'sterile' feel. It has a nice warm tone.
Onto the accent wall.  Begin by finding the center point of your wall. We began by measuring horizontally first, then moved to the vertical measurement. Once you've found that center, mark it with a pencil so you don't lose sight of it .  You will have two different lengths for your wood pieces, this offset look is what gives it that "wow factor". The measurements we went with for the wood were 45″ and 60″. Once you've got your desired length figured out, it's time to move onto the fun part!
Step Two:
Go to Home Depot and get your wood! We used 1×2's (linked below), and we  grabbed 20 of them. We opted to have Home Depot cut the pieces to the desired length. Here is the link.
Step Three:
It doesn't matter if you start at the top or bottom but we started at the bottom. You will want to ensure that the center of your first piece meets the center point that was marked in step one. Pro tip – You can remove your trim and run the wood all the way to the floor. We decided to leave the trim in place, and have the piece of wood sit on the trim. Another option is to miter the ends to have them sit flush to the trim.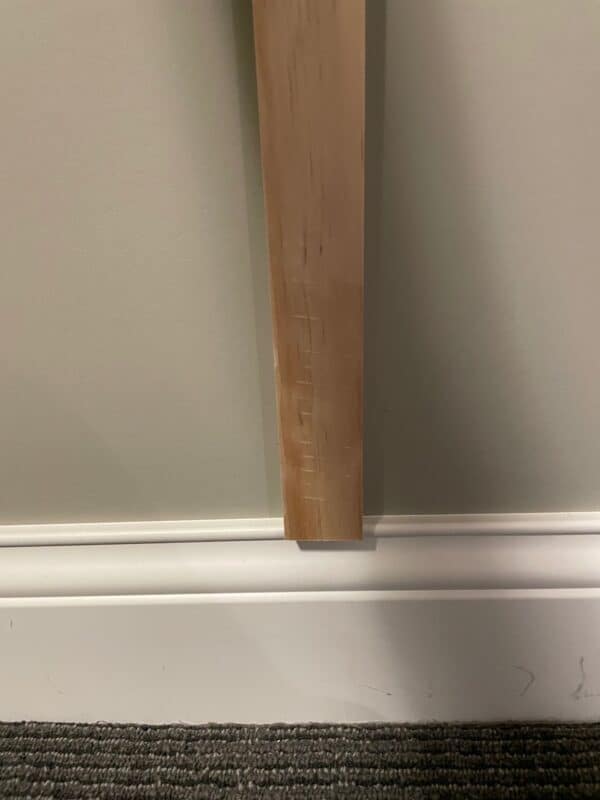 Step Four: 
Use a Brad nail gun to secure the first piece of wood. You HAVE to make sure you level every single piece of wood as it's being nailed. Our favorite level is attached below. To make the spacing easier, we used the level to space each piece of wood from the next piece. This ensured even spacing each time. Before nailing the wood, make sure the wood is as straight as it can be. Warping or bending of any sorts will add extra challenges so try your best to keep the lines straight.
Step Five:
Auto Pilot. Just go, it seriously took about 1 hour to do the whole  wall.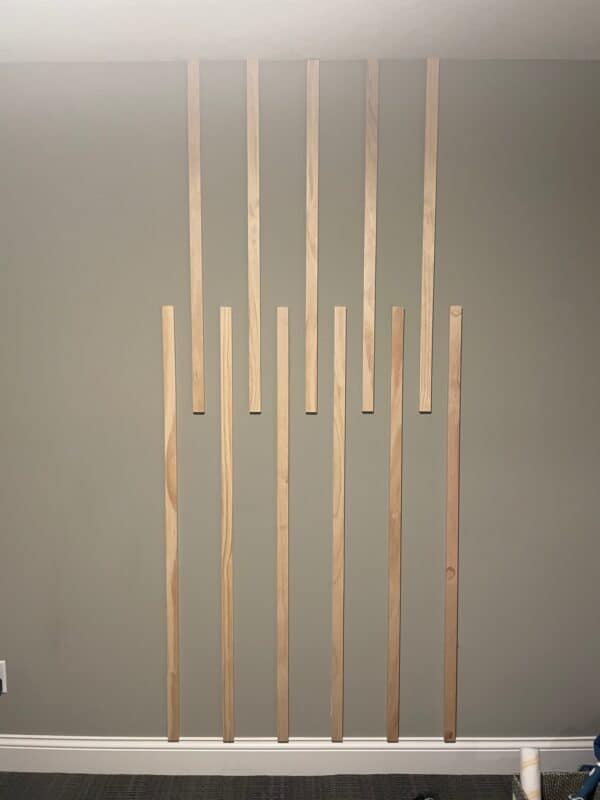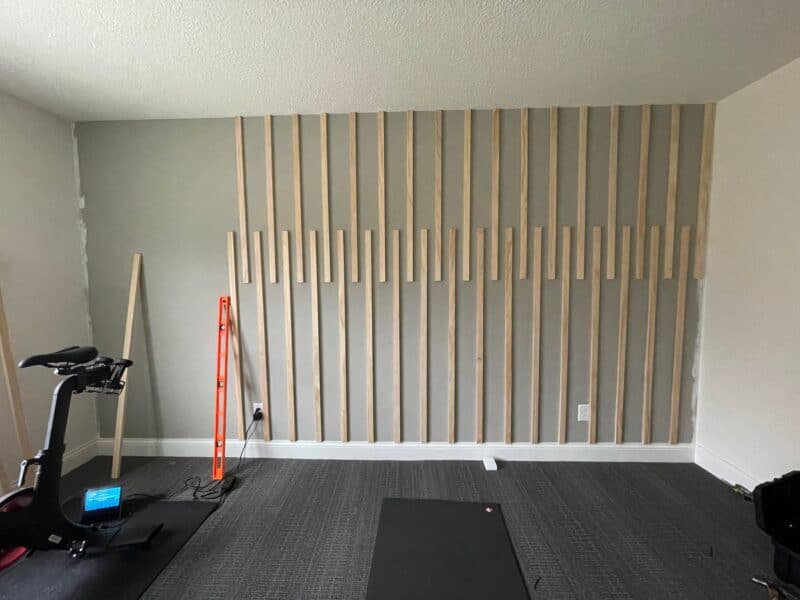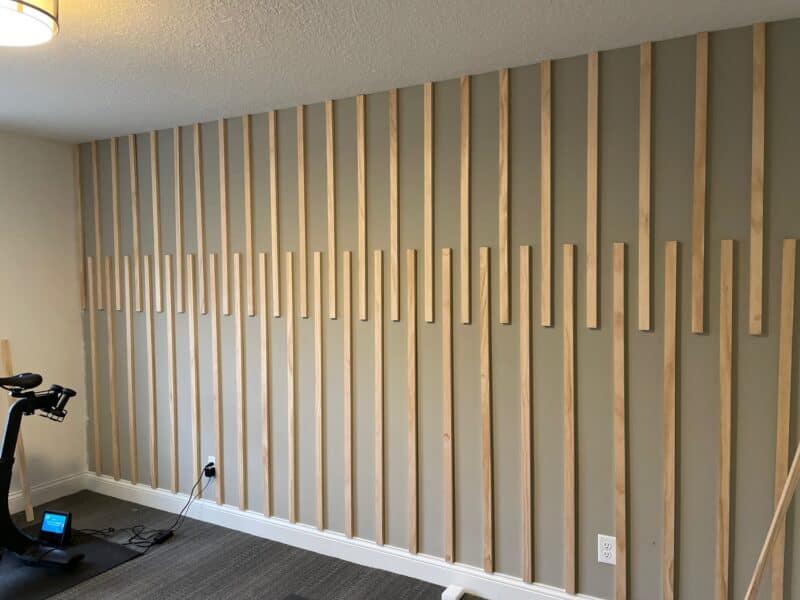 Step Six:
Caulking and filling in the holes. We decided to prime the wood but this is not needed and we highly recommend skipping this step. The paint should have no problem sticking to the wood, especially if you decide to spray the wood.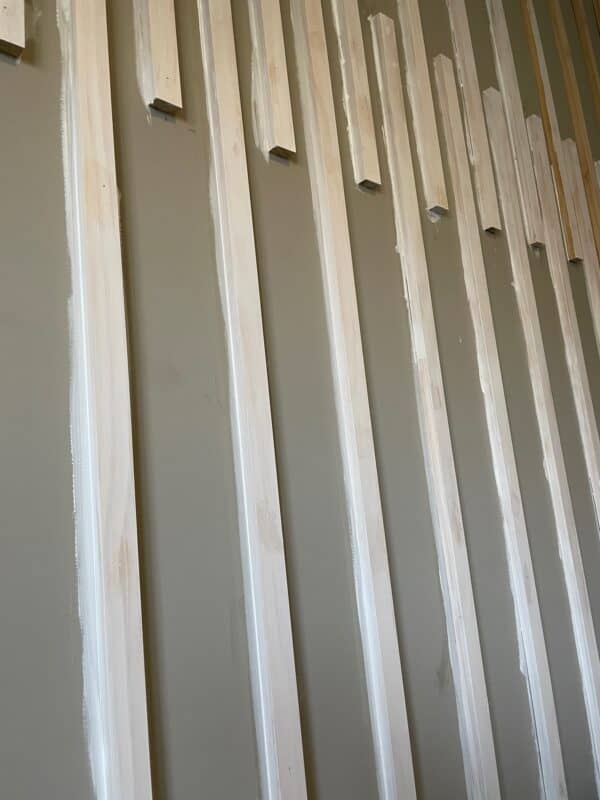 Step 7: Spray it or paint it. If you plan to not spray your walls you might want to paint the wall first. It will make it easier for you in the end.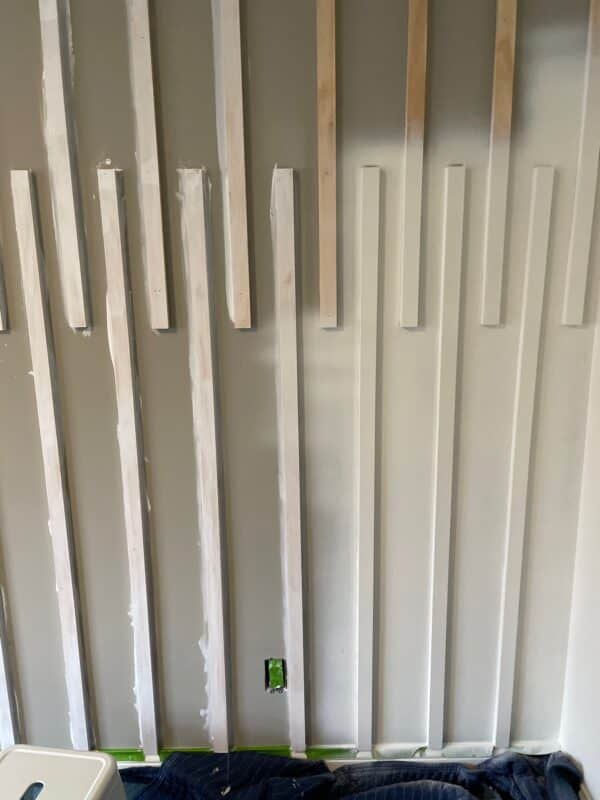 Look #1 – Benjamin Moore Dove White – It looked AMAZING in the same tone, but after spraying it was complete, we felt it wasn't the look we wanted, we wanted DRAMATIC! It was nice, and subtle but we are going more for a bigger impact. Luckily painting doesn't take that long. So we just took the plunge and went for a bigger impact. DARK OLIVE. It's a very "in" color and super trendy. It's dramatic, bold, yet timeless.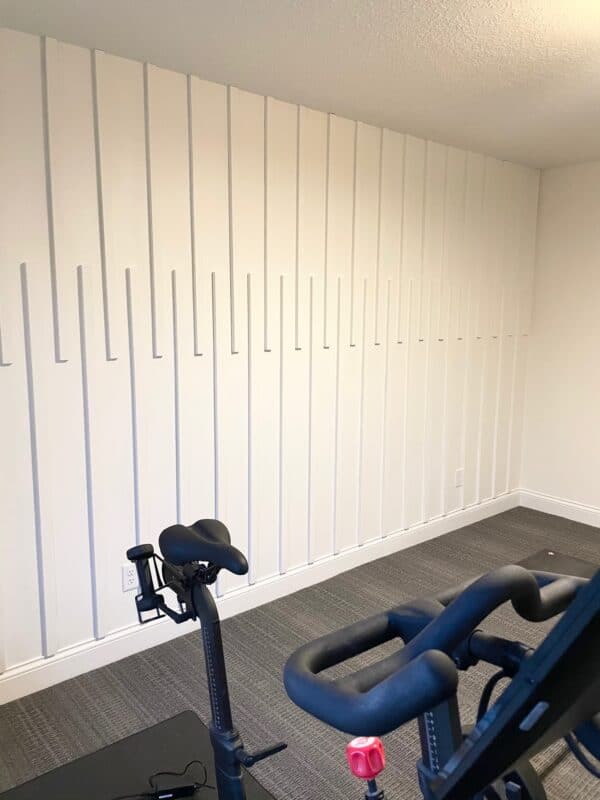 Final Look #2 Benjamin Moore Essex Green
Tell us your favorite! Would you have kept it White? We'd love to hear your opinions!
Links to Items Used:
Nail Gun
Caulking
Wood Filler
Best PAINT Brush