Say goodbye to cluttered cabinets and disorganized drawers and make cooking a breeze when you learn how to organize spices! We'll share our favorite storage options, tips, and more.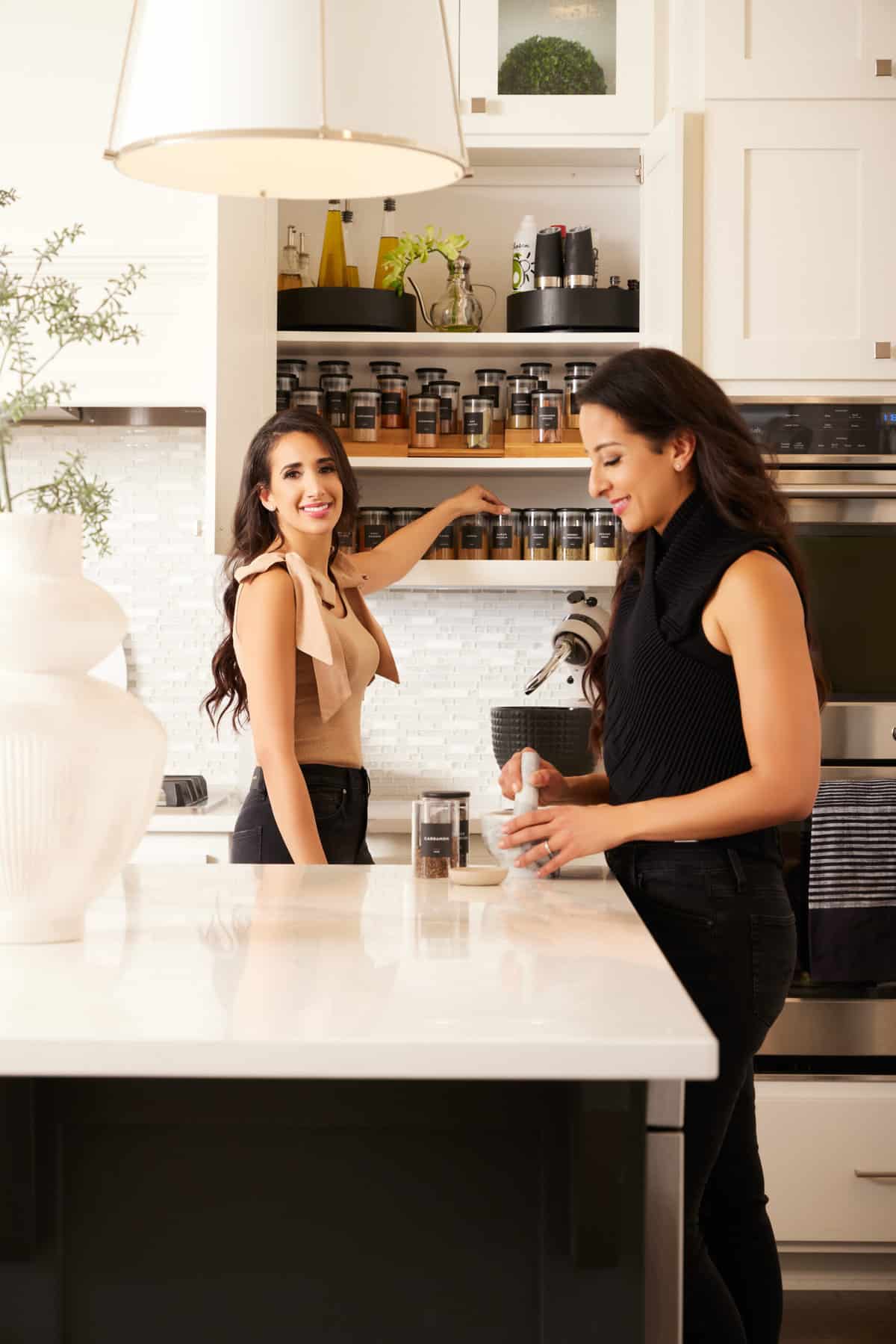 Why You'll Love Spice Organization
If you're like us, you dread opening your spice drawer or cabinet! Ours was a cluttered mess of jars and containers that made cooking ten times harder than it should be. However, when we began organizing our kitchen with utensil organizers and plastic bag organizers, we knew we couldn't ignore the spices any longer. It was time to tackle our fears! So, we went on a mission to find the absolute best methods of organizing spices for an Instagram-worthy cabinet that makes cooking a breeze! Lucky for you, we're sharing the best of the best with you.
Save tons of time and trial and error with our favorite storage options, tools, and tricks. Pick your favorite, find what works for you, and learn how to organize your spices for a drawer or cabinet you can be proud of! Just don't blame us when you feel compelled to begin decluttering your entire kitchen (and maybe even house). If you do jump on the organization trend, we'd love to see your spices. So, be sure to tag us (@fooddolls) on Instagram!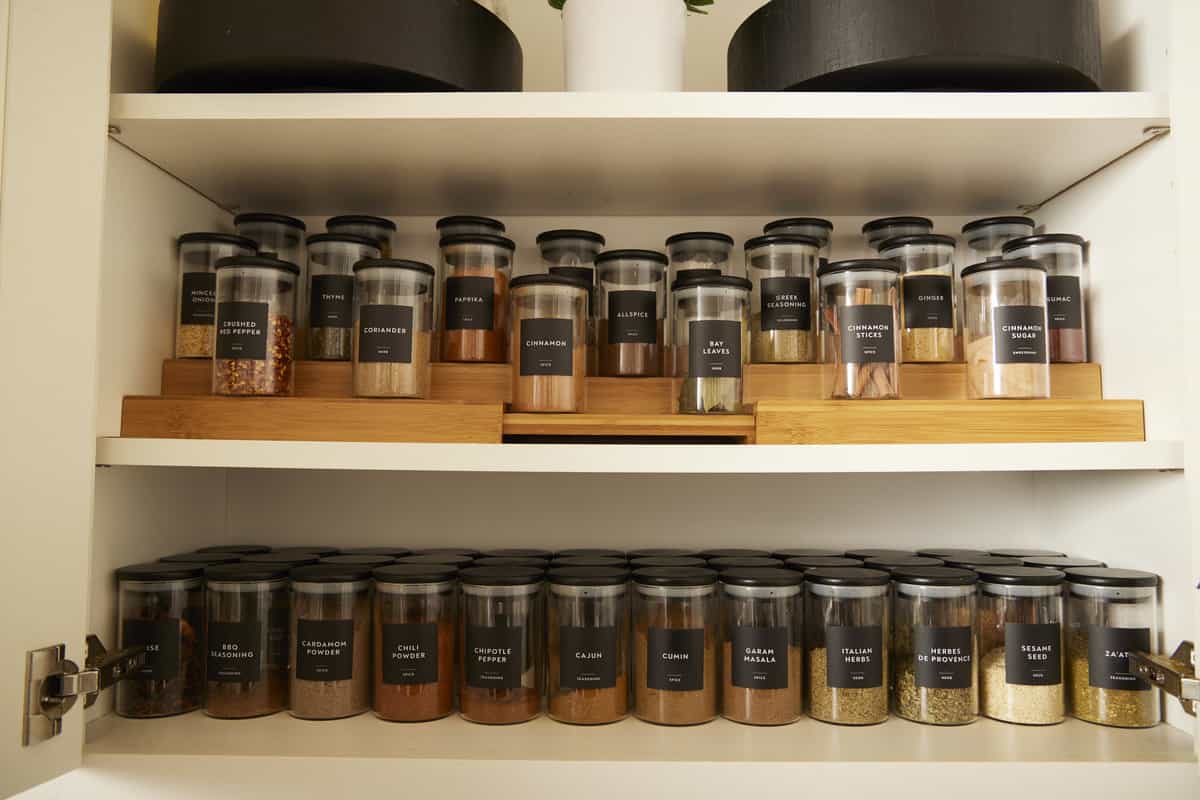 How to Organize Spices
Today, we're sharing some of our favorite tools and methods of organization to help you declutter your cabinets no matter how big or small! We've even got a few tips to make your process extra efficient. Mix and match your favorites to find what works best for your kitchen and lifestyle.
Tools
Bottles – Olive Oil and vinegar all need the perfect bottle! You know us, they all have to match too! 😉
We earn a commission if you make a purchase, at no additional cost to you.
Salt and Pepper – Everyone keeps the essentials out on the table. For us it's salt and pepper….more specifically, they HAVE to be freshly ground!
Modern
Spice Jars – Probably one of the best things you can do to improve the look of your spices is to use matching spice jars. Don't forget to buy extras for when the kids break one or two.
Black Bamboo Spice Jars
12 Glass Spice Jars with Bamboo Lids with a silicone ring to create an airtight jar seal for long lasting freshness.
Bins or Wire Baskets – Probably the fastest way to organize your spices and get them in one place is to place them in some kind of bins or wire baskets. This way, you can easily keep them all together, and you don't have to go looking in random drawers.
Hanging Spice Rack – If you have limited space, consider purchasing a hanging spice rack that you can easily drape over a pantry door. This way all your spices are organized and upright, preventing spillage and allowing for easy use.
3-Tier Bamboo Expanding Spice Shelf
As beautiful as it is practical, the Shelf expands from 12" to 23" in width to custom fit your cabinet space, countertops or pantry shelves.
Drawer Inserts – Don't overlook your shallow drawers! Instead of stuffing them with junk, try out drawer inserts. These will lift up your spices and hold them in place. As a result, you can easily see them all at once and keep them out of bigger spaces where they're likely to get lost and messy.
Lazy Susan – If you have a large cabinet or want to keep your spices in sight and handy, we love arranging them on a lazy susan! Not only can you make them look super cute and decorative, but they're so nice to have nearby when cooking all your favorite dinners.
Divided Lazy Susan
The big surprise: this solid wood organizer is super light. Easy on shelves and countertops, it's a breeze to use. A removable divider lets you create multiple compartments for sorting and organizing contents.
Tips
Organize Alphabetically – If you have your spices arranged in a row, try organizing them alphabetically like they do in the store! This way you can easily locate what you need and don't have to waste time sorting.

Sort By Category – We love this method when storing spices in bins. If you've got the room try sorting spices into common categories such as Mexican, Thai, and baking. Then, depending on what you're cooking, you can just grab a single bin and have everything you need!

Add Labels – Last but certainly not least, add labels to everything no matter how you choose to store your spices! Seriously, it's a game-changer. For instance, if you're storing them standing up in a bin or drawer, try using these large jars and accompanying stickers to place on top. Or, if you're going for a super aesthetic feel, transfer all of your spices to little clear jars, and add these labels to the front. Either way, your spice organization will look super expensive and like you spent tons of time. However, in reality, it only takes a couple of minutes and a few bucks!
Minimalist Pantry Label Set
242 Minimalist Pantry Label Set, White Text on Black Vinyl Waterproof Label Sticker with Removable Adhesive - Fits on round, square and rectangle glass jars - Organize Baking, Grains, Beans and Snacks
Recipes to Use
Alright, now that you've learned how to organize your spices, you didn't think we'd leave you hanging with nothing to make, did you?! Put your organization methods to the test with these flavor-packed recipes.