Look forward to waking up when you make this Breakfast Charcuterie Board! Complete with fruit, protein, carbs, and more, it allows your guests to mix and match their favorite items for a breakfast that can't be beat. Serve it for holiday parties, weekend brunches, and more!
What Is a Breakfast Charcuterie Board?
A breakfast charcuterie board or breakfast board is just what it sounds like! Using inspiration from traditional charcuterie boards, it features a variety of ingredients arranged on a platter. However, unlike your standard charcuterie board, a breakfast board includes only breakfast and brunch items, which makes it even better in our opinion!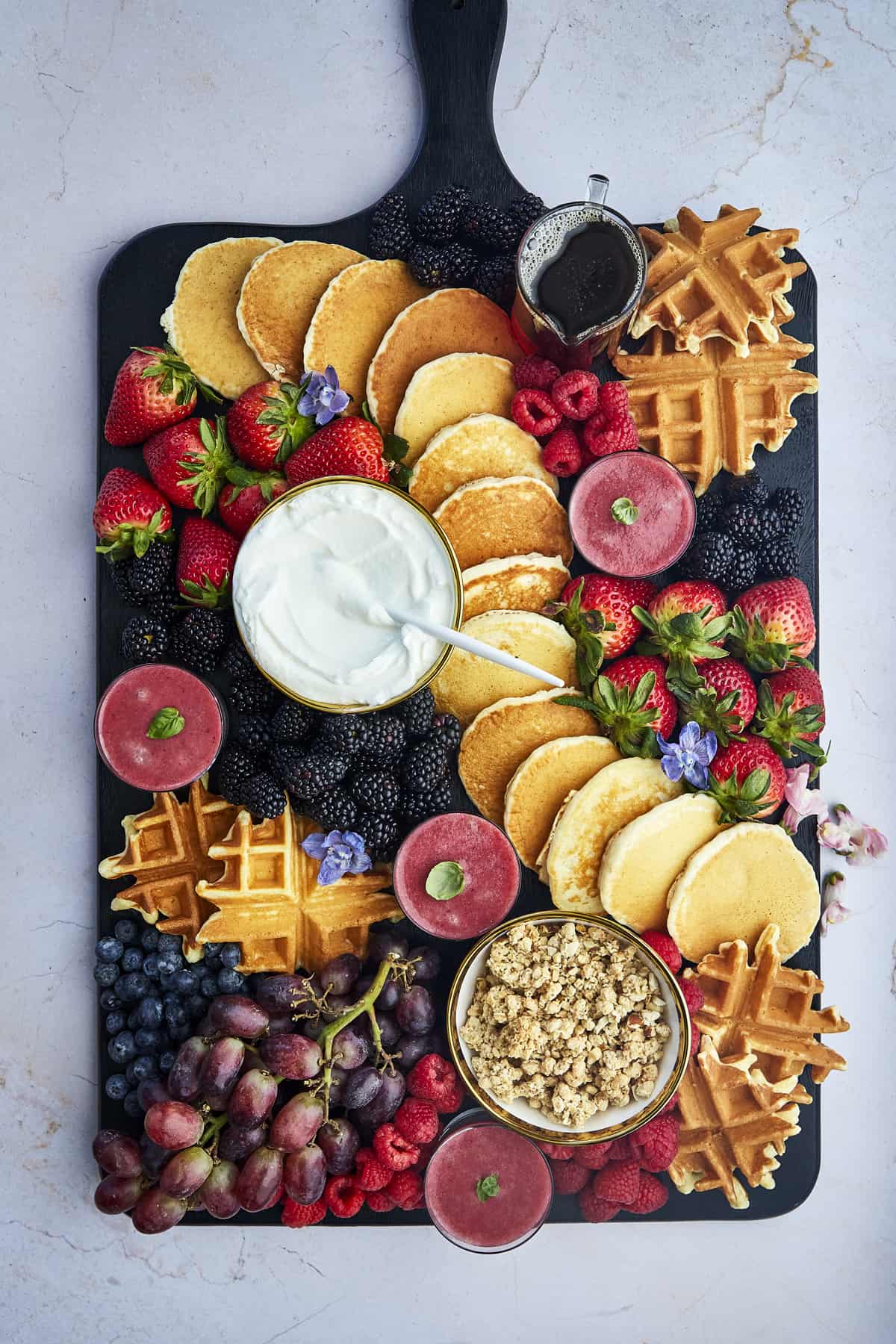 The Best Foods to Include on a Breakfast Charcuterie Board
One of our favorite things about this breakfast charcuterie board is that anything goes! Use it as an opportunity to whip up alllll your favorite recipes for the ultimate breakfast spread.
Carbs
You can't have breakfast without carbs! Feel free to include store-bought items like bagels, toast, muffins, and frozen pancakes or waffles. Or, make your own. For example, some of our favorite options include:
Proteins
Provide plenty of protein options to fill up your guests and keep them satisfied with more than sweet recipes. Bacon and sausage links make for great additions, and we also like to include:
Fruit
We like to include fruit on our breakfast charcuterie board because it adds a pop of color, extra nutrients, and helps fill in any holes. Some of the best options include:
Strawberries
Blackberries,
Blueberries
Raspberries
Bananas
Extras, Toppings, and Add-Ins
Now that we've got the basics covered, feel free to go crazy adding in all your favorite extras! For example, some great items to sprinkle in any gaps, add to small bowls or serve alongside your breakfast board include:
Chocolate Syrup
Whipped Cream
Chopped Nuts
Maple Syrup
Honey
Jams and Jellies
Peanut Butter
Cream Cheese
Cheese
And don't forget to include drinks to quench your guests' thirst! Smoothies, coffee, hot chocolate, juice, and mimosas are all options guaranteed to please a crowd.
How to Put Together a Breakfast Charcuterie Board
Not only are they impressive, but breakfast boards are also super fun to make! There really aren't any rules. However, we do have some general guidelines that will make the process easy.
Add the Largest Items. Start by placing the largest foods like pancakes or waffles on a large wooden board or serving platter. Then, add any bowls you plan to include.
Arrange Smaller Items. Next, arrange the smaller foods around the large items.
Decorate. Fill in any gaps or sparse areas with extra fruit, nuts, chocolate chips, or small items that can easily be grazed on.
Tips for the Best Results
Still not confident or looking for ways to build an even better breakfast charcuterie board? We've got you covered with the tips and tricks below!
Pick a Theme. For this breakfast board, we included a little bit of everything. However, you can also make it a bit more streamlined by choosing a theme! Think savory, sweet, pancakes, holidays, and more.
Use Shapes. Use cookie cutters to create fun shapes out of pancakes, waffles, and fruit, adding texture and a unique display.
Stick to Seasons. A fun way to make sure your breakfast charcuterie board experience is never the same is to stick to using seasonal foods, switching up what you include each time you make it.
Group Foods and Colors. For the best results, try to group foods together in small clusters, and sprinkle color throughout the board for visual appeal.
Make It Big or Small. If you're serving a large crowd, go crazy with multiple boards each with its own theme. Or, for a small gathering, make mini boards instead.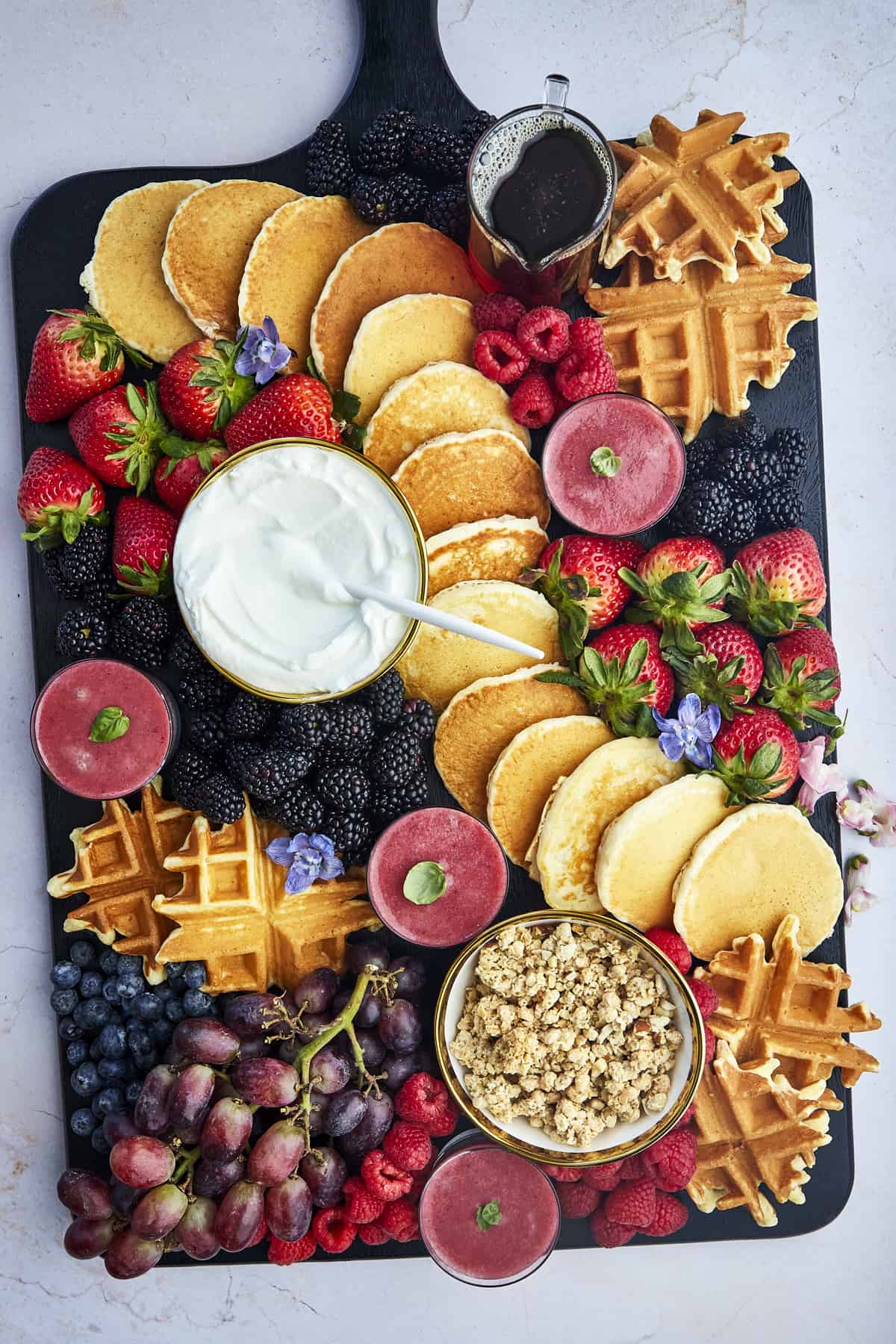 Make Ahead and Storage Options
For the best results, we recommend preparing your breakfast charcuterie board just before serving. However, if you want to prepare ahead of time, you can wrap it with saran wrap, and store it in the fridge for 1-2 days.
Or, we recommend preparing the ingredients separately and storing each group of items in a separate airtight container in the fridge or at room temperature for 1-2 days. Then, just assemble your breakfast board right before you're ready to serve!
We earn a commission if you make a purchase, at no additional cost to you.
More Crowd-Pleasing Breakfast Recipes
Looking for more breakfast or brunch ideas perfect for feeding a crowd? Try out more of our favorites below!