Vermicelli Rice
*This post may contain affiliate links, please see our privacy policy for details.*
Have you ever been torn between making a pasta dish or a rice recipe? Us too! That's why we love our yummy vermicelli rice. It is the perfect combination of noodles and grains! This recipe is a staple in the Middle East and in our homes.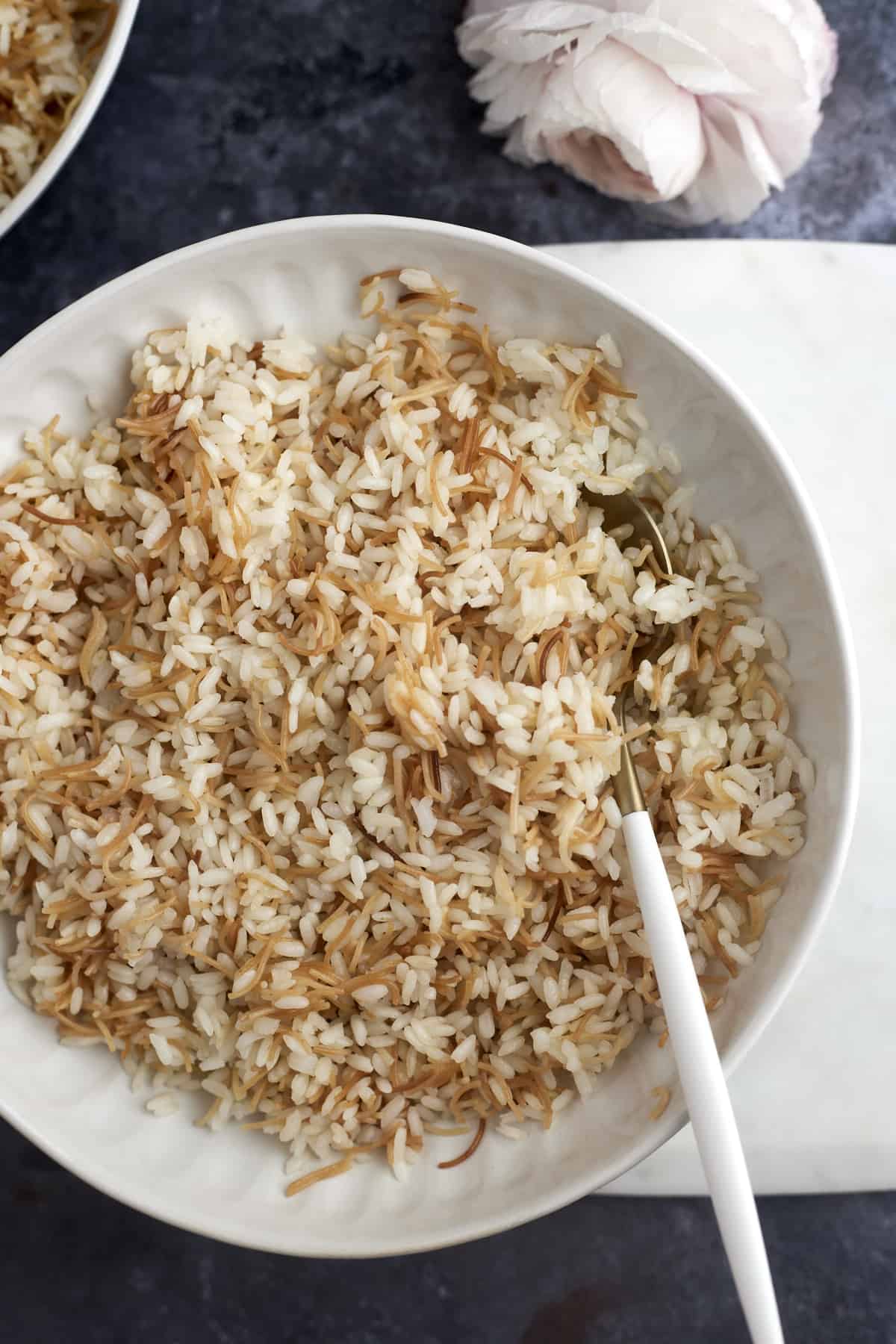 Jump to Recipe
What is vermicelli?
Vermicelli directly translates to mean "little worms" – and that is a great description! These wheat-based pasta noodles are similar to spaghetti in shape, but are traditionally a tad bit thinner.
The interesting thing about vermicelli is that it differs based on where it comes from. Many Asian cultures have their own form of vermicelli. In fact, vermicelli rice noodles are incredibly popular in Vietnam!
While vermicelli is usually thinner than spaghetti noodles around the world, in Italy, vermicelli is actually thicker than spaghetti. In other regions, this thicker vermicelli is referred to as vermicelloni. Vermicelloni is typically paired with a heavy meat sauce!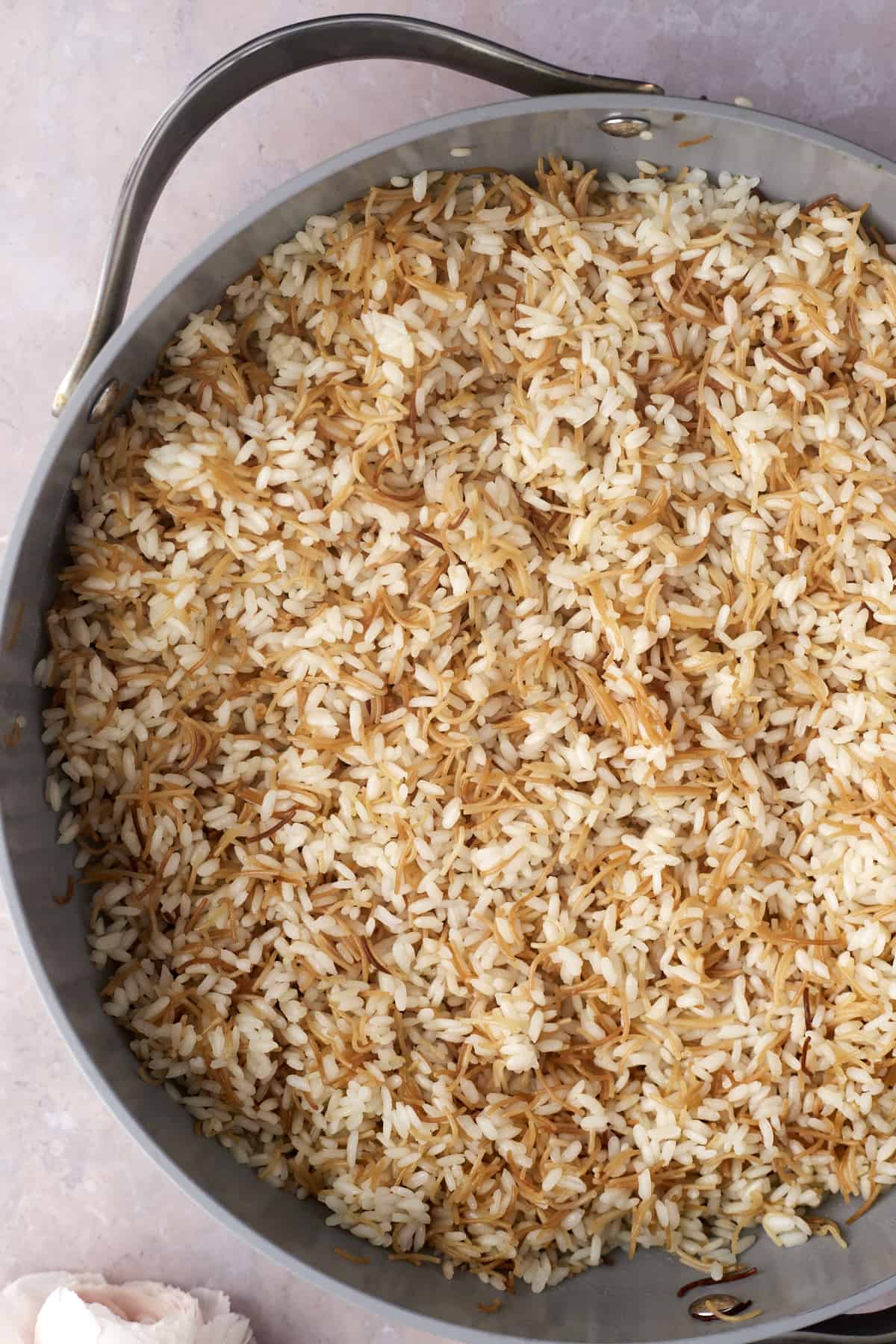 How to meal prep with vermicelli rice
If you are into meal prepping, then our vermicelli rice is perfect for you. It is a great basic component that can pair well with a protein and veggie!
We recommend making a big batch of of our vermicelli rice, and separating it into portions. Then top it with your favorite saucy protein and some veggies!
Here are a few of our recipes that would work well made in a big batch to portion overtop our vermicelli rice:
Our Chicken Tikka Masala is absolutely meant to be served over rice. It has such a rich sauce! If stored in an airtight container, it will last for up to 5 days in the fridge, making it perfect for meal prepping!
This Shrimp Bake in Tomato Sauce is another saucy protein that pairs perfectly with vermicelli rice. When storing seafood, though, you should consume it in 2-3 days after making it. Because of this, we don't recommend making a big batch!
Lastly, our Beef Kofta Meatballs are so easy to meal prep making them a great match for our vermicelli rice! Scoop some hummus and fresh cut veggies into your tupperware, and you've got a filling, nutritious lunch.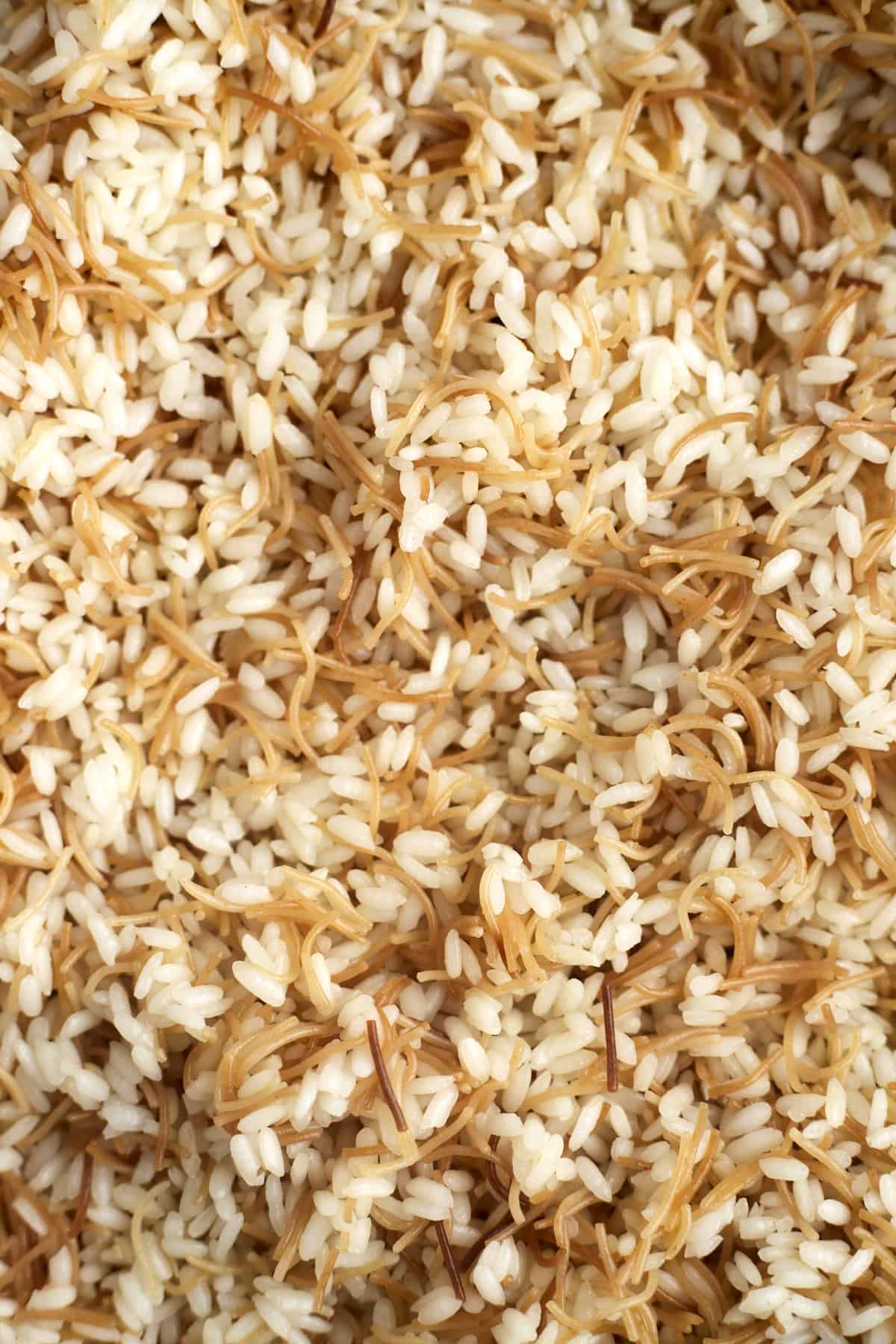 How to make vermicelli rice
First, rinse the rice until the water runs clear.
Set a pan on the stovetop and turn the burner to medium heat. Add olive oil and butter, and allow the butter to melt.
Add the vermicelli noodles to the pan and toast them. Stir them constantly until they begin to brown.
Next, add in the rice and continue to stir.
After the rice toasts for a minute or two, add in the water and salt.
Bring the water in the pan up to a boil, then reduce the heat to simmer it on low. Cover the pan and cook for about 20 minutes!
When the rice and noodles are done cooking, remove the pan from the heat and fluff it up.
Serve immediately!
How to store vermicelli rice
Vermicelli rice is a delicious recipe that stores very well. You can store it in the refrigerator for up to 5 days in an airtight container.
To reheat vermicelli rice, add some water to a small sauce pot and heat it up with the vermicelli rice. We find that after a couple days in the fridge, the vermicelli rice dries out a bit. Adding in some water when you heat it back up helps address this!
What to serve with vermicelli rice
Vermicelli rice is the most amazing side dish. It is savory, but neutral in flavor. Because of that, it pairs so well with many of our recipes. Here are a few of our favorites:
If you haven't had it before, you HAVE to try Marry Me Chicken alongside our vermicelli rice. The chicken is gently breaded and it has the creamiest sauce.
Middle Eastern Chicken and Potatoes is a flavorful main dish to serve with vermicelli rice. This recipe is equally as hands off as vermicelli rice!
If you're in the mood for curry, our Madras Chicken Curry is right up your alley. It is creamy, spicy, and nourishing! Pour it over the vermicelli rice for a filling meal.
Vermicelli Rice
A delicious savory side dish!
Ingredients
3

cups

medium grain rice

(make sure to rinse until water runs clear)

1.5

cups

vermicelli noodles

4

cups

water

2

tbsp

unsalted butter or ghee

2

tbsp

olive oil

2

tsp

sea salt

(to taste)
Instructions
In a pan on medium heat, melt butter with olive oil.

Add noodles and toast. Keep stirring until they begin to brown. Be careful not to let them burn!

Add rice and saute for an additional minute. Make sure you keep stirring.

Add water and salt, then turn the heat to high. Once the water starts to boil, bring the heat down to low and cover.

Cook for 20-25 minutes, or until the rice is tender.
Nutrition
Serving:
12
g
|
Calories:
543
kcal
|
Carbohydrates:
107
g
|
Protein:
7
g
|
Fat:
8
g
|
Saturated Fat:
3
g
|
Polyunsaturated Fat:
1
g
|
Monounsaturated Fat:
4
g
|
Cholesterol:
10
mg
|
Sodium:
669
mg
|
Potassium:
81
mg
|
Fiber:
3
g
|
Calcium:
15
mg
|
Iron:
4
mg