Shrimp Kofta Meatballs are a fun seafood twist on a classic Middle Eastern recipe! Made with protein-rich shrimp, fresh herbs, onions, and garlic, they're savory, pungent, and can be pan-fried or cooked on the grill. Pair them with all your favorite sides and sauces for a unique meal everyone will be excited to gather around the table and eat!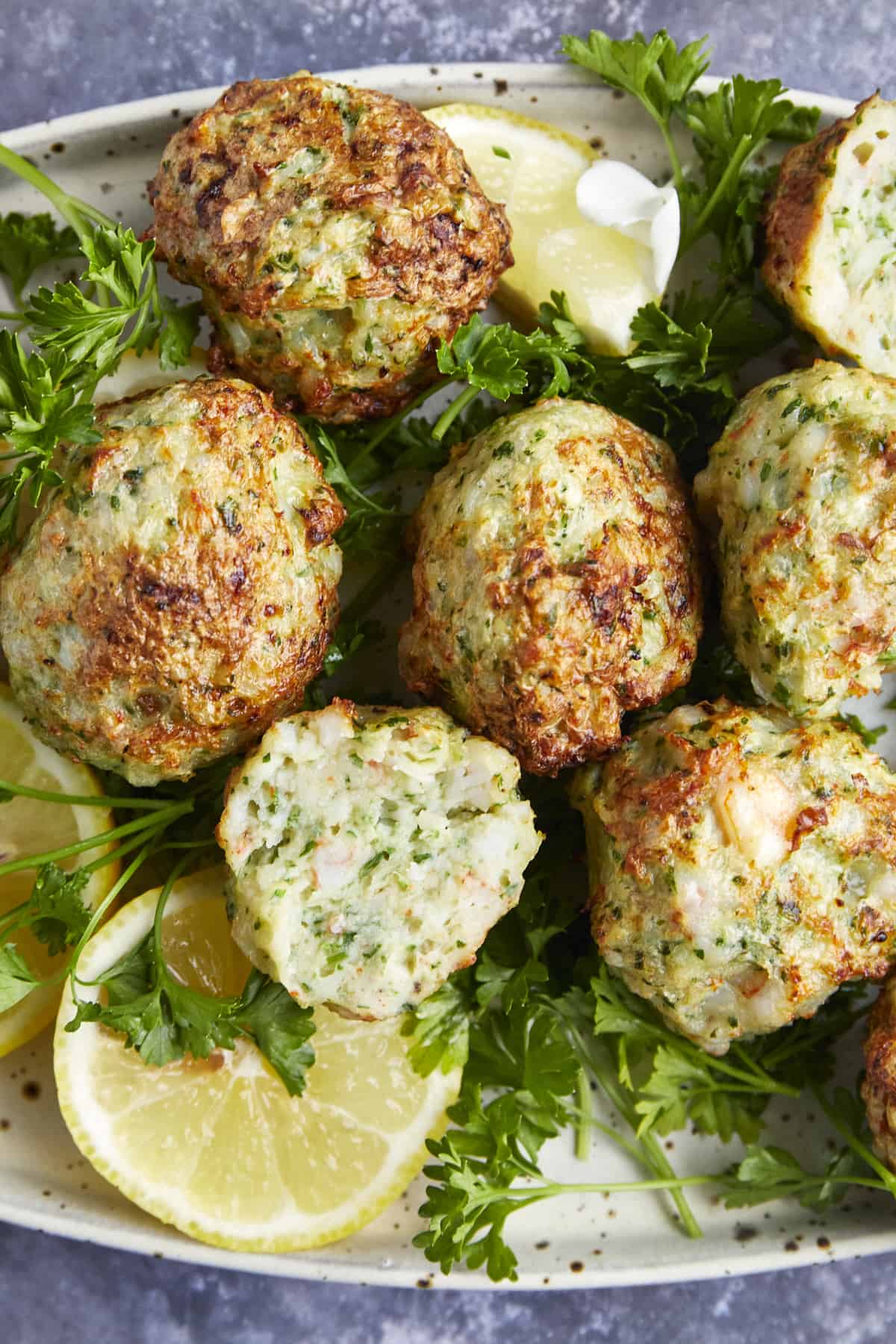 What Is Shrimp Kofta?
Shrimp kofta is a seafood take on our more classic beef kofta or chicken kofta recipes. Traditionally, kofta is a type of meatball or meatloaf made up of minced or ground meat, spices, onions, and breadcrumbs.
This version takes that same concept and swaps out what is traditionally beef, lamb, or chicken with shrimp! The end result is a high-protein kofta meatball that is full of savory flavor.
What Is Shrimp Kofta Made Of?
Like most Middle Eastern recipes, this kofta made with shrimp uses just a handful of simple ingredients to create a bold, herbaceous taste. Here's what you need: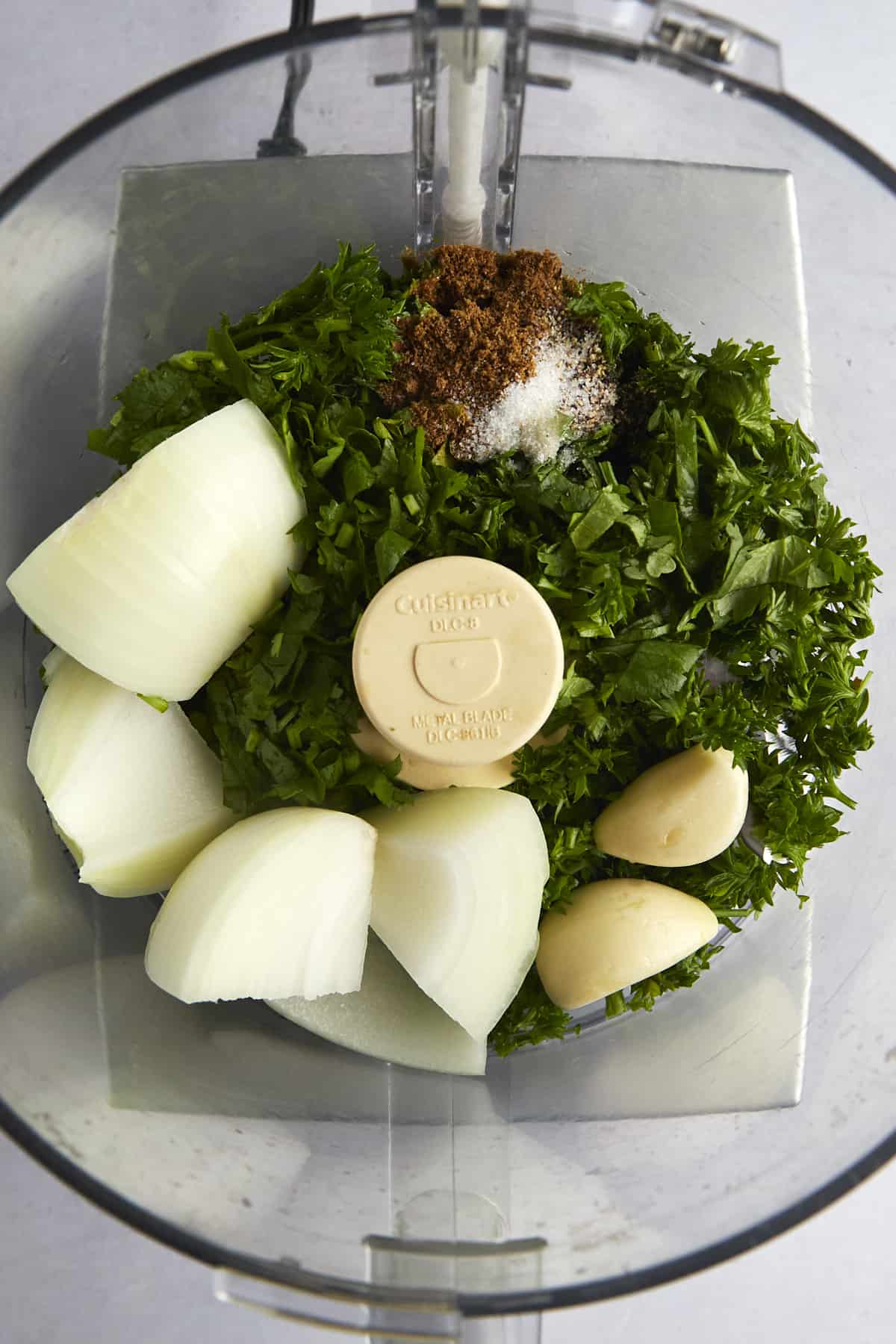 How to Make Easy Shrimp Kofta Meatballs (3 Ways)
We love to make this recipe all year long either on the stovetop, in an air fryer, or over the grill!
Stovetop Option
Air Fryer Option
Follow the recipe steps listed above, combining the ingredients and shaping the patties.
Prepare. Preheat the air fryer, and grease the basket with cooking oil spray.
Air Fry. Arrange the shrimp kofta in a single layer, leaving space between each piece. Close the door, and air fry until they're cooked through, flipping them over once halfway. Work in batches, if needed!
Grill Option
Follow steps one through three listed above in the stovetop option.
Prepare. Preheat the grill to medium-high heat.
Skewer. Carefully place the kofta on skewers.
Grill. Cook the kofta on both sides until they have grill marks and are cooked all the way through.
We earn a commission if you make a purchase, at no additional cost to you.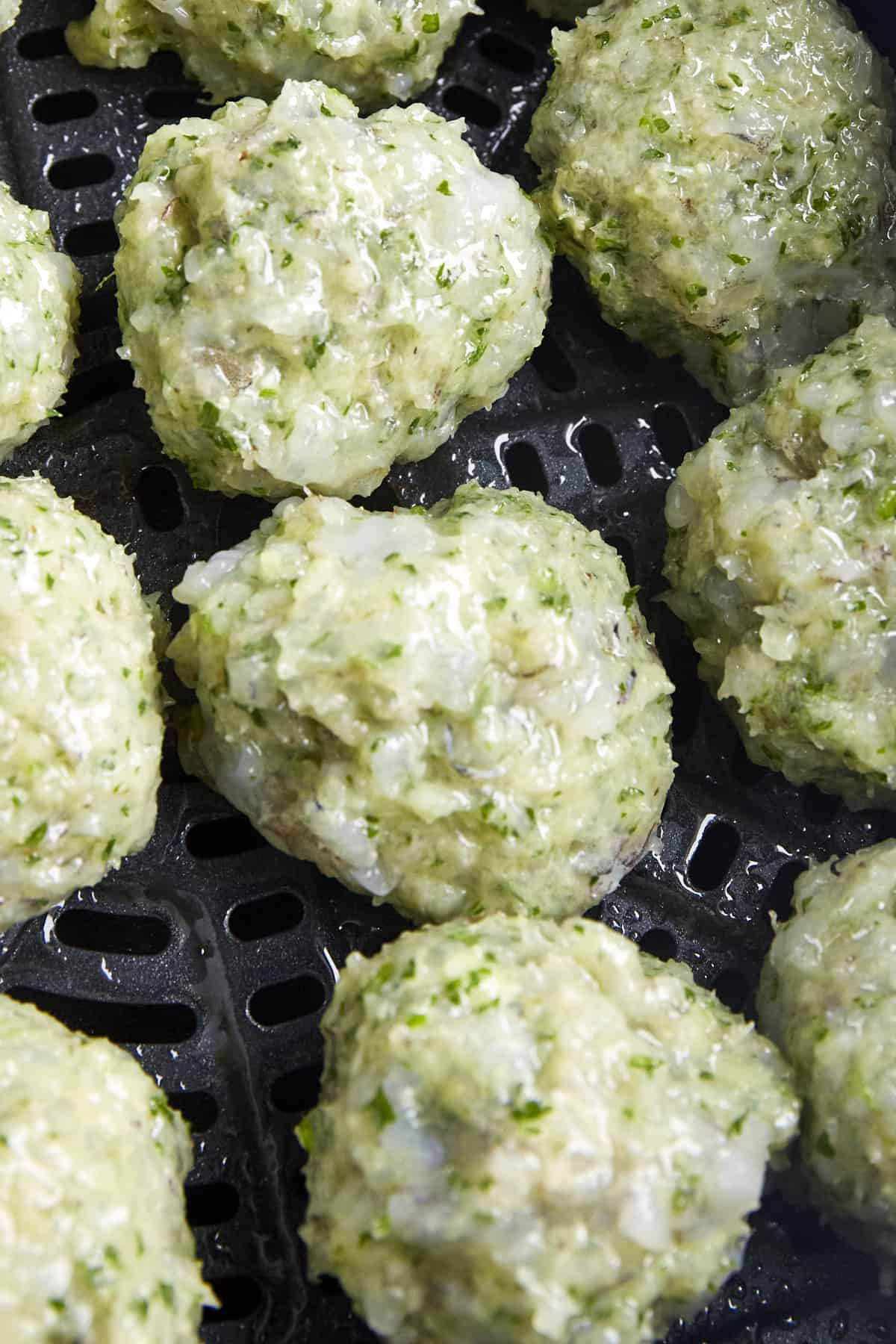 Serving Suggestions
Enjoy your shrimp kofta hot with your favorite dipping sauce such as tzatziki, toum, tahini, or a simple yogurt and garlic sauce! To transform them into a complete meal, pair them with sides like:
Storage Options
Shrimp kofta makes for a great meal prep option to store for later and enjoy throughout the week!
Note: Make sure to store any leftover kofta in an airtight container on its own, separate from any sides or sauces!
Common Questions About This Easy Shrimp Kofta Recipe
What does kofta taste like?
This recipe is savory, herbaceous, and made with just a touch of spice.
What's the difference between kofta and meatballs?
Kofta is a Middle Eastern dish made from ground meat mixed with spices and often shaped into elongated cylinders or patties. Meanwhile, meatballs are typically round or oval-shaped and are commonly associated with Italian, Swedish, or American cuisine, often containing breadcrumbs and various seasonings not found in kofta recipes.
What's the difference between kabob and kofta?
Kebab refers to skewered and grilled pieces of meat, often marinated and served on a stick. However, although we sometimes serve our kofta on skewers, it is most often kofta shaped into patties or cylinders, seasoned with herbs and spices, and then grilled or cooked. Both are popular in Middle Eastern and South Asian cuisines, but they differ in their preparation and presentation.
More Middle Eastern-Inspired Recipes
Looking for more recipes to explore Middle Eastern cuisine? Try some of our favorites below!
Easy Shrimp Kofta Meatballs Recipe
Make this easy shrimp kofta recipe with eight ingredients and less than 20 minutes for a fun, seafood twist on a Middle Eastern dish!
Ingredients
2

pounds

(~900 grams) shrimp, peeled and deveined

1

cup

fresh parsley

roughly chopped

1/2

cup

fresh cilantro

roughly chopped

1/4

cup

all-purpose flour

1

teaspoon

ground cumin

1

teaspoon

salt

adjust to taste

1/2

teaspoon

black pepper

1/2

onion

roughly chopped

2

garlic cloves

minced
Instructions
Make sure the shrimp are peeled and deveined.

2 pounds (~900 grams) shrimp, peeled and deveined

In a food processor, combine the fresh parsley, fresh cilantro, flour, cumin, salt, black pepper, chopped onion, and minced garlic. Pulse the mixture until the herbs are finely chopped and everything is well combined. Scrape down the sides of the food processor as needed.

1 cup fresh parsley,

1/2 cup fresh cilantro,

1 teaspoon ground cumin,

1 teaspoon salt,

1/2 teaspoon black pepper,

1/2 onion,

2 garlic cloves,

1/4 cup all-purpose flour

Add the peeled and deveined shrimp to the herb mixture in the food processor. Pulse the mixture until the shrimp are finely chopped and the mixture comes together into a smooth paste. Be careful not to overprocess! It should still have a little texture.

Remove the shrimp mixture from the food processor, and transfer it to a bowl. Using wet hands or an ice cream scoop, shape the mixture into small oval or round kofta patties. If needed, insert a skewer into each kofta to grill them on skewers.

Pan-Fry Option: Heat a skillet or pan with a bit of oil over medium-high heat. Cook the kofta for about 2-3 minutes on each side or until they are golden brown and cooked through.Grill Option: Preheat the grill to medium-high heat. Grill the kofta on skewers for about 2-3 minutes on each side until they are cooked and have grill marks.Air Fryer Option: Preheat the air fryer to 400 degrees. Grease the basket with cooking oil spray, and arrange the kofta in a single layer, leaving space in between each piece. Air fry for 10 minutes or until they're cooked through.

Serve the shrimp kofta hot with a dipping sauce of choice such as tzatziki, tahini sauce, or a simple yogurt and garlic sauce. They also go well with a side of rice or pita bread and a fresh salad!

Store in an airtight container in the fridge for up to 2-3 days.
Equipment
Notes
To Freeze: Place the cooked kofta on a baking sheet, and transfer them to the freezer for a few hours or until solid. Place them in an airtight container or sealable bag, and freezer for 2-3 months.
Nutrition
Serving:
1
serving
|
Calories:
70
kcal
|
Carbohydrates:
1
g
|
Protein:
15
g
|
Fat:
0.5
g
|
Saturated Fat:
0.1
g
|
Polyunsaturated Fat:
0.1
g
|
Monounsaturated Fat:
0.1
g
|
Trans Fat:
0.003
g
|
Cholesterol:
122
mg
|
Sodium:
287
mg
|
Potassium:
244
mg
|
Fiber:
0.3
g
|
Sugar:
0.3
g
|
Vitamin A:
469
IU
|
Vitamin C:
7
mg
|
Calcium:
60
mg
|
Iron:
1
mg
Nutrition information is automatically calculated, so should only be used as an approximation.
Like this recipe?
Please leave a comment!