How to Meal Prep for the Week: A Beginner's Guide
*This post may contain affiliate links, please see our privacy policy for details.*
Learning how to meal prep for the week is a game changer when it comes to saving time and money and staying on track with a healthy diet. Contrary to popular belief, it doesn't have to be complicated or require hours in the kitchen. We'll teach you all the best tips, tricks, tools, and recipes to meal prep for all your goals with ease!
What Is Meal Prepping?
Meal prepping is a form of planning that involves cooking individual components of meals like meat, veggies, and starches or even complete dishes themselves ahead of time. Whether you're feeding yourself or preparing meals for your whole family, learning how to meal prep is a great way to reduce the time spent in the kitchen, make busy weekdays easier, and help you achieve any health and nutrition goals you're working toward with nutritious, pre-portioned options ready to grab and go!
Benefits of Meal Prep
There's a reason why meal prepping for the week is so popular! The list of benefits is huge.
Saves time cooking.
Reduces food waste.
Can help reduce the cost of your grocery bill.
It makes it easier to stick to healthy options.
Are There Any Downsides?
Of course, as great as learning how to meal prep is, there are a few downsides for some. The most common complaint is that people get bored eating the same thing every day or that they don't like leftovers.
If this is true for you, easy ways to avoid food fatigue include using different seasonings and sauces. Preparing components of meals so you can mix and match throughout the week, and making smaller batches of items so you aren't eating them all week long.
How to Meal Prep for the Week
Everyone has their own method when it comes to meal prep, but don't worry! Learning how to meal prep for the week is simple, and we'll walk you through a variety of methods, tips, and more so you can find a routine that works for you.
Different Methods
The best type of method for meal prepping will depend on your preferences, needs, and how many people you're cooking for. However, some of the most common approaches are as follows:
Full Meals – This is particularly popular for those feeding a family. All you have to do is choose a few of your favorite meals and make them in advance. Then, store them in the fridge or freezer for family-friendly dinners you can have on the table in minutes.
Batch Cooking – Choose a specific ingredient like a whole chicken, and cook it ahead of time. Then, keep it on hand to add to a wide variety of meals throughout the week.
Individual Ingredients – This method is great for those who get bored easily. Prepare a bunch of different ingredients like quinoa, rice, chicken, beef, and veggies for mix-and-match meals you can whip up in minutes.
Single Servings – We love this option for easy lunches or when you're just feeding yourself. Prepare and package single-serving meals like salad jars or chipotle chicken boxes so all you have to do is warm them up before you eat.
The Best Foods for Meal Prep
When it comes to learning how to meal prep, it's important to choose foods that you not only enjoy but that are also easy to prepare and hold up throughout the week. As a result, our favorite options include:
Frozen Vegetables – These are a lifesaver when you're short on time! Plus, they're super affordable and frozen at the peak of ripeness, meaning they often have more vitamins and nutrients than fresh veggies.
Starchy Vegetables – Think potatoes, carrots, radishes, and other root vegetables that store well.
Crunchy Veggies – Celery, peppers, etc. keep well and are perfect for dipping or adding to sandwiches, salads, and wraps.
Greens – Heartier options like spinach and kale can easily be stored for healthy meals. Just be sure to wash and dry them well before storing them in the fridge.
Grains and Pulses – Oats, quinoa, buckwheat, rice, lentils, chickpeas, and beans all make great options for filling meals that are affordable and delicious.
Protein – You really can't go wrong with meal prepping protein. From salmon to chicken, beef, turkey, eggs, yogurt, and cottage cheese, it all works and can easily be paired with all your favorite recipes.
Whole Fruit – Keep whole fruit on hand to slice up and add to meals just before eating. For the best flavor and cheapest options, look for in-season items.
Meal Ideas
Now that we've covered our favorite ingredients, we'll show you how we put them to use with a few of our favorite meal prep recipes!
Breakfast
Lunch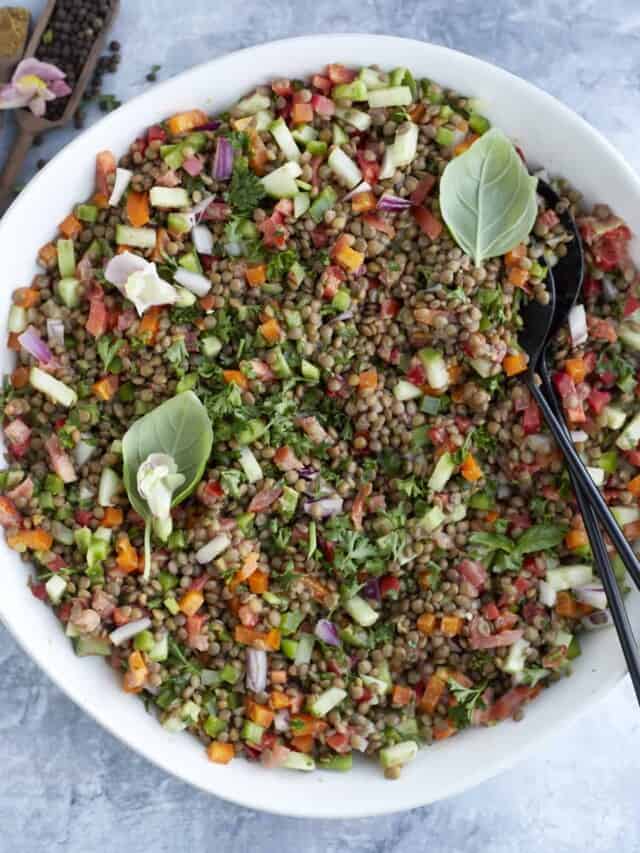 Dinner
Tips and Tricks for Learning How to Meal Prep
Choose a Single Day. If you plan meal prepping into your schedule, it will be sure to get done and guarantee you have meals to eat the entire week. Many people like to use Sundays. However, Wednesday is a common option, too. Choose whatever day works best for you and your schedule!
Determine How Much You Want to Prep. Figure out how many meals you'll need before you begin. For instance, you may want to only prepare lunches. Or, you may want to go all out, making breakfast, lunch, and dinner. Experiment with your options to figure out what you like best, but don't forget to make a plan before you begin.
Write Down a Grocery List. The key to preventing waste and saving money is to determine what meals you'll be making before you go shopping. Then, write down everything you need, and stick to your list at the store. That way, you aren't buying any random items that look good at the time but will just go to waste.
Plan Your Prepping. We like to choose recipes that require different tools to cut down time spent in the kitchen. For instance, you could have chicken or fish roasting in the oven while rice cooks in your rice cooker, and soup is simmering in the slow cooker. Or, to keep things simple, look at the amount of time each recipe will take, and plan your method of attack accordingly.
The Best Storage Containers
Believe it or not, choosing the best storage containers can make or break how enjoyable your meals are when everything is said and done. After all, it doesn't matter how tasty your dinner is if it just goes bad or spills all over the fridge!
Therefore, there are a few features we look for when it comes to choosing the proper meal prep storage containers:
Airtight and Leak-Proof – This helps ensure your food stays in the container and no bacteria get in.
BPA-Free – These usually clean really well and are better for you, too. We love Pyrex and glass containers for BPA-free options.
Microwaveable – Then, all you have to do is reheat and eat!
Freezer-Safe – This is perfect for meal prepping in bulk and keeping food safe.
Compartmentalized – If you're preparing full meals or using sauces, this is a great way to prevent items from becoming soggy or mixing all together when you'd rather enjoy them separately.
How to Store, Freeze, and Reheat
Now that you've learned how to meal prep for the week like a pro, it's time to keep your food safe and prevent foodborne illness and disease.
To do this effectively, a few guidelines include:
Keeping Your Fridge Cool – Make sure your fridge is kept at 40° Fahrenheit or lower and your freezer is at 0°F or below to keep your food safely stored.
Cool and Store Quickly – The longer your food sits out, the higher the chance of it spoiling. So, to keep your foods fresh spread them out in shallow containers, and place them in the fridge to cool before covering and storing them. No matter what, be sure to store your meal prep within two hours of preparation.
Cook Thoroughly – Use a meat thermometer to double-check that all your protein is cooked completely. The general rule of thumb is that meat should be cooked to an internal temperature of at least 165° Fahrenheit to kill bacteria.
Thaw Completely – Transfer any frozen meals to the fridge, and let them thaw completely before reheating. Thawing on the countertop is not the safest method. So, be sure to plan ahead!
Reheat Once – The more times your food is reheated, the higher the chance of food poisoning. So, plan ahead and warm your meals only once, making sure they're heated to 165° Fahrenheit and enjoyed within 24 hours of defrosting.
Be Mindful of Time – Don't forget to label all your containers, and keep an eye on how long they've been in the fridge! In general, refrigerated meals should be eaten within 3-4 days and frozen foods should be thawed and consumed within 3-6 months.
More Guides
Looking for more ways to prepare ahead of time and keep foods fresh? We've got you covered with the posts below!