This Mason Jar Salad is the best meal prep recipe for a filling lunch that is nutrient-dense and delicious! We'll show you how to prepare and layer your ingredients so you can avoid soggy salads and have easy grab-n-go meals throughout the week.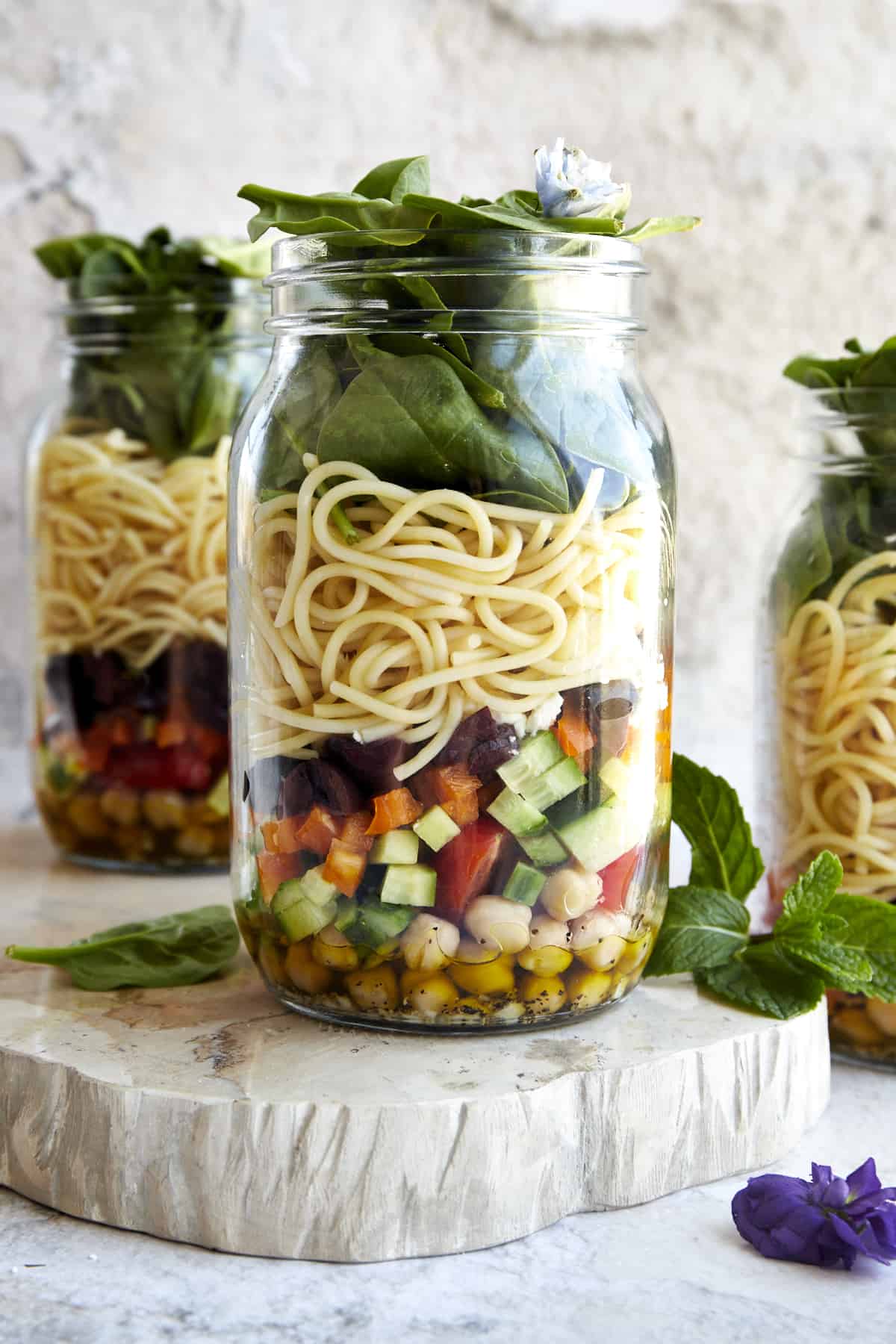 With recipes like our Crispy Rice Bowl SweetGreen Copycat, Fall Harvest Salad, and Chipotle Chicken with Elote Corn Salad, we've been known to enjoy big bowls of salad throughout the year. However, as soon as the weather begins to warm, they become a staple for quick lunches and easy dinners!
Unfortunately, between running the kids around, getting work done, and sneaking in the occasional pool day, it's not always easy to prepare ingredients fresh. And we all know how making salads ahead of time goes. More often than not, the ingredients just turn soggy and wilted instead of staying crisp and fresh.
Until now! When prepared correctly, this mason jar salad recipe keeps all your ingredients as good as new. Even better, they last throughout the week! That means you can whip everything up in minutes and feel good knowing you have scrumptious lunches to satisfy you on those hectic days.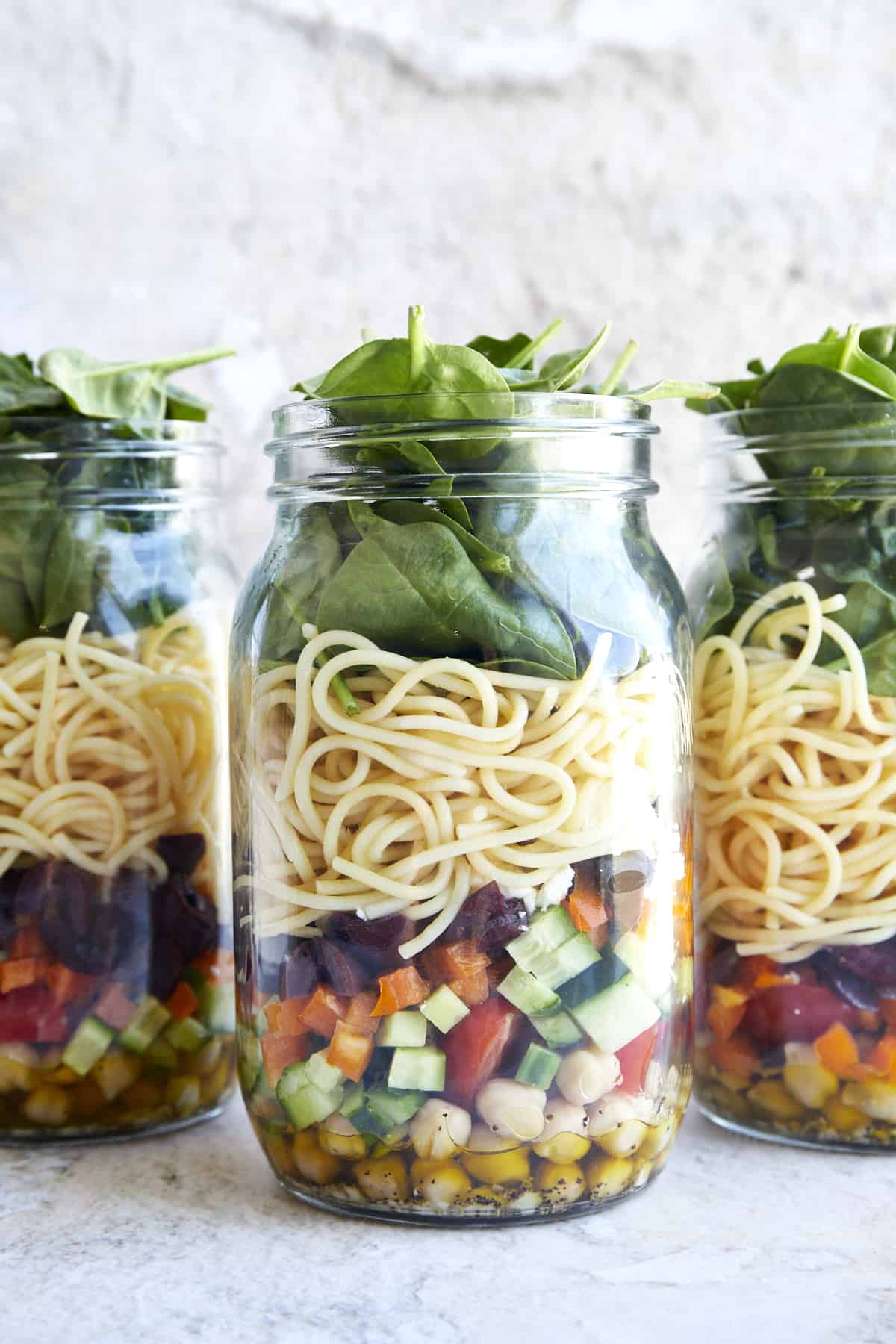 What Is a Mason Jar Salad?
Exactly what it sounds like! A mason jar salad is simply a single-serving salad that is prepared and stored in a mason jar instead of a bowl. The ingredients are layered in an order that preserves them, allowing them to stay fresh throughout the week.
As a result, they're super popular as a meal prep option for school and work lunches. All you have to do is combine the ingredients in a jar and store them in a fridge. Then, when you're ready to eat, just give the jar a good shake, pour the contents into a bowl, and enjoy!
Why You'll Love Mason Jar Salads
They're easy to prepare and quick to clean up.
Every salad is perfect for a single-serving meal you can take anywhere.
They're super versatile to fit your flavor preferences and dietary needs.
Cheaper than a takeout salad, they're budget-friendly and nutritious.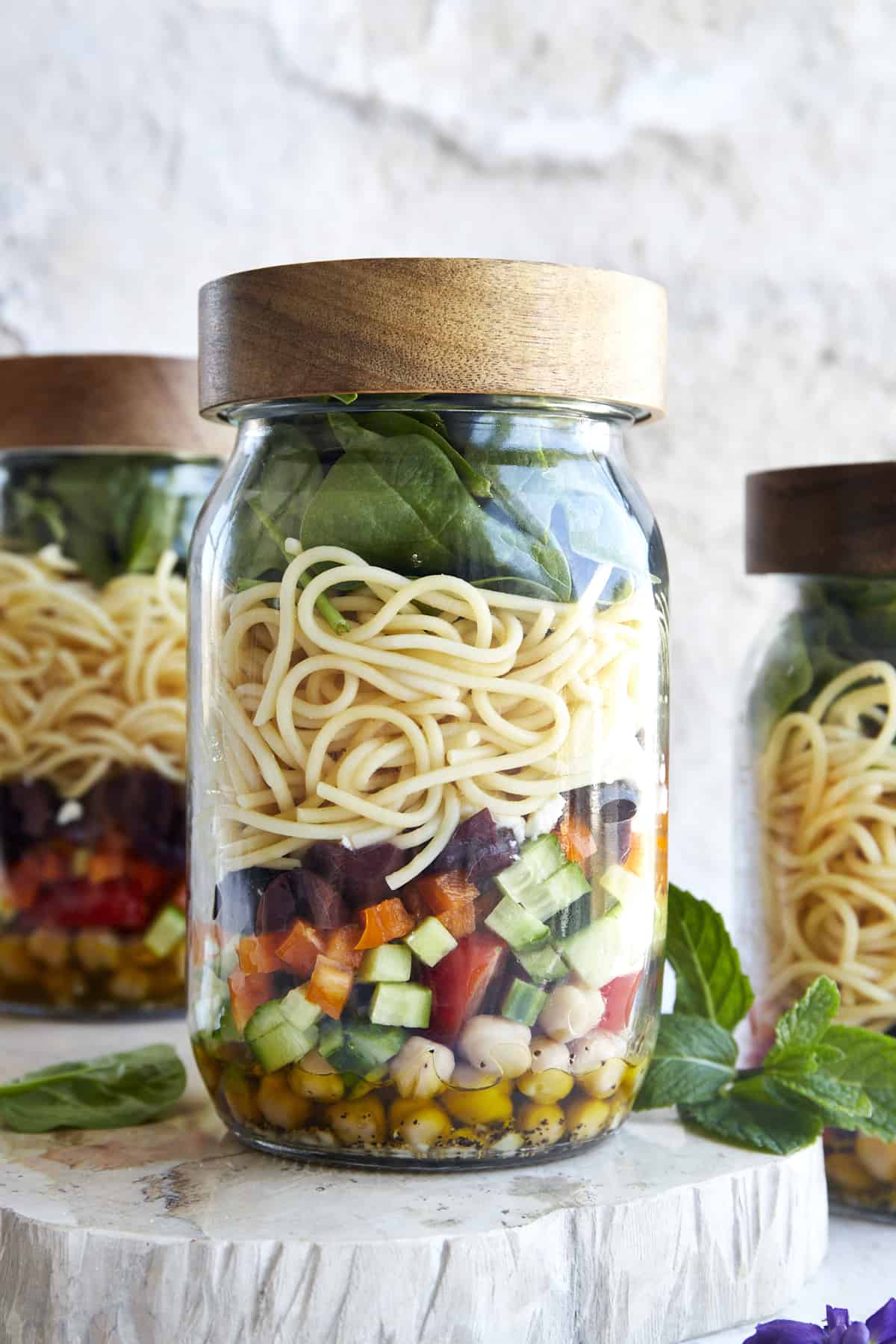 Ingredients You'll Need
This mason jar salad recipe is based on our Greek spaghetti salad with just a bit of a twist for extra nutrients and plant-based protein. Here's what you need:
For the Salad
Spaghetti – Feel free to use any pasta noodles you like best, and cook them according to the package instructions.
Chickpeas – To keep things simple, we opt for canned chickpeas, also known as garbanzo beans, to add plant-based protein, fiber, and a pop of texture.
Veggies – Tomatoes, yellow peppers, cucumbers, and spinach make this salad vibrant, refreshing, and full of nutrients.
Olives – We like Kalamata olives for a briny, salty taste, but any olives you have on hand will taste great!
Cheese – Full-fat feta cheese adds a creamy, savory element that balances out the crispness of the veggies.
For the Dressing
Olive Oil – Used to form the base of the dressing. For a strong, peppery kick opt for extra virgin olive oil.
Garlic – Fresh garlic cloves work best to add a punchy taste.
Lemon Juice – The acidity balances out the heaviness of the fats for a refreshing flavor that lightens up the salad.
Salt and Pepper – Use as little or as much as you'd like.
How to Make an Easy Mason Jar Salad
Preparing salads in a jar is simple. However, the order of ingredients is crucial to prevent the items from becoming soggy!
Prepare the Dressing. In a small bowl, whisk together all the salad ingredients until smooth.
Divide and Layer. Pour ⅓ of the dressing into 3 separate mason jars or containers. Then, divide the ingredients evenly amongst the jars, ending with the spinach.
Refrigerate. Cover the jars, and store your salads in the fridge. When you're ready to eat, invert them on a plate, and enjoy!
We earn a commission if you make a purchase, at no additional cost to you.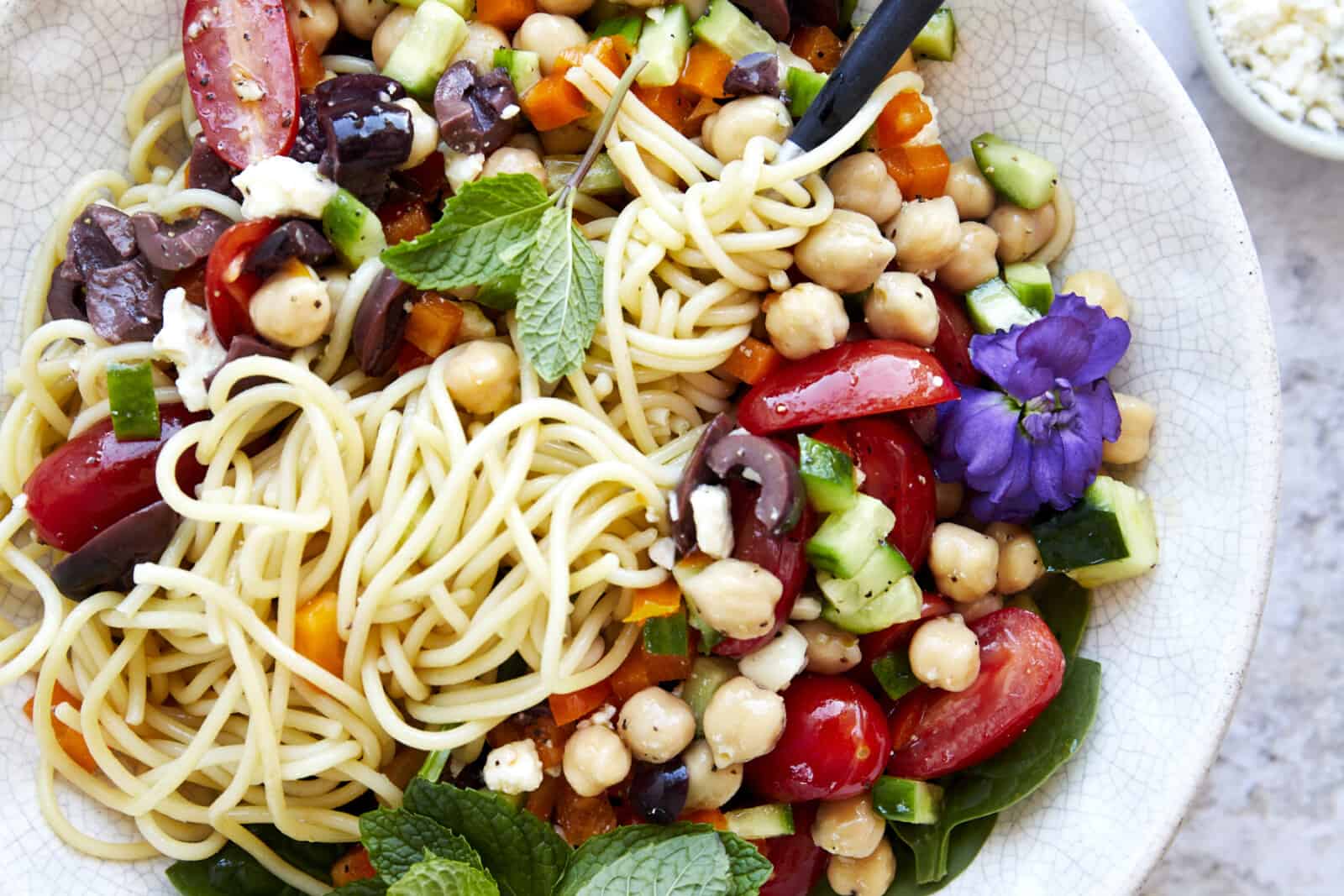 How to Layer
As mentioned, layering is the key to success when it comes to mason jar salads. Luckily, there's a simple formula to follow!
Start with the Wet Ingredients. You want to add the dressing or any liquids first. This prevents them from soaking down throughout the jar, causing the veggies to become soggy.
Add the Heaviest Items. Next, layer the heaviest ingredients. This includes proteins (plant-based and animal-based), dense veggies, and pasta or extras.
Include the Delicate Ingredients. Finish your salads with delicate items like greens, fruit, and salad toppings.
How Long Do Mason Jar Salads Last?
If layered properly, salads in a jar will stay fresh for up to 4-5 days. Just keep in mind that different ingredients will stay fresh for different periods of time. So, if you're preparing for the week, plan on eating your salad jars before other items.
Can I Freeze Salad Jars?
You can freeze mason jars, but we don't recommend freezing salad recipes of any kind. Unfortunately, they just don't thaw very well.
Common Questions
Can I use different ingredients?
Absolutely! You can add pretty much anything to mason jar salad recipes as long as you follow the proper order for layering.
What size mason jar salad is best?
You can find mason jars in a wide variety of sizes. However, for salads, we recommend opting for wide-mouth varieties that are either 16 ounces or 32 ounces in size.
Are there any ingredients you shouldn't include?
If you're planning on eating your salad jars right away, everything is fair game. However, if you're planning on storing them in the fridge, we recommend avoiding ingredients that don't hold up well. This includes items like bacon, avocado, tortillas strips, croutons, granola, nuts, and seeds.
More Tasty Salad Recipes
Looking for more salads you can serve as complete meals? Try out some of our favorite options below!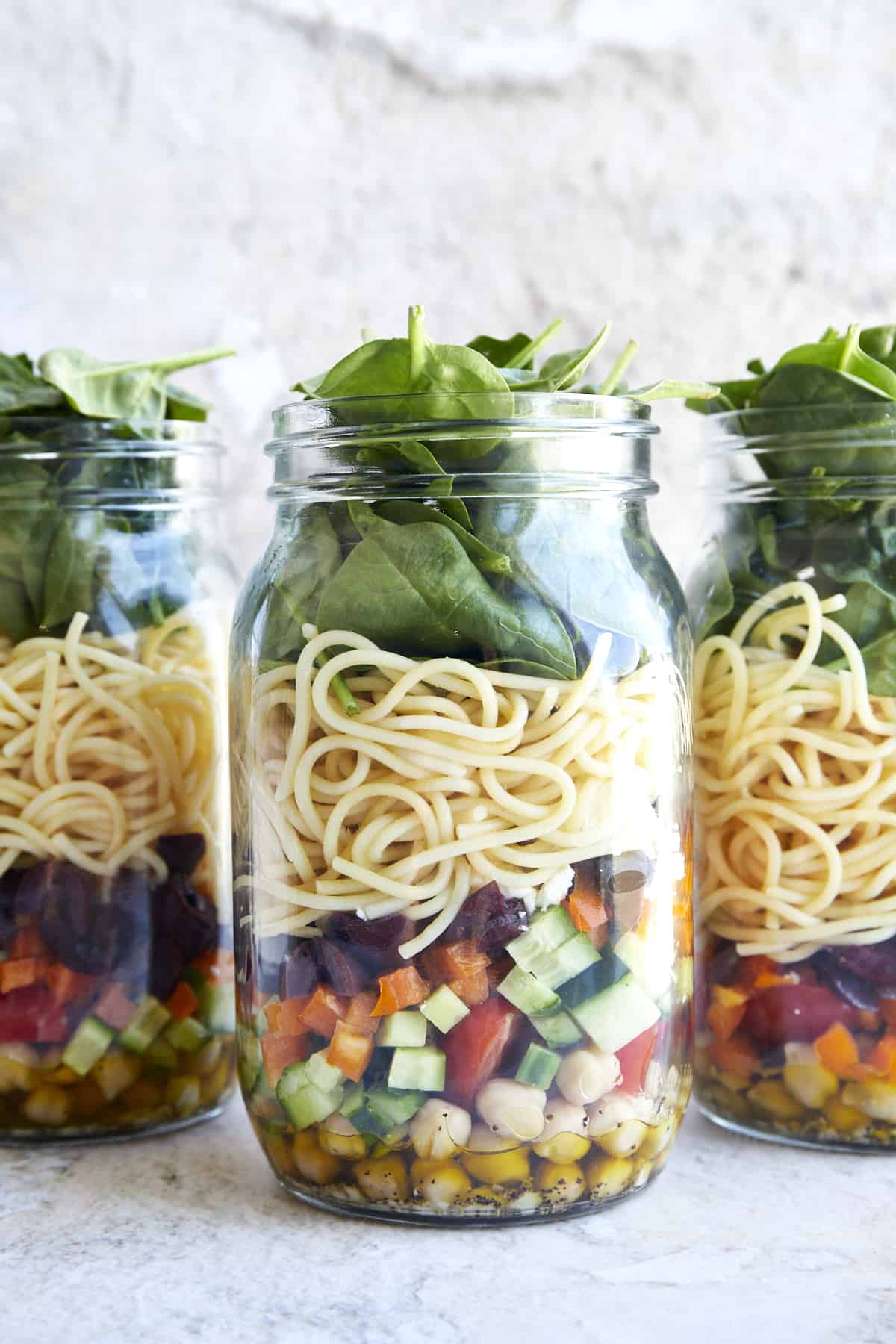 Meal Prep Mason Jar Salad Recipe
This Mason Jar Salad is the best meal prep recipe for a filling lunch that is nutrient-dense and delicious!
Ingredients
⅓

cup

olive oil

Juice of 1 lemon

2

garlic cloves

minced

Salt to taste

Black pepper to taste

1

15 ounce can chickpeas, drained and rinsed

1

cup

cucumbers

diced

1

cup

grape tomatoes

diced

1

cup

yellow peppers

diced

1

cup

Kalamata olives

diced

¾

cup

feta cheese

½

pound

spaghetti

cooked

3

cups

fresh spinach
Instructions
In a small bowl, whisk together the olive oil, lemon juice, garlic, salt, and pepper.

Divide the dressing between 3 large mason jars.

Divide the chickpeas into each followed by the cucumbers, tomatoes, peppers, olives, and feta cheese.

Layer the spaghetti on top followed by the spinach.

Cover, and refrigerate for up to 3 days.

To eat, invert a mason jar salad onto a plate, and enjoy!
Equipment
Nutrition
Serving:
1
serving
|
Calories:
695
kcal
|
Carbohydrates:
68
g
|
Protein:
18
g
|
Fat:
40
g
|
Saturated Fat:
9
g
|
Polyunsaturated Fat:
4
g
|
Monounsaturated Fat:
24
g
|
Cholesterol:
33
mg
|
Sodium:
1163
mg
|
Potassium:
671
mg
|
Fiber:
6
g
|
Sugar:
4
g
|
Vitamin A:
3693
IU
|
Vitamin C:
108
mg
|
Calcium:
275
mg
|
Iron:
3
mg
Nutrition information is automatically calculated, so should only be used as an approximation.
Like this recipe?
Please leave a comment!