This One Pot Spaghetti Recipe with Ground Beef is made with simple ingredients and cooked in just one pot with a total time of less than 30 minutes! Hearty and flavorful, it's perfect for busy weeknights and large gatherings and is sure to become your new go-to meal.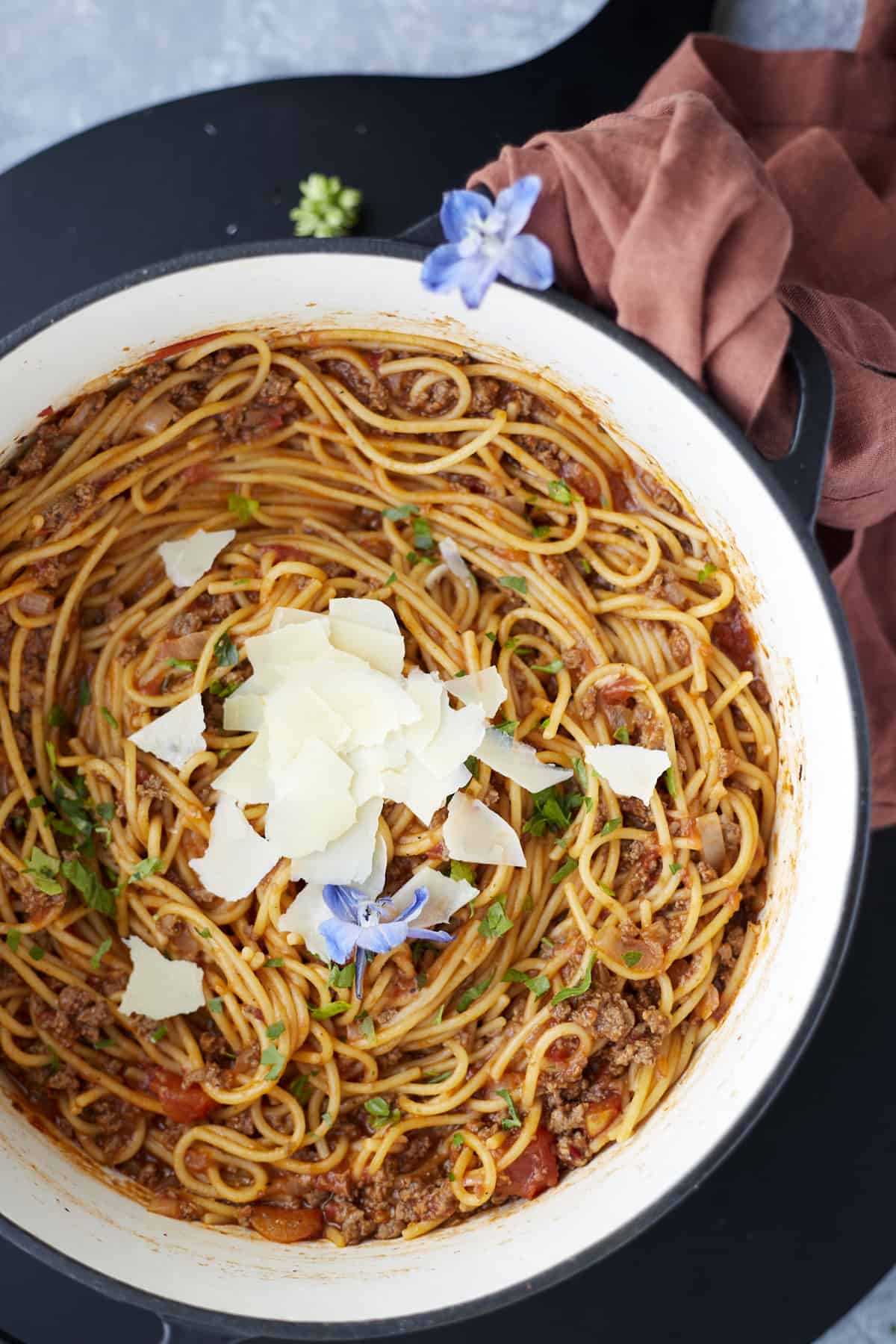 Why You'll Love This Spaghetti with Ground Beef Recipe
If you know us, you know we're massive fans of one pot meals, and with recipes like our One Pot Parmesan Pasta, One Pot Mac and Cheese, One Pot Chili Mac and Cheese, we've got endless options to choose from. However, this easy spaghetti with ground beef is one we come back to again and again.
Filling and flavorful, it's loved by kids and adults alike! After all, with tender spaghetti noodles, savory beef, and a hearty spaghetti sauce, what's not to love?
As if that wasn't convincing enough, this recipe:
Comes together with minimal ingredients you probably already have on hand.
Requires minimal prep time, has a quick cook time, and requires a total time of less than 30 minutes.
Stores well and tastes even better the next day.
Can be enjoyed on its own or paired with all your favorite sides and appetizers.
Is super versatile and can easily be bulked up with extra spices and ingredients to satisfy all your cravings and dietary needs.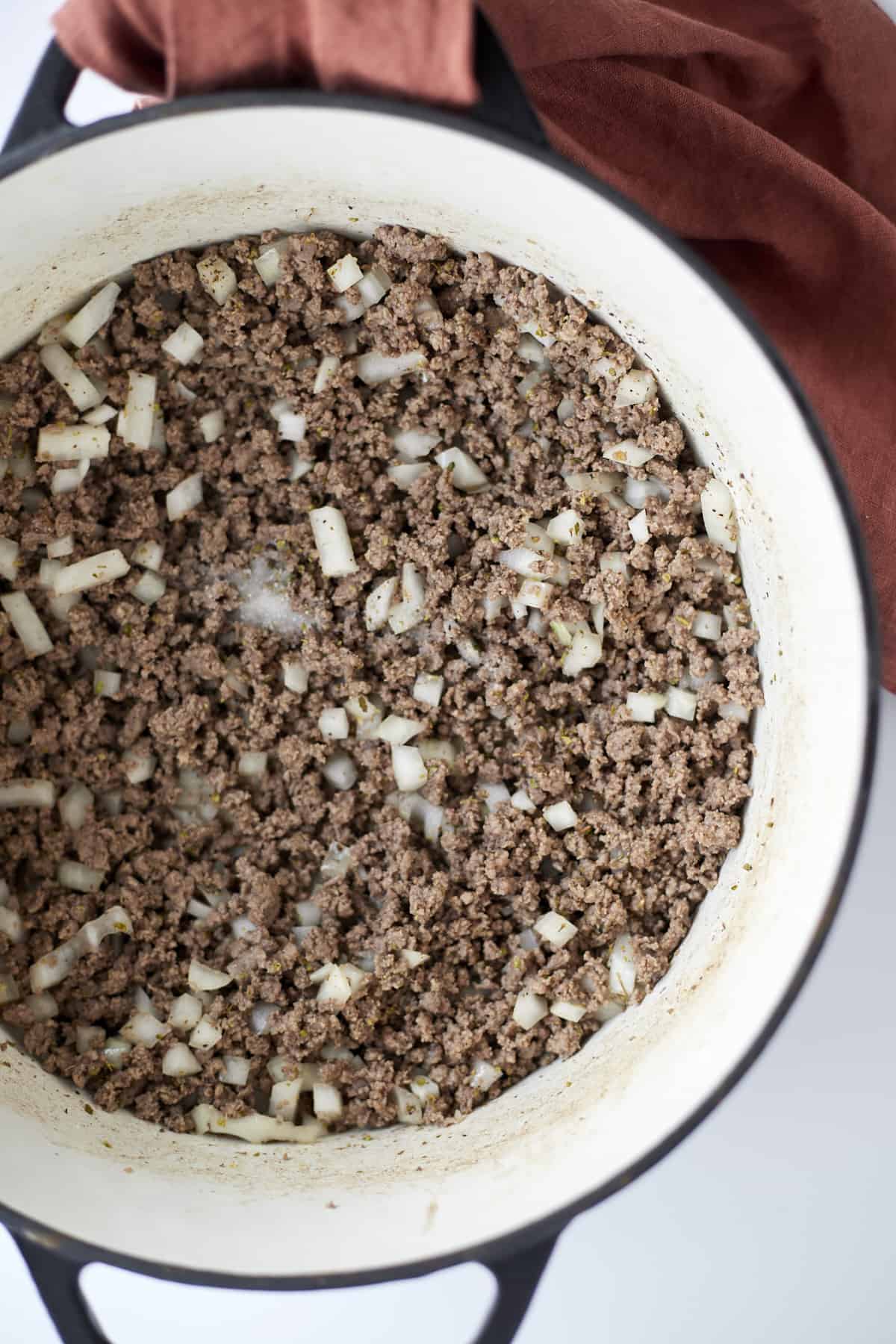 What Do I Need to Make Ground Beef Spaghetti?
As mentioned, this one pot spaghetti comes together with just a few pantry staples, making it a great budget-friendly option. Here's everything you'll need:
Spaghetti – We use regular wheat spaghetti noodles, but you could also opt for whole grain or gluten-free noodles if you prefer.
Beef – We prefer to use a slightly fattier beef such as an 80/20% cut for a bit more flavor, but whatever you like best tastes great.
Onion – Once cooked, onions caramelize and add a slightly sweet flavor that cuts the acidity of the pasta sauce, making for the most incredible spaghetti.
Seasonings – In order to enhance the rest of the ingredients, we included garlic cloves, oregano, thyme, salt, and black pepper. You could also substitute a premade Italian seasoning blend instead.
Pasta Sauce – To save time, we use a store-bought marinara sauce, but feel free to make your own!
Beef Stock – We use this in place of water to infuse the noodles with a rich, savory flavor.
Should I Use Ground Beef or Ground Chuck for Spaghetti?
Ground beef is ground chuck! At least in percentages of 80/20, which we recommend for this spaghetti with beef.
If you want to use leaner ground beef, you can. Just note that your spaghetti won't have quite as much flavor.
What's the Difference Between Spaghetti Sauce, Marinara Sauce, and Pizza Sauce?
Spaghetti sauce, marinara sauce, and pizza sauce are made with similar ingredients but have distinct tastes and textures.
Spaghetti sauce (also known as pasta sauce) is typically made with crushed tomatoes and includes basic seasonings like salt, pepper, and garlic powder. As a result, it has a fairly thin consistency and can easily be adjusted to suit your flavor preferences.
Pizza sauce is made with pureed tomatoes that create a sort of paste. Unlike other sauces, pizza sauce is almost always cooked on a crust of sorts instead of being used as a dip or to coat pasta and other ingredients.
Marinara sauce is made with peeled, finely chopped tomatoes that are blended into smooth chunks but not completely pureed. It is often infused with roasted garlic and cooked over simmering heat.
Note: Marinara sauce is often referred to as pizza sauce, but they aren't the same things!
Flavor Add-Ins and Variations
If you want to get a little creative in the kitchen, feel free to experiment with different ingredient add-ins and variations such as:
Using ground turkey or sausage instead of beef.
Adding a pinch of red pepper flakes for a spicier spaghetti.
Sautéeing chopped veggies such as onions and mushrooms along with the beef for a super nutritious dinner.
Incorporating crushed tomatoes for a chunkier texture.
Simple Steps for the Easiest Spaghetti Recipe with Ground Beef
Gone are the days of dirtying up several pots and pans trying to brown your beef, cook your sauce, and boil your pasta. Once you make this one pot spaghetti with ground beef you'll never go back!
Brown the Beef. Heat a large pot or Dutch oven over medium-high heat, and brown the meat until it is no longer pink, breaking it up as it cooks.
Combine the Ingredients. Drain any excess fat, and add the onion, garlic, and seasonings. Continue to cook, stirring occasionally until the mixture is fragrant. Then, add the remaining ingredients.
Simmer. Reduce the heat to low, and let the mixture simmer until the noodles are al dente and the sauce has thickened.
Enjoy! Divide your spaghetti with beef into bowls or plates, add plenty of Parmesan cheese, and dig in while it's warm.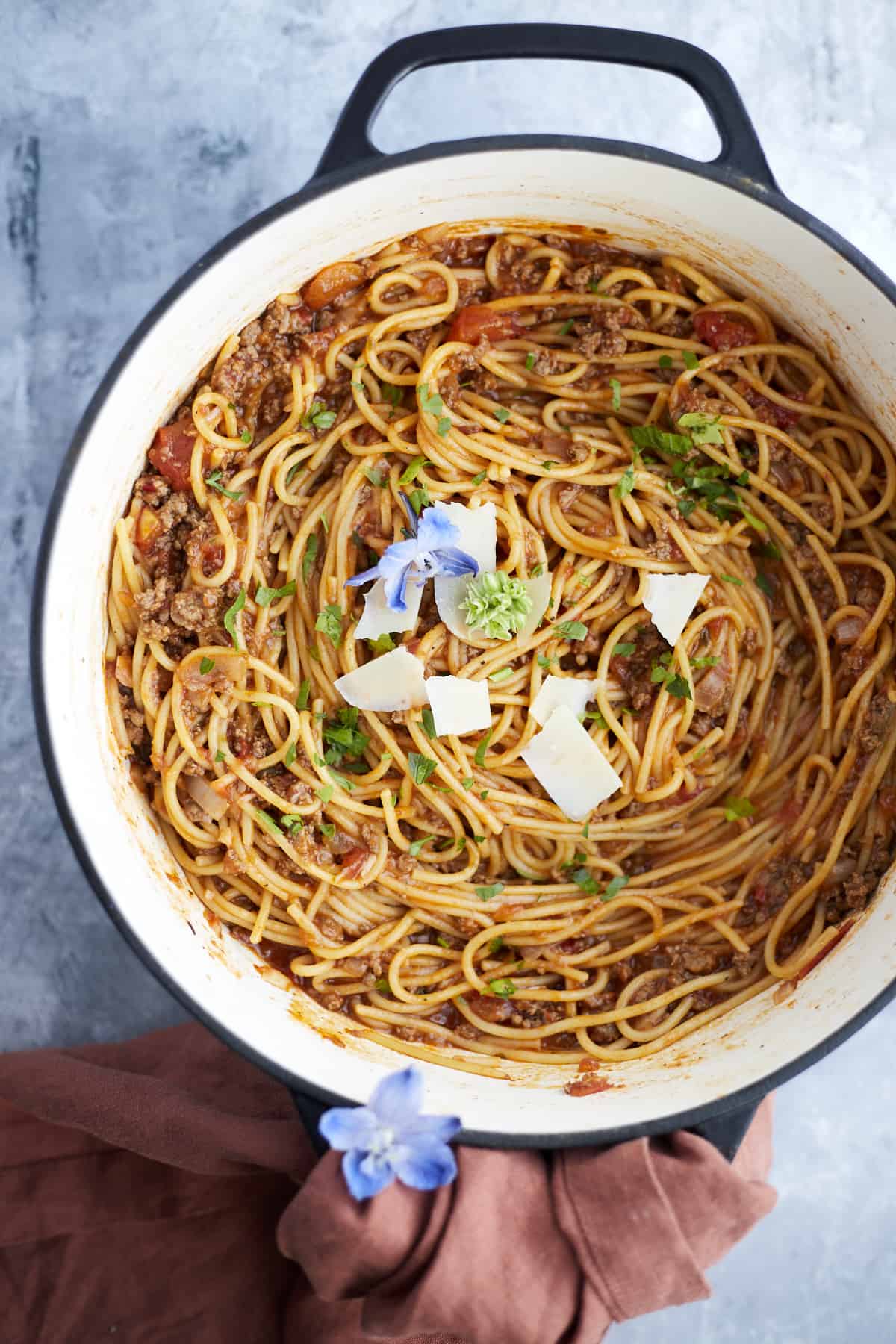 Tips for Success
Just when you thought this recipe couldn't get any simpler, we've got you covered with extra tips and tricks to guarantee you always have success!
Simmer and Stir. Set the pot over medium-low heat, and stir it frequently as the ingredients cook so nothing burns. You want the liquid to come to a gentle simmer to allow the flavors to meld together.
Use a Heavy-Bottomed Pot. Using a large, heavy pot or Dutch oven will help distribute the heat more evenly, preventing the ingredients from burning and helping them cook evenly.
Adjust the Consistency. Feel free to adjust the consistency of the sauce to your liking. For instance, to thicken the sauce, you can stir in a slurry of equal parts cornstarch and water. Or, to thin it out, add a bit more water or broth.
Add Sugar. Be sure to give your spaghetti with beef a taste test! If it has more acidity than you like, stir in a pinch of sugar, and taste it again.
What Goes with One Pot Spaghetti with Ground Beef?
Of course, you can never go wrong with spaghetti and garlic bread! However, if you want to switch things up, or if you're looking to make a complete spread, we also love to pair this dish with sides and appetizers like:
How to Store and Reheat
This ground beef spaghetti recipe is great to make ahead of time and enjoy throughout the week or keep on hand for those times when you need dinner in a pinch.
To Store: Transfer leftovers to an airtight container, and keep them stored in the fridge for up to two days.
To Freeze: Allow your spaghetti to cool completely. Then, transfer it to a freezer-safe container, and keep it frozen for up to three months.
To Reheat: Let your spaghetti thaw in the fridge overnight. Then, warm leftovers in the microwave or on the stovetop over medium heat.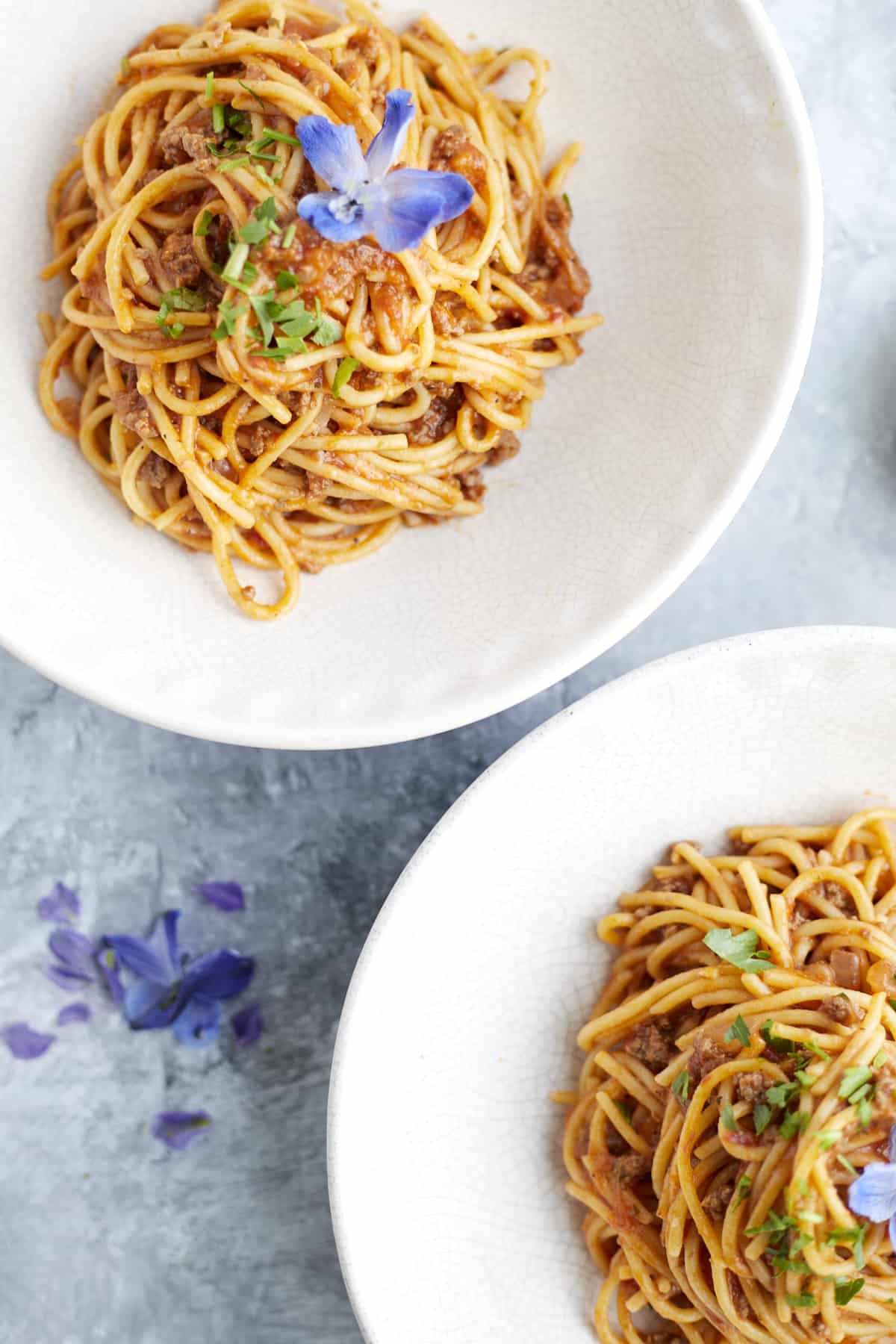 Common Questions About This One Pot Spaghetti with Ground Beef
How do you make spaghetti taste better?
This recipe is full of flavor! However, to make any spaghetti even better, try incorporating any number of flavor enhancers like sautéeing the meat in olive oil, adding extra seasonings, and incorporating cheese.
What kind of ground beef is best for spaghetti?
In general, ground chuck is usually considered the best type of beef for spaghetti, because it is fattier than ground sirloin or ground round, meaning it has more flavor.
Can I use chicken instead of beef?
Sure! Cook the ground chicken just as you would brown the beef before incorporating the rest of your ingredients, adjusting the cooking time as needed.
Can I cook this spaghetti in a crockpot?
We don't recommend it, because you'll still have to cook the ingredients separately. However, we do have this slow cooker ground beef pasta recipe you might like!
Can I add cream cheese?
Sure! Stir it into the pot near the end of cooking, incorporating as much of the cream cheese as you can. Be careful not to let it get too hot, or it will curdle!
Should you drain the fat from ground beef for spaghetti sauce?
We do, but you don't have to! Some people prefer to keep the fat for the extra flavor it adds.
Is it better to simmer spaghetti sauce with the lid on or off?
You want to leave the lid off in order to allow the sauce to thicken. The exposure to air is crucial for the reduction process!
What herbs can I add to this spaghetti recipe with ground beef?
Any you like best! Fresh basil or oregano taste great.
Can I add meatballs to this recipe?
Absolutely! Brown them before adding the rest of the ingredients, and follow the recipe instructions as usual.
More One Pot Recipes
If you enjoy this one pot spaghetti with ground beef, you won't want to miss out on more of our spaghetti variations below!
One Pot Spaghetti Recipe with Ground Beef
Prepare this one pot spaghetti with ground beef with ten ingredients and less than 30 minutes for the ultimate easy comfort food!
Ingredients
1

pound

lean ground beef

1

large onion

chopped

3

garlic cloves

minced

2

teaspoons

dried oregano

1

teaspoon

dried thyme

1

teaspoon

salt

½

teaspoon

black pepper

1

pound

pot-sized spaghetti noodles

4

cups

low-sodium beef stock

16

ounces

good quality pasta sauce

Optional: Parmesan cheese for topping
Instructions
Set a large pot or Dutch oven over medium-high heat on the stove. Add the beef, and cook until no longer pink, breaking it apart as it cooks.

Add the onion, garlic, and seasonings. Stir until fragrant.

1 large onion,

3 garlic cloves,

2 teaspoons dried oregano,

1 teaspoon dried thyme,

1 teaspoon salt,

½ teaspoon black pepper

Add the remaining ingredients (dry spaghetti noodles, beef stock, and sauce), and bring to a boil. Reduce the heat to low, and simmer for 16-18 minutes or until noodles are al dente and the sauce has thickened.

1 pound pot-sized spaghetti noodles,

4 cups low-sodium beef stock,

16 ounces good quality pasta sauce

Serve warm topped with Parmesan cheese, if desired.

Optional: Parmesan cheese for topping

Store in the fridge for up to two days or in the freezer for up to three months.
Equipment
Nutrition
Serving:
1
serving
|
Calories:
468
kcal
|
Carbohydrates:
66
g
|
Protein:
33
g
|
Fat:
8
g
|
Saturated Fat:
3
g
|
Polyunsaturated Fat:
1
g
|
Monounsaturated Fat:
2
g
|
Trans Fat:
0.3
g
|
Cholesterol:
53
mg
|
Sodium:
1252
mg
|
Potassium:
1003
mg
|
Fiber:
4
g
|
Sugar:
6
g
|
Vitamin A:
412
IU
|
Vitamin C:
7
mg
|
Calcium:
166
mg
|
Iron:
5
mg
Nutrition information is automatically calculated, so should only be used as an approximation.
Like this recipe?
Please leave a comment!