This Crockpot Butternut Squash Soup is an easy take on the classic fall soup. Sweet and creamy, it's a cozy vegan recipe that's loaded with nutrients and flavor to satisfy your tastebuds and keep you feeling full. Serve it on its own, or pair it with your favorite sides and main courses for a satisfying meal!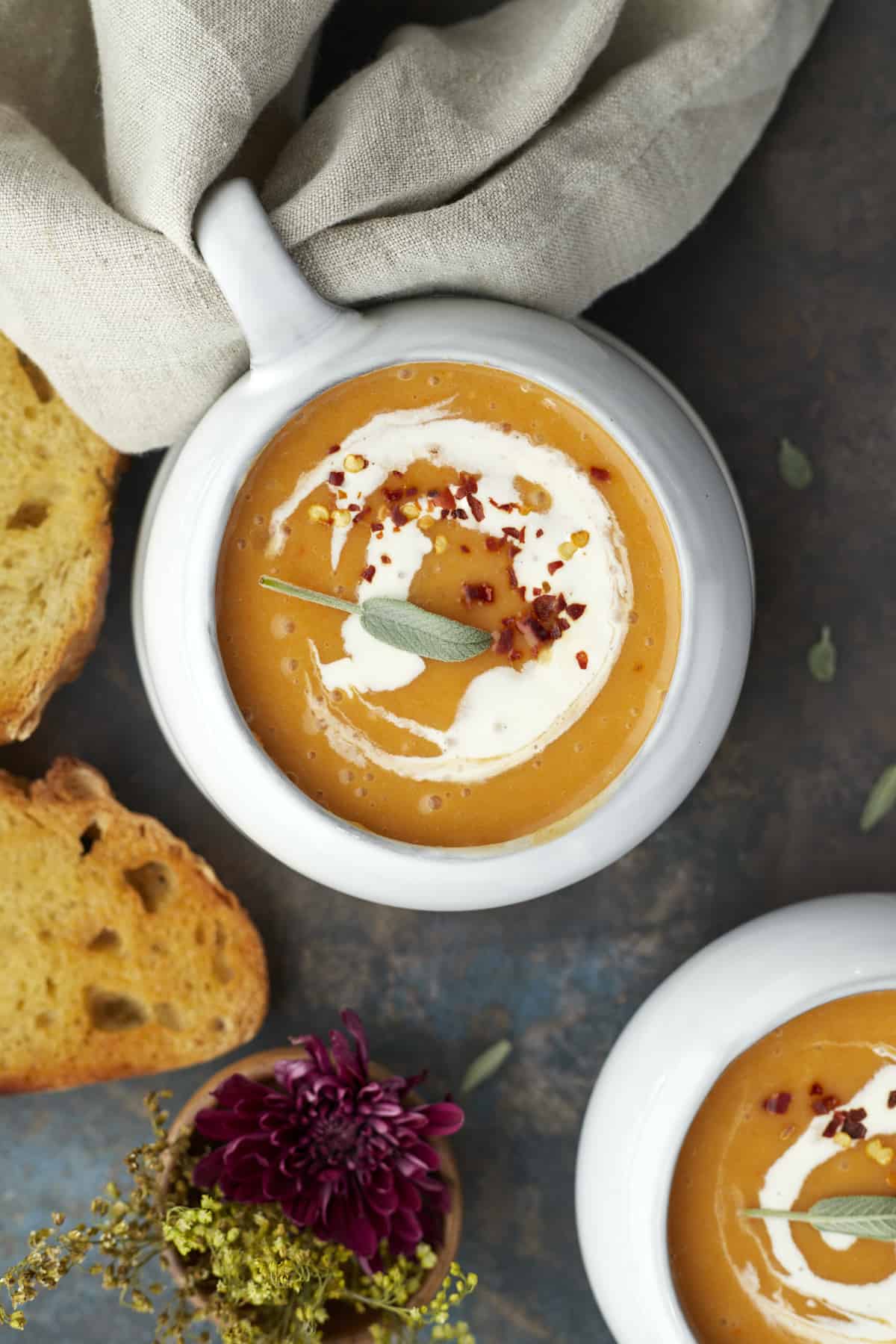 Experience The Best Butternut Squash Soup You'll Ever Taste!
Is there anything better than a big bowl of warm homemade soup? It's one of our favorite comfort foods, and this easy crockpot butternut squash soup always hits the spot!
A fall favorite, it's so yummy we find ourselves making it all year long. Here are just a few reasons why we can never get enough:
It's super simple to make. Just toss it in the slow cooker, and go about your day!
It's packed full of veggies but still tastes super sweet.
It's filling on its own or perfect for pairing.
It's gluten-free, dairy-free, vegetarian, and vegan to fit a variety of dietary needs.
Easy Butternut Squash Soup Ingredients
One bite and you won't believe this recipe comes together with just ten simple ingredients! Here's what you'll need:
Butternut Squash – To save time, we love to use pre-cut squash. Whole squash work, too as long as you cut them into smaller chunks or cubes.
Onion – We recommend using yellow onion for a sweeter flavor. However, white varieties will also do.
Herbs – You will need some fresh thyme and sage for garnish. The fresher these are, the better your soup will smell and taste.
Garlic – For the best results, we recommend using whole garlic cloves.
Vegetable Broth – Typically, crockpot butternut squash soup recipes will call for chicken broth. However, by using vegetable broth, we were able to keep this meal vegan-friendly without sacrificing any flavor.
Olive Oil – This is a lovely neutral oil that has a high smoke point that adds extra richness to the soup while helping to combine the ingredients.
Salt and Pepper – Adjust to suit your taste preferences.
Coconut Milk – This will help thin out your soup. We recommend using full-fat canned coconut milk for the creamiest texture. Liquid varieties found in the refrigerated section of your grocery store will not work!
How to Make Butternut Squash Soup in the Crockpot
Thanks to the crockpot, this easy butternut squash soup is one of the simplest recipes you'll ever make. Just toss everything together in the morning, and you'll have a satisfying dinner waiting for you by the time you get home!
Peel and Chop. Peel all the produce, and use a sharp knife to cut the fruits and veggies into pieces that are roughly one inch thick.
Combine and Cook. Add the squash, apples, onions, carrots, spices, broth, and thyme to the crockpot. Place the lid on top, and cook on high.
Blend. Use an immersion blender to blend the soup until smooth and creamy. Or, if you don't have an immersion blender, transfer the mixture to a regular blender, and pulse until smooth, working in batches if needed. If using a regular blender, allow the soup to cool slightly first. Otherwise, it might explode!
Stir. Add the coconut milk to the soup, and gently stir until it is well combined.
Serve. Sprinkle your garnishes of choice on top, and enjoy warm!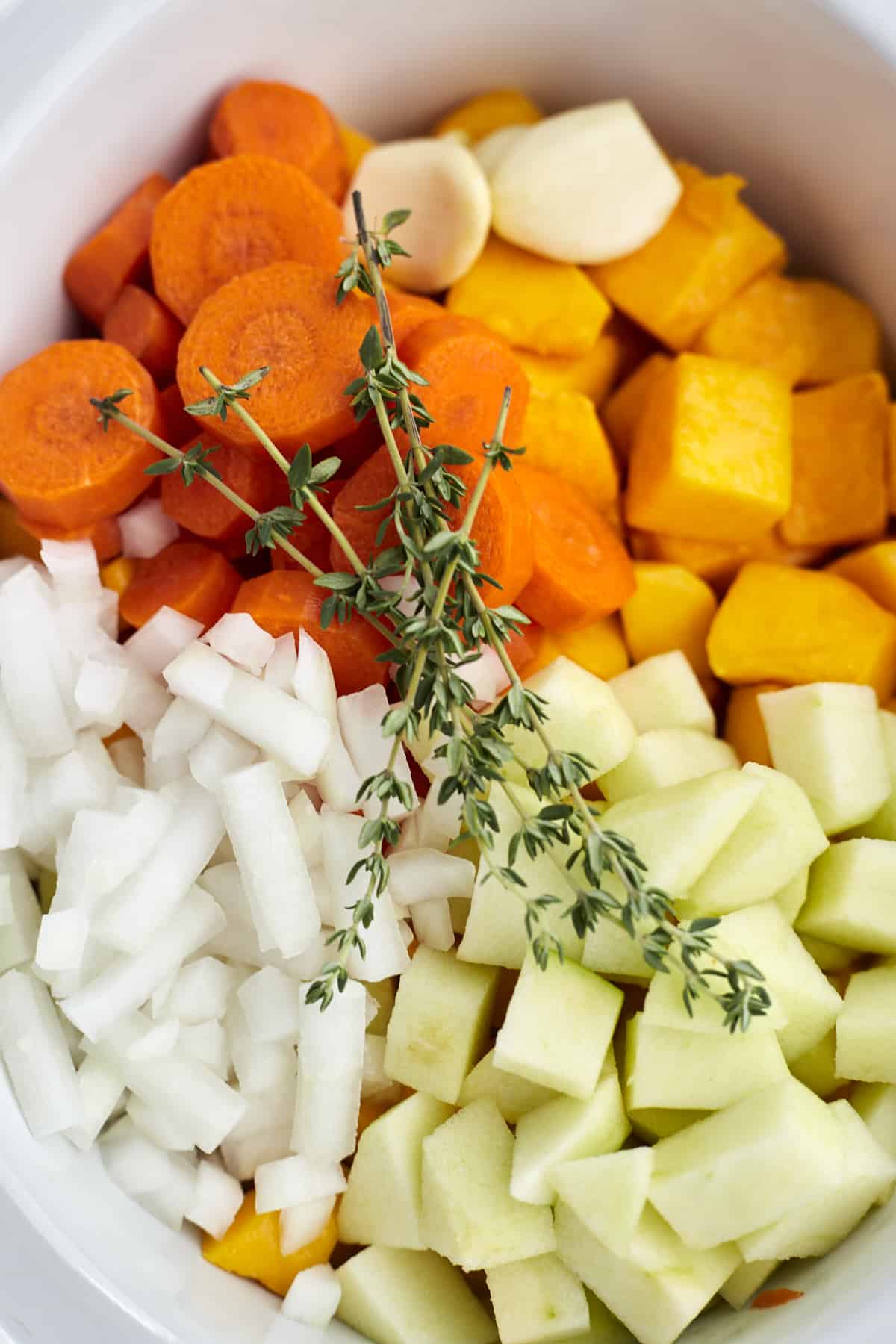 Tips for Slicing Squash
Butternut squash may seem challenging to prepare at first. But with the right tools and a little confidence, you will have it cubed up and ready to go in no time. First, you must make sure you have a sharp knife. Second, you need to find a good cutting board or something stable to place the butternut squash. Then, just follow the steps below!
Cut

about ¼" off of each end.

Peel

the skin with a vegetable peeler.

Cut down the middle

, slicing the squash in two.

Use a spoon to

scrape

out all the seeds.

Slice

the butternut squash in half again. Then cut it into cubes.
Recipe Variations
We kept this recipe simple to let the flavors of the produce shine. However, the variations are endless!
Feel free to mix and match different ingredients to make this soup your own. For instance, some great variations include:
Roasting the Veggies. Add extra depth to the flavor by roasting the squash, onion, and carrots before adding them to the soup.
Vary the Seasonings. Experiment with different spices such as cumin, chile powder, or ginger to create a totally new flavor.
Add Carbs. Stir in cooked rice, quinoa, farro, or lentils to add extra bulk to this soup, making it even more filling.
Swap Out the Coconut Milk. If you don't have coconut milk, feel free to use heavy cream or half-and-half instead.
Include Protein. If you don't follow a vegan or vegetarian diet, this soup tastes great with sausage, shredded chicken, or crumbled bacon or turkey bacon mixed in.
What Works Well as a Garnish for Butternut Squash Soup?
We love to garnish our soup with a swirl of coconut cream, red pepper flakes, and extra fresh herbs. However, if you're looking for more flavor or texture, try including toppings like:
Grated Parmesan or Cheddar cheese or feta crumbles
Toasted almonds, pine nuts, or pepitas
Microgreens
Croutons
How to Store, Freeze, and Reheat
Our families absolutely devour this easy crockpot soup. So, we recommend making a double batch to keep on hand throughout the week!
To Store: Once cooked and cooled, leftovers can be transferred to an airtight container and stored in the fridge for up to 1 week.
To Freezer: Transfer your soup to a freezer-safe container, and store it in the freezer for up to 2 months.
To Reheat: Allow your soup to thaw in the fridge overnight. Then, warm it in a pot on the stovetop over medium heat or in the microwave until your desired temperature is reached. Add an extra splash of broth if needed to help thin it back out.
Serving Suggestions
This crockpot butternut squash soup can be enjoyed as a filling meatless meal with sides like a fall harvest salad or cheesy focaccia bread. Or, enjoy it as a side with your favorite main courses such as: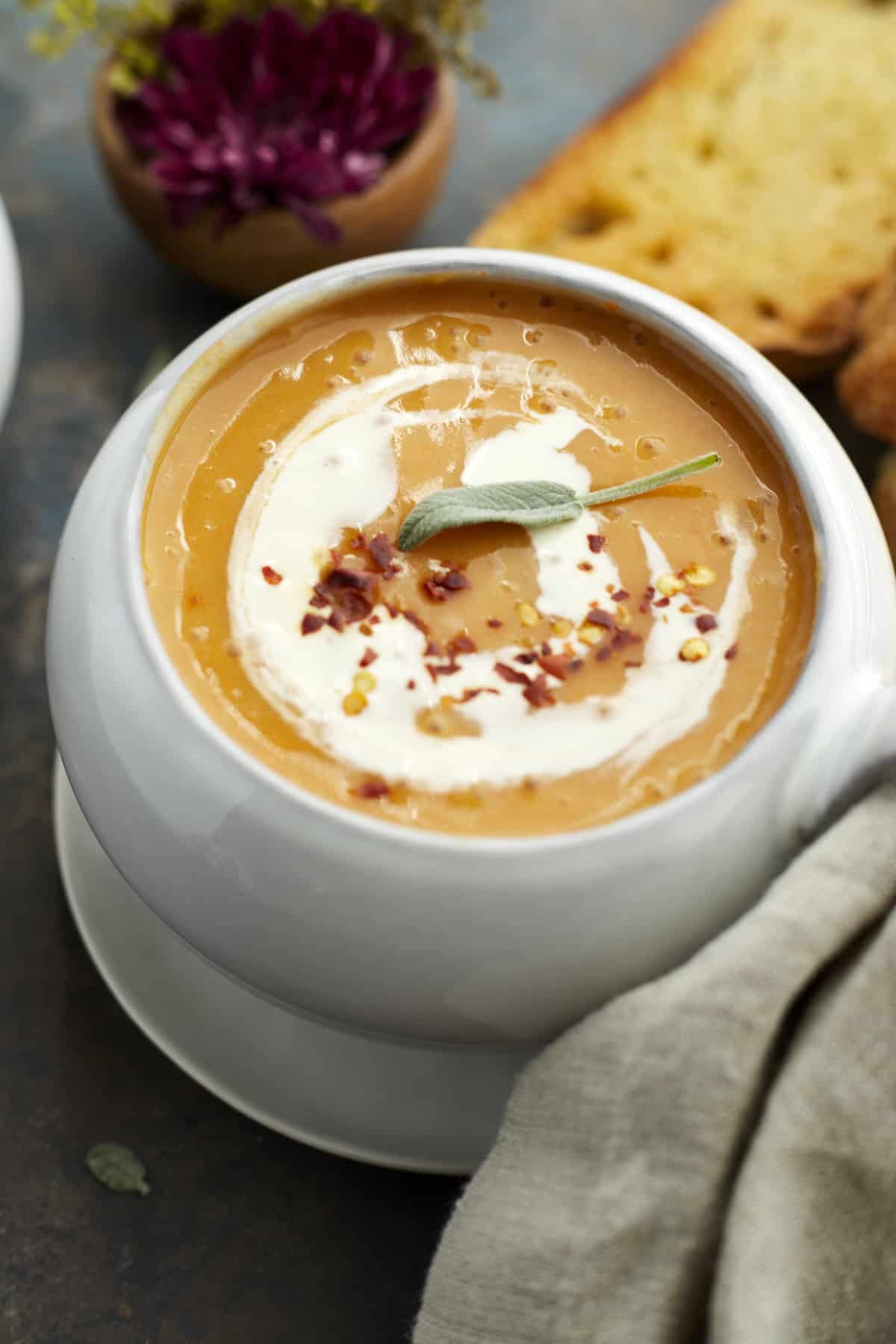 Common Questions About This Easy Crockpot Butternut Squash Soup Recipe
Do you leave the skin on butternut squash for soup?
It's up to you! The skin is edible. However, it can be a bit tough. So, we prefer to remove it to create a smooth, silky soup.
How do I thicken butternut squash soup?
If your soup is too runny, don't panic! Just stir in a small amount of flour or cornstarch until it begins to thicken.
Can I use frozen squash?
We haven't tested it, but it should work just fine! Just keep in mind that frozen squash typically requires less cooking time. So, be sure to keep an eye on your soup!
What is the clear liquid that comes from butternut squash?
You might notice a sticky, almost sap-like liquid ooze from your squash once it is cut. Don't worry! It's safe to eat and is actually a type of fruit compound that can harden and create a sort of scab to protect the fruit from going bad.
More Homemade Soup Recipes You'll Love
Can't get enough soup in your life? Try some more of our favorite options!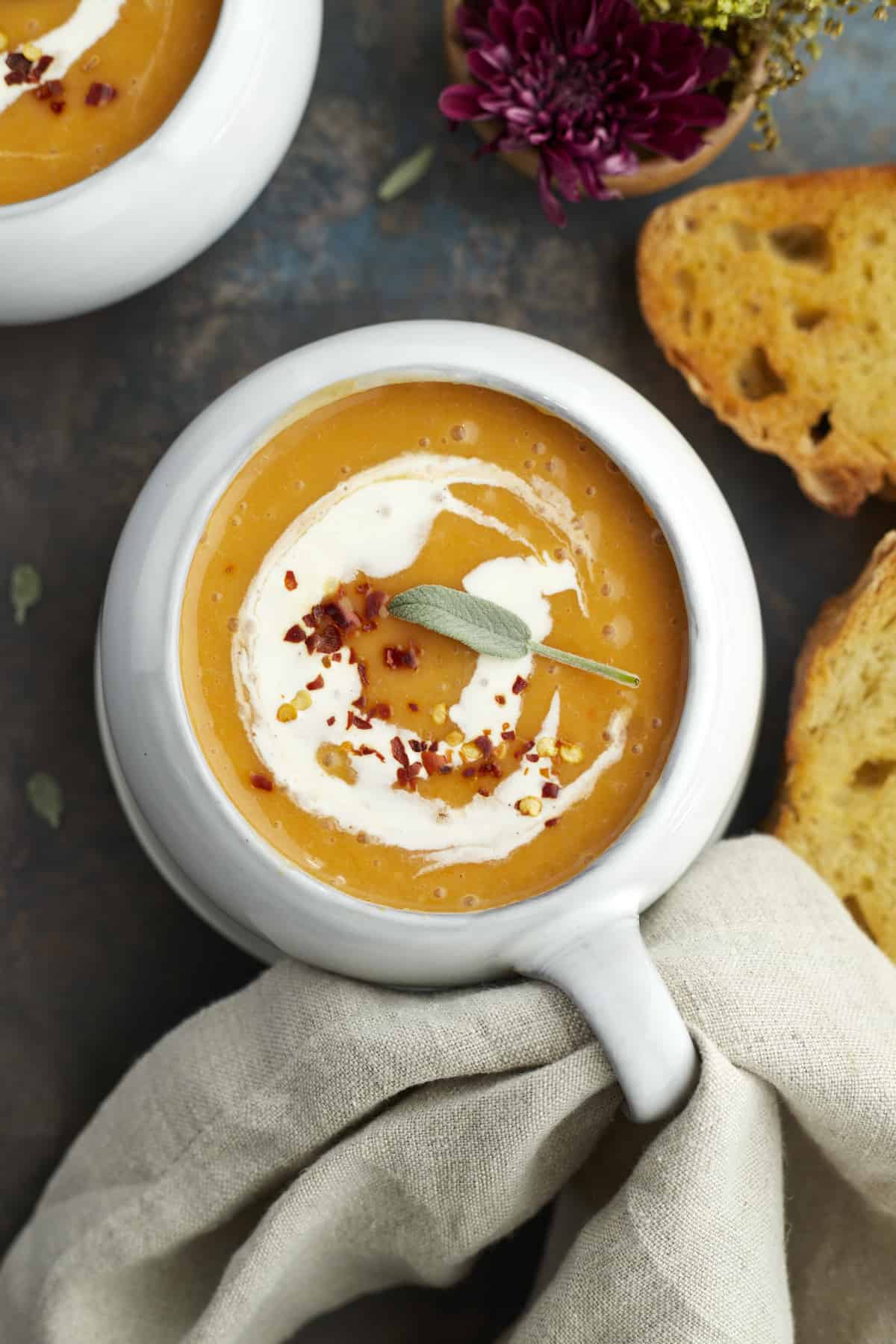 Easy Butternut Squash Soup Recipe
Plant-based, creamy, and delicious, this Easy Butternut Squash Soup Recipe is perfect for fall!
Ingredients
4

cups

Butternut Squash

approx. 1 large butternut squash

1

medium chopped white onion

1

large cored

peeled and chopped granny smith apple (or 2 small )

1

cup

chopped carrots

6

cloves

garlic

3

teaspoons

sea salt

to taste

1

teaspoons

freshly ground black pepper

to taste

3

teaspoons

cinnamon

1

teaspoon

nutmeg

1

sprig fresh thyme

4

cups

vegetable broth

2 13.5

oz

cans of full-fat coconut milk
Instructions
Peel and chop the butternut squash, apples, garlic, carrots and onions. Everything should be about 1-inch pieces.

In the slow cooker and butternut squash, apples, onions, carrots, cinnamon, nutmeg, salt, pepper, broth and the sprig of thyme.

Cover and set to for 4 hours on high.

With an immersion blender, blend until smooth. If you don't have an immersion blender. You carefully pour into a regular blender.

Fill blender half way. Place a towel over the top of the blender. Start the blender on the lowest speed and gradually increase the speed.

Add the coconut milk to the soup and stir.
Nutrition
Serving:
1
g
|
Calories:
353
kcal
|
Carbohydrates:
38
g
|
Protein:
5
g
|
Fat:
24
g
|
Saturated Fat:
21
g
|
Polyunsaturated Fat:
0.4
g
|
Monounsaturated Fat:
1
g
|
Sodium:
2729
mg
|
Potassium:
961
mg
|
Fiber:
6
g
|
Sugar:
13
g
|
Vitamin A:
20774
IU
|
Vitamin C:
38
mg
|
Calcium:
135
mg
|
Iron:
5
mg
Nutrition information is automatically calculated, so should only be used as an approximation.
Like this recipe?
Please leave a comment!