This Easy Baked Spaghetti Bolognese Recipe is like a hug in a bowl! Savory and satisfying, it's made with the perfect balance of tomato sauce, herbs and spices, and meat. Oh-so-comforting, spaghetti noodles are cooked until tender and al dente and topped with a rich, creamy cheese topping that melts in your mouth and leaves you coming back for more. The easiest spaghetti bolognese you'll ever make, this single dish recipe always hits the spot!
What Is Spaghetti Bolognese?
Spaghetti bolognese, also known as spaghetti alla bolognese bolognese, or ragù all bolognese is a popular Italian recipe. Bolognese typically refers to the sauce which is made from a base of tomatoes, minced beef, garlic, vegetables, and often red wine. As a complete dish, the sauce is tossed with wide, flat pasta noodles like tagliatelle, pappardelle, or fettuccine. However, in America, you'll most often find it tossed with spaghetti noodles to make hearty spaghetti bolognese!
Origins Of Bolognese
Bolognese sauce comes from Bologna, Italy. The first references of the dish believe to be from a cookbook titled 'La Scienza in cucina e l'arte di mangiare bane' which translates to mean 'The Science of Cooking and the Art of Eating Well'. Published by Pellegrino Artusi in 1891, it came out two decades after Italy unified and was the first book to feature recipes from regions all over Italy.
Featuring lean veal, the original recipe was a little different than the recipe many of us know today, but the intent of a hearty meat-based sauce remains! Keep reading to learn more about the history and origins of authentic bolognese sauce. The exact ingredients vary from region to region, but it also features a blend of veggies, meat, and a tomato-based sauce. Personally, we've never met a version we didn't love!
What Goes In Spaghetti Bolognese?
No two chefs make bolognese the same way. However, when it comes to American spaghetti bolognese recipes, you can pretty much always count on spaghetti noodles and beef being involved! Here's everything we use:
Spaghetti – Cooked to al dente, the tender pasta noodles scoop up all the sauce for the ultimate comfort food.
Olive Oil – You'll want to use this to coat the noodles to prevent them from clumping together. Plus, it's super good for you!
Pasta Sauce – Of course, you could make your own pasta sauce, but who has time for that? Easy is the name of the game around here. So, we just buy a jar!
Ground Beef – Minced teeny tiny, this adds bulk to the sauce along with a rich, savory flavor and tons of protein to keep you full.
Veggies – Chopped onion, diced red and green peppers, and garlic add volume, fiber, nutrients, and lots of savory flavor. Plus, they get hidden in between chunks of meat so your little ones won't even realize that they're eating their veggies!
Herbs and Spices – Fresh Italian parsley, fresh basil, oregano (or Italian seasoning), salt, and pepper create an herbaceous, savory flavor that takes pre-made pasta sauce to the next level of delicious!
Broth – This is used in place of water to cook the noodles, enhancing the baked spaghetti bolognese recipe's savory flavor.
Cheese – You can't have an Italian dish without plenty of Parmesan cheese! Go crazy, and add as much as you'd like!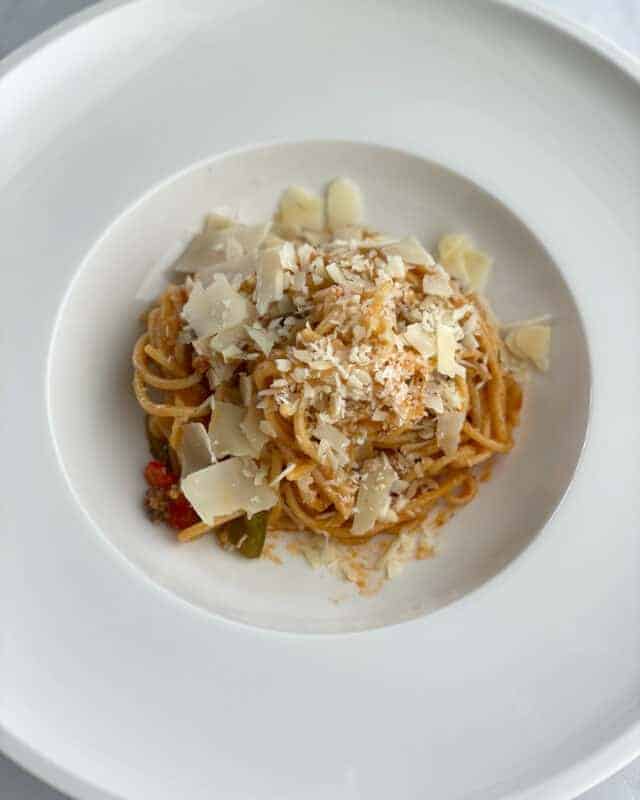 How to Make Baked Spaghetti Bolognese
If you know us, you know we looooove a good one pot pasta recipe! So, we transformed our traditional spaghetti bolognese recipe into one of the easiest meals you'll ever make.
Prepare the Noodles. Add the uncooked spaghetti to a large baking dish, and drizzle the oil on top. Rub the pasta carefully until it is completely coated.
Cook the Beef. In a large skillet, brown the beef over medium heat, and use a spatula to break it into pieces.
Combine the Ingredients. Add all the ingredients except for the Parmesan to the baking dish, and stir until they're well combined.
Bake. Cover the spaghetti bolognese recipe with aluminum foil, and bake until the noodles are al dente and the meat is cooked through. Make sure to stir halfway through!
Serve. Sprinkle the Parmesan cheese on top, and serve right away while it's still warm!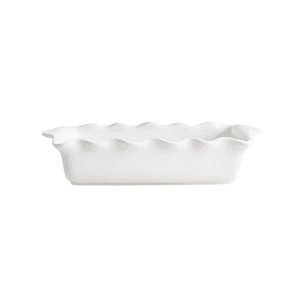 We earn a commission if you make a purchase, at no additional cost to you.
Variations
When we said there are many different ways to make bolognese, we meant it! That means there's lots of room to play and experiment with this recipe. So, don't be afraid to get a little creative! However, to get you started some of our favorite ways to mix things up include:
Using Different Meat. Swap out half the beef with ground pork instead. And don't be afraid to add Italian sausage for a bit of spice, too!
Adding Cream. Gently stir in ½ cup or so of heavy cream after removing the bolognese bake from the oven to make it extra dreamy. Half and half works well, too!
Including Wine. Replace all or half of the broth with red wine for a more robust, slightly sweet taste. Dry, medium-bodied varieties like Pinot Noir, Merlot, or Chianti work best.
Adding Sugar. If your pasta sauce is a little on the bitter side, add a pinch of granulated sugar to help balance out the acidity.
Serving Suggestions
Made with meat, veggies, and pasta, this spaghetti bolognese is super filing on its own. But we can't forget the sides! For a restaurant-worthy meal, we love to serve ours with options like:
And we can't forget dessert! Finish off your meal with a serving of tiramisú bread pudding or crème brûlée!
How to Store and Reheat
Once combined, this easy baked spaghetti bolognese recipe is best served right away while it's still warm and super fresh. However, if you want to prepare it ahead of time, it can be stored in the fridge.
For the best results, we highly recommend storing the sauce separately from the pasta. Otherwise, it'll become soggy, and we definitely don't want that! Once cooled completely, spaghetti bolognese can be transferred to an airtight container and stored in the fridge for up to 3 days. Or, keep it in the freezer for up to 3 months!
When you're ready to eat, let it thaw in the fridge overnight. Reheat your sauce in the microwave or in a pan on the stove, and cook up a fresh batch of spaghetti (or your pasta of choice). Then, all you have to do is combine them together, and dig in!
Common Questions About This Baked Spaghetti Bolognese Recipe
What cut of beef is best for this spaghetti bolognese recipe?
To get close to traditional bolognese, you'll we recommend using chuck beef! It's fatty enough to add lots of flavor yet lean enough so that it's not super overpowering.
What's the difference between bolognese and spaghetti?
Okay, stay with us, this explanation can get a little confusing! Bolognese sauce is a type of ragù, but ragù is not bolognese. It consists of a combination of meat, tomatoes, herbs, spices, and sometimes wine or cream.
Meanwhile, spaghetti sauce is a simple tomato-based sauce seasoned with just a handful of aromatics, herbs, and spices. As a result, it's thinner, slightly less rich in flavor, and doesn't have to contain meat.
Why do some people put milk in bolognese?
Most authentic bolognese recipes call for milk or cream. It helps thicken the sauce and adds a rich, creamy flavor, but that's not all it does! Milk also contains lactic acid which helps break down the proteins and collagen in the beef, making it extra tender and tasty.
Can I make this spaghetti bolognese recipe gluten-free?
Sure! Just swap out the regular spaghetti noodles with your favorite gluten-free variety. However, we do recommend staying away from chickpea pasta options as they tend to become a little mushy.
More Baked Pasta Recipes
If you're a pasta lover like us, you won't want to miss out on more of these easy baked comfort food pasta recipes!
Baked Spaghetti Bolognese Recipe
This Easy Baked Spaghetti Bolognese Recipe is like a hug in a bowl! Savory and satisfying, it's made with the perfect balance of tomato sauce, herbs and spices, and meat.
Ingredients
16

ounces

spaghetti

uncooked

¼

cup

olive oil

1

16 ounce jar pasta sauce

12

ounces

ground beef

cooked

½

yellow onion

chopped

½

cup

red bell peppers

diced

½

cup

green bell peppers

diced

½

cup

fresh Italian parsley

chopped

½

cup

fresh basil

chopped

3

cups

broth

chicken or vegetable

1

teaspoon

dried oregano

or Italian seasoning

1

teaspoon

salt or to taste

1

teaspoon

black pepper or to taste

5

cloves

garlic

minced

1

cup

Parmesan cheese shavings for garnish
Instructions
Preheat the oven to 375° F.

Cook the beef in a skillet over medium heat until browned, using a spatula to break it into pieces.

In a large baking dish, add the uncooked spaghetti. Drizzle the olive oil on top, and gently rub it over the pasta until it is completely coated. (This helps prevent the spaghetti from sticking together.)

Add all the ingredients to a 9×13 baking dish except for the Parmesan cheese. Stir to combine.

Cover, and bake 45-50 minutes or until the meat is cooked through, the veggies are tender, and the spaghetti is al dente, stirring halfway through.

Garnish with Parmesan cheese, and serve warm.

Store the sauce separately from the spaghetti in an airtight container in the fridge for up to 3 days.
Nutrition
Serving:
1
serving
|
Calories:
545
kcal
|
Carbohydrates:
66
g
|
Protein:
21
g
|
Fat:
22
g
|
Saturated Fat:
6
g
|
Polyunsaturated Fat:
2
g
|
Monounsaturated Fat:
12
g
|
Trans Fat:
1
g
|
Cholesterol:
40
mg
|
Sodium:
1263
mg
|
Potassium:
660
mg
|
Fiber:
5
g
|
Sugar:
7
g
|
Vitamin A:
1547
IU
|
Vitamin C:
40
mg
|
Calcium:
63
mg
|
Iron:
4
mg
Nutrition information is automatically calculated, so should only be used as an approximation.
Like this recipe?
Please leave a comment!