This viral oven baked spaghetti is here to stay! While we know Italian's do not love this method, we know everyone who appreciates an easy and quick meal, will.
We do love to make spaghetti with a homemade ragu sauce, however, that is not the goal of this recipe. The point is that you just dump some ingredients in a baking dish and bake in the oven, and requires only one baking dish. While it is not a popular method, it is an appreciated method by so many!
Want to learn the history of a real oven baked spaghetti? Keep reading!
Oven-Baked Spaghetti is a dish that has been around for centuries. A simple and hearty meal, oven-baked spaghetti combines the best of two worlds: pasta and sauce!
This dish has many variations across the globe, with some styles using more tomatoes than others. In this blog post, we will explore oven-baked spaghetti in-depth, including its history, different types of oven-baked spaghetti (including sauces!), and the recipe along with instructions on how to make it.
Can Oven-Baked Spaghetti Be Healthy?
Believe it or not, it can be healthy, depending on how it is prepared. As always, the ingredients that are used to make oven-baked spaghetti will affect its nutritional makeup.
For example, oven-baked pasta with a lot of vegetables and lean meats would have improved health benefits over oven-baked pasta with processed foods like cheese or meat products. That being said, this type of meal is definitely better for you than a pizza!
What Does Oven-Baked Spaghetti Taste Like?
Oven-baked spaghetti is a very flavorful meal. A simple sauce combined with the noodles and veggies makes oven-baked spaghetti an enjoyable dish for those who love pasta. The flavors of oven-baked spaghetti also depends on where you dine as some restaurants put their own twist on it!
Oven-Baking Spaghetti: The History
The original recipe was created in Naples by Neapolitan chefs back in the 1700's before spreading throughout Europe and America during World War II when food supplies were low but flour was still abundant enough to create breads, pastas, and oven-baked dishes.
In the early 19th century, Italian immigrants from Sicily arrived in New York City. They brought with them many types of traditional dishes; including, you guessed it,
In fact, during this time there were also other variations to oven-baked spaghetti such as using bread crumbs instead of pasta dough. This particular recipe became popular among Italians living abroad who wanted to keep their culture alive even while they moved around or relocated.
Different Ways of Making It
The most basic oven-baked spaghetti recipe includes cooked pasta tossed in a tomato sauce with onion, garlic, salt, pepper, oregano or basil. Cheeses are usually included as well but can be left out depending on preference.
For example, some oven-baked spaghetti recipes include parmesan cheese while others have you top the dish off with mozzarella once it's done cooking!
You can also make oven-baked spaghetti using different variations of sauces including pesto (in which case we would call this "oven-baked pesto"), alfredo (which will give your oven-baked pasta a creamy taste), or even oven-baked spaghetti with meatballs!
Different countries across Europe have their own signature style of oven-baked spaghetti which typically reflects that country's cuisine including Italy (which has more tomato sauce than other types) France (in which oven-baked spaghetti is often served with a creamy sauce), and Spain (with oven-baked pasta topped off with parsley).
Is It an Easy Dish To Make?
It is a dish that is relatively easy to make, however if you want the best oven-baked pasta possible it is important to follow some key steps.
For example, mixing in enough sauce can be difficult without making a mess and may require using more than one bowl or plate throughout the cooking process! It is also recommended to line your baking pan with aluminum foil before putting down any of the ingredients for easier clean-up afterwards.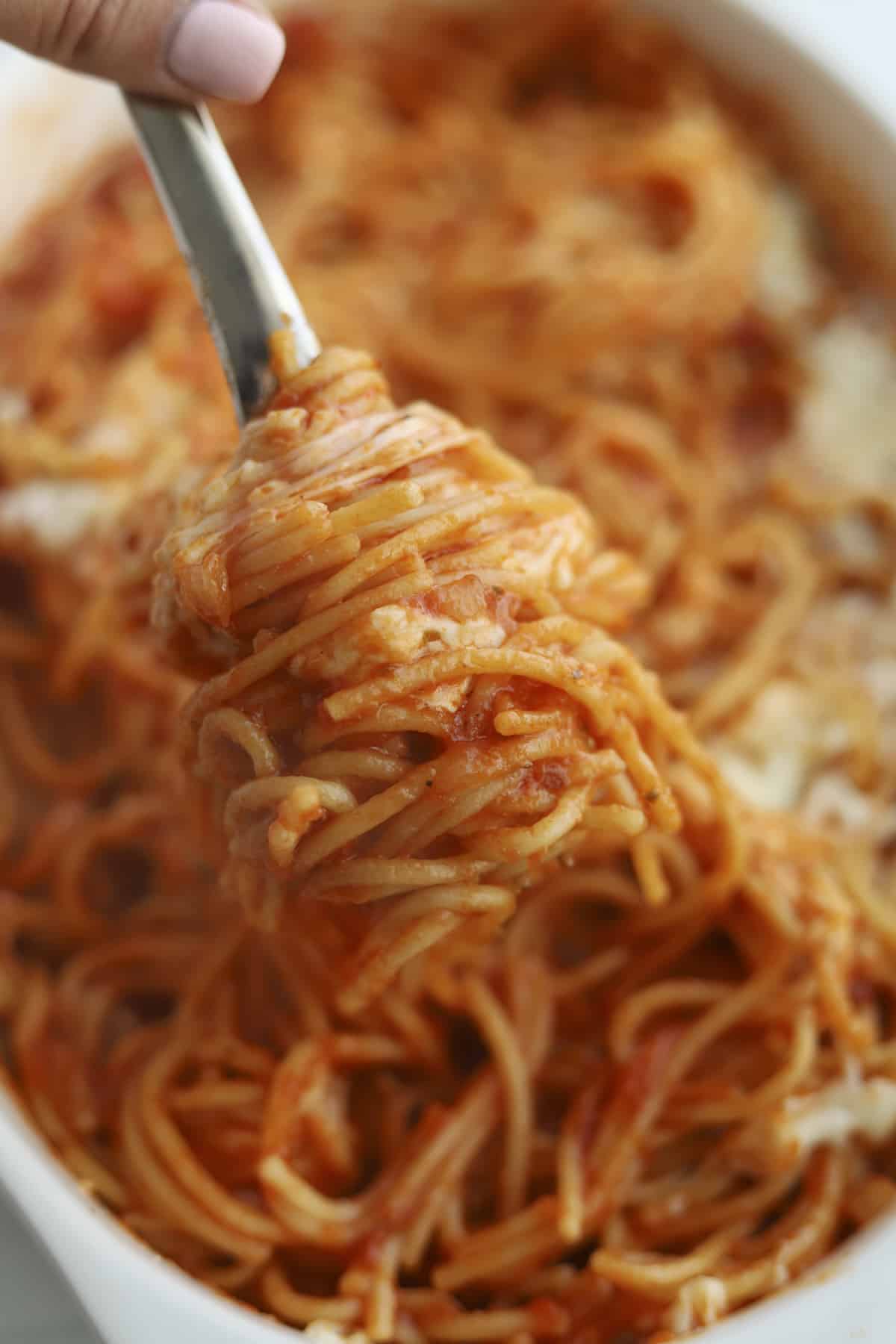 What About Making Sauce From Scratch?
Making your sauce from scratch can add a nice touch to oven-baked spaghetti and also provides the dish with extra flavor!
For example, you could make an onion or garlic base for your sauce before adding in any other ingredients. Just be sure to let the sauce cook for a good amount of time so that all the flavors have time to mix together!
It is important when making homemade sauces that you do not use pre-made pasta as it will affect the overall flavor of the meal. This includes using jarred tomato products which are lower quality than canned tomatoes since they come right out of a paste plant rather than being made fresh by hand every day like good old-fashioned canned tomatoes are.
Making your own sauce for oven-baked spaghetti can help you reduce the amount of preservatives and sodium in your meal. Try making sauces from scratch using ingredients like whole tomatoes, fresh basil, olive oil or even tomato paste!
Let Us Know How It Goes and Enjoy Your Spaghetti!
We hope that you feel more informed on the history and variations of oven-baked spaghetti. We hope you enjoy our recipe, as it's pretty close to a traditional Italian recipe!
If there are any questions or comments please let us know in the comment section below.
No boiling required with this oven baked spaghetti! Easy weeknight dinner!
Ingredients
16

oz

spaghetti

uncooked

16

oz

jar pasta sauce

3

cups

water

1

tsp

oregano or italian seasoning

1

tsp

salt

more or less to taste

1

tsp

black pepper

more or less to taste

5

cloves

garlic

minced

1

onion

sliced thin

1

cup

mozzarella cheese

shredded

2

tbsp

olive oil
Instructions
Preheat oven to 375 degrees F.

Add all the ingredients except for the mozzarella cheese. Stir well.

Cover and bake for 45 minutes. Remove from the oven about 20-25 minutes in and give it a stir. *Be sure not to skip this step.

Top with mozzarella cheese and bake uncovered for an additional 8-10 minutes or until cheese is bubbly!
Nutrition
Serving:
8
g
|
Calories:
306
kcal
|
Carbohydrates:
48
g
|
Protein:
11
g
|
Fat:
8
g
|
Saturated Fat:
3
g
|
Polyunsaturated Fat:
1
g
|
Monounsaturated Fat:
4
g
|
Cholesterol:
11
mg
|
Sodium:
656
mg
|
Potassium:
340
mg
|
Fiber:
3
g
|
Sugar:
4
g
|
Vitamin A:
346
IU
|
Vitamin C:
6
mg
|
Calcium:
105
mg
|
Iron:
2
mg
Nutrition information is automatically calculated, so should only be used as an approximation.
Like this recipe?
Please leave a comment!
Notes
This is made in an approximately 11×7 baking dish, similar to this baking dish found here.
If you want to add ground beef, you can add cooked ground beef before baking it in the oven.
We have seen so many use vegan cheese for a non-dairy version, and everyone that has tries it, raves about it!
We slice the onions are sliced pretty big, but you can always chop them, or keep them out. They get cooked down and end up being really tender. It doesn't end up being crunchy and chunky onions.
For a flavor booster, substitute broth for water.
Can you use gluten free pasta for this recipe? Yes, you can use gluten free pasta, however, you will have to adjust the liquid. For chickpea pasta it tends to be more delicate so careful not to add too much liquid or it will get mushy.
Reheating leftovers: To reheat you want to add a splash of water, or milk or broth . Give it a little stir and microwave. The starch from the pasta really thickens it up, so you want to add a liquid in order to loosen it up a bit.
Here is another version of this baked spaghetti Baked Spaghetti Bolognese!