Lentil Mango Salad
*This post may contain affiliate links, please see our privacy policy for details.*
This Lentil Mango Salad recipe is the best way to take advantage of a variety of fresh produce for an explosion of tastes and textures you'll love! Made with sweet mangoes, crisp veggies, and hearty lentils, it's tossed in a warm spiced tahini dressing for a filling salad that's ready in minutes.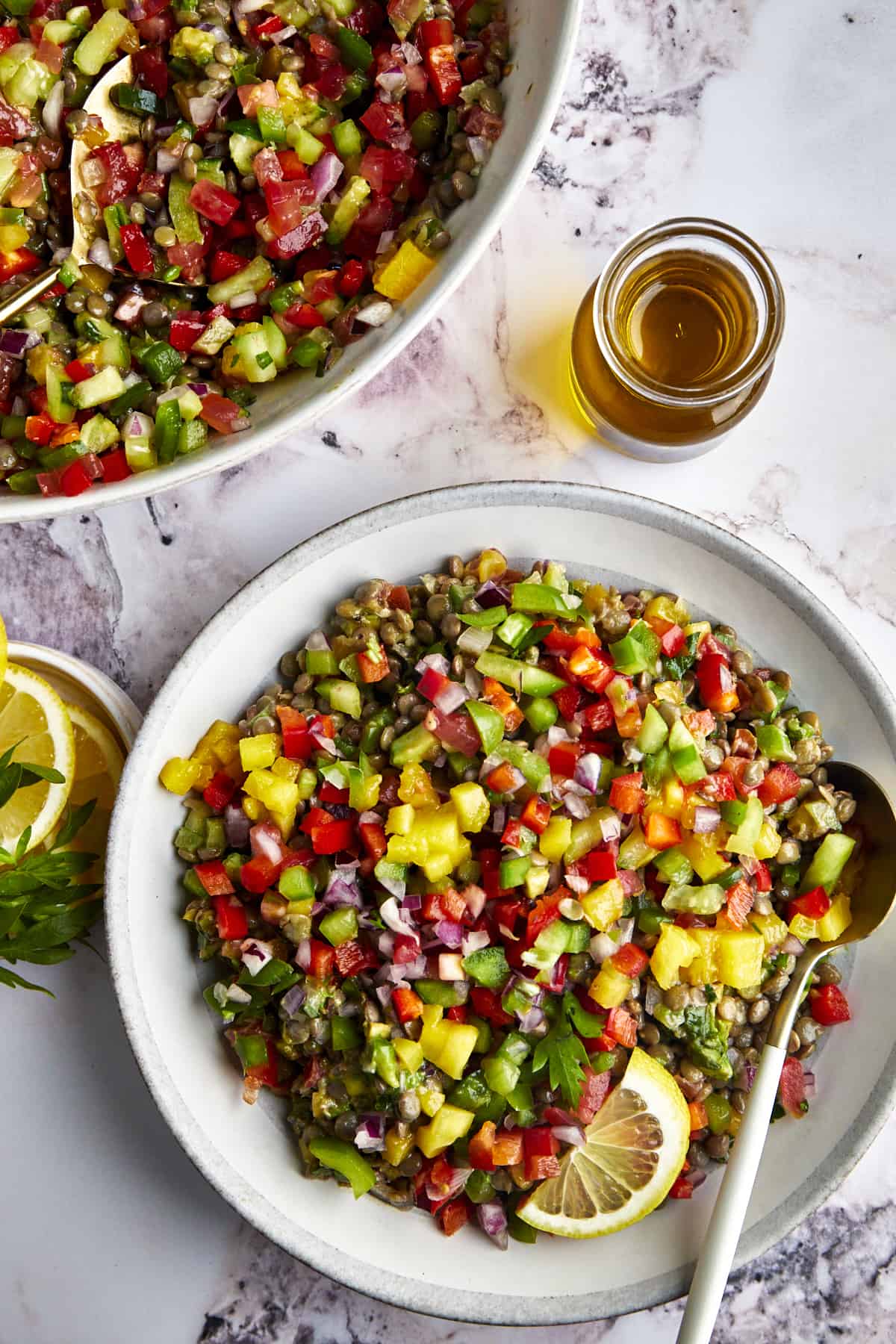 Reasons Why This Mango Salad is Magnificent
If you didn't already know, we're passionate about disproving the myth that healthy salads have to be bland and boring. We may be biased, but with recipes like our rainbow salad, balela salad, and this southwest chicken salad, we think we're off to a great start.
That said, with summer produce coming into season, we knew we had to take advantage of all the mouthwatering produce with new drool-worthy salad recipes! Crisp, juicy, and full of nutrients, this mango lentil salad hits the spot.
Here are a few reasons why we know you'll love it as much as we do:
It's full of vitamins, nutrients, fiber, and complex carbs to keep you full.
It's naturally gluten-free, dairy-free, nut-free, and vegetarian.
You can serve it on its own or enjoy it as a side dish.
It comes together in minutes.
Leftovers can be stored and enjoyed for several days.
How to Pick the Best Mango
The key to making an absolutely drool-worthy mango salad recipe is to pick the perfect mangoes. Keep reading to learn how to pick a ripe mango, but we'll break down the key points for you below.
They should be firm but give slightly when squeezed.
Color is not a reliable indicator of flavor or freshness.
Ripe mangoes should have a pleasant, fruity smell.
How to Cut and Slice Fresh Mangoes
If you've never cut into a mango, it can be a little intimidating. However, with a few simple steps, it's easy to do!
Take a look at videos and images of how to slice a mango, and follow the steps below.
Slice off each side, just missing the pit.
Slice vertical lines or a grid into the flesh of each piece. Be careful not to break the skin!
Use a spoon to scoop out the fruit, and enjoy.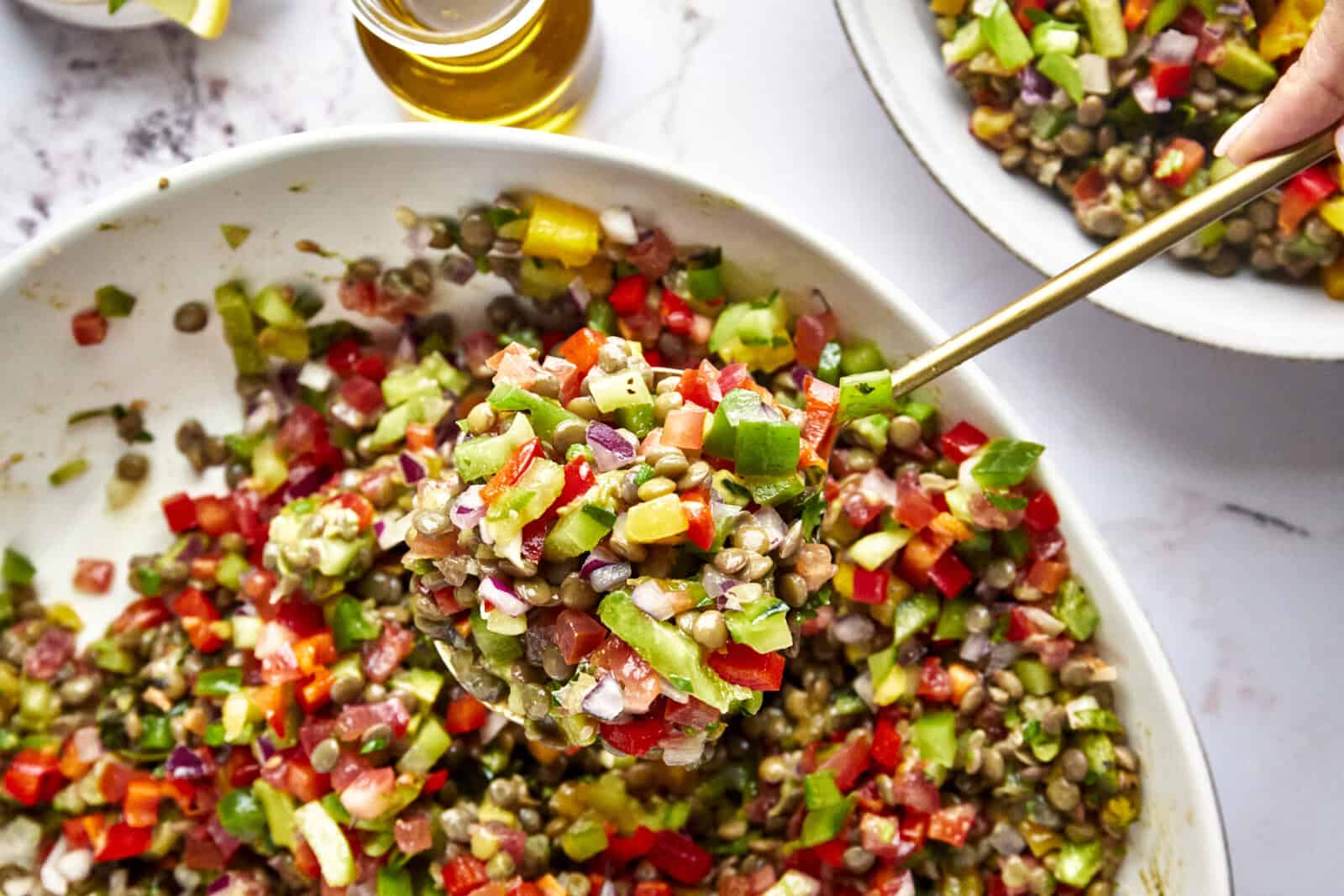 What Goes Well with Mangoes? Ingredients You'll Need
Tasty on its own, mango is a super versatile fruit and can be paired with a wide variety of ingredients. As a result, there are endless different lentil salad recipes.
For our version, we took advantage of a handful of fresh ingredients and tossed them with a homemade dressing for a quick recipe that's easy to assemble. Here's everything you'll need:
For the Lentil Salad
Brown Lentils – We prefer brown lentils, but any type of lentils you like best can be substituted. You can even opt for canned lentils. Just be sure to use a low-sodium variety, and rinse and drain them well.
Bell Pepper – A combination of sweet red bell peppers and yellow bell peppers adds a bit of crunch along with flavor and nutrients like vitamin C, folate, and potassium.
Jalapeños – Use as little or as much as you'd like for a touch of heat, and don't forget to remove the seeds!
Mango – You'll want two large, ripe mangoes.
Red Onion – Included for extra crunch and a warm, tangy taste.
Cucumber – We prefer English cucumbers because they don't have a tough outer skin and provide a sweeter flavor. However, any cucumbers you have on hand can be used.
Avocado – Include ripe avocados for healthy fats and a smooth, creamy texture that compliments the crispness of the veggies.
Cilantro – Included for a punchy, herbaceous taste. If you aren't a fan of cilantro, feel free to omit it completely, or swap it out for fresh parsley.
For the Dressing
Olive Oil – This forms the base of the dressing, adding healthy fats and a slightly peppery flavor.
Tahini – Include for extra depth and a rich, nutty taste.
Honey – Added for a touch of sweetness that enhances the natural flavor of the fruit. Feel free to substitute it for maple syrup to keep this lentil salad vegan.
Lemon – Fresh lemon will yield the best results and helps compliment the natural sweetness of the mango.
Seasonings – Ground cumin, oregano, salt, and pepper add a touch of warmth and heat to balance out the fresh, sweet flavor of the fruit and veggies.
Flavor Variations and Add-Ins
This lentil salad recipe is great for clearing out any scraps left over in your fridge. Feel free to mix and match different ingredients to make it your own.
For instance, some of our favorite add-ins include:
Greens – Add extra nutrients and volume with a base of greens like spinach, arugula, lettuce, and even kale.
Nuts and Seeds – Enhance the texture with extra crunch by adding a sprinkle of cashews, pecans, walnuts, or sesame seeds.
Grains – If you aren't a fan of lentils, feel free to replace them with quinoa, rice, or even farro.
Fruit – If you love an extra sweet salad, try incorporating more fruit like pomegranate seeds, blueberries, or peaches.
Herbs – Replace the cilantro with any fresh herbs you like best! As mentioned, parsley makes for a great alternative, but mint adds a bright, refreshing flavor as well.
Seasonings – We kept the seasonings in the dressing simple, but you can easily add to or substitute them with more warm options like garlic powder, onion powder, chili powder, or even Tajin.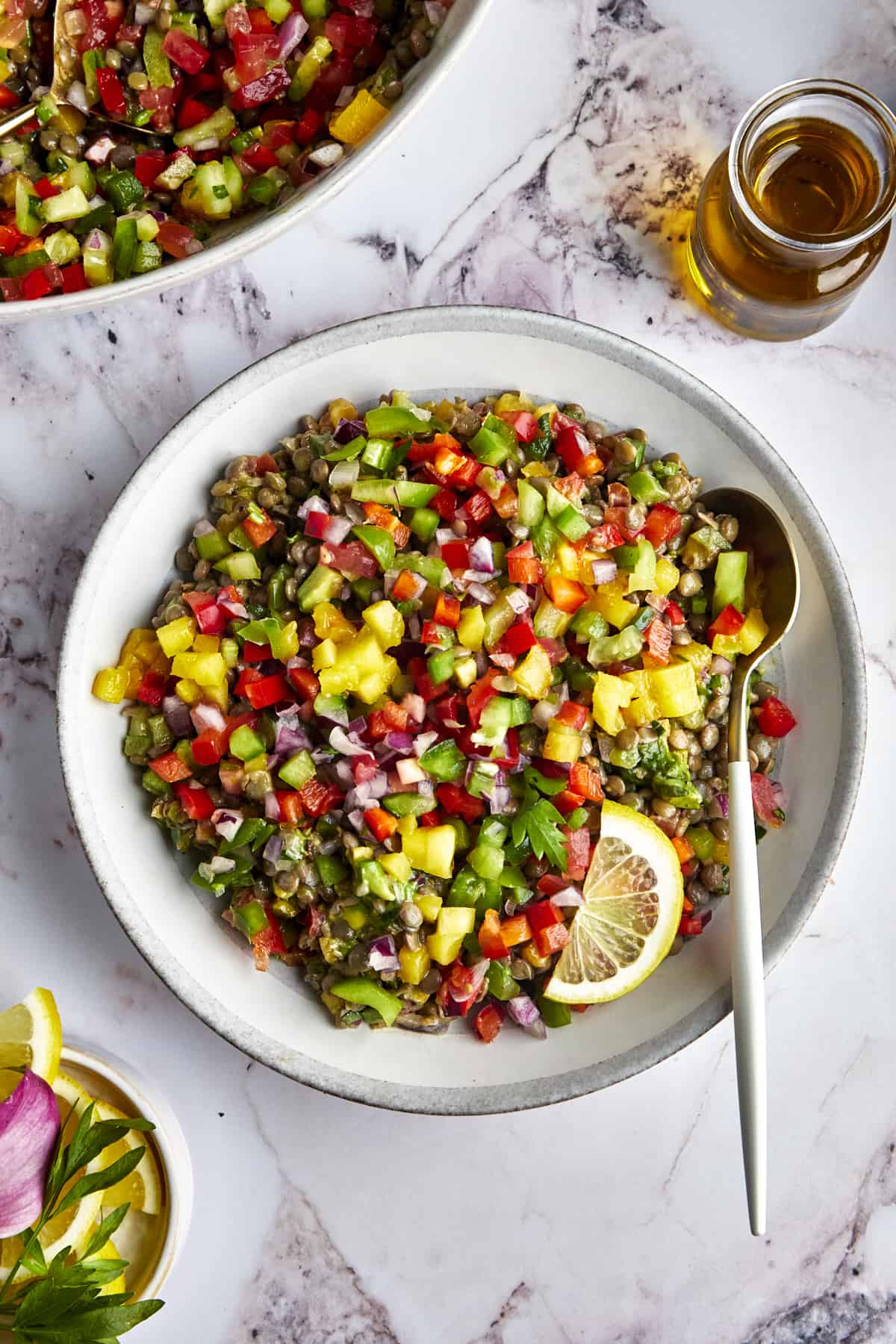 How to Make a Showstopping Mango Salad Recipe
This lentil mango salad is quick and easy to make, making it great for those hot summer days when you can't be bothered to spend hours standing over a hot stove. Here's what to do:
Cook the Lentils. Rinse the lentils and add them to a large pot, submerging them in water. Bring the liquid to a boil. Then, reduce the heat, and cook until the lentils are tender. Drain the water, and set the lentils aside to cool.
Mix the Salad. Add all the salad ingredients to a large bowl, and toss to combine.
Prepare the Dressing. In a mason jar or dressing jar, add all the salad dressing ingredients, and whisk to combine.
Toss. Pour the dressing over the salad. Toss to combine and coat all the ingredients, and enjoy!
Tips for Success
Use Fresh Produce. The riper and fresher your produce, the better your salad will taste.
Adjust the Seasoning. Of course, you can adjust the dressing ingredients to suit your flavor preferences. However, we highly recommend giving it a taste test and slowly adjusting the ratios and ingredients as you go. A little goes a long way!
Enjoy Right Away. Because this lentil salad is full of so many fresh ingredients, it's best to serve it immediately. The longer it sits, the less flavorful it'll be and the soggier the produce will get.
Serving Suggestions
This lentil salad makes for a great plant-based meal. However, it also pairs wonderfully as a hearty side dish with chicken, fish, or meat.
For instance, some of our favorite pairings include hummus with meat, beef kofta meatballs, Middle Eastern chicken, and baked feta salmon.
Common Questions About This Lentil Mango Salad?
What herbs go with mango?
We've found that cilantro, parsley, mint, and basil pair best with mango.

What are different ways to serve mango?
There are so many ways to serve mango! Some of our favorites include mango salsa, fruit salad lettuce cups, on top of yogurt bowls or oatmeal, grilled, and in a smoothie.
How long does this mango salad recipe last?
This recipe is best enjoyed right away while all the produce is still fresh.

However, if you have leftovers, they can be transferred to an airtight container and stored in the fridge for up to three days. If possible, we recommend leaving out the avocado until just before serving to prevent it from turning brown.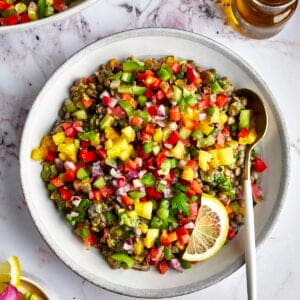 Lentil Mango Salad Recipe
Delight your tastebuds with this lentil mango salad full of crisp veggies, sweet mango, and hearty lentils tossed in a warm tahini dressing!
Ingredients
For the Lentil Salad:
2

cups

uncooked brown lentils

(rinsed and drained)

1

yellow bell pepper

(diced)

1

red bell pepper

(diced)

1

jalapeño

(seeded and chopped)

1

large mango

(diced)

2

medium tomatoes

(diced)

1/2

red onion

(diced)

1

English cucumber

(chopped)

2

medium avocados

(diced)

1/2

cup

cilantro

(chopped)

1/2

cup

Italian parsley

(chopped)
For the Dressing:
1/3

cup

olive oil

1/4

cup

tahini

1

Tablespoon

honey

Juice of 1 lemon

1

teaspoon

ground cumin

1

teaspoon

oregano

1 1/2

teaspoon

salt or to taste

1

teaspoon

ground black pepper
Instructions
Rinse and drain the lentils. Transfer them to a large pot, and submerge them in water (~5 cups).

Bring the liquid to a boil. Reduce the heat to medium, and cook for 20-25 minutes or until the lentils are tender.

Drain, and set aside to cool.

In a large bowl, add the cooked lentils, veggies, and parsley. Gently mix to combine.

In a mason jar or dressing jar, add all the dressing ingredients (oil, tahini, honey, lemon juice, cumin, oregano, salt, pepper). Mix until smooth.

Pour the dressing over the salad ingredients, and toss to combine.

This salad is best enjoyed right away but can be stored in an airtight container in the fridge for up to 3 days.
Nutrition
Serving:
1
serving
|
Calories:
555
kcal
|
Carbohydrates:
60
g
|
Protein:
21
g
|
Fat:
28
g
|
Saturated Fat:
4
g
|
Polyunsaturated Fat:
5
g
|
Monounsaturated Fat:
18
g
|
Sodium:
598
mg
|
Potassium:
1240
mg
|
Fiber:
26
g
|
Sugar:
12
g
|
Vitamin A:
1343
IU
|
Vitamin C:
90
mg
|
Calcium:
87
mg
|
Iron:
7
mg
Equipment
More Flavor-Loaded Salad Recipes
Looking for more salads you'll actually look forward to eating? We've got you covered with the options below!