This easy Eggs in Purgatory recipe (also known as Uova in Purgatoria) features Italian baked eggs in tomato sauce and lots of gooey cheese. Baked in ramekins, they're a fun take on the traditional dish and are perfect for weekend breakfasts and holiday brunches!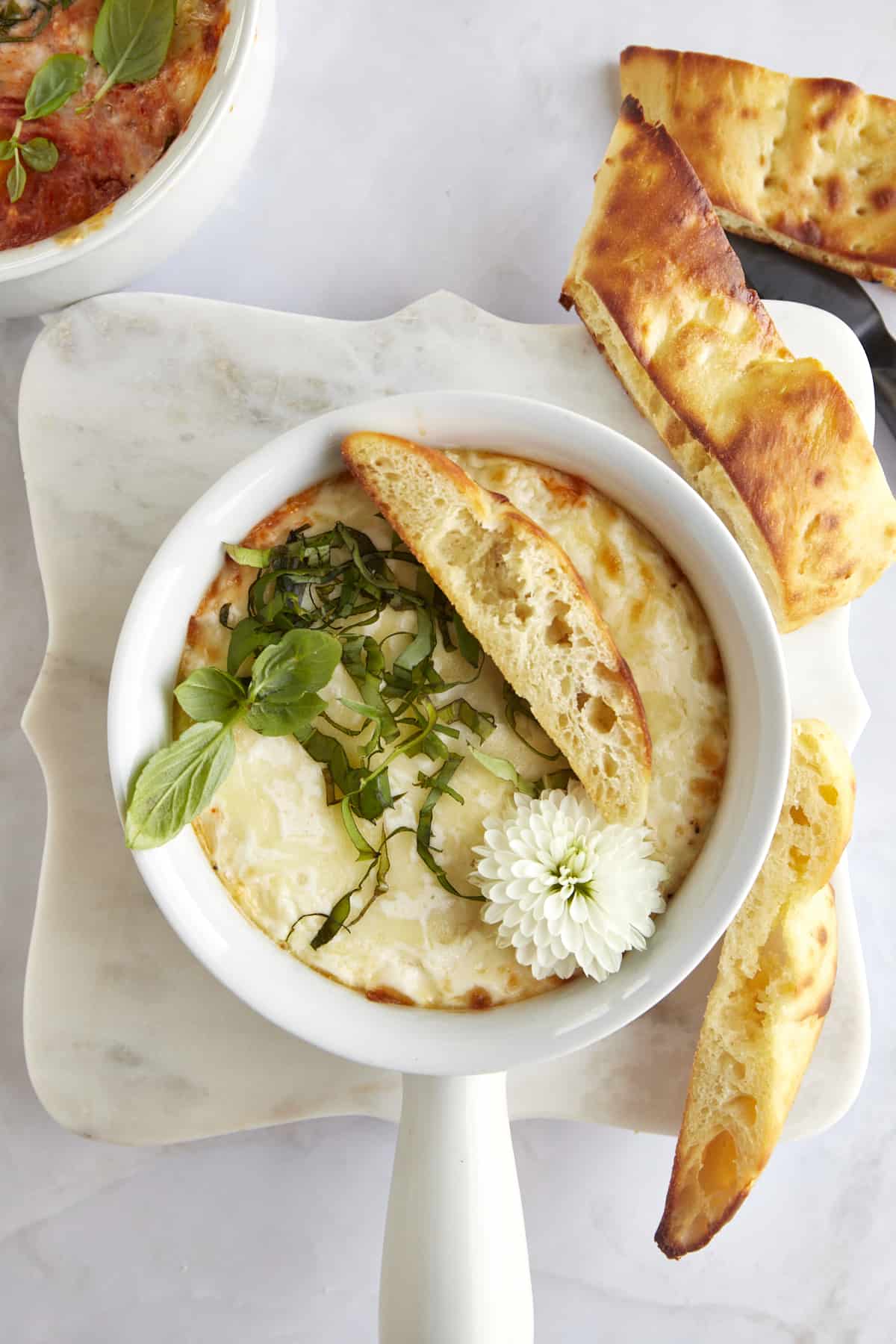 What Are Eggs In Purgatory?
Eggs in Purgatory, also known as Uova in Purgatoria or Uova All'inferno, are an Italian baked eggs dish that originated in Naples, Italy.
The dish goes by many different names and can be found with different flavors and ingredients. However, it always consists of eggs cooked in a savory (often spicy) tomato sauce.
They're a traditional "poor man's meal" as they use simple, staple ingredients to create a recipe that is satisfying and full of bold flavors.
Is It The Same as Shakshuka?
Shakshuka and Eggs in Purgatory are extremely similar, but they aren't quite the same.
The main difference is that Shakshuka is a Middle Eastern dish and uses additional spices and ingredients that often include items like cumin, sweet paprika, and peppers.
Meanwhile, Eggs in Purgatory recipes are Italian and contain fewer ingredients and often more cheese.
Why Are They Called Eggs In Purgatory?
There are many theories as to how the dish received its name, and the exact answer is unclear.
Some say it is meant to honor the Cult of the Souls of Purgatory. Others say that the dish represents Dante's climb up the Mountain of Purgatory in Dante Alighieri's Purgatorio.
No matter the theory, there always seems to be a religious association.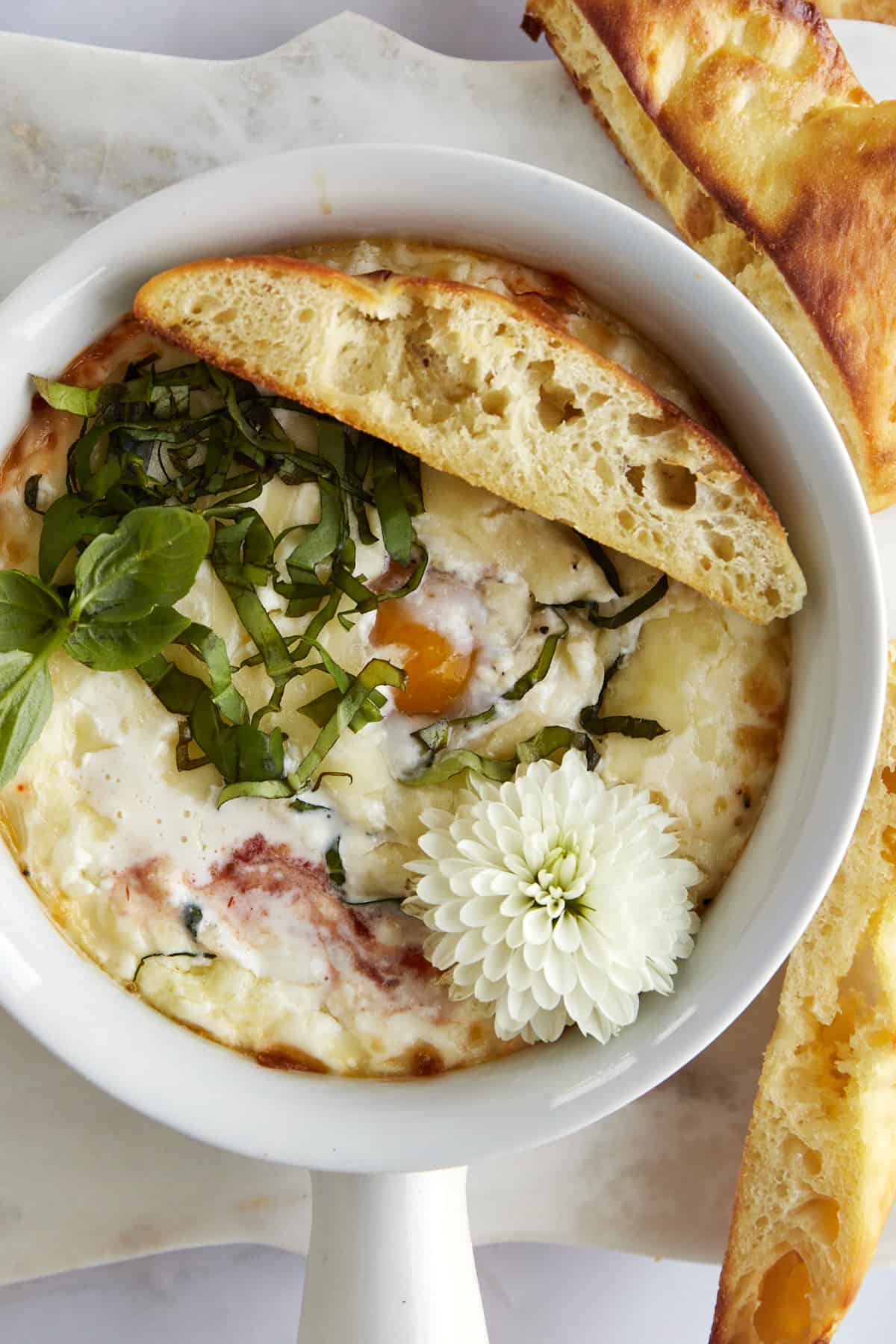 What's In Italian Baked Eggs
Before we begin, it's important to note that this easy Eggs in Purgatory recipe is not authentic. However, it represents the essence of the traditional dish with a few shortcuts.
Marinara Sauce – We use this instead of making our own tomato sauce to save tons of time without sacrificing flavor.
Eggs – The star of the show!
Heavy Cream – Just a drizzle helps enhance the richness of the marinara sauce.
Cheese – A combination of feta and Mozzarella bakes to gooey, golden perfection.
Salt and Pepper – Use as little or as much as you'd like.
Basil Leaves – A sprinkle on top helps lighten the dish, adding a refreshing, herbaceous taste.
Swaps, Substitutions, and Variations
Because Italian baked eggs are so simple, they're very forgiving and allow a lot of room to experiment with different ingredients and flavors. For example, some great ways to switch it up include:
Veggies. Add chopped veggies like onions, peppers, mushrooms, zucchini, eggplant, spinach, kale, and olives (even though, they're technically a fruit) for extra volume, nutrients, and fiber.
Seasonings. Boost the flavor even more with herbs and spices like dried oregano, fresh parsley, fresh marjoram, and Italian seasoning.
Pesto. Just a small dollop added at the end of cooking packs in tons of savory, herbaceous, cheesy flavor.
Anchovies. Found in some traditional recipes, anchovies can add an extra savory element and a boost of protein if you like the taste.
Breadcrumbs. Not exactly authentic, a sprinkle of breadcrumbs on top crisps up and adds a satisfying, crisp texture. Especially, if you put them under the broiler for a minute or two!
Lemon. A squeeze of fresh lemon juice might sound strange, but it provides the perfect amount of freshness to lighten the heavy fats and savory herbs in the dish.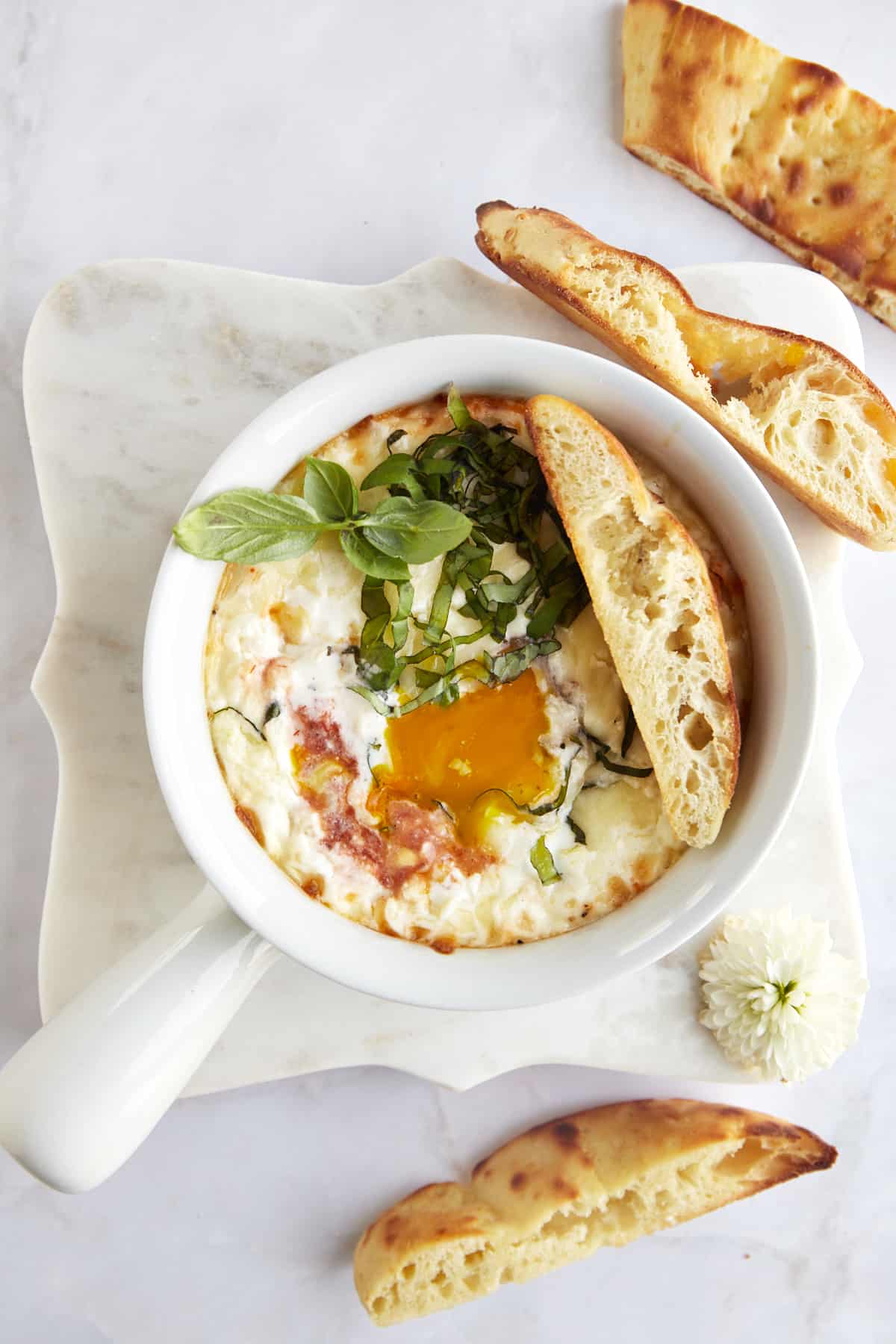 Eggs In Purgatory Made The Easy Way
Unlike classic Italian baked eggs that are made in a skillet, this version comes together in ramekins. As a result, it's great for a single-serving meal or to feed a crowd with no fuss.
Divide. Split the marinara evenly between two ramekins, spreading it out in an even layer on the bottom.
Add the Remaining Ingredients. Crack the eggs on top of the marinara. Then, drizzle heavy cream on top followed by the feta, Mozzarella, salt, and pepper.
Bake. Place the ramekins on a baking sheet, and transfer them to the oven to cook just until the whites are set.
Garnish. Set the dishes aside to cool slightly. Then, sprinkle basil leaves on top.
Enjoy! Serve your Eggs in Purgatory warm with the renaming marinara sauce on the side.
We earn a commission if you make a purchase, at no additional cost to you.
Tips for Success
Grease the Ramekins. Before you begin, use oil, butter, or cooking spray to coat your ramekins to prevent the sauce from burning and the ingredients from sticking to the dish.
Don't Crack the Yolks. Be super careful not to crack your egg yolks as you work. Otherwise, they'll cook, and the ingredients will run together which is not what we want.
Avoid Overbaking. Eggs in Purgatory cook quickly. So, be sure to keep a close eye on your oven, and remove the ramekins as soon as the whites are set. Any longer, and the yolk will cook through.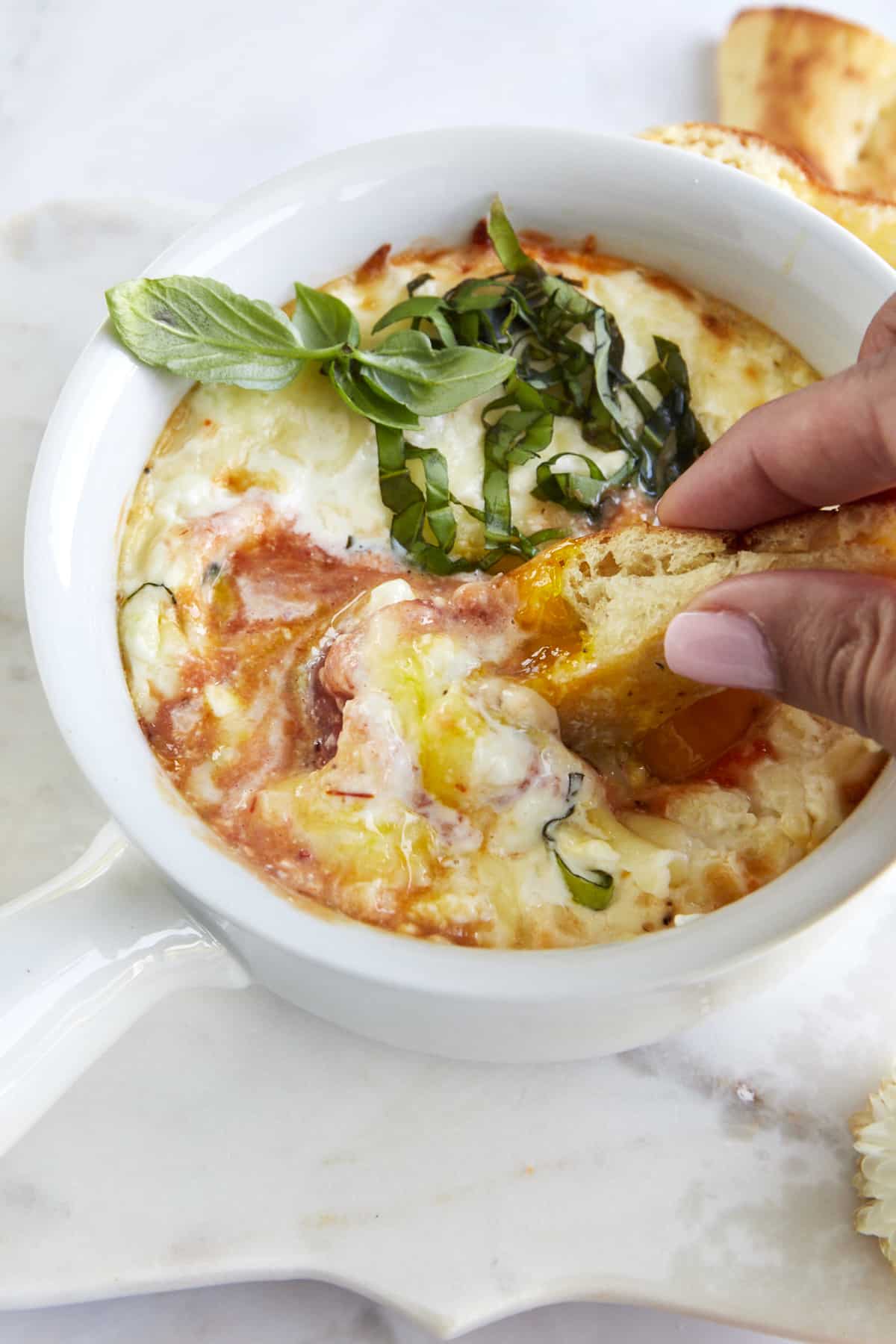 Serving Suggestions
This Eggs in Purgatory recipe works great for breakfast, brunch, lunch, and dinner. However, no matter what time of the day you serve it, thick, crusty bread is always a must.
We love to dip pita, focaccia, or thick Italian bread into the runny yolks and sauce. Then, for a full spread, try pairing your eggs with sides and appetizers like pesto pasta salad, Greek salad, roasted peppers with whipped feta, and Parmesan potatoes.
Can I Make This Recipe Ahead of Time?
If you're making homemade marinara sauce, you can prepare it up to two or three days in advance. However, the entire recipe cannot be made in advance.
This is because the eggs will not keep well and will become overcooked if warmed. Luckily, it's super quick to whip up!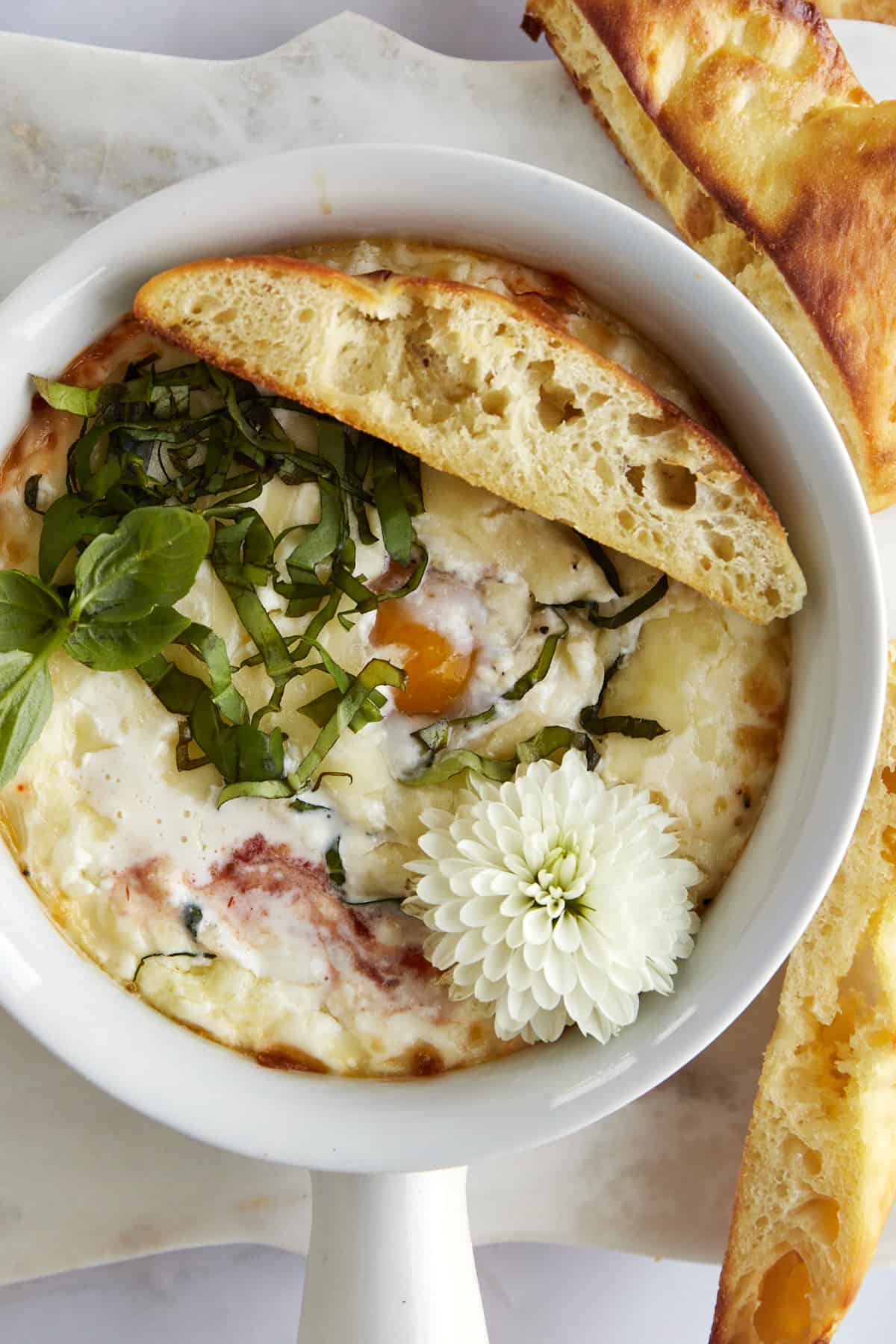 Easy Eggs in Purgatory Recipe
Prepare this Eggs in Purgatory recipe for a simplified twist on Italian baked eggs that's quick, easy, and perfect any time of the day!
Ingredients
1

cup

marinara sauce

divided

4

large eggs

¼

cup

heavy cream

divided

¼

cup

feta cheese

divided

¼

cup

Mozzarella cheese

divided

Kosher salt to taste

Freshly ground black pepper

to taste

¼

cup

basil leaves

divided
Instructions
Preheat the oven to 425 degrees F (220 degrees C). Lightly oil two 12-ounce ramekins, or coat them with nonstick spray.

Divide half of the marinara sauce evenly between the ramekins, spreading it to cover the bottom.

Crack 2 eggs into each ramekin, taking care not to break the yolks.

Drizzle 2 tablespoons of heavy cream into each ramekin, being careful to distribute it evenly.

Sprinkle 2 tablespoons of feta cheese and 2 tablespoons of Mozzarella cheese over each ramekin.

Season with kosher salt and freshly ground black pepper to taste.

Place the ramekins on a baking sheet, and transfer them to the preheated oven.

Bake for about 10-12 minutes, or until the egg whites are set but the yolks are still slightly runny.

Remove the ramekins from the oven, and let them cool for a few minutes.

Garnish each ramekin with basil leaves.

Serve the baked eggs with the remaining marinara sauce on the side.
Nutrition
Serving:
1
serving
|
Calories:
349
kcal
|
Carbohydrates:
9
g
|
Protein:
19
g
|
Fat:
27
g
|
Saturated Fat:
14
g
|
Polyunsaturated Fat:
3
g
|
Monounsaturated Fat:
8
g
|
Trans Fat:
0.04
g
|
Cholesterol:
389
mg
|
Sodium:
1015
mg
|
Potassium:
545
mg
|
Fiber:
2
g
|
Sugar:
6
g
|
Vitamin A:
1775
IU
|
Vitamin C:
9
mg
|
Calcium:
255
mg
|
Iron:
3
mg
Nutrition information is automatically calculated, so should only be used as an approximation.
Like this recipe?
Please leave a comment!
More Egg-Filled Breakfast Recipes
If you enjoyed this easy Eggs in Purgatory recipe, you won't want to miss out on the egg dishes below!