This One-Pot Spicy Rigatoni recipe features a rich tomato sauce, tender rigatoni pasta, and warm spices. Cooked in one pot in less than 20 minutes, it's a restaurant-worthy pasta dish perfect for every occasion!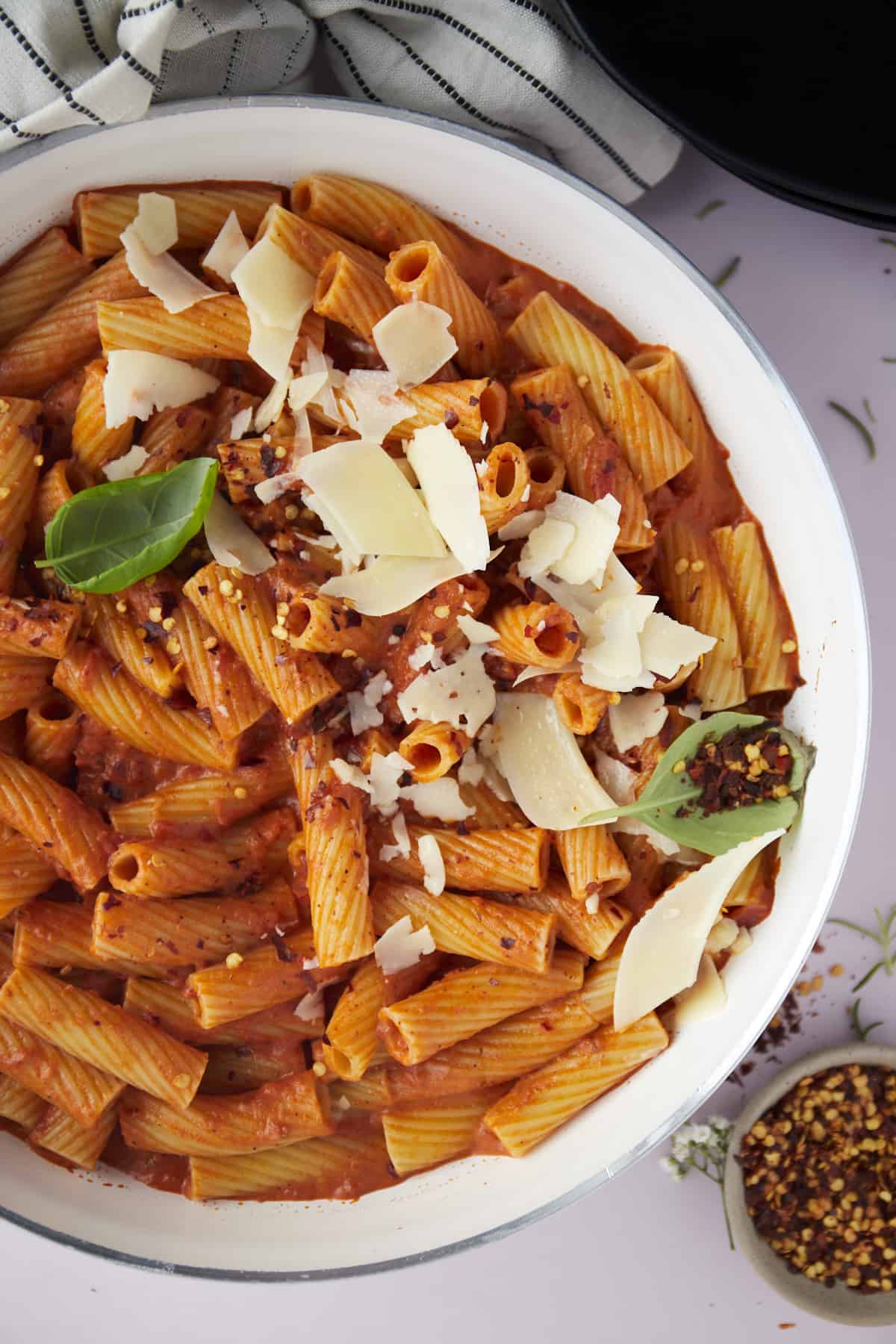 Why You'll Be Stunned By This Spicy Rigatoni Recipe
We love a good pasta recipe, and rigatoni is one of our favorites! With recipes like one pot spicy rigatoni and baked spicy rigatoni, we clearly can't get enough.
And variety is the spice of life, right? So, we decided to make another one!
Without further ado, let us introduce you to our latest and greatest spicy rigatoni recipe. Inspired by the infamous Carbone spicy rigatoni, our version is:
Cooked in one pot.
Made with minimal prep time, a quick cook time, and a total time of less than 20 minutes.
Simplified with easy-to-find ingredients.
Easy to customize to fit all your needs.
The perfect meal prep option for the whole family!
What Is Rigatoni Carbone?
Rigatoni Carbone is a signature dish served at Carbone, a renowned Italian-American restaurant in New York City. The dish features rigatoni pasta cooked to tender perfection and smothered in a rich and creamy sauce made from ingredients like pancetta, garlic, heavy cream, egg yolks, Parmesan cheese, and black pepper.
It's known for its indulgent and comforting flavors, making it a beloved classic at the restaurant. As a result, there are many different copycat versions of the dish, too.
While our version isn't exactly like the authentic, it was inspired by the bold flavors. We just swapped a few ingredients to make it a little more accessible and kid-friendly!
What's the Difference Between Spicy Rigatoni and Penne Alla Vodka?
Spicy rigatoni and penne alla vodka are often used interchangeably and confused with one another. However, they are not the same.
For instance, spicy rigatoni is characterized by its spicy tomato and cream sauce and is made with ingredients like pancetta, chili flakes, and Pecorino Romano or Parmesan cheese. It is noted by its bold, peppery flavor that contains just a touch of heat.
Meanwhile, penne alla vodka features penne pasta in a creamy tomato sauce made out of vodka, heavy cream, and often a touch of crushed red pepper flakes. As a result, it is less spicy has more creamy than its rigatoni counterpart.
What's the Difference Between Penne and Rigatoni Pasta?
Because they're both tube-shaped, penne and rigatoni pasta are often confused. However, they are not the same things. The primary differences include:
The Cut. Penne is cut diagonally, giving it pointed ends. Meanwhile, rigatoni is cut bluntly, giving it a tubular or cylindrical shape.
Ridges. Rigatoni pasta always has ridges around its exterior, and penne may be straight or ridged.
Size. Rigatoni pasta is larger than penne.
Shape. Penne pasta is always straight, but rigatoni may have a slight curve.
Is Rigatoni a Noodle or Pasta?
Rigatoni is a type of pasta. It comes from the word "rigato" which means ridged. As the name suggests, the pasta is a type of short, wide tube that has a ridged exterior but a smooth interior. As a result, it's great for thick, chunky sauces.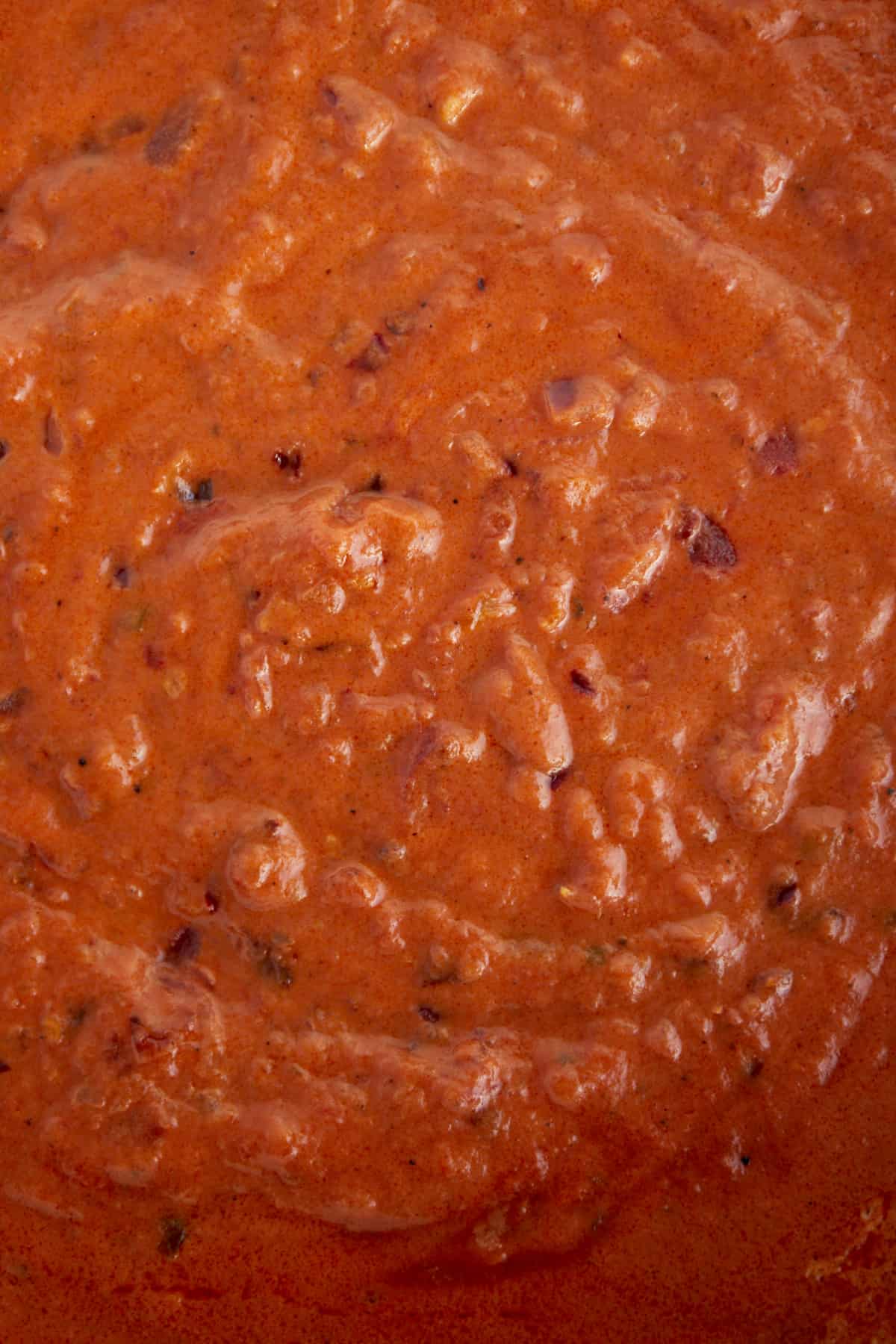 What's In This One-Pot Spicy Rigatoni Recipe?
As mentioned, we drew inspiration from the original Carbone recipe but paired the ingredient list down, using items that are often easy to find to create a slightly milder, kid-friendly version of the dish. Here's what you need:
Rigatoni – Make sure your pasta is cooked to al dente before adding to the dish. If preferred, opt for gluten-free noodles or a different shape like penne or ziti. Just make sure the pasta is similar in size to rigatoni and has ridged edges to pick up the sauce!
Olive Oil – This helps caramelize the onions and garlic, creating a rich base that's sweet and savory while adding a boost of healthy fats.
Onion and Garlic – These aromatics form the base of the pasta sauce, infusing it with depth and flavor.
Spices – Crushed red pepper flakes, salt, and black pepper enhance the rest of the ingredients while adding a touch of spice.
Pasta Sauce – Of course, you can prepare homemade pasta sauce if you've got the time. However, to keep this recipe simple and quick, we opt for a red sauce from the store. Our favorite is Rao's!
Heavy Cream – This is key to creating a thick, creamy, indulgent rigatoni pasta recipe.
Cheese – Use as little or as much Parmesan cheese as you like. For the best texture and flavor, buy a block, and grate it yourself.
One Pot, 20 Minutes, and Dinner Is Served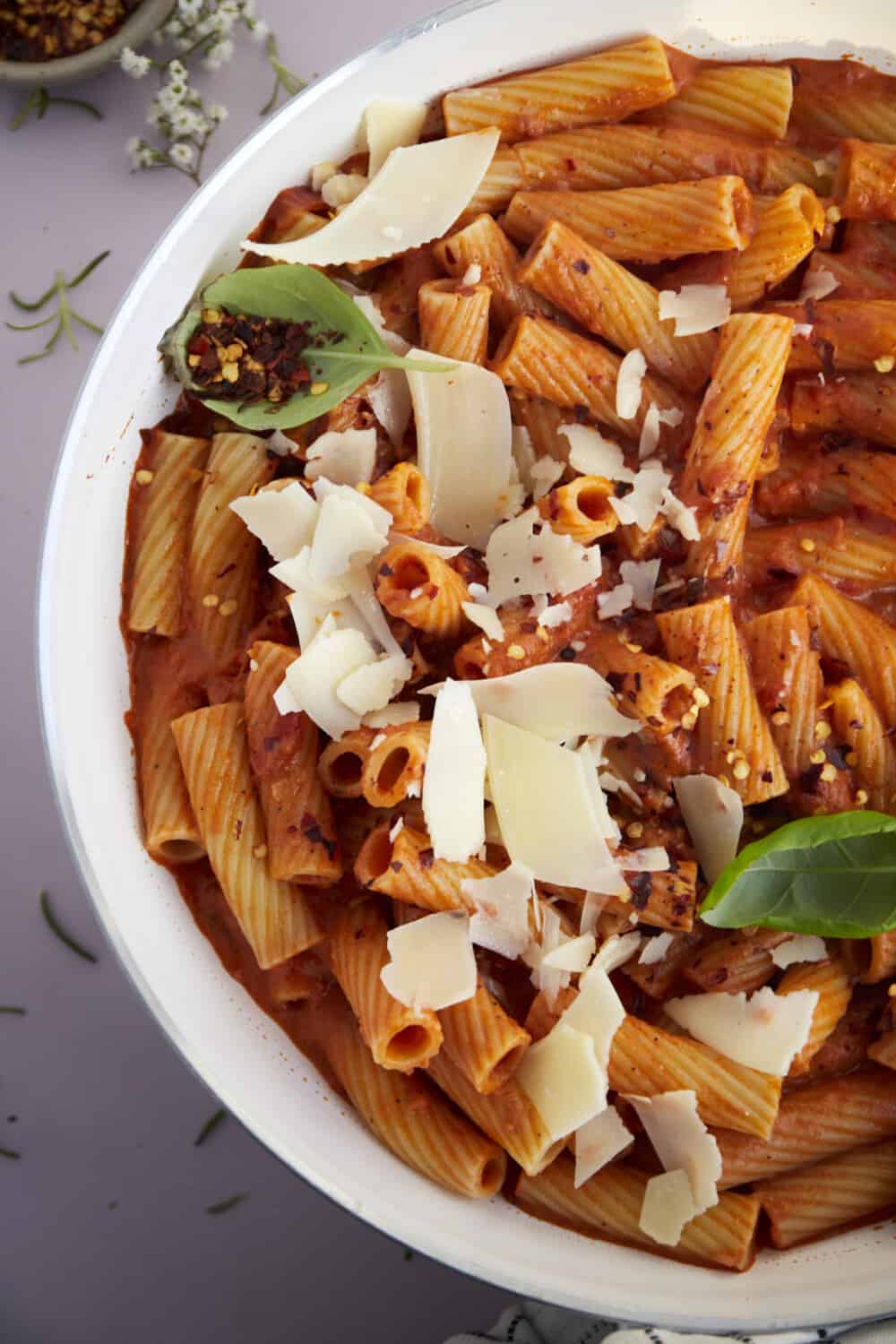 Like all of our favorite recipes, this dish comes together in just one pot. Here's what to do:
Sauté. Heat the oil in a large pot or Dutch oven over medium-high heat. Sauté the onions and crushed red pepper until the onions are fragrant and translucent. Add the garlic, and stir again until it is golden and fragrant.
Combine the Ingredients. Add the pasta sauce, heavy cream, salt, and pepper to the pan. Bring the ingredients to a simmer. Then, reduce the heat to low, and add the remaining cooked pasta and cheese. Let the ingredients simmer, stirring frequently until the cheese is melted and the pasta is fully coated in sauce.
Serve. Add more crushed red pepper and Parmesan cheese and enjoy warm!
Tips for Success
Avoid Overcooking the Pasta. You want to be sure to cook the pasta just to al dente or even slightly under. It will cook a little further once combined with the sauce.
Reserve Some of the Pasta Water. Tossing a small amount of water with your sauce can help enhance the flavor and ensure it clings to the pasta.
Adjust the Heat. Adjust the spices to suit your preferences, adding more or less pepper flakes to tone down or dial up the heat.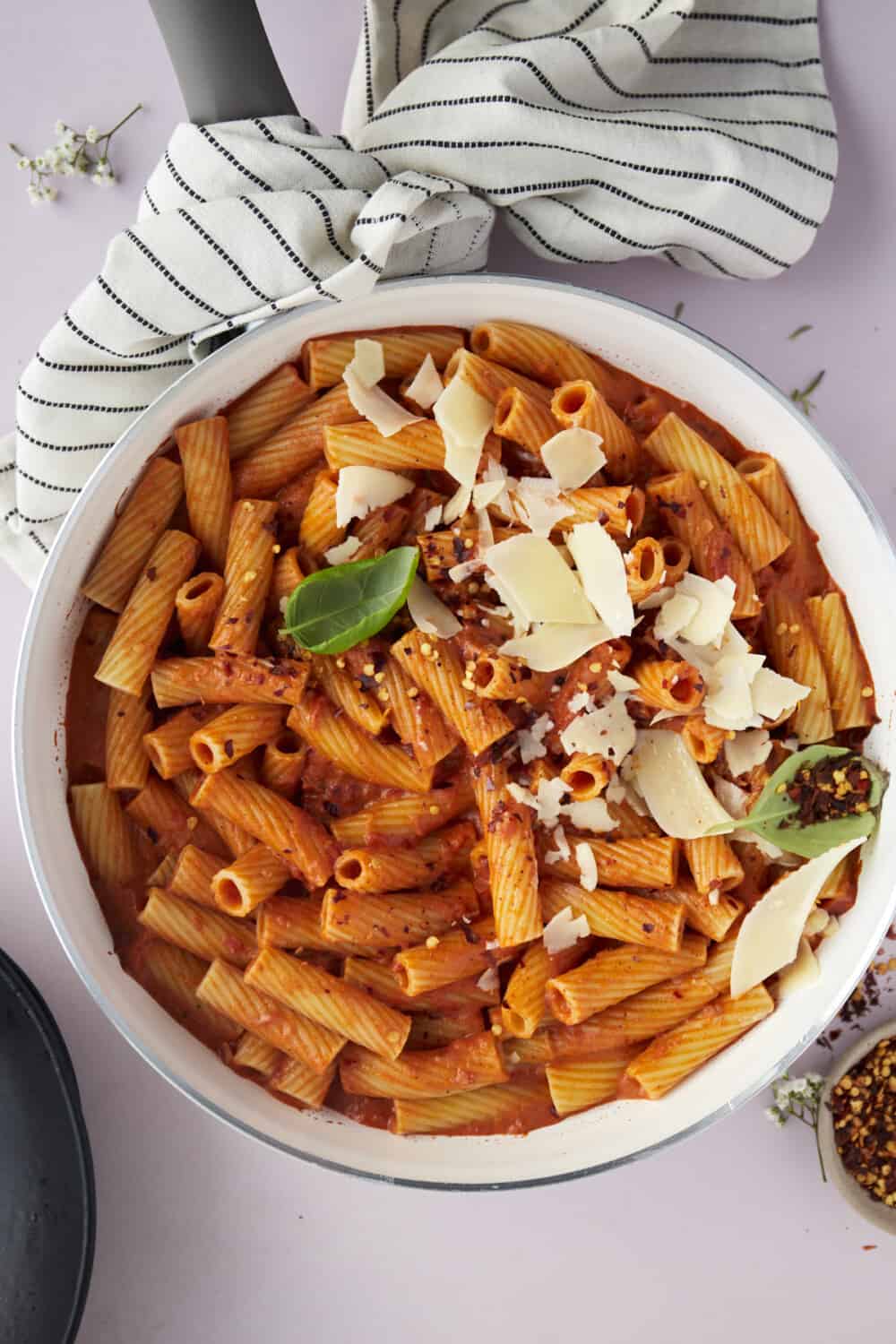 Flavor Variations and Ingredient Swaps
One of the great things about pasta recipes is that they're virtually failproof and can be customized to fit all your needs! Feel free to experiment with different ingredients and flavor combinations.
Some of our favorites include:
Pasta – Swap out the rigatoni with penne or ziti.
Protein – Add protein like pancetta, shrimp, chicken, or even ground turkey or beef.
Veggies – Sauté veggies like mushrooms, onions, asparagus, broccoli, peppers, or spinach, and add them to the sauce.
Toppings – Add a bit of texture and create a picture-worthy presentation with toppings like breadcrumbs, pine nuts, or fresh herbs.
What Should I Serve with Spicy Rigatoni?
This spicy pasta is great to serve as a super filling vegetarian dish. However, it also pairs well with all your favorite main courses, side dishes, and appetizers!
You can never go wrong with a side of cheesy garlic bread. However, some additional pairings include: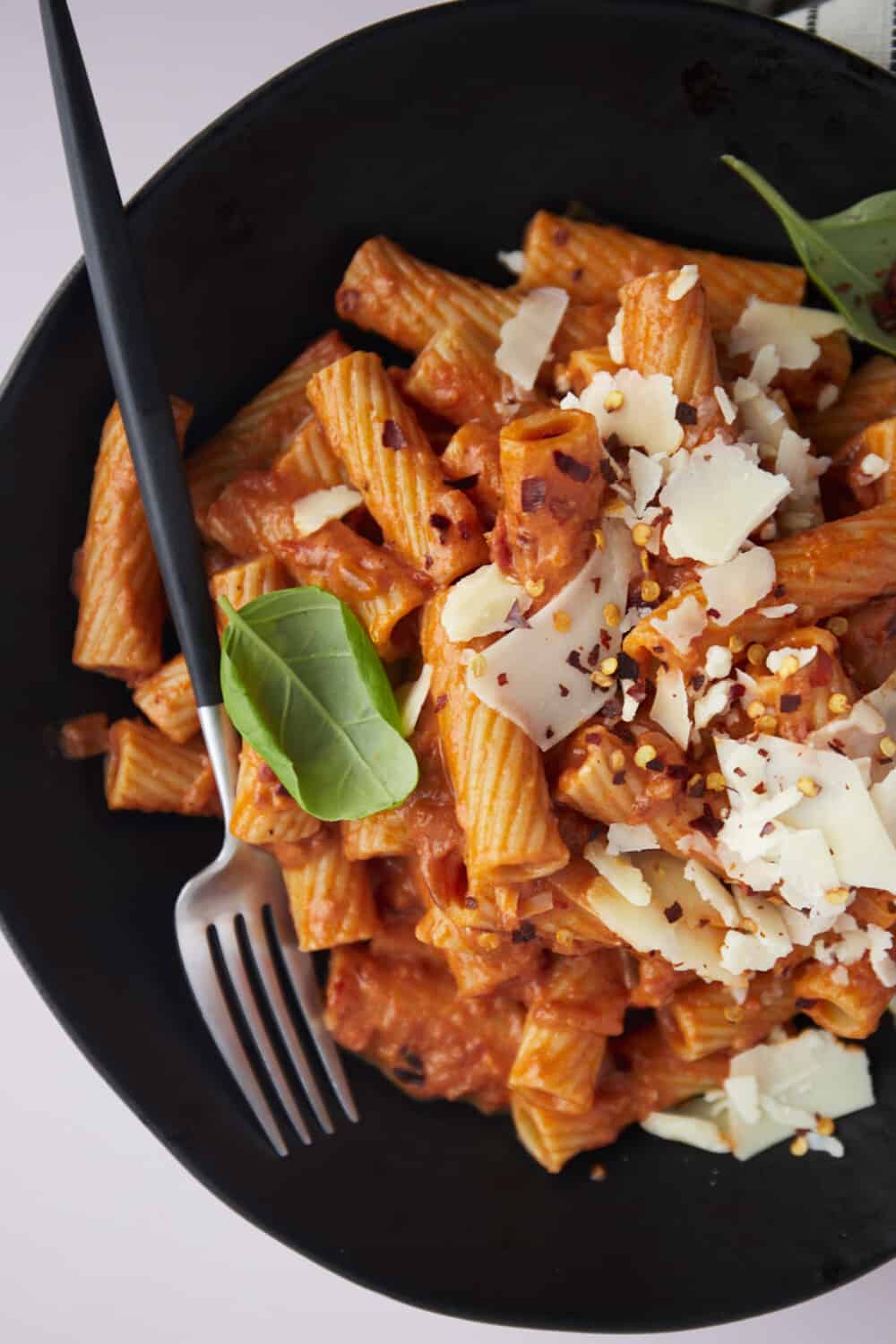 How to Store and Reheat
We love to make this quick spicy rigatoni pasta ahead of time, because believe it or not, it tastes even better the next day! Follow our tips below to keep it fresh.
Refrigerator: Cover your leftovers, or transfer them to an airtight container. Store them in the fridge for up to five days.
Freezer: Transfer your leftovers to a freezer-safe container, and store them in the freezer for up to three months.
Reheat: To serve, let your rigatoni thaw in the fridge overnight. Then, warm it in the oven, microwave, or on the stovetop until it is heated through. If needed, add reserved pasta sauce or broth to freshen it back up.
Common Questions About This One-Pot Spicy Rigatoni Recipe
What sauces go best with rigatoni?
Rigatoni can be paired with all your favorite pasta sauces and will taste great. However, some of the most popular pairings include bolognese sauce, marinara sauce, and alfredo sauce.
How long does it take to cook rigatoni al dente?
Be sure to follow the package instructions for the pasta you choose. However, in general, it takes about twelve minutes to cook rigatoni to al dente.
Can I use half and half or milk instead of cream?
Yes, just note that your pasta sauce won't be quite as creamy or rich.
More One-Pot Pasta Recipes
Looking for more easy pasta recipes? Try out some of our favorites below!
One-Pot Spicy Rigatoni Recipe
Prepare this Carbone-inspired spicy rigatoni recipe in 1 pot in less than 20 minutes for an easy restaurant-worthy comfort food dish!
Ingredients
16

ounces

rigatoni pasta

cooked al-dente

2

Tablespoons

olive oil

1

small onion, diced

5

cloves

garlic, minced

2

teaspoons

crushed red pepper

more or less to taste

1

teaspoon

salt

or to taste

1/2

teaspoon

ground black pepper

or to taste

14

ounces

jarred pasta sauce

such as Rao's Sauce

1

cup

heavy cream

1/2

cup

Parmesan cheese, freshly grated

1

cup

reserved pasta water

as needed
Instructions
In a large saucepan on medium-high heat, add the olive oil, onions, and crushed red pepper. Sauté until the onions are translucent, stirring frequently. Add the garlic to the pan, and continue to sauté for 1 minute or until fragrant.

2 Tablespoons olive oil,

1 small onion, diced,

2 teaspoons crushed red pepper,

5 cloves garlic, minced

Add the pasta sauce, heavy cream, salt, and pepper. Bring the ingredients to a simmer, and reduce the heat to low.

1 teaspoon salt,

14 ounces jarred pasta sauce,

1 cup heavy cream,

1/2 teaspoon ground black pepper

Add the cooked pasta, and Parmesan cheese. Stir until the cheese melts and all pasta is coated in the sauce. Serve with additional crushed red pepper and Parmesan cheese, if desired.

16 ounces rigatoni pasta,

1/2 cup Parmesan cheese, freshly grated

*Add reserved pasta sauce as needed until the desired consistency is reached.

1 cup reserved pasta water

Store in the fridge for up to 5 days.
Equipment
Nutrition
Serving:
1
serving
|
Calories:
518
kcal
|
Carbohydrates:
64
g
|
Protein:
15
g
|
Fat:
23
g
|
Saturated Fat:
11
g
|
Polyunsaturated Fat:
2
g
|
Monounsaturated Fat:
8
g
|
Cholesterol:
50
mg
|
Sodium:
864
mg
|
Potassium:
463
mg
|
Fiber:
4
g
|
Sugar:
6
g
|
Vitamin A:
1134
IU
|
Vitamin C:
7
mg
|
Calcium:
163
mg
|
Iron:
2
mg
Nutrition information is automatically calculated, so should only be used as an approximation.
Like this recipe?
Please leave a comment!