Skip the busy restaurant and say hello to your new favorite meal with these easy Air Fryer Chicken Fajitas! Full of flavor, they come out tender and sizzling hot just like the platter at your local restaurant. Even better, they're quick to make and are perfect to add to your weekly meal prep.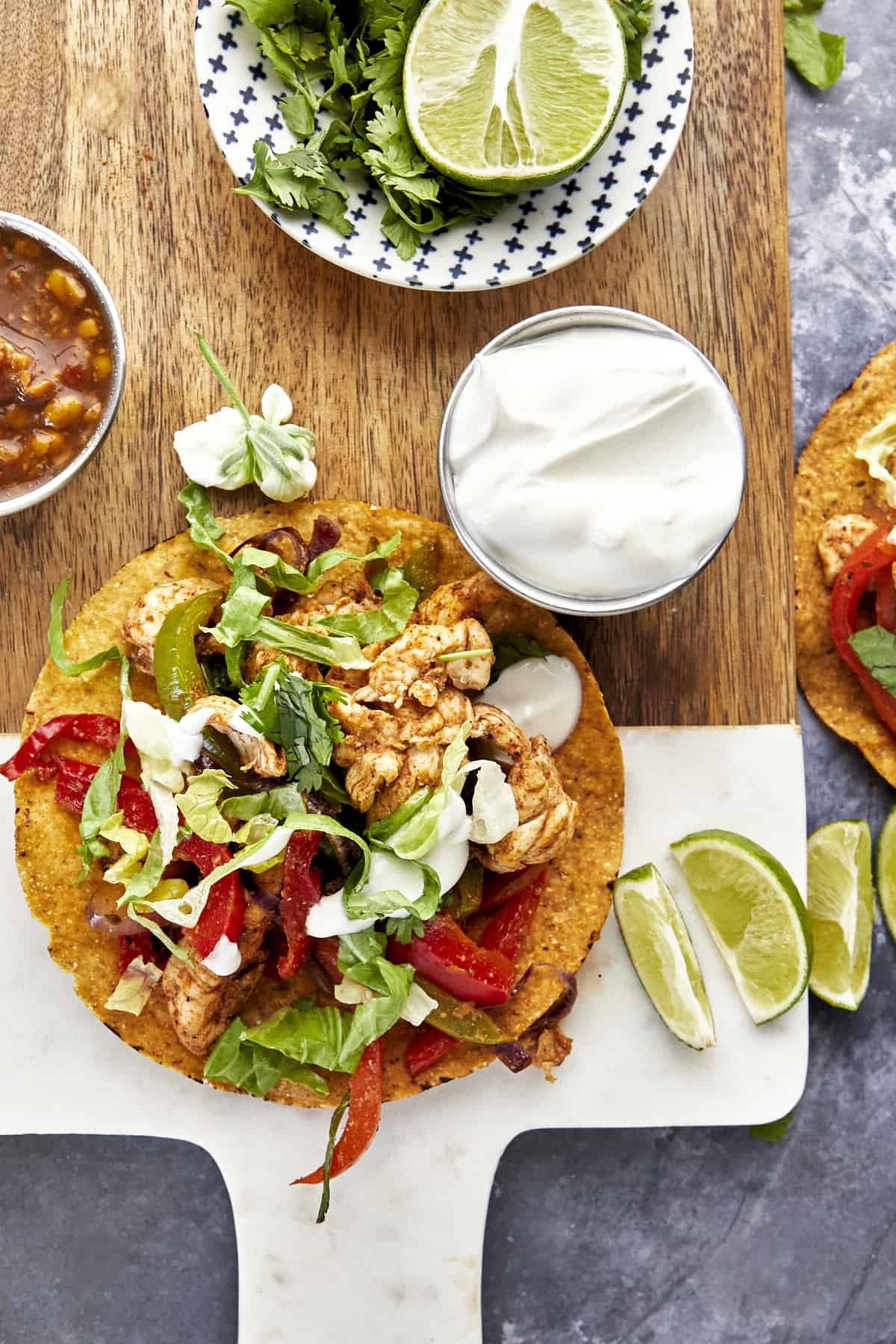 Claiming we love fajitas might be an understatement. You see, we enjoy them so much, we've tested them out with pretty much every recipe we can think of including our Crock Pot Chicken Fajitas, Instant Pot Chicken Fajitas, One Pot Fajita Seasoned Rice, and even Easy Chicken Fajita Sandwiches!
However, you can never go wrong with the basics. So, we decided to give fajitas another go with a quick and easy Air Fryer Chicken Fajitas recipe. And guess what? It was a huge hit! Honestly, we may never go back to a Mexican restaurant again! Kidding, kind of.
These Air Fryer Chicken Fajitas cooked in minutes were tender and juicy and made enough to feed a whole crowd. Winner, winner chicken dinner! Plus, they're budget-friendly, store well, and can be mixed and matched with all your favorite ingredients for endless serving options so you never get bored. All that to say, we'll be making this recipe on repeat!
Are Air Fryer Chicken Fajitas Healthy?
You bet they are! Unlike restaurant fajitas that are cooked in unknown oils and can sometimes contain loads of fat, these homemade Air Fryer Chicken Fajitas use just 2 tablespoons of healthy extra virgin olive oil. This means they're super high-protein, full of vitamins, nutrients, and fiber, and are fairly low in fat for a recipe you can feel good about!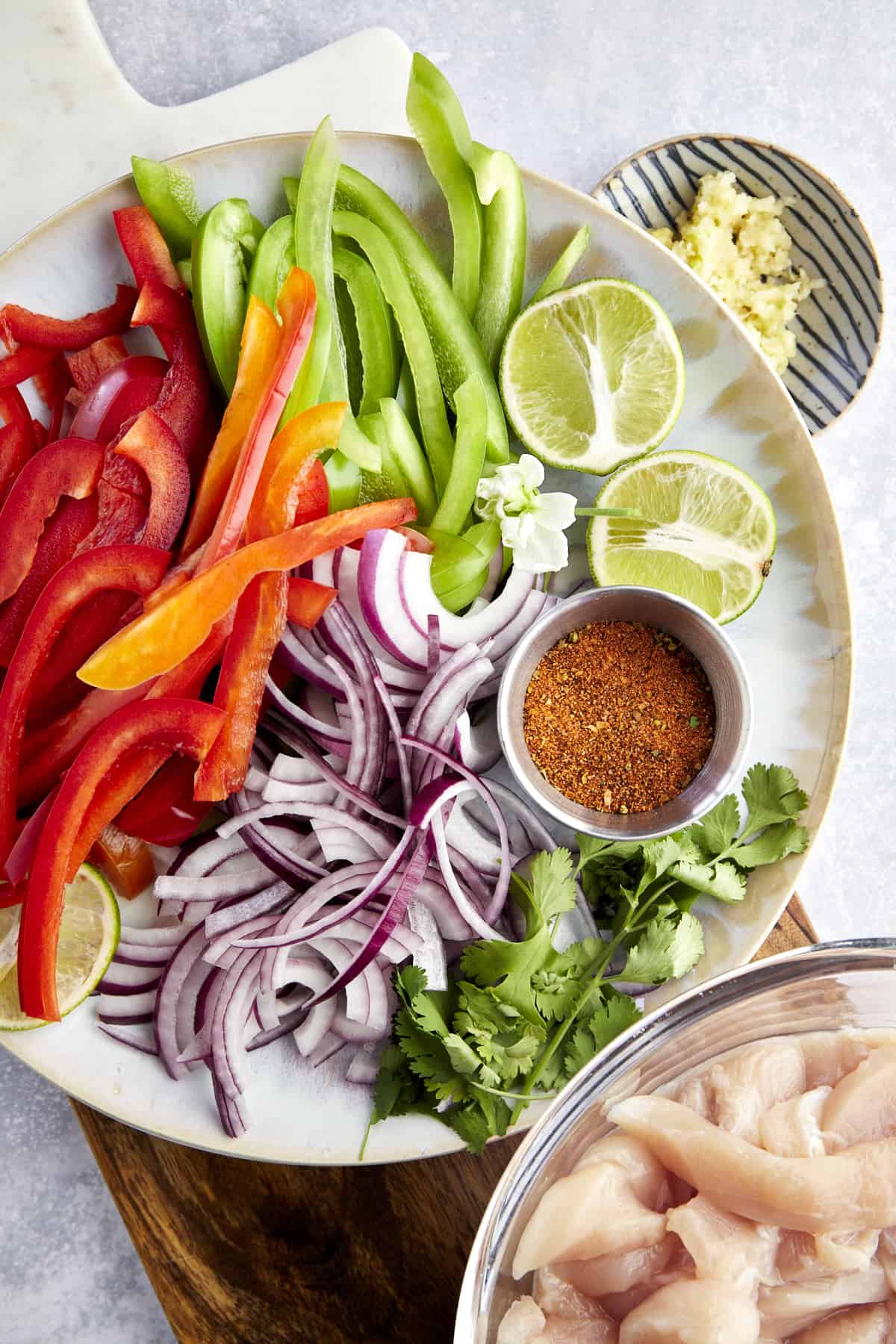 Ingredients You'll Need
For these easy Air Fryer Chicken Fajitas, we kept the ingredient list short and simple, sticking with the basics. Here's everything you'll need:
Chicken – We recommend using boneless, skinless chicken breasts as they absorb the flavor of the rest of the ingredients well. If preferred, chicken thighs could be used, too, but you'll likely need to adjust the cooking time.
Vegetables – Sticking with classic chicken fajitas, we used red bell peppers, green bell peppers, red onion, and garlic for tons of color, flavor, and nutrients.
Salt and Pepper – Use as little or as much as you'd like.
Taco Seasoning – We keep a big batch of our homemade taco seasoning on hand, but store-bought packets work as well.
Olive Oil – Just a drizzle goes a long way to coat the ingredients, helping the seasonings stick and allowing them to crisp up and become tender in the air fryer.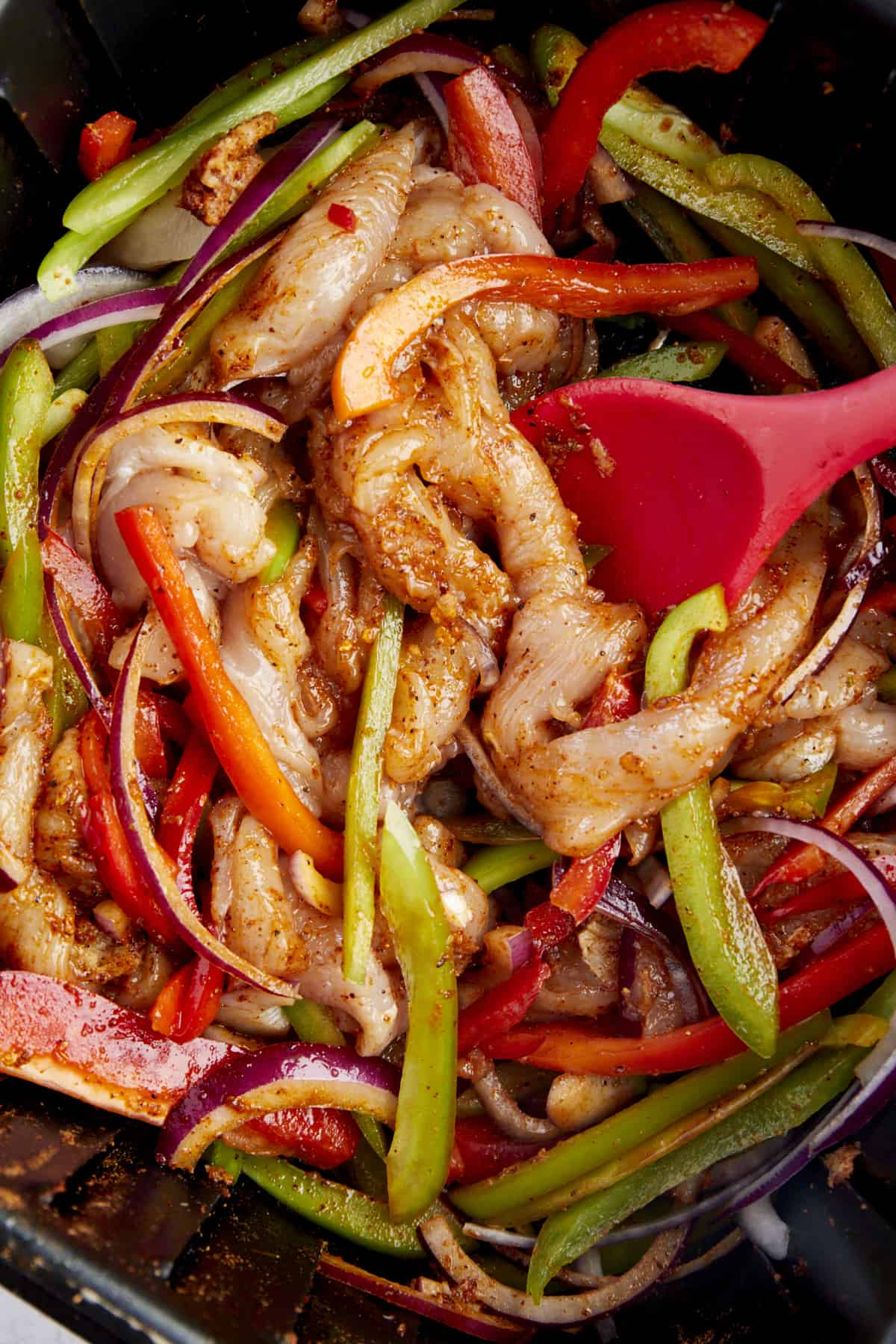 How to Make Air Fryer Chicken Fajitas
These quick Air Fryer Chicken Fajitas are the easiest recipe you'll ever make!
Prepare. Slice your chicken and veggies into thin strips.
Season. Add your taco seasoning and salt to a large bowl or Ziploc bag followed by the chicken and veggies. Toss or shake to coat evenly.
Air Fry. Arrange the ingredients in a single layer in your air fryer basket. Air fry until the chicken is cooked through and the veggies are tender, shaking the basket halfway through.
Serve. Let the chicken rest for 5 minutes. Then, serve it warm with all your favorite toppings!
Tips and Tricks
Preheat. This isn't technically optional, but it's the easiest way to ensure your chicken cooks quickly and evenly. Many air fryers have a preheat button. However, if yours doesn't, simply set it to 350° Fahrenheit, and let it warm while you prepare the ingredients. By the time you're ready to cook, it should be fully heated.
Don't Overcrowd the Air Fryer. With any air fryer recipe, it's important not to put too much food in the basket at once. If you do, your food will steam instead of bake, and you'll never get the restaurant-quality char we're looking for. So, be sure to arrange your ingredients in a single layer, and work in batches if needed.
Avoid Overcooking. Keep a close eye on your chicken, and pull it out of the air fryer as soon as it is cooked through and reaches an internal temperature of 165° Fahrenheit. Then, set it aside to rest for at least 5 minutes before serving. This allows the juices to redistribute, and guarantees your chicken is tender and juicy every time you cook!
Warm Your Tortillas. We know it can be difficult to add another step when you're starving and ready to eat, but you don't want to go through all that work just to have your fajitas crack and fall out of their shell! Trust us, it's worth the extra couple of minutes to warm your tortillas in the oven. Or, if you're truly in a pinch for time, pop them in the microwave. This will help them become flexible, and they'll hold all your fillings without cracking and falling apart.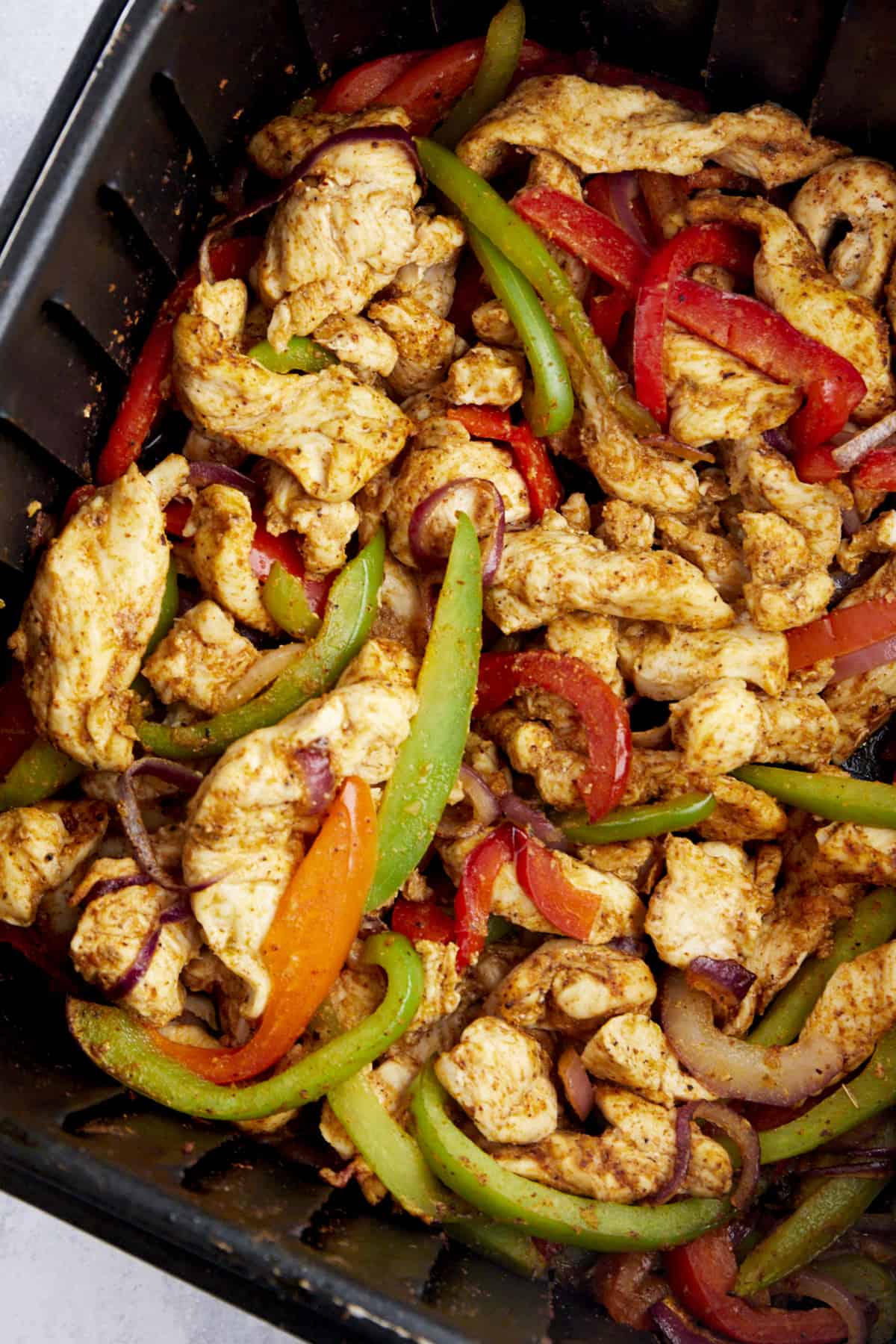 Flavor Variations
Protein – Not a fan of chicken, or just looking to switch things up? Use steak strips or shrimp instead.
Veggies – When it comes to homemade chicken fajitas, the veggie options are endless! Feel free to go crazy mixing and matching your favorites, and try including options like mushrooms, tomatoes, white onions, and zucchini.
Use Fajita Seasoning – We like to use taco seasoning to keep this Air Fryer Chicken Fajitas a little more kid-friendly. However, for a more traditional flavor, feel free to swap it out with homemade fajita seasoning or store-bought packets instead.
Serving Suggestions
Of course, the most common way to serve Air Fryer Chicken Fajitas is stuffed in flour or corn tortillas. However, some of our other favorite ways to serve them are over a bed of greens for a low-carb salad, in a rice bowl, or over tortilla chips for nachos.
And don't forget to add all the toppings including:
Pico de Gallo or Salsa
Guacamole or Avocado Slices
Shredded Cheese or Queso
Lettuce
Sour Cream
Fresh Cilantro
Hot Sauce
Sliced Jalapeños
Refried Beans or Black Beans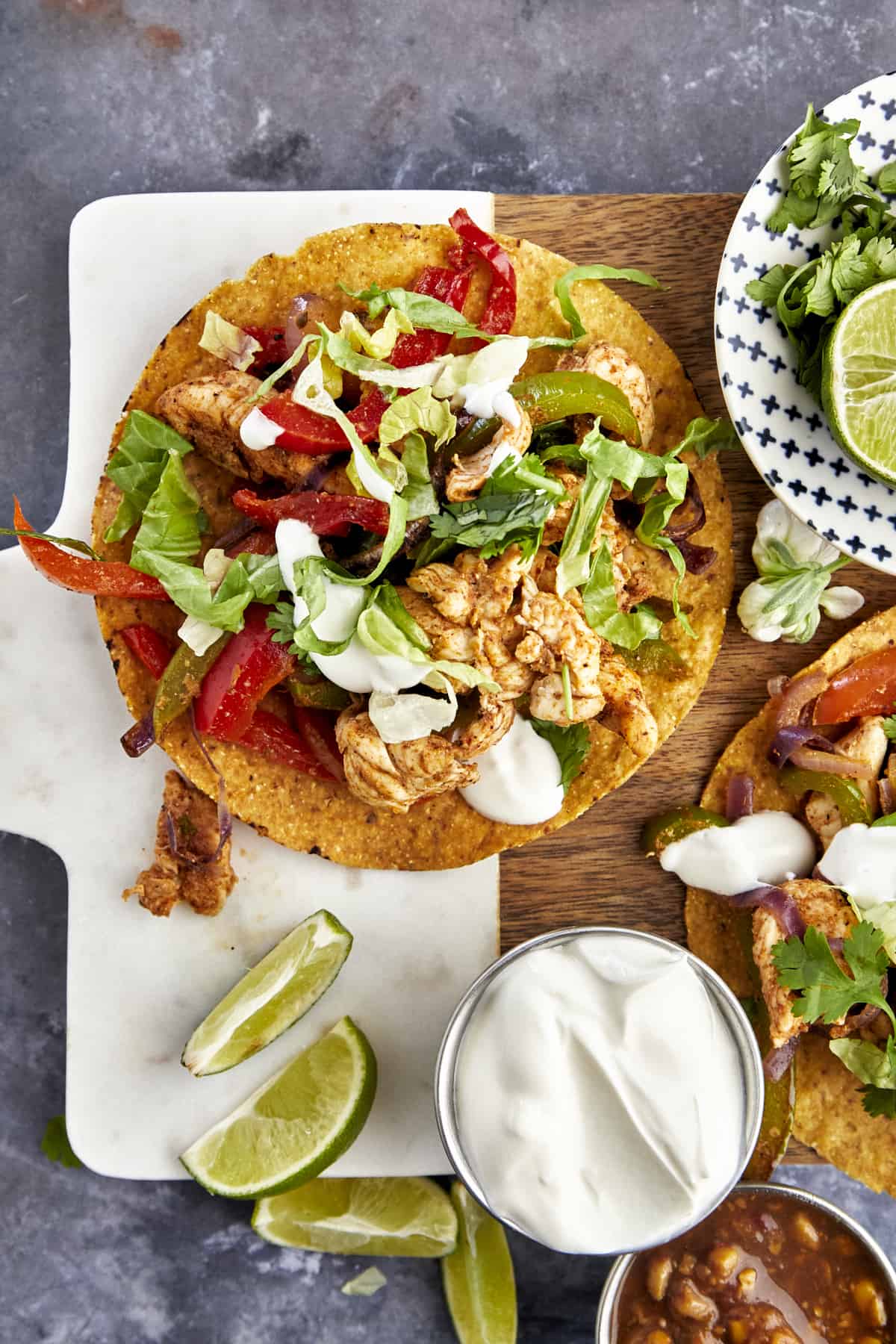 How to Store and Reheat
Go ahead and make a double batch of this Air Fryer Chicken Fajitas recipe! If it doesn't disappear at dinner, it makes for quick, delicious meals to enjoy the rest of the week.
Refrigerator: Transfer leftovers to an airtight container, and keep them in the fridge for up to 3-5 days.
Reheat: Set your air fryer to 350° Fahrenheit, and place your leftovers in the basket. Air fry for 3-5 minutes or just until they're heated through. Be careful not to overcook! Alternatively, you can warm leftovers in the microwave. They just won't be quite as crisp.
Freezer: For a longer-lasting option, toss your ingredients together, and place them in a freezer-safe container or bag uncooked. They'll stay fresh for up to 9 months. Then, just let them thaw in the fridge, and air fry them as usual.
We earn a commission if you make a purchase, at no additional cost to you.
Common Questions About Air Fryer Chicken Fajitas
Should I cut the chicken before cooking?
Yes, we recommend using a sharp knife to slice your chicken into thin strips before cooking. This helps them cook quickly and more evenly, preventing them from drying out.
What temperature is chicken done cooking in the air fryer?
You'll know your chicken is fully cooked and ready to eat when an instant-read thermometer can be inserted and reads 165° Fahrenheit. If you don't have a thermometer, you can also cut a piece in half. If it slices easily and shows no signs of pink, it's ready to eat.
Air Fryer Chicken Fajitas
Learn how to cook the best air fryer chicken fajitas in less than 20 minutes for a budget-friendly, healthy restaurant-inspired meal from the comfort of your home!
Ingredients
1

pound

chicken breast

sliced into thin strips

1

red bell pepper

sliced

1

green bell pepper

sliced

½

red onion

sliced

3

garlic cloves

minced

Salt to taste

Black pepper to taste

3

Tablespoons

taco seasoning

2

Tablespoons

olive oil

Optional: Corn or flour tortillas

sour cream, salsa, avocado, lettuce, lemon juice, and cilantro for serving
Instructions
Preheat the air fryer to 350° Fahrenheit.

Add the chicken, veggies, and garlic to a large mixing bowl or Ziploc bag along with the salt, pepper, taco seasoning, and olive. Toss or shake to combine, ensuring the ingredients are completely coated.

Arrange the mixture in an even layer in the air fryer basket.

Air fryer 15-16 minutes or until the veggies are tender and the chicken reaches an internal temperature of 165° Fahrenheit, shaking the basket halfway through.

Rest for 5 minutes, and serve warm!

Store in an airtight container in the fridge for 3-5 days.
Equipment
Nutrition
Serving:
1
ser
|
Calories:
217
kcal
|
Carbohydrates:
6
g
|
Protein:
25
g
|
Fat:
10
g
|
Saturated Fat:
2
g
|
Polyunsaturated Fat:
1
g
|
Monounsaturated Fat:
6
g
|
Trans Fat:
0.01
g
|
Cholesterol:
73
mg
|
Sodium:
286
mg
|
Potassium:
564
mg
|
Fiber:
2
g
|
Sugar:
3
g
|
Vitamin A:
1252
IU
|
Vitamin C:
66
mg
|
Calcium:
18
mg
|
Iron:
1
mg
Nutrition information is automatically calculated, so should only be used as an approximation.
Like this recipe?
Please leave a comment!
More Air Fryer Recipes
Love your air fryer as much as we do? Try out more of our favorite air fryer chicken recipes!