Slow Cooker Beef Pot Roast
*This post may contain affiliate links, please see our privacy policy for details.*
If you have been making our recipes for a while, you know we love a great slow cooker recipe. There is nothing quite as satisfying as this 'set-it and forget-it' dish. Also, the yummy smells that emanate from the slow cooker… who needs candles when you've got a pot roast cooking?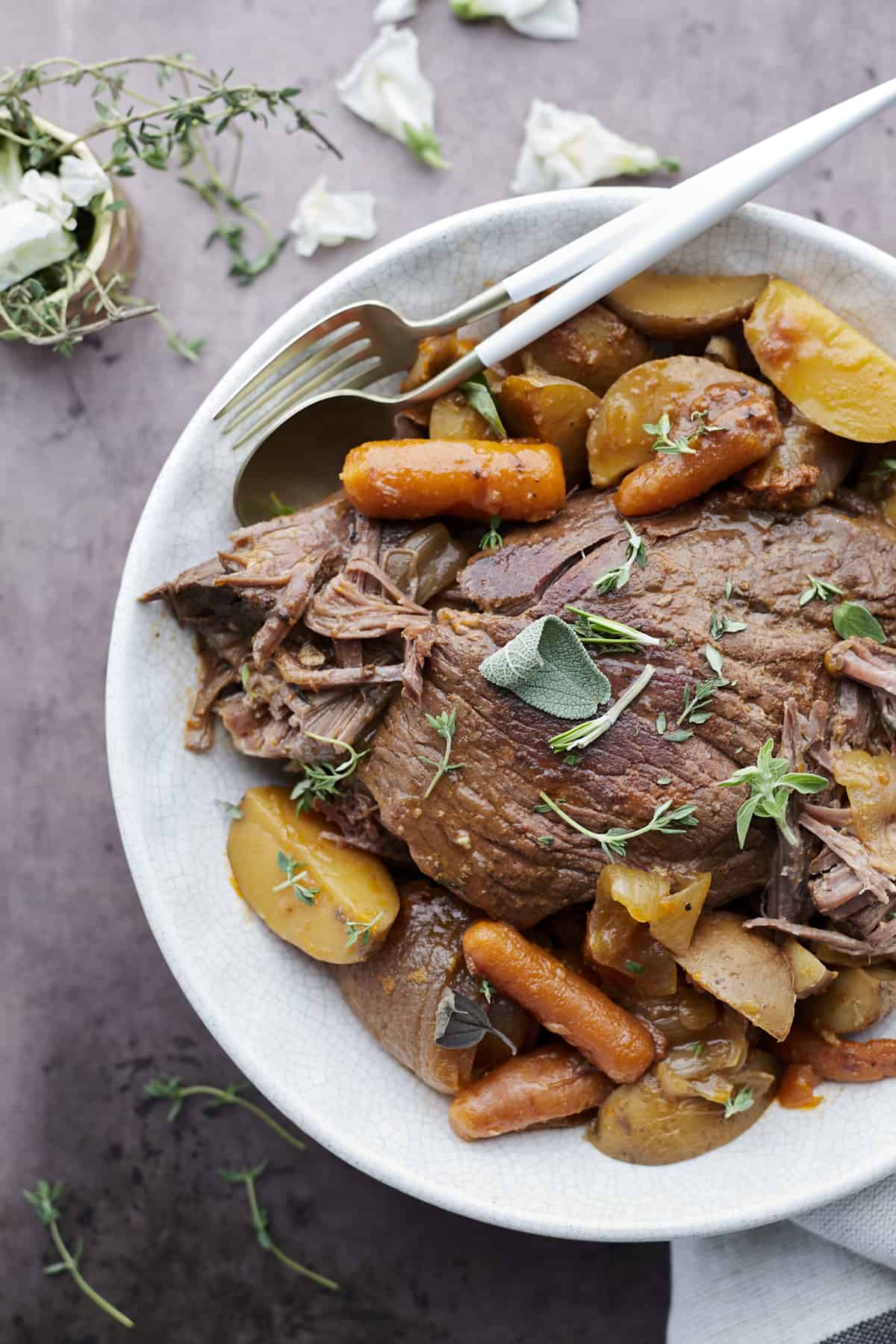 Preparing your veggies for a slow cooker recipe
When you are making anything in a slow cooker, the chunkier the ingredient the better!
Rather than cutting up carrots, onions, and potatoes into small cubes, we want to maintain as much surface area as possible by keeping them big. Larger cubes mean that they can better withstand the heat of the slow cooker while absorbing the maximum amount of flavor.
There is nothing wrong with cutting your veggies up small for a slow cooked recipe. (And for some recipes, it may actually work better). But the downside is that a smaller pieces may overcook and turn into mush when you get to the end of the cook time.
Bonus benefit of this way of prepping your veggies? Cutting vegetables into big chunks means less time spent at the cutting board. Score!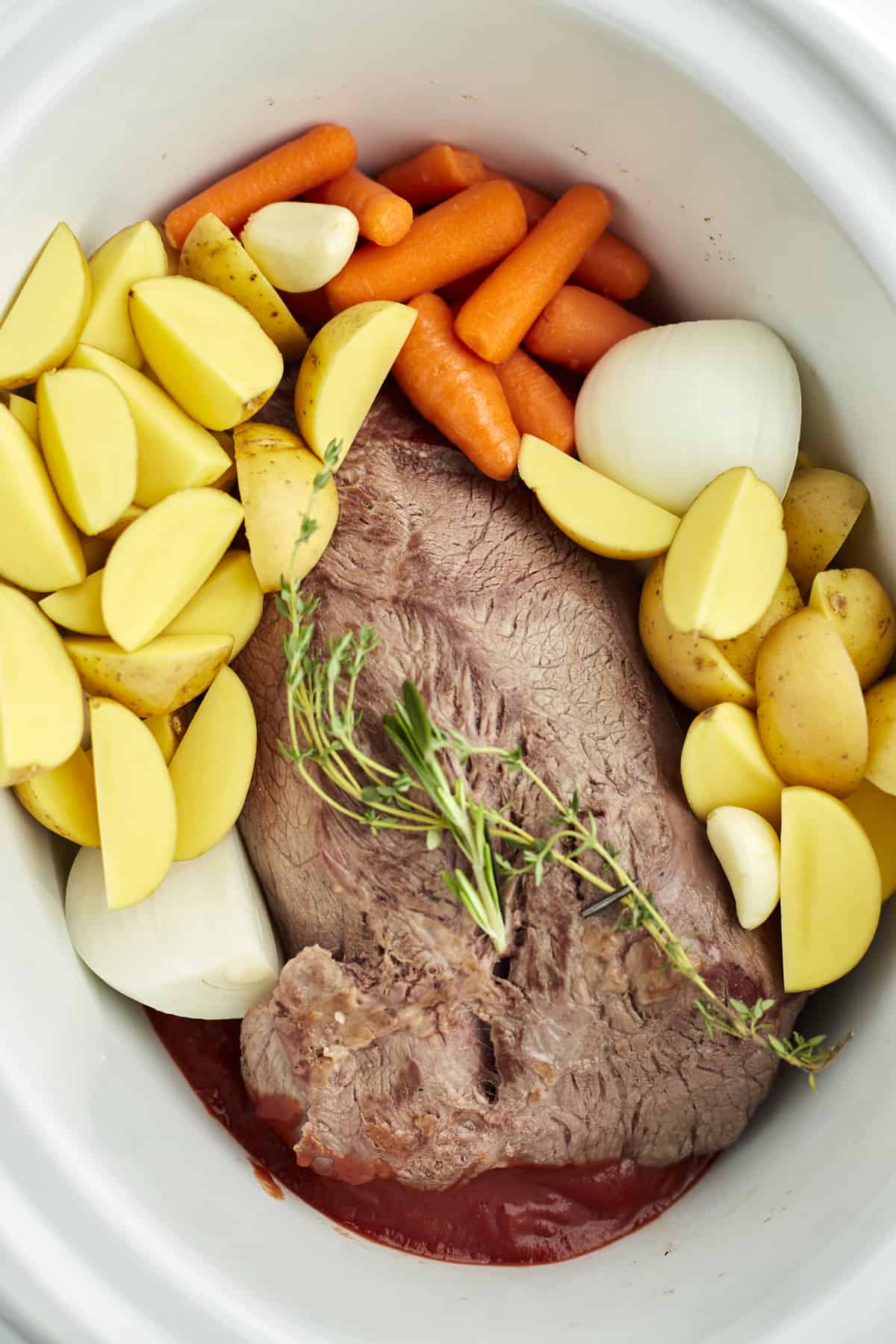 Why we love slow cooker recipes
A slow cooker is a busy moms secret weapon in the kitchen. Instead of having to set aside the hour before dinner (or oftentimes 20 minutes, if you're cooking our recipes), you can choose when to prep based on your schedule.
The beauty of slow cooked food is that you set it and forget it! The machine does the work for you and leaves you with a delicious, hearty meal.
The importance of searing your meat before slow cooking
If you've scrolled down and taken a peak at the recipe, you will see that the first step is searing the meat before you put it in the slow cooker.
This is an important step that makes a big difference in flavor. When you brown meat in a pan, you're sealing the outer layer of the meat helping to maintain the flavor over the long cooking period. Technically, this is called a Maillard Reaction.
A maillard reaction is defined as a nonenzymatic reaction between sugars and proteins that occurs upon heating and that produces browning of some foods. This outer layer of sugars and proteins allow for flavor and liquids to infuse into the meat, but effectively prevent the moisture from leaking out. It makes a big difference regardless of cooking method, but is even more necessary with recipes that have a long cook time.
Since we are cooking this pot roast over an extended period of time in the slow cooker, this step is super important to make sure the meat doesn't dry out. This step of searing also helps cook off some of the outer layers of fat so that the pot roast liquid doesn't end up greasy.
A couple of key things to note when browning meat: the way to get the best sear is by drying off the meat before placing it in the pan.
How to make slow cooker pot roast
Prepare the meat for the pot roast by patting it dry with a paper towel on all sides. Then season with salt and pepper.
Over high heat, sear all sides of the chuck roast until browned. Make sure your saute pan is hot before you add the meat.
Separately, in a medium mixing bowl, combine the all purpose flour with 1/4 cup of the

beef broth and whisk together. Add this mixture to the slow cooker, along with the tomato sauce, garlic, remaining beef broth, thyme, rosemary, paprika, mustard powder, salt and pepper. Mix it all together until combined
Place the browned chuck roast in the slow cooker. Then add the carrots, potatoes and onions. Gently stir the broth mixture over these ingredients so they are all evenly coated.
Cook on high for 4-6 hours or low for 8 hours. Enjoy!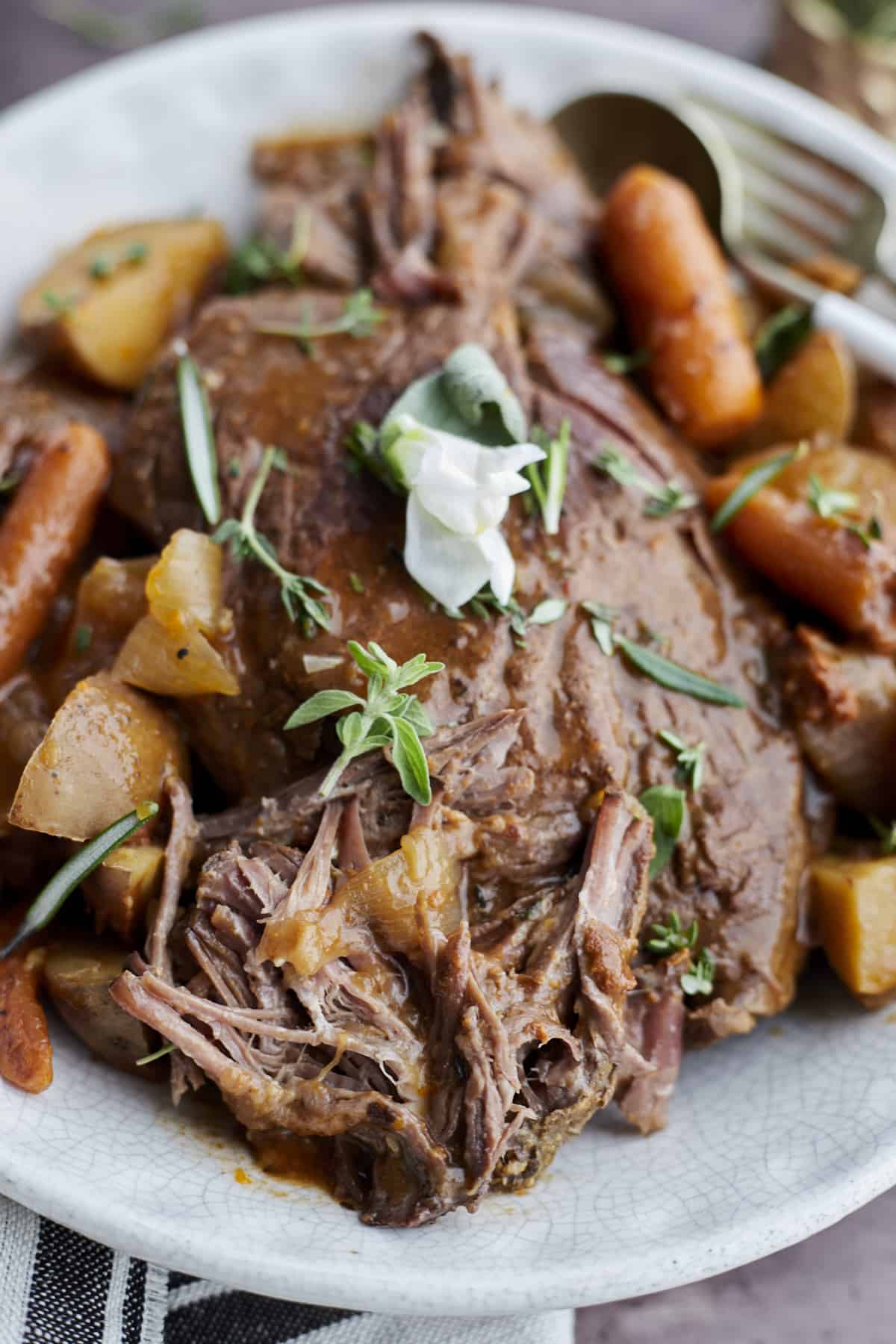 More Slow Cooker Beef Recipes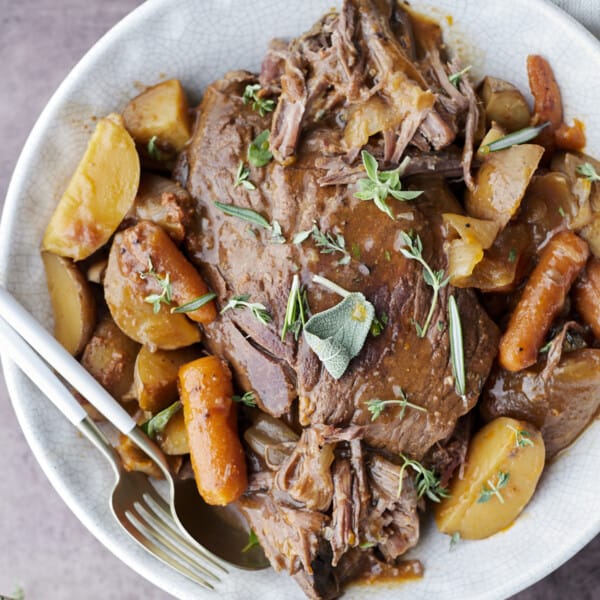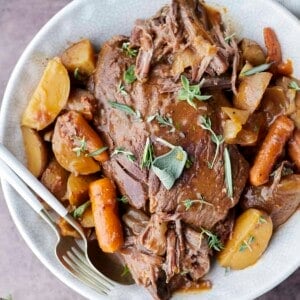 Slow Cooker Beef Pot Roast
Easy slow cooker pot roast with carrots and potatoes. So comforting and great dinner for a family.
Ingredients
4

lbs

chuck roast

(boneless and fat trimmed)

1

large onion

(chopped)

4

cloves

peeled garlic

2

tsp

paprika

1

tsp

mustard powder

1

pound

quartered yukon gold potatoes

(or yukon gold baby potatoes)

4

large chopped carrots

1/4

cup

tomato sauce

1

sprig fresh thyme

1

sprig fresh rosemary

1 1/4

cup

low sodium beef broth

(divided)

2

tbsp

all-purpose flour

salt and pepper to taste
Instructions
Dry the chuck roast with a paper towel. Season both sides with salt and pepper. On a pan over high heat add olive oil. Sear both sides until browned. approximately 1-2 minutes.

In a mixing bowl combined with all purpose flour with 1/4 cup broth. Mix well. In the bottom of the slow cooker add the broth, tomato sauce, flour and broth mixture, garlic, thyme, rosemary, paprika, mustard powder, salt and pepper. Stir together.

Add in the seared beef, carrots, and onions. Gently stir to get everything combined in the broth mixture. Set the slow cooker to high for 4-6 hours or low for 8.
Video
[adthrive-in-post-video-player video-id="Wp2au03r" upload-date="2021-12-10T14:58:34.000Z" name="Slow Cooker Beef Pot Roast" description="" player-type="default" override-embed="default"]
Equipment
Crockpot™ Design Series Slow Cooker