The weather's getting colder, and that means it's time to break out the heart-warming, stomach-filling, cold-weather recipes! One of our personal favorites is this slow cooker pot roast. Perfect for one person with plenty of leftovers, or to feed a whole family, this easy-to-follow pot roast slow cooker recipe will leave you feeling warm, cozy, and already wanting more.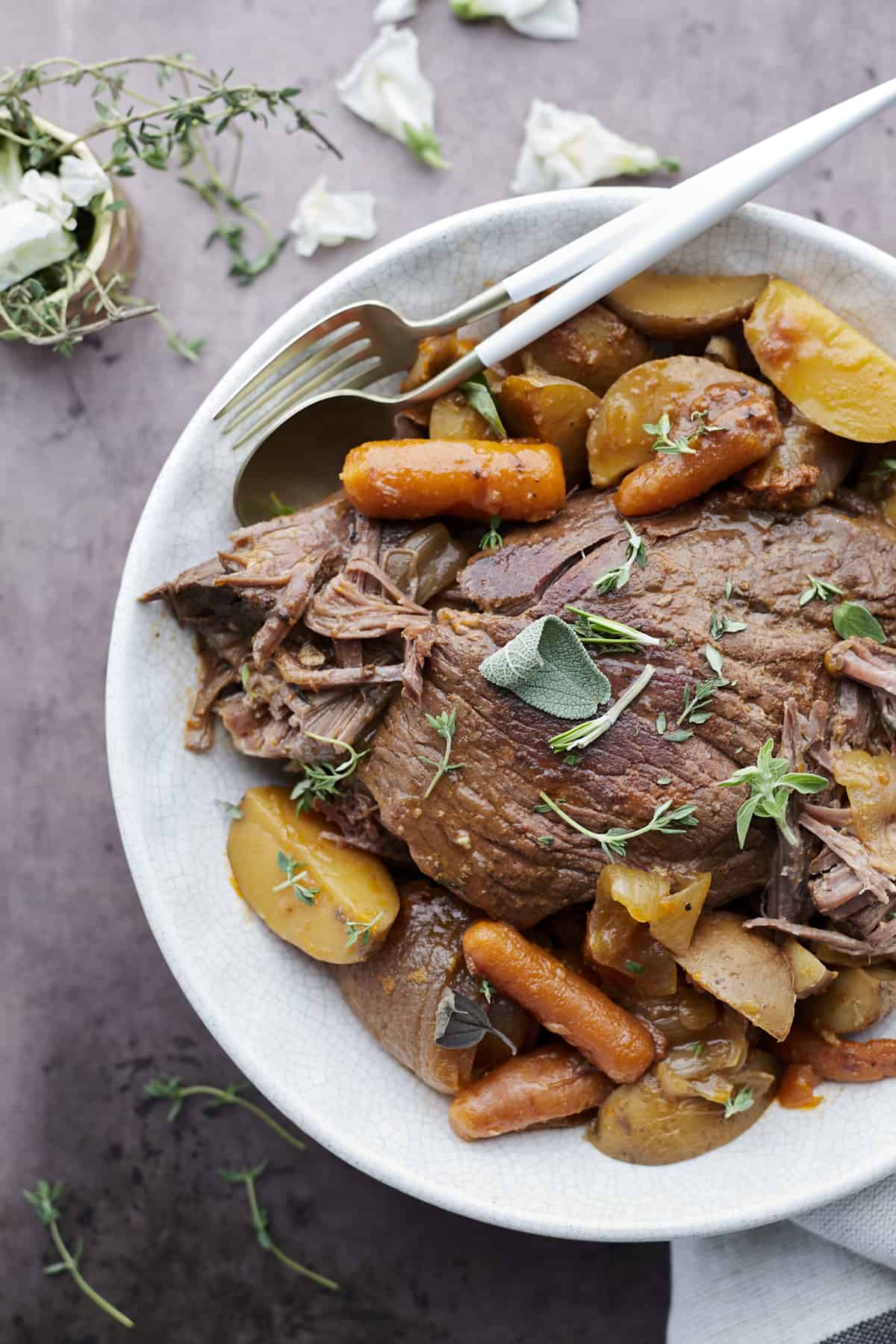 What Is Crock Pot Beef Roast?
Crockpot beef roast is a slow-cooked dish featuring a beef roast (commonly made from beef cuts like chuck or brisket) that is seasoned with herbs, spices, and liquid. It is prepared in a crockpot or slow cooker, which allows for a low-temperature and slow cooking time, and results in a tender, flavorful meat infused with savory seasonings.
An American classic, this dish is known for its simplicity and ability to produce delicious, one-pot meals perfect for family gatherings or cozy dinners. Even better, prep time is minimal, cleanup is a breeze, and you're almost guaranteed to have leftovers that taste even better the next day!
The Roast with the Most! Why You'll Love This Slow Cooker Pot Roast Recipe
There are many reasons why you'll love this pot roast slow cooker recipe: it's filling, it's simple, and it's perfect for any occasion! But don't just take it from us.
Here are some of the reasons why cooking a pot roast in a slow cooker is the way to do it.
Lots of Leftovers: We know this kind of meal is typically made for larger groups or parties, but no matter what you'll have countless leftovers to last for days.
It's So Easy: Once you've prepped everything, all you need to do is toss that chunk of beef in the slow cooker, and let it cook! You can thank us later for all the time and energy you'll save.
No Complications: Actually, there's little prep involved! While you're free to jazz up your roast with your choice of spices and herbs, you don't need much to make this delicious meal.
Ingredients You'll Need
You can add whatever you want to create the roast beef of your dreams, but we recommend these classic ingredients to create this simple, convenient meal:
Beef Roast – We use a four-pound chuck roast. Fatty and tough on its own, it cooks down until it's melt-in-your-mouth tender.
Olive Oil – To help tenderize the beef and add a little flavor while searing.
Aromatics – Onions and garlic create a base of savory flavor.
Paprika – Add just a pinch for a little heat and extra depth.
Mustard Powder – Slightly tangy, mustard powder cuts through some of the richness of the beef and locks in flavor.
Potatoes – We suggest Yukon gold potatoes for their soft texture and buttery taste, but you can use any potatoes you have on hand. Just note that the taste and texture will be slightly altered.
Carrots – Whole carrots will have the best flavor, but baby carrots work well, too.
Tomato Sauce – The acidity helps tenderize the beef and creates a tangy, savory broth.
Fresh Herbs – Fresh thyme and rosemary create a light, herbaceous taste that complements the beef.
Broth – Use low-sodium beef broth to coat the beef and keep it tender.
Flour – Regular all-purpose flour is used to sear the beef and lock in its flavor. Alternatively, use a 1:1 gluten-free mix instead.
Salt and Pepper – Add as little or as much as you wish.
Pro-Tip: Feel free to add ½ cup of red wine to your broth to give it a more robust flavor!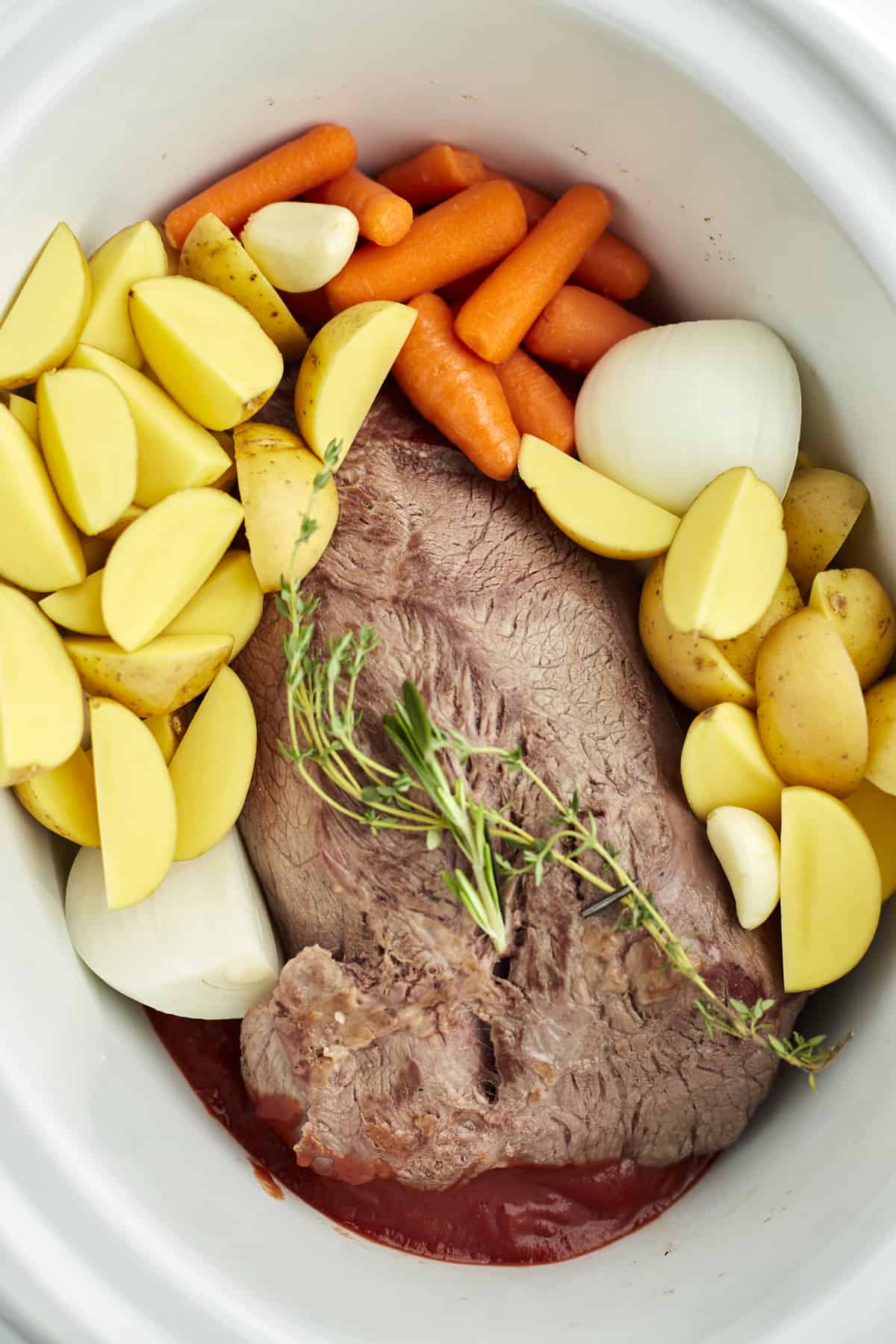 What Is the Best Cut of Beef for Slow Cooker Pot Roast?
Here's the toughest question you're probably asking yourself, "what piece of beef do I use?" For a pot roast recipe in a slow cooker, a thick, fatty cut is your best choice.
We suggest chuck roast, but brisket and round roast cuts work wonderfully too!
Chuck Roast – This comes from the cow's shoulder and neck region. It is slightly fattier than other cuts, but this provides extra tenderness and flavor as it cooks. Keep in mind that because it's so tender, chuck roast may be more difficult to slice after it cools.
Brisket – This comes from the breast or lower chest of a cow. Unlike chuck roasts that tend to have fat marbled throughout, brisket cuts have a ring of fat circling the edges. Brisket is a great choice for those who want a slightly tougher roast.
Round Roast – The leanest option, this cut comes from the rear legs. It's the easiest to slice but has less flavor than chuck roast or brisket. The perfect cut selection if you're someone who likes to add more flavorings to their meat.
How to Make An Extra Tender Slow Cooker Pot Roast Recipe
This slow cooker pot roast is the ultimate time-saver dinner idea. It's a simple "set it and forget it" recipe without spending hours in the kitchen!
Prepare the Roast. Use clean paper towels to pat the beef dry. Season it with salt and pepper, and sear it in a pan with olive oil just until all the sides are browned.
Create the Broth. Make a slurry by mixing the flour and part of the broth in a small bowl. Add the mixture to the slow cooker along with the rest of the liquids and seasonings. Stir to combine.
Cook. Add the remaining ingredients, and gently stir to coat everything with the broth. Cover, and cook until the beef is cooked through and tender.
We earn a commission if you make a purchase, at no additional cost to you.
How to Thicken the Gravy
The gravy is one of the best parts of this recipe! It helps to balance the meat, juices, and flavoring, all in the slow cooker.
The level of thickness for the gravy depends on your personal preferences and tastes. We recommend creating a fairly thick gravy to cover the meat so you're always guaranteed to get a juicy bite.
To thicken the gravy, add more flour to part of the broth in a separate mixing bowl. Then, slowly add the mixture to the slow cooker with the rest of the broth, herbs, aromatics, and seasonings.
You can also add one tablespoon of cornstarch to the slurry for extra thick gravy!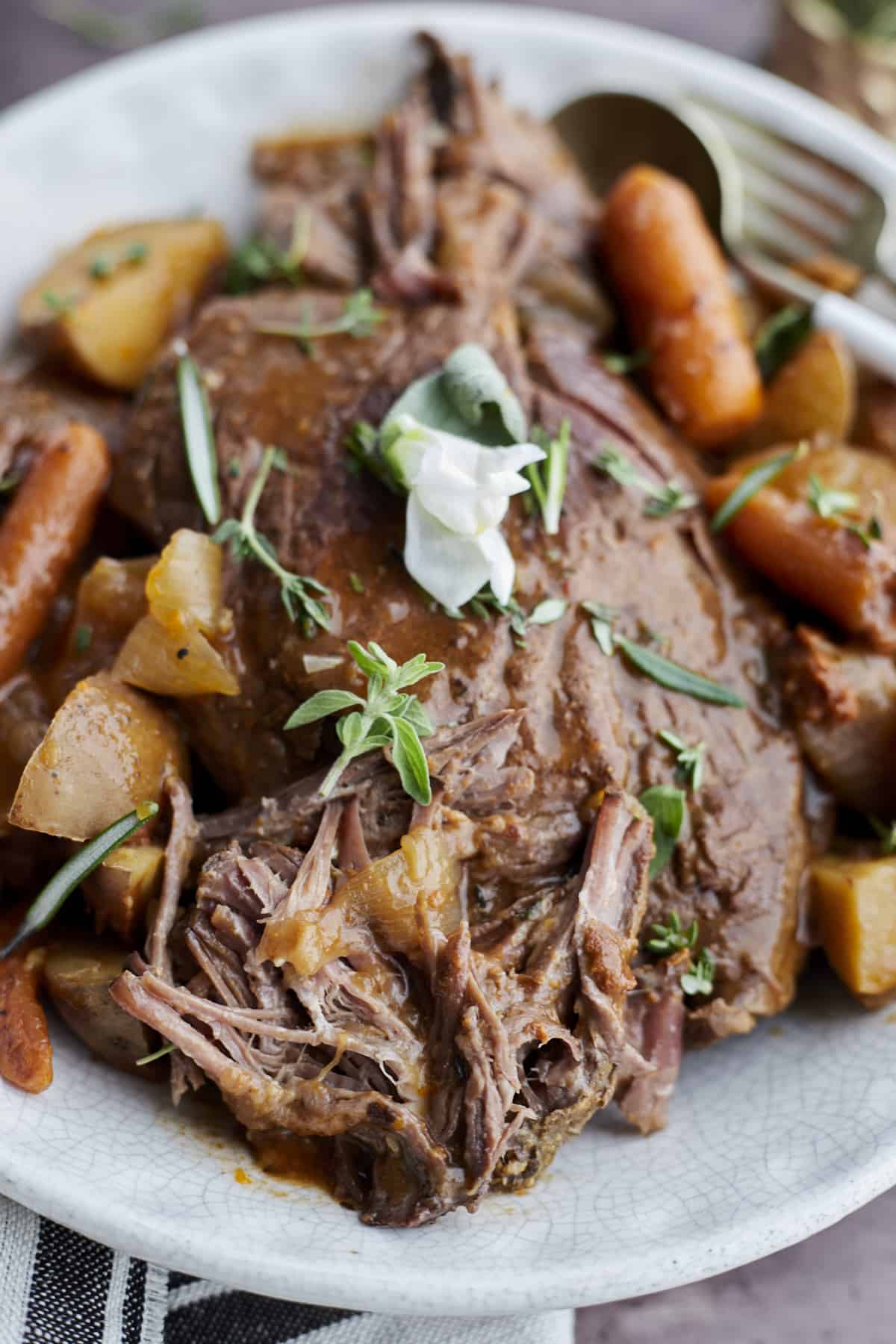 Side Suggestions
Whether you're cooking for yourself or planning a feast for friends or family, this meat alone is juicy, filling, and nutritious. However, that doesn't mean you can't add some tasty sides to complement the protein!
We find the best sides for slow cooker pot roast are carbohydrates and vegetables, such as
These are just some common pairings to serve alongside your pot roast. Trust us, you can't go wrong with whatever side you choose.
Storage Options
Cooking a pot roast in a slow cooker is a great meal to make ahead of time and store in the fridge or freezer for later. Just follow the tips below to keep your leftovers fresh!
Store: Transfer your leftovers to a shallow airtight container to prevent moisture. It will keep in the fridge for up to four days.
Freeze: You can also freeze any leftover solids and liquids for up to four months.
Reheat: When you're ready to eat it again, let the leftovers thaw overnight if frozen. Then, warm them in the microwave, oven, or slow cooker for a couple of minutes or until your desired temperature is achieved.
Common Questions About This Slow Cooker Pot Roast Recipe
Do I have to brown the roast before putting it in the crock pot?
It's not completely necessary. Your roast will cook all the way through in the slow cooker, but searing it helps lock in flavor and keep it tender.
Should I cover the pot roast with liquid in the slow cooker?
You want to submerge most of the beef, but you don't have to completely cover it with liquid. To help keep it moist, you can baste the meat periodically as it cooks. No need to add water either. There is plenty of liquid with the broth and wine!
Do I add vegetables to the top or bottom of the roast?
It's up to you! If you want your vegetables crunchier as a side, place them on top. If you want them to soak up more of the liquid and soften, place them on the bottom.
Why is my roast still tough in the crock pot?
Chances are you took it out too early. Beef roasts should take at least nine hours to fully cook. You may have also used a tougher cut of meat, like brisket or round roast.
Will pot roast tenderize the longer it cooks?
Yes! We know the tasty smells wafting throughout the kitchen are tempting, but the longer you let your pot roast sit in the slow cooker, the longer it will tenderize and soak up all those delicious flavors.
Should I flip the roast when it's in the crock pot?
Again, as tempting as it is to check on the roast, let it sit! Slow cookers do all the work for you. Once you've preset the slow cooker and placed everything inside, all you have to do is sit back and relax.
What if I overcook it?
The safest way to avoid overcooking the beef is to check it with a meat thermometer throughout the cooking time. Once it reaches 170 degrees Fahrenheit, let it cook for one more hour. If it's below 170 degrees, let it keep cooking until it reaches the desired temperature. Then, continue cooking for an additional hour.
Can I cook on high heat?
You can cook pot roast in a slow cooker on high heat. It will take less time (approximately four hours). Note, it might result in a less tender piece of meat than cooking on medium heat for eight hours. The longer the meat cooks in the slow cooker at medium temperatures, the softer it will be!
More Family-Friendly Slow Cooker Recipes
Looking for more ways to use your crock pot? Try out the tasty recipes below!
Slow Cooker Pot Roast Recipe
Make this slow cooker pot roast recipe for a hands-off dinner that's tender, juicy, loaded with flavor, and perfect to prepare ahead of time!
Ingredients
4

pounds

chuck roast

boneless, fat trimmed

Salt to taste

Black pepper to taste

2

Tablespoons

all-purpose flour

1 1/4

cups

low-sodium beef broth

divided

1/4

cup

tomato sauce

4

cloves

garlic

peeled

1

sprig fresh thyme

1

sprig fresh rosemary

2

teaspoons

paprika

1

teaspoon

mustard powder

4

large carrots

chopped

1

large onion

chopped

1

pound

Yukon gold potatoes

or Yukon gold baby potatoes, quartered
Instructions
Dry the chuck roast with a paper towel. Season both sides with salt and pepper.

4 pounds chuck roast,

Salt to taste,

Black pepper to taste

Heat the oil in a pan over high heat. Once hot, sear both sides of the roast for 1-2 minutes or until browned.

In a mixing bowl, combine the all-purpose flour and ¼ cup broth, whisking until smooth.

2 Tablespoons all-purpose flour,

1 1/4 cups low-sodium beef broth

In the bottom of a slow cooker, add the flour mixture, the remaining broth, tomato sauce, garlic, thyme, rosemary, paprika, mustard powder, salt, and pepper. Stir to combine.

1/4 cup tomato sauce,

4 cloves garlic,

1 sprig fresh thyme,

1 sprig fresh rosemary,

2 teaspoons paprika,

1 teaspoon mustard powder

Add the seared beef, carrots, onions, and potatoes. Stir to combine and coat the beef.

4 large carrots,

1 large onion,

1 pound Yukon gold potatoes

Cover the slow cooker, and set it on HIGH for 4-6 hours or LOW for 8 hours.

Store in the fridge for up to 4 days or in the freezer for up to 4 months.
Video
[adthrive-in-post-video-player video-id="Wp2au03r" upload-date="2021-12-10T14:58:34.000Z" name="Slow Cooker Beef Pot Roast" description="" player-type="default" override-embed="default"]
Equipment
Nutrition
Serving:
1
serving
|
Calories:
244
kcal
|
Carbohydrates:
9
g
|
Protein:
23
g
|
Fat:
13
g
|
Saturated Fat:
6
g
|
Polyunsaturated Fat:
1
g
|
Monounsaturated Fat:
7
g
|
Trans Fat:
1
g
|
Cholesterol:
78
mg
|
Sodium:
159
mg
|
Potassium:
619
mg
|
Fiber:
1
g
|
Sugar:
2
g
|
Vitamin A:
3062
IU
|
Vitamin C:
9
mg
|
Calcium:
33
mg
|
Iron:
3
mg
Nutrition information is automatically calculated, so should only be used as an approximation.
Like this recipe?
Please leave a comment!