To say we are OBSESSED with making whipped dips is a big understatement. All of these recipes require one piece of kitchen equipment (with a couple exceptions for the toppings). AND most of these recipes come together in under 30 minutes.
What you'll need to make our whipped dips
If you have been with us at Food Dolls for a while, you know how much we love to develop recipes that come together quickly and create minimal mess. Aside from equipment you may need to prepare some of the toppings, our whipped dips only require a food processor.
Our food processor is our secret weapon for making the creamiest dips. While you typically use a food processor to chop and grind up ingredients (like we do for our baklava skillet pancake topping), you can also use it to blend ingredients and incorporate air. This is what makes our whipped dips oh-so-fluffy. You really cannot go wrong with this versatile kitchen appliance.
If you don't have a food processor, you can use a blender. Just make sure to blend quickly or in parts as the body of the blender can get hot easily. This warm temperature can impact the texture of these dips.
Did someone say feta?
You might notice from this list that we love feta – it is the main ingredient for most of these dips! And if you love feta as much as we do, you're going to want to add every recipe on this list to your pinterest recipe board.
If you haven't tried making whipped feta yet, now is the time. The flavor of feta cheese is salty with a touch of sweetness, and we love how creamy it turns out when whipped.
Not all of these recipes have feta as the star, but many do!
How to store dip
We are confident that these dips are SO good, it is unlikely you will have leftovers. But in case you do, we want to assure you that they are super easy to store.
Store your leftover dip in an airtight container in the fridge for 3-4 days. For extra freshness, add a layer of cling wrap on top of your dip before you put the top on the container. Make sure to gently press the cling wrap up against the dip itself to further prevent oxidation.
You can also use this storage method if you are making these dips in advance. Our dip recipes are perfect for parties and pot lucks, and making them ahead of time will allow you to just grab it out of the fridge and serve immediately!
We don't recommend freezing these dips as the texture will change significantly when you defrost. The reason for this is the same reason the texture of these dips is SO good fresh. When you make these dips, you'll see that the food processor whips air into them, making them super fluffy and light. Unfortunately, when you freeze dip, the fluffiness dissipates and it becomes a bit soupy.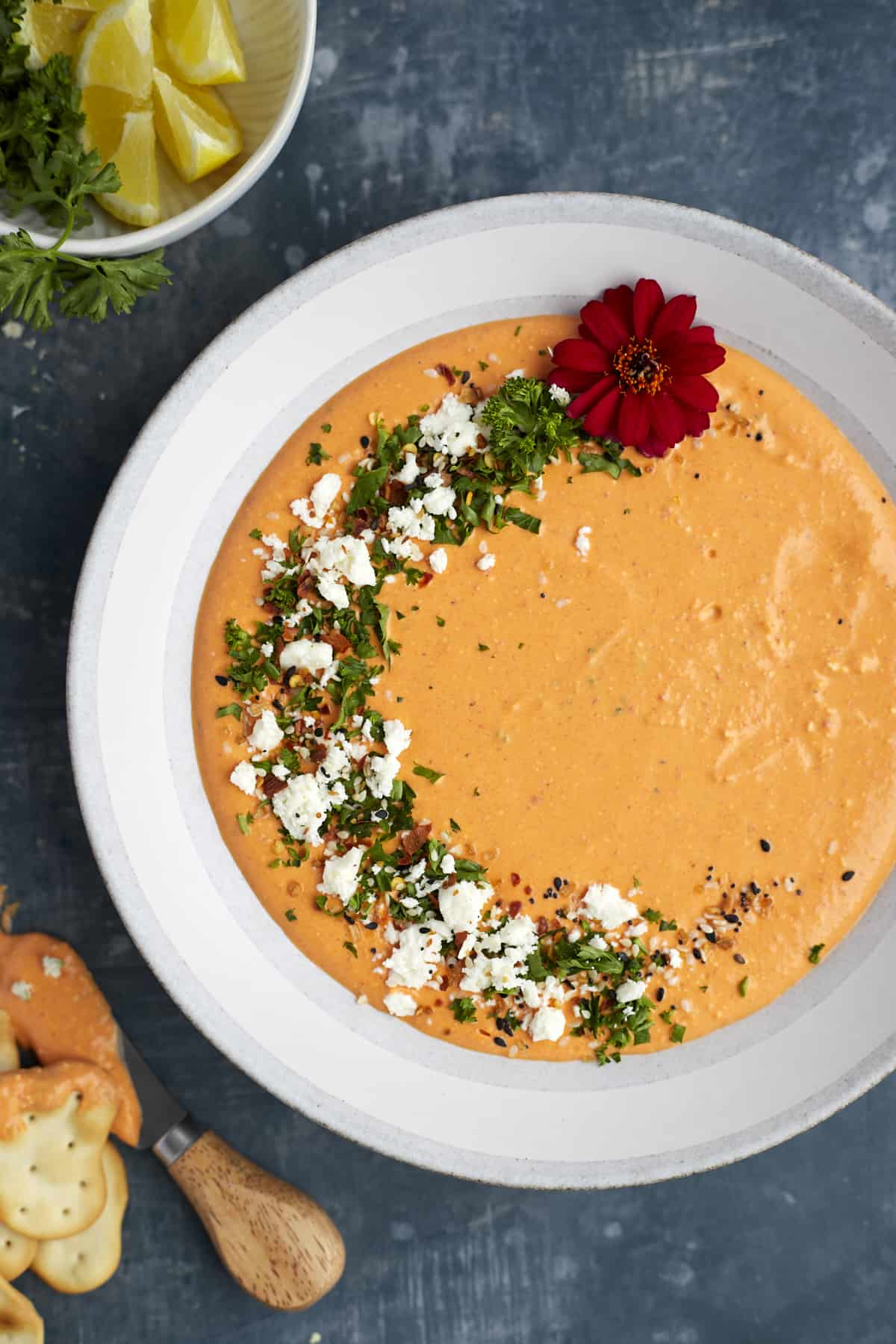 This is one of our simple recipes that takes under 10 minutes to make. Yes, you read that right! This roasted red pepper feta dip comes together quickly, but tastes like it took a long time and a lot of effort to make. What a win!
We love to serve this with pita chips or fresh veggies. The roasted red peppers in this dip make the overall flavor rustic and earthy, while the texture of the dip make it feel light. You are going to absolutely love this dip.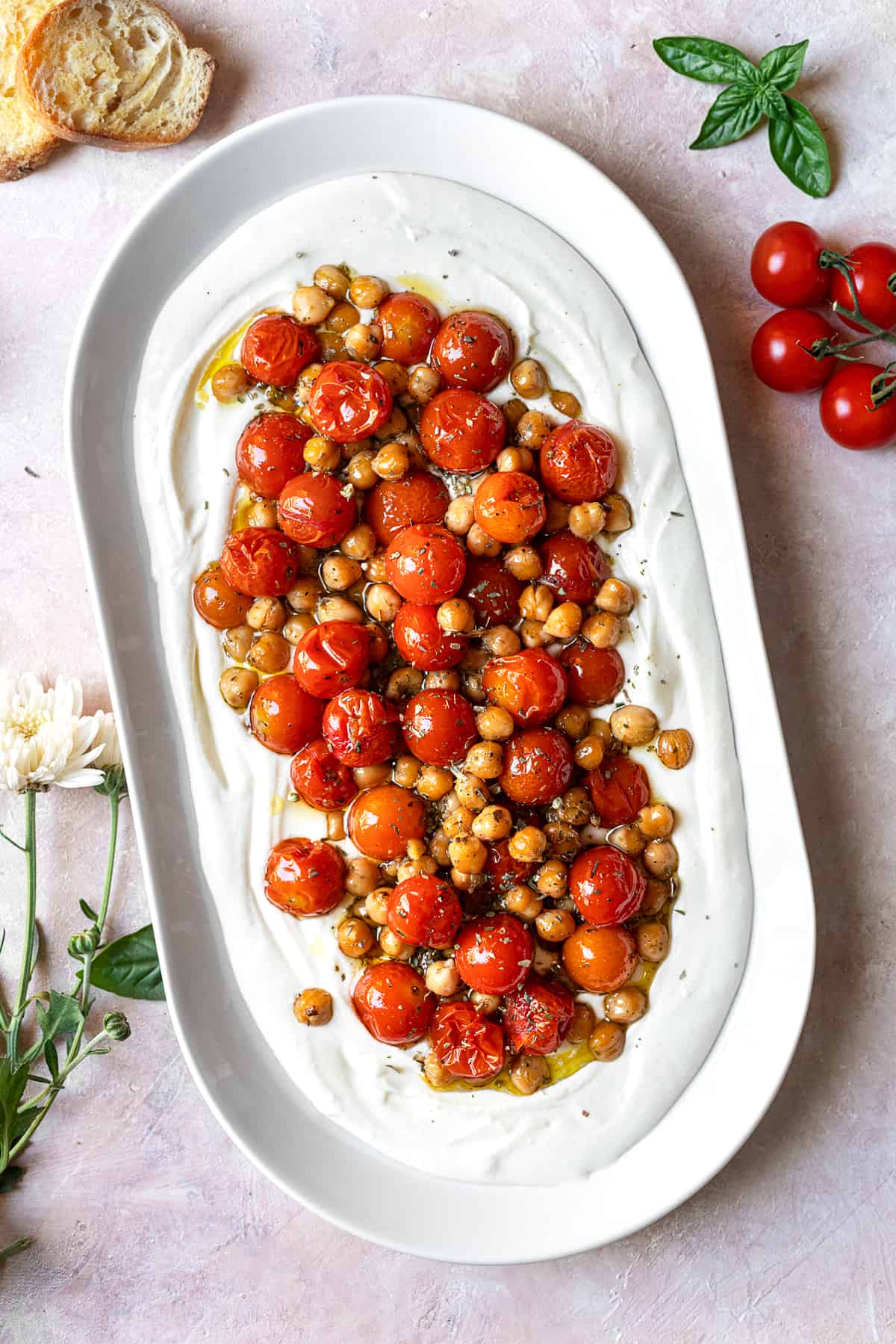 This was our very first dive into making whipped feta and once it came together our minds were blown!!! It was love at first bite. You will be pleasantly surprised to see how quick and easy it is to make this recipe (and also how fast it will disappear once you serve it)!
The combination of chickpeas and tomatoes create a perfectly balanced flavor profile. And it is topped with Za'atar, a middle eastern spice blend. This dip is salty, lemony, and packed with umami thanks to the Za'atar spice.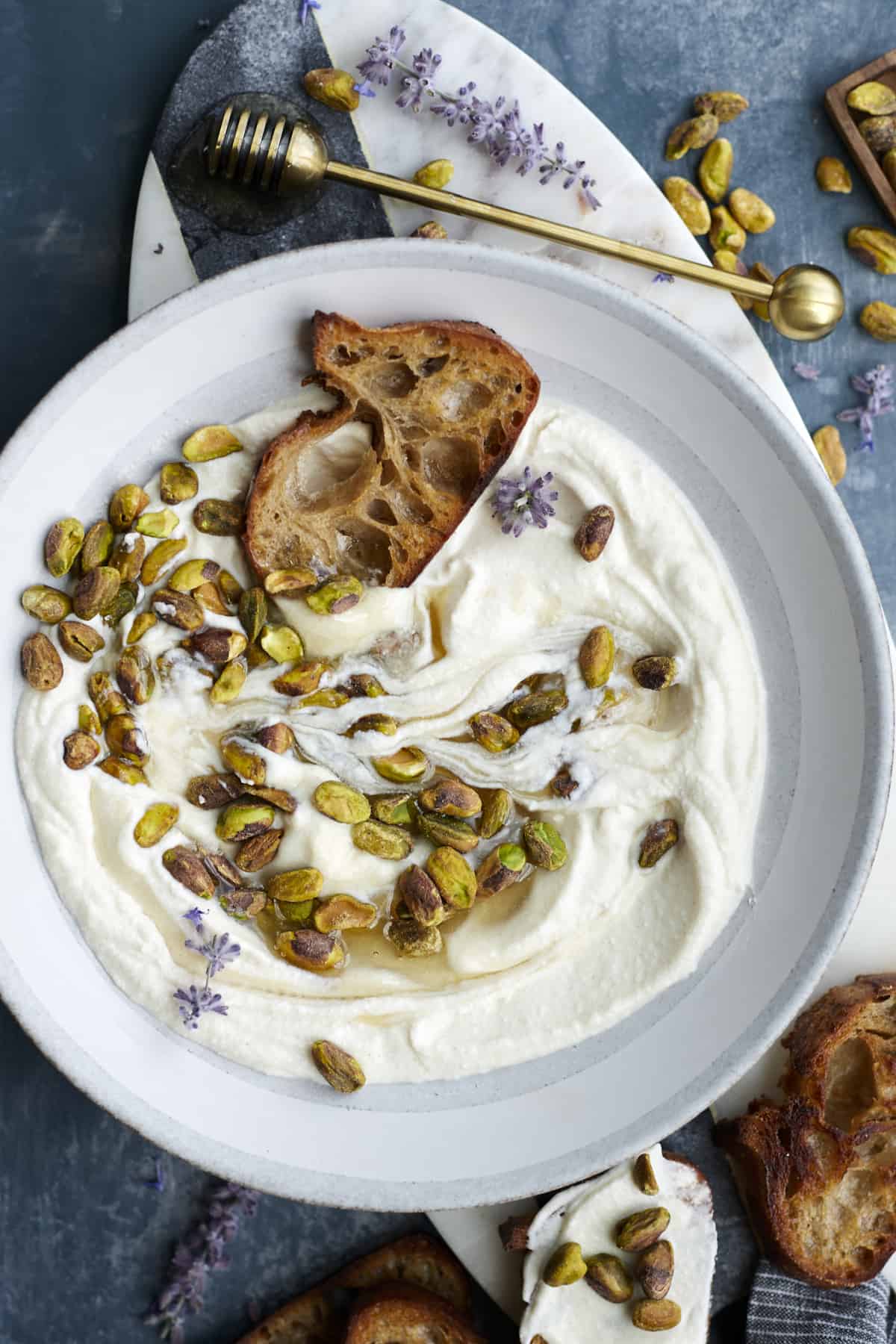 You can see from this list that feta has a hold of our hearts, but we do love to branch out and experiment with different ingredients as well. This whipped ricotta dip offers a slightly sweeter take on our dips. We still count this as a savory dip but love how versatile it is!
Personally, we think this recipe is perfect to serve as a side dish with dinner or as an appetizer for a party. Regardless of when you serve it, this whipped ricotta is a sure fire crowd pleaser.
Feta and olives are a match made in heaven. This easy-to-make dish is salty, with a touch of sweetness and the creamy texture really brings it all together. You can add your favorite roasted olives, or follow our directions for how to roast kalamata olives and green olives.
Even if you are roasting the olives from scratch, you will still be in and out of the kitchen within 30 minutes. Need we say more?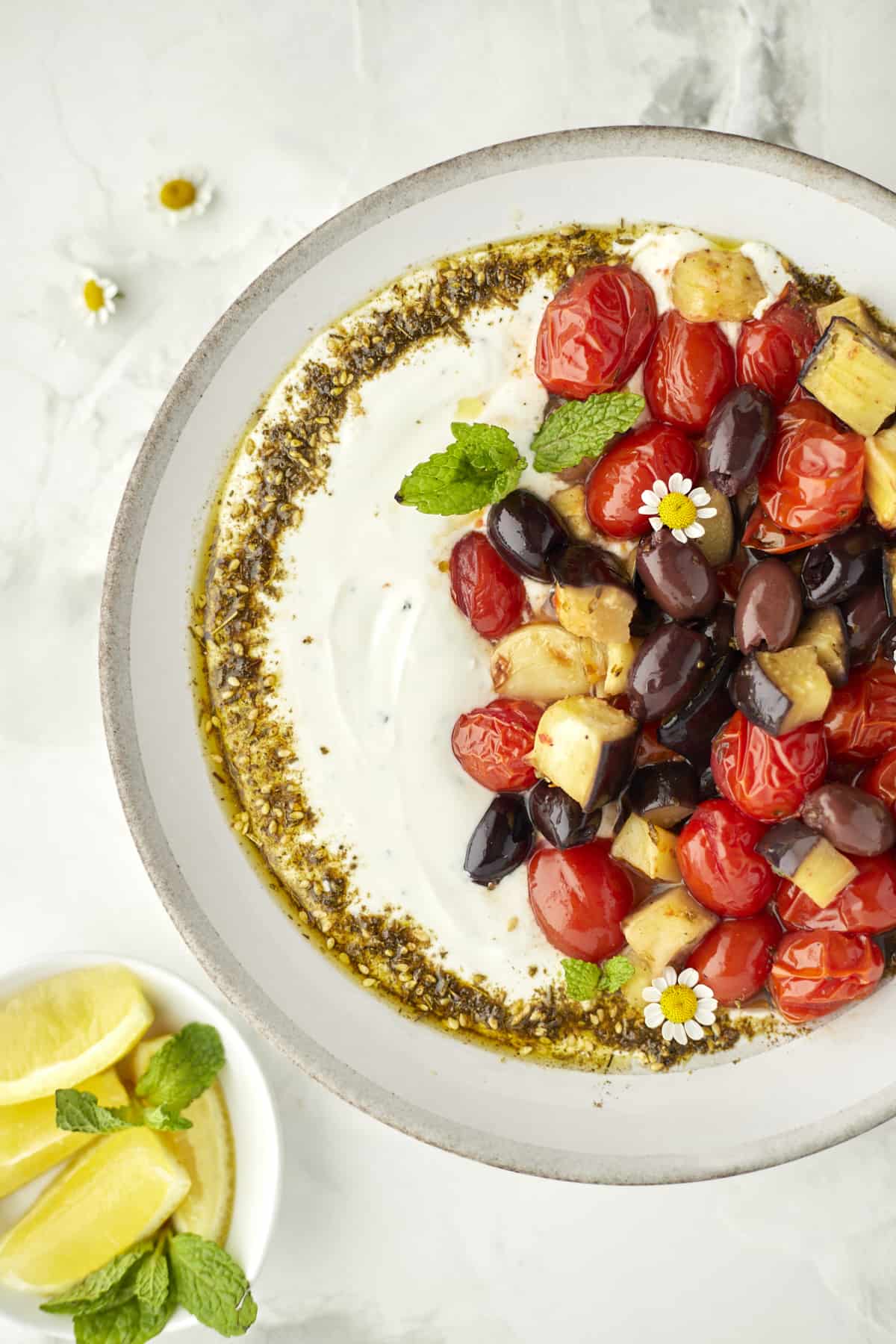 This recipe is one of our most stacked dip platters. Our mom made roasted eggplant a lot when we were growing up, so this is our homage to her cooking!
The yogurt dip is light and fluffy, and the lemon juice and lemon zest in the recipe really brighten up the flavors. It is the perfect base for our hearty roasted eggplant.