Asian Cucumber Salad
*This post may contain affiliate links, please see our privacy policy for details.*
We're bringing you something so fresh, so bright and delightful today, you'll think it's illegal for a salad to taste this good.
This cucumber salad is a perfect side dish to complement a hearty meal. It's light and doesn't sit heavy in the stomach. Or it's perfect if you're looking for a way to spice up your afternoon munchies that's healthy and delicious!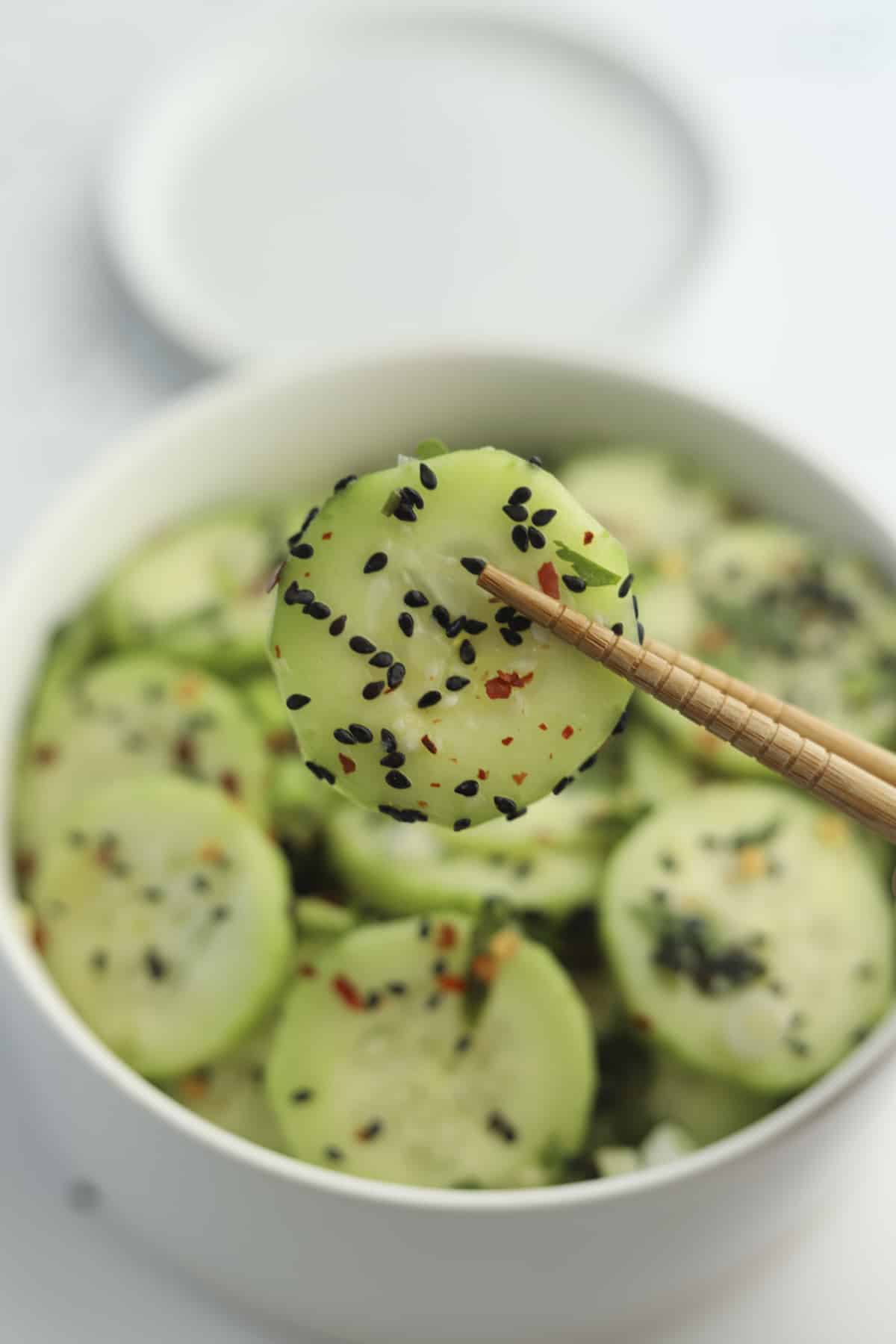 Why we love Asian cucumber salad
Honestly, we just love how simple this dish is to make, yet the flavor is complex and truly a party for the palate. With just one cucumber and some garnishes and dressing, this dish jumps straight to excellence. It's perfect on a hot summer day but also on a day when you've eaten a lot of heavier food and want something that will rest lightly in your stomach.
What are Asian cucumbers?
There are quite a few varieties of cucumbers around, and the ones you can actually use for this recipe are English cucumbers. Those are the super-long, dark green ones that come wrapped in plastic at the grocery store. They're similar to Japanese cucumbers, or Kyuri, which were bred to be less bitter than other types of cucumbers.
These cucumbers are ideal for this salad in part because of the seeds. While the shorter and rounder cucumbers called "slicing" cucumbers have really bitter, large seeds, the English cucumbers seeds are small and almost unnoticeable.
What is rice wine vinegar?
Rice wine vinegar is made from fermenting the starches in rice, first into alcohol and then into vinegar. It's got a nice, slightly sweet flavor, and is a staple in many Asian dishes. In this dish, we combine it with toasted sesame oil to really amp up the flavor of the cucumber salad.
You can use rice wine vinegar to make fried rice, sushi, various salad dressings, or for marination. It's a really versatile, super tasty ingredient!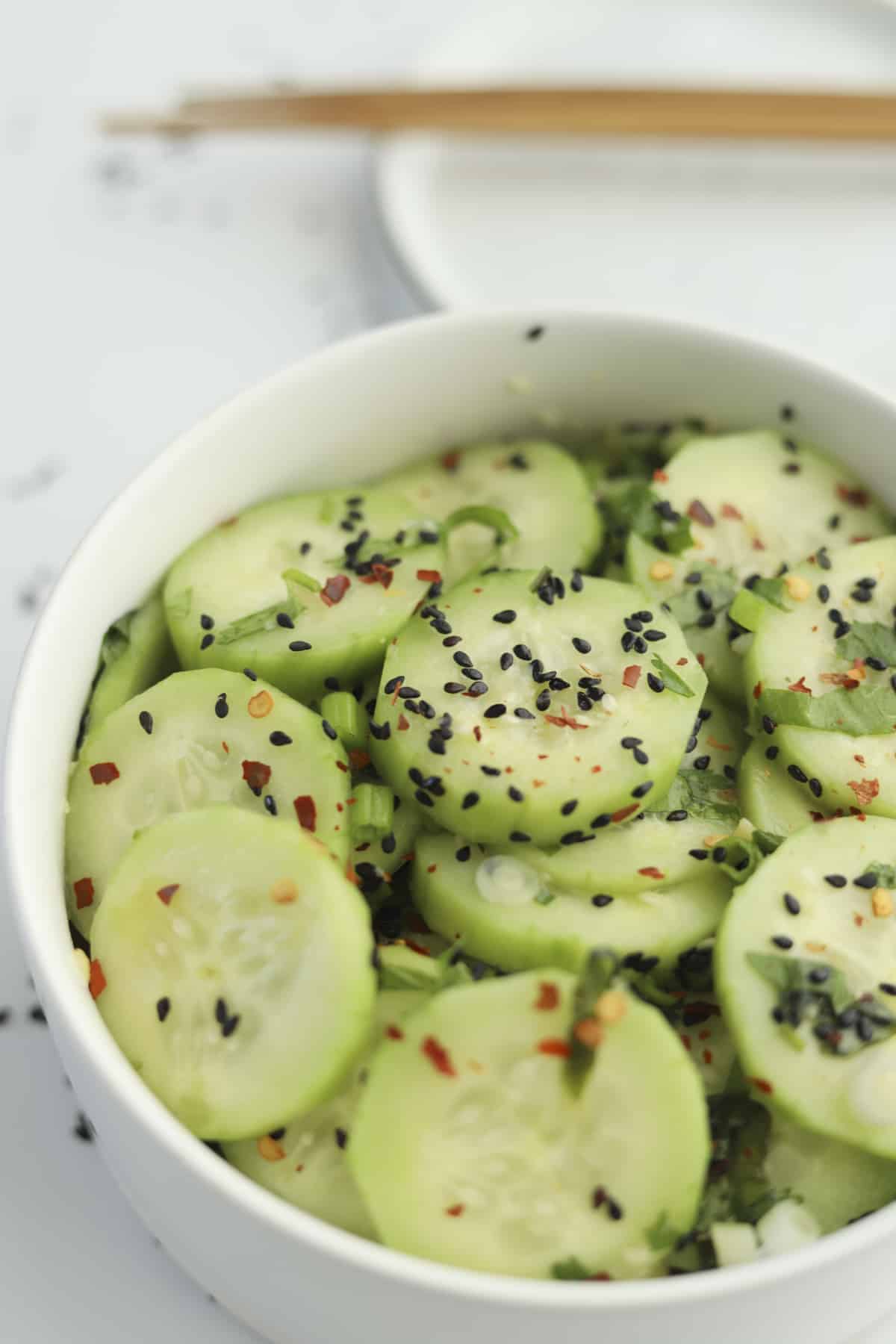 How to make Asian cucumber salad
Thinly slice the cucumber.

Slice green onion stalk.

Combine cucumber and green onion slices in a bowl.

Season with salt to taste, and add rice wine vinegar and sesame oil.

Toss with cilantro, basil, mint, garlic, ginger, and black sesame seeds.

Add crushed red pepper to taste.

Mix it all together, and enjoy!
Serve this cucumber salad with our Kung Pao Chicken.
For more salad recipes try the Green Goddess Salad or the Mediterranean Quinoa Salad.
Asian Cucumber Salad
This easy cucumber salad is refreshing and so simple to make. It's light, and loaded with fresh herbs!
Instructions
Peel and thinly slice the cucumbers and place in a large bowl

Chop the green onions and toss in the bowl.

Add rice wine vinegar, sesame oil, and salt to taste.

Toss with cilantro, basil, mint, garlic, ginger, and black sesame seeds.

Add crushed red pepper to taste.

Mix it all together, and serve immediately.
Nutrition
Calories:
59
kcal
|
Carbohydrates:
7
g
|
Protein:
2
g
|
Fat:
3
g
|
Saturated Fat:
0.5
g
|
Polyunsaturated Fat:
1
g
|
Monounsaturated Fat:
1
g
|
Sodium:
5
mg
|
Potassium:
260
mg
|
Fiber:
1
g
|
Sugar:
3
g
|
Vitamin A:
360
IU
|
Vitamin C:
6
mg
|
Calcium:
56
mg
|
Iron:
1
mg