To say we love an easy brunch recipe is an understatement. We have assembled a list of our favorite French Toast recipes just for you! These are all baked to absolute perfection, and combine flavors from the best desserts with a traditional french toast.
Scroll on down, and be sure to bookmark the recipes that catch your eye! Weekend brunch is right around the corner. You will not regret trying these delicious simple french toast recipes.
What is a french toast bake?
You might notice that all of these recipes use a similar cooking technique. Making french toast in a pan is time-consuming and hands on, leaving you tied up in the kitchen cooking. We love an easy recipe that we can assemble in advance and that requires minimal active cooking time.
All of these baked french toast recipes deliver on that! Each of these recipes can be prepared in a baking dish and covered in the fridge until you are ready to bake. This means you can be present with your family or guests while a scrumptious brunch comes together in the oven.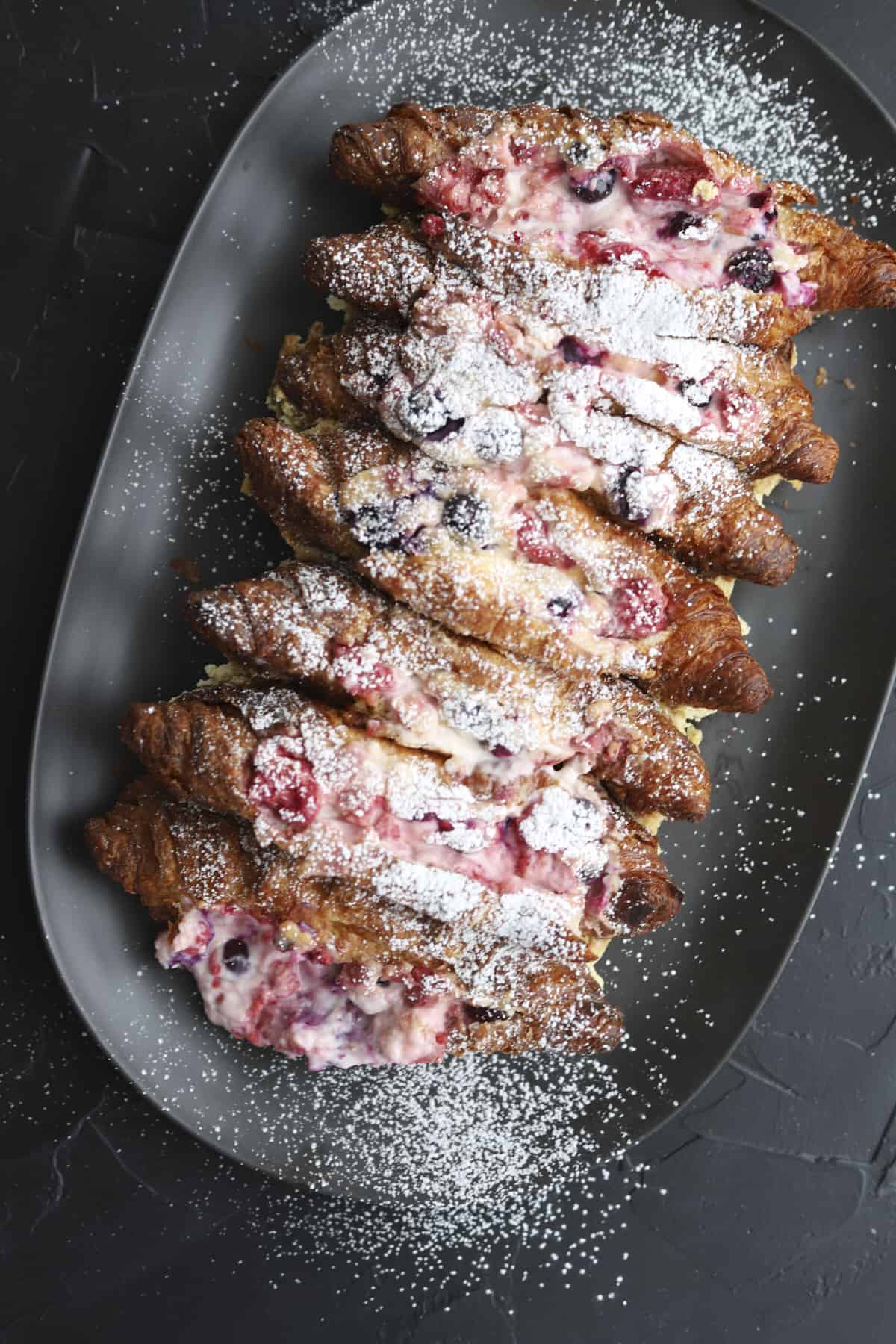 Table of Contents
Between the sweetened cream cheese and buttery croissants, this easy brunch recipe is going to blow you away! It is easy to put together ahead of time, and is going to impress everyone at your table. Especially when you top the baked french toast with fresh berries and a dollop of whipped cream.
Unlike traditional french toast recipes, this french toast bake requires very little hands on cooking time. All you need to do is assemble these delicious croissant boats, fill up a baking dish, and pop it in the oven when you are getting ready for breakfast.
If you are looking for a festive brunch recipe for your 4th of July menu, then our Berry Brioche French Toast Bake is perfect for you! This delicious breakfast recipe is red, white (well, cream), and blue.
The brioche bread is perfect for french toast, especially if it is a little bit stale. Brioche soaks up the french toast egg wash very well. All you need for this french toast bake is a skillet to bake your french toast in and a bowl to mix your toppings.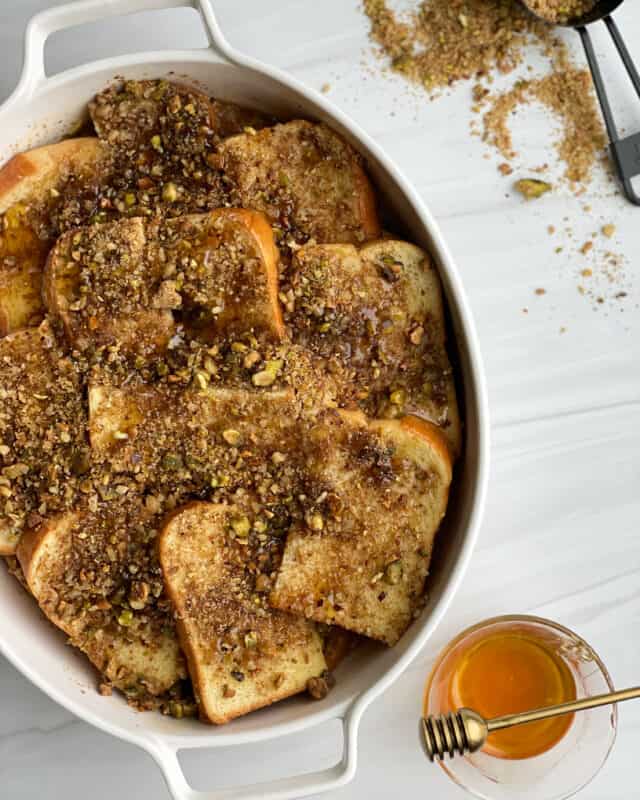 Another amazing mash-up recipe combining two of our favorite dishes: baklava and french toast. Baklava is a yummy phyllo dough pastry popular in Middle Eastern and Mediterranean cuisines. It is sweetened with honey or simple syrup, and contains pistachios or walnuts (or both!)
You can bake this entire recipe in a single dish meaning less clean up and more time with the family! The recipe calls for brioche, but you can use challah as well. We love to keep the slices large, but you can cut the bread up into chunks if you'd like.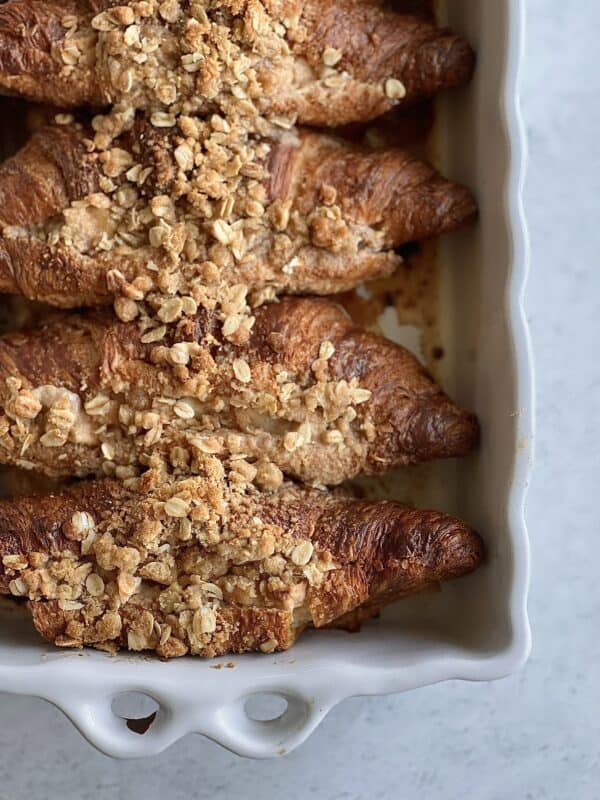 Similar to our stuffed berry croissant french toast listed above, this baked french toast can be assembled ahead of time and cooked when you're ready. This is a recipe that screams fall, and is an absolute must serve for your weekend brunch!
This tasty brunch dish combines the flavors of a knockout dessert with a delicious breakfast staple. You can stick to using granny smith apples (our favorite baking apple) or use a mix of different types of apples. Either way you cannot go wrong!
We don't know about you, but churros are one of our favorite desserts. We love the warming flavors that go into this dessert comfort food. But making churros can be a bit of a mess and they take time and precision. Our churro french toast, on the other hand, couldn't be easier!
Challah bread is sweet to start with. The texture of challah evenly soaks up the cinnamon and nutmeg egg wash. The beauty of this simple breakfast recipe is that it can be assembled a day in advance and baked in the morning. In fact, that allows to cinnamon sugar egg wash to further infuse!
Nutella is a delicious hazelnut spread that adds an extra level of indulgence to this recipe. Not only do we include Nutella in the center of the croissants, but we also top this french toast bake with chocolate chips. If you have an insatiable sweet tooth, this recipe is for you!
We recommend letting this soak in the egg wash overnight in the fridge, so this is a great recipe if you have time to assemble it in advance. We promise everyone is going to be impressed with this dish and will be asking for seconds.
How to store leftover french toast
If you have leftovers, and that's a BIG if, you can easily store them! Seal up any extra french toast in an airtight container for 3-5 days. Some of these recipes will freeze better than others, but we recommend keeping them in the fridge and eating them within a few days of baking for ultimate freshness.