Apple Crisp Croissant French Toast
It's apple crisp season, which means you can have apple crisp for breakfast! These croissants are filled with a cinnamon apple cream cheese, and topped with an oat crumble and caramel. The most indulgent fall brunch recipe!
Apple crisp, meets cheesecake, meets french toast! All-in-one, and we highly recommend you give this a try! If you have never tried croissants for a french toast casserole, it's safe to say that you have been missing out.  It's so indulgent and delicious!
Easy Make Ahead Brunch Recipe
The one thing we love about making an overnight french toast, is the ability to make it the night before, especially if you are having a a brunch party.  Hosting doesn't have to be stressful when you are able to find make-ahead menu items. For a make ahead savory french toast bake try this Spinach and Artichoke Grilled Cheese!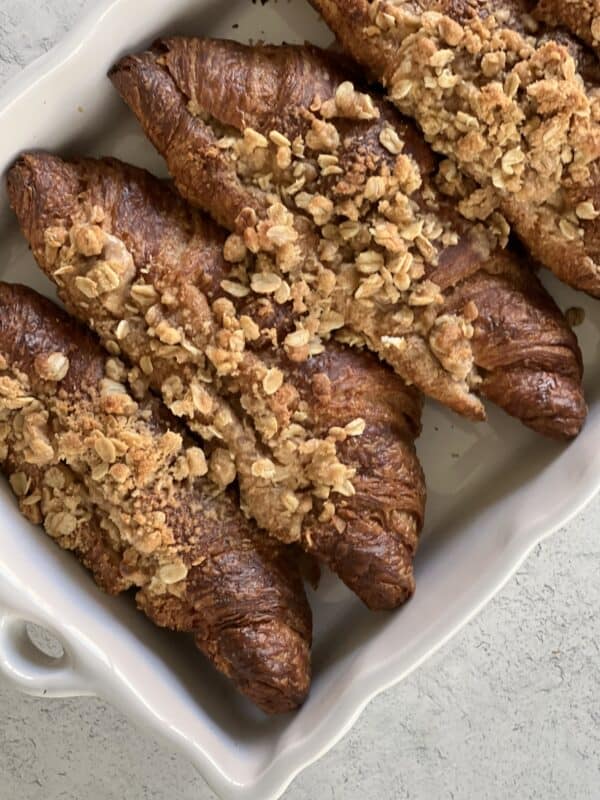 We use large croissant boats for this french toast, if you can't find the large boats, feel free to use any croissant. You can play around with how you assemble as well. First of all, for bite size pieces, cut the croissants in 1-inch pieces, and lay on the bottom of a buttered  baking dish. Second, spread the cream cheese filling on top, of the croissants, and pour the custard. Lastly, add the streusel topping over the croissants. Cover and refrigerate overnight.
What Goes Well with French Toast Casserole For Brunch
We love serving a breakfast casserole with fresh fruits and yogurt, a yogurt bar is always fun when hosting.  Scrambled eggs and a side of turkey bacon are great accompaniments too!
Old-Fashioned Apple Crisp
Traditionally an apple crisp is made with a streusel topping. The apples are either sliced or chopped and mixed with a little flour, sugar, and cinnamon. Cover it with a nice amount of streusel topping and bake until the apples have released their juice and thickened. The streusel topping gets nice and golden brown. We love topping a warm apple crisp with a nice vanilla bean ice cream!
Is Apple Crisp the Same as an Apple Cobbler?
A cobbler is usually made with a thick biscuit like topping, while a crisp is made with oats and flour, which gets nice and crispy.
The Best Apples to Use For an Apple Crisp
One of our favorite apples to bake with are Granny Smith Apples.  Lately, we have been experimenting with mixing a combination of apples. Honeycrisp, Granny Smith, and Sweet Tangos are great options since they all have a crispy texture. Granny Smith is tart, while honey crisp and sweet tango are sweet. Thankfully, we have so many different apple varieties in Minnesota!
Why use more than one kind of apple?
Using more than one  apple variety gives a nice depth of flavor.
How to Make Croissant French Toast Bake
Croissants in a French toast bake is the most decadent breakfast bake. Rich, buttery, with a soft center and crispy outside. If that doesn't convince you then we don't know what will.
The best way to make croissant french toast bake is simply by letting the custard soak overnight. You can definitely bake right away but to be honest, it's worth the wait and the extra step. The croissants really soak up the custard mixture.
Tips
Tip One: Check your flavors! I know this sounds crazy, but try to taste every layer of this french toast (other than the custard). That way you are able to balance the flavors of the sugar and cinnamon flavors. For a robust flavor, try using dark brown sugar.  If you want a little more warmth, try adding a touch of nutmeg.
Tip Two:  Use STALE croissants. Stale croissants soaks up the custard really well. If you plan on using a different bread, such as challah or brioche, stale is also the best option. IF you do not have stale bread, there is an option! You can toast the bread in the oven at 325 degrees. F for about 8-10 minutes. This will help dry it out a bit.
Tip Three: Keep an eye out on the oven the last 5-10 minutes.  Every oven is slightly different, which will result in different baking times for everyone. Just peak in and make sure nothing is over-browning. If it is still looking a little moist and not golden on top, feel free to add an extra few minutes.
Apple Crisp Croissant French Toast
Large croissants filled with a cinnamon apple cream cheese mixture, and topped with an oat crumble with caramel! Great for a make-ahead brunch!
Print
Pin
Rate
Ingredients
6-7

large croissants

8

oz

cream cheese

room temperature

1/2

cup

granulated sugar

2

large granny smith apples

peeled and cored

1

tsp

cinnamon

3

eggs

1

cup

milk

2

tsp

vanilla extract
Oat Crumble
1/2

cup

all-purpose flour

1/2

cup

rolled oats

5

tbsp

cold unsalted butter

1/4

cup

packed light brown sugar

1/2

tsp

kosher salt

1/2

tsp

cinnamon
Instructions
Chop apples in small 1/4 inch pieces. In a large mixing bowl add cream cheese, sugar an cinnamon. Beat together. Fold in apples until mixed in.

Slice the croissants down the center, making sure not to pierce through. You want to make a "pocket." Add about two tablespoons of the cream cheese filling.

Butter a 12x8 baking dish. Arrange the croissants facing up.

Whisk together milk, eggs, and vanilla extract.

Pour the custard over the croissants. Set aside.

In a bowl add flour, oats, brown sugar, salt, and butter. Cut the flour mixture with a pastry cutter or your hands. It will resemble coarse crumbs. You can also use a hand mixture to blend together.

Sprinkle the oat crumble over the croissants. Cover with aluminum foil and refrigerate overnight.

When you are ready to bake, let the french toast sit out for 30 minutes before baking!

Preheat oven to 375 degrees F.

With the foil still covering the casserole, place in the oven for 20 minutes. Remove foil and bake for an additional 10- 15 minutes or until top is golden brown. Serve immediately.
Notes
Notes:
This recipe can be double or halved. 
Remember to bring the casserole to room temperature before baking!
Notes
How do you fix soggy apple crisp?
When reheating apple crisp, you want to make sure not to reheat in the microwave. That will result in a soggy apple crisp. Simply place the apple dish in an oven safe baking dish, bake at 350 degrees F. for about 15-20 minutes.
Reheating in an air fryer – We LOVE reheating in an air fryer. If you have one, use it for this! The outside really crisps up beautifully. Heat your air fryer at 325 degrees F. for about 8-10 minutes. (The time really depends on your air fryer, so keep an eye on it so it does not overcook.
Why doesn't my french toast get crispy?
Adding too much dairy and sugar can result in soggy french toast. If you add too much the egg mixture won't cook, meaning you will have wet, soggy bread. You want the french toast to be soft in the inside and crispy on the edges.
Why does my french toast taste like eggs?
Unfortunately, this can happen if you add too many eggs and the milk-to-egg ratio is off. The ratio in this recipe is perfect!
Modifications
How to substitute the croissants –  Both brioche or challah bread would be fantastic substitutes.
Is there a way to keep out the eggs? Yes, if you don't want to add eggs, we recommend not to use the custard filling at all. You won't need to prep this overnight if you do not want to. Baking time will be about 15-20 minutes at 350 degrees F.
For a good baking dish, we like this one here.
More recipes to try
Caramel Apple Cinnamon Rolls