Baklava meets french toast. This is one of our favorite mash-up recipes!
What is Baklava?
Baklava is an amazing dessert popular in the Middle East, Turkey, and Greece. It is a dessert pastry filled with nuts. It consists of layers of buttery phyllo dough that is sweetened with honey or simple syrup.  Every region has their version of baklava. We love making baklava with just walnuts but some people do pistachios, or a combination of both.
Some variations include adding flavor(s) to the syrup, such as  rose water (maward) or orange blossom. The rose water gives it a floral flavor – although we have never been very fond of that.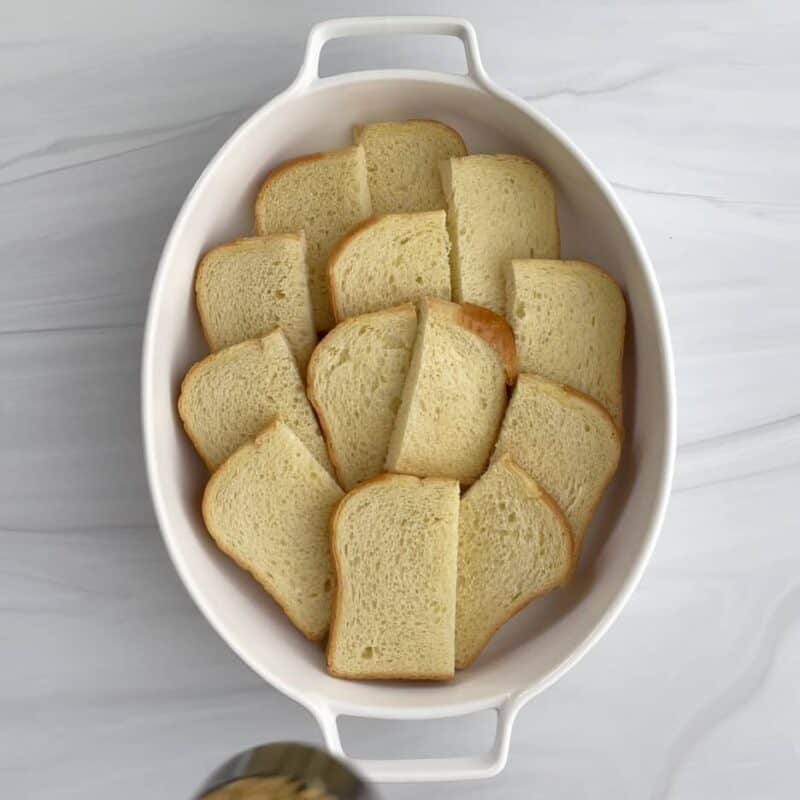 Start by staggering the brioche toast, it will resemble layers just like baklava. If you can't find brioche, challah bread is a great substitute. If you prefer bite size pieces, cut the brioche into 1-inch cubes.
Add the nut mixture, feel free to make your own combination of nuts. You want a total of 2 cups.
Pour the custard over and really make sure to soak all the pieces!
You want to cover this and refrigerate overnight so that way the brioche really absorbs all the custard. If you don't have time to soak overnight, try to let sit for at least 2-3 hours before popping in the oven.
Bake until it is nice and golden brown!
Give it a nice healthy drizzle of honey. It's the perfect nutty and sweet combination! We LOVE it!
Baklava French Toast Bake
Baklava meets french toast, this is nutty, sweet, and delicious!
Ingredients
1

loaf brioche toast

4

large eggs

1

cup

whole milk or milk of choice

1/2

cup

heavy cream

1/4

cup

granulated sugar

1

tbsp

good quality vanilla extract
Nut Mixture
1

cup

chopped walnuts

1

cup

chopped pistachios

1/4

cup

granulated sugar

1

tsp

ground cinnamon

honey for drizzle
Instructions
In a large mixing bowl whisk eggs, milk, heavy cream, sugar, and vanilla extract.

In a food processor pulse walnuts, pistachios, sugar, and cinnamon. Pulse until fine pieces.

Butter a 12x8 oval baking dish. Slice the brioche toast in half.

Stagger the brioche in the baking dish. Add 1/2 of the nut mixture. Add the rest of your brioche. Sprinkle the rest of the nut mixture.

Pour the custard over the whole casserole, making sure to soak all the brioche. Cover with foil and refrigerate overnight.

Preheat oven to 350 degrees F.

With the foil still on, pop in the oven for 20 minutes. Remove foil and continue to bake for an additional 20-25 minutes or until it is golden on top.

Serve with a drizzle of honey.
Substitutions and modifications:
-Challah bread for brioche
-Bread can be cut into 1-inch cubes if you prefer bite size pieces
-Maple syrup for honey.
-Only walnuts and no pistachios and vice versa.
-Add hazelnuts into the mix.
-In the nut mixture- add 1/4 tsp nutmeg and 1/8 tsp cloves for a deeper flavor.
-If the nuts are unsalted, add 1/2 tsp sea salt to help bring out the flavors.
-For a dairy-free recipe- use coconut milk in place of the milk, and coconut cream in place of the heavy cream. This will give it a nice coconut flavor too.