Turkish Eggs (çilbir) with Roasted Peppers and Yogurt
*This post may contain affiliate links, please see our privacy policy for details.*
This creamy and comforting brunch recipe is going to knock your socks off. If you haven't heard of or tried Turkish Eggs before, don't be intimidated! You are going to LOVE this.
Turkish eggs are a staple in Eastern European cuisine and this recipe packs a whole bunch of flavor. The texture is to-die-for and once you prepare the components, it is really easy to put together.
What are Turkish Eggs?
Also called Cilbir, which directly translates to poached eggs, Turkish Eggs are a traditional way of serving runny eggs over yogurt with an infused oil and butter mixture. It commonly includes heaps of garlic and features aleppo chili pepper or spicy paprika.
This dish dates back to the 15th century and was a luxurious dish reserved for royalty. Over centuries, variations of this recipe maintained popularity among Turkish imperials. Eventually, the dish became a common dish for everyone to enjoy!
Turkish Eggs have now become our go-to for a simple, yet lavish, brunch.
How to poach an egg
If you've never poached an egg, don't worry – it's more straightforward than it seems. But if you are not into poached eggs, or don't have the time to experiment, you can easily serve this dish with over easy eggs or sunny side up eggs.
The secret to poaching eggs is patience and a gentle hand. As you'll see in the instructions below, you want to let the water do the work for you until your egg is cooked.
First, bring a pot of water to a soft rolling boil. Essentially, you are looking for small bubbles to be popping up from the bottom of the pan, but not causing too much of a disturbance at the surface. Big bubbles that cause a lot of motion in the water will make egg poaching more of a challenge.
Salt the water and add a couple drops of vinegar. Don't go too heavy handed with the vinegar. At most, you will use a tablespoon.
Crack your egg into a shallow cup. You will use the cup to drop your egg into the boiling water. While you definitely can crack the egg straight into the water, we have found that cracking the egg in a cup leads to a better success rate!
Using a spoon or spatula, start making large circles around the rim of the pot of water. The goal is to create a gentle vortex of water to drop the egg into. This will help the egg form into the traditional poached egg shape.
Once you have a vortex or tornado of water established in the middle of the pot, tip the cup over the center of the vortex and gently drop your egg in.
Cook the egg for 2-3 minutes (depending on how runny you like it), and remove it with a slotted spoon when the egg whites have fully set.
How to make Roasted Peppers and Turkish Eggs
Set your oven to 400 degrees F.
In an oven-safe baking dish or casserole dish, pour in peppers (we love yellow and red mini bell peppers) and tomatoes. Drizzle on olive oil, salt and pepper, crushed red pepper flakes and sumac. Cook for 35-40 minutes in the oven.
In a medium sauté pan, add butter, oil and aleppo pepper. Cook together to infuse the butter and oil.
Separately, poach your eggs using the instructions above.

Optional: if you don't want to poach your eggs, you can make a sunny side up egg or cook your egg over easy.

Spread yogurt along the bottom layer of a pasta bowl or large plate. Grate a clove of garlic evenly over the yogurt and top with a squeeze of lemon.
Add the eggs on top of the seasoned yogurt. Pour the infused olive oil and butter mixture over the eggs and yogurt. Finally, add the roasted peppers around the eggs.
Top with Za'atar, and serve with a thick slice of toast or warm pita!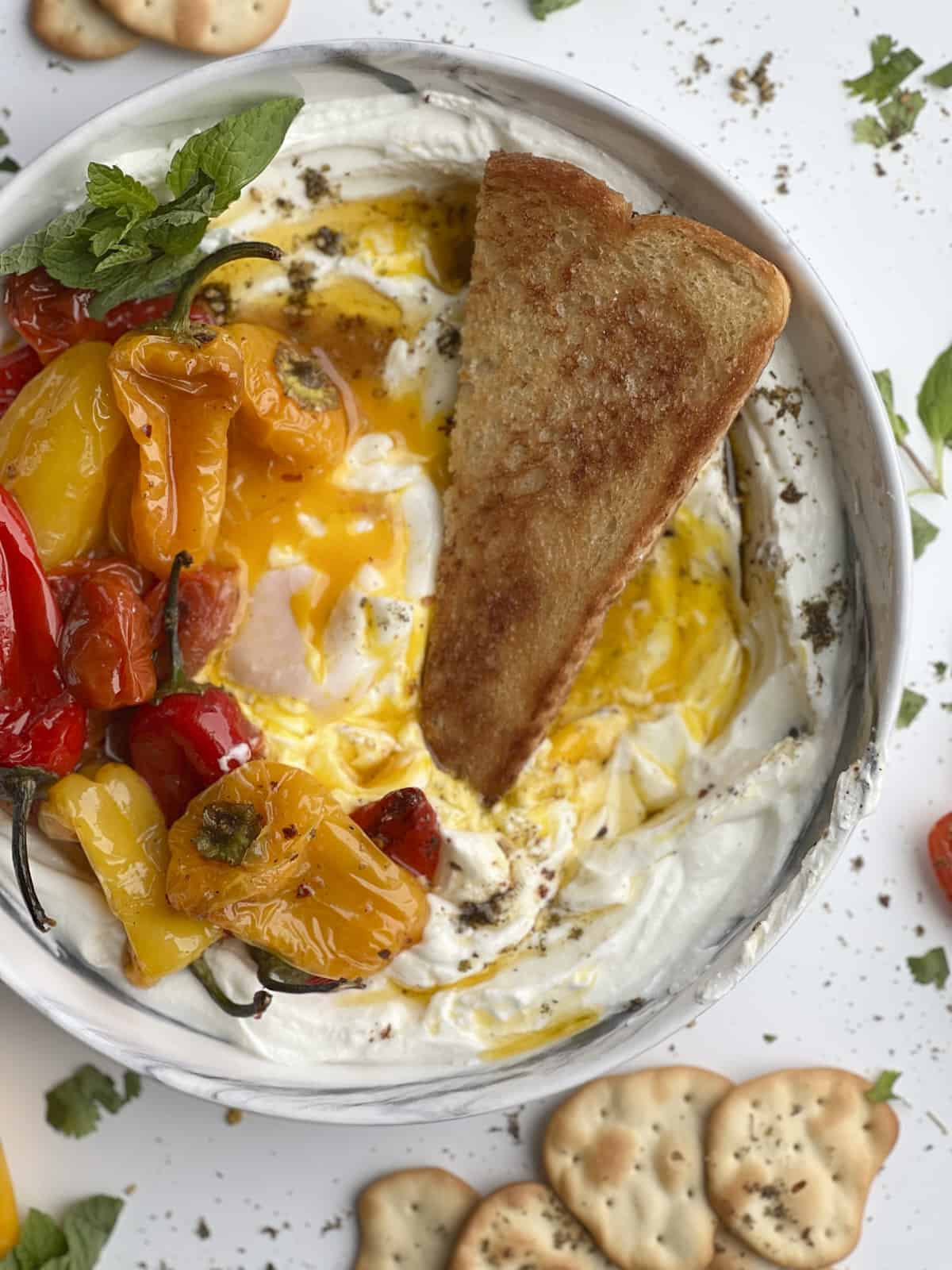 If you love a breakfast with poached eggs try the Easy Shakshuka Recipe
Roasted Peppers and Turkish Eggs (Cilbir) with Yogurt
This delicious Turkish-style breakfast has roasted peppers and tomatoes topped over a yogurt dip, poached eggs, and a chili oil. It's a must try!
Ingredients
Roasted Peppers
2

cups

baby bell peppers

1

cup

cherry tomatoes

2

tbsp

extra virgin olive oil

1/2

tsp

sumac

1/2

tsp

crushed red pepper

(more or less to taste)

1

tsp

kosher salt

(more or less to taste)
Chili Oil
4

tbsp

salted butter

1/4

cup

extra virgin olive oil

2

tsp

aleppo chili pepper
Assembly
4

eggs poached or sunny side up

1

cup

plain full-fat yogurt

2

cloves

grated garlic

1/2

tbsp

freshly squeezed lemon juice

1/2

tsp

kosher salt

(more or less to taste)

za'atar for garnish
Instructions
Roasted Peppers
Preheat oven to 400 degrees F. In a sheet pan or large baking pan add peppers, cherry tomatoes olive oil, salt, sumac, and crushed red pepper. Toss together. Bake for 30-35 minutes or until peppers are tender.
Assembly
In a 12 inch plate, spread the yogurt. Stir in grated garlic, lemon juice, and salt. Top with the roasted peppers and tomatoes, poached eggs, and a drizzle of the chili oil. Garnish with a sprinkle of za'atar.
Nutrition
Serving:
4
g
|
Calories:
434
kcal
|
Carbohydrates:
13
g
|
Protein:
10
g
|
Fat:
39
g
|
Saturated Fat:
13
g
|
Polyunsaturated Fat:
4
g
|
Monounsaturated Fat:
20
g
|
Trans Fat:
0.5
g
|
Cholesterol:
223
mg
|
Sodium:
1169
mg
|
Potassium:
531
mg
|
Fiber:
3
g
|
Sugar:
9
g
|
Vitamin A:
4937
IU
|
Vitamin C:
162
mg
|
Calcium:
126
mg
|
Iron:
2
mg