Spinach Olive Dip
*This post may contain affiliate links, please see our privacy policy for details.*
Inspired by Mediterranean flavors, this Spinach Olive Dip is warm, cheesy, and loaded with savory flavor and nutrients. Serve it with pita, crackers, and veggies for an easy appetizer or snack everyone will love!
Why You'll Love This Spinach Olive Dip Recipe
You already know we're huge fans of olives! From whipped feta with roasted olives, to olive cheese bread, and even olive tapenade, we're always adding them to recipes. So, it only made sense to transform them into a dip! One bite, and you'll be hooked. Here are just a few reasons why:
All you have to do is combine the ingredients in a bowl and add them to a skillet.
It bakes in less than 30 minutes.
Creamy and cheesy, it's super comforting yet full of nutrients, too.
One batch makes enough to serve a crowd for game nights, Super Bowl parties, and even afternoon snacks.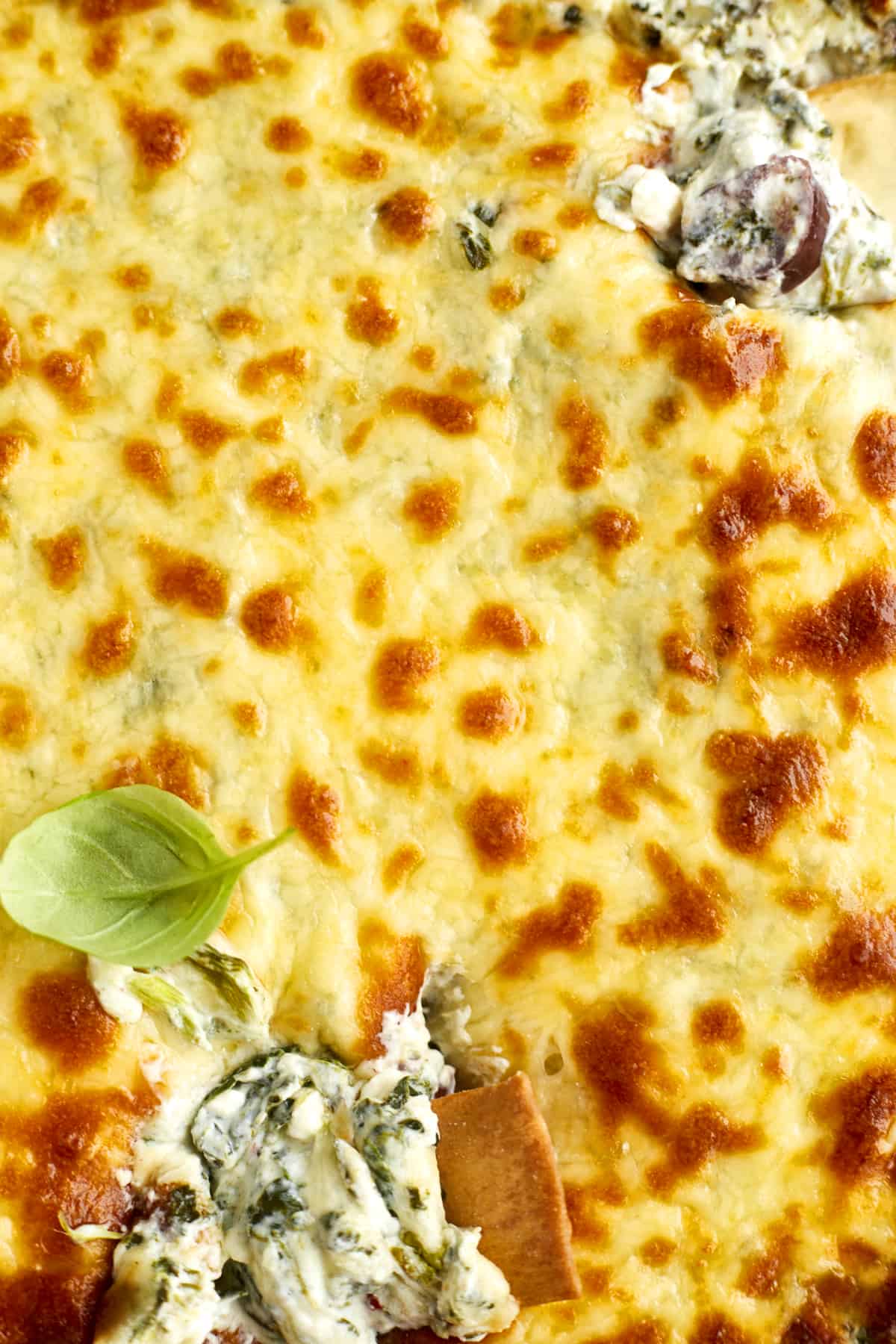 Ingredients You'll Need
The items for this spinach olive dip are super simple but combine to create the best dip you'll ever taste! Here's everything you'll need:
Cream Cheese – Plain, full-fat cream cheese forms the base of the dip creating a creamy texture and a slightly tangy taste.
Veggies – Frozen spinach and sun-dried tomatoes packed in oil combine to add extra nutrients, color, and flavor to the dip.
Garlic – Enhances the savory taste.
Sour Cream – This makes for an even tangier flavor and smoother, creamy texture. Mayonnaise could also be used in its place.
Cheese – Feta and Mozzarella make this recipe ultra creamy and unbelievably satisfying.
Olives – Any olives you like best will taste great!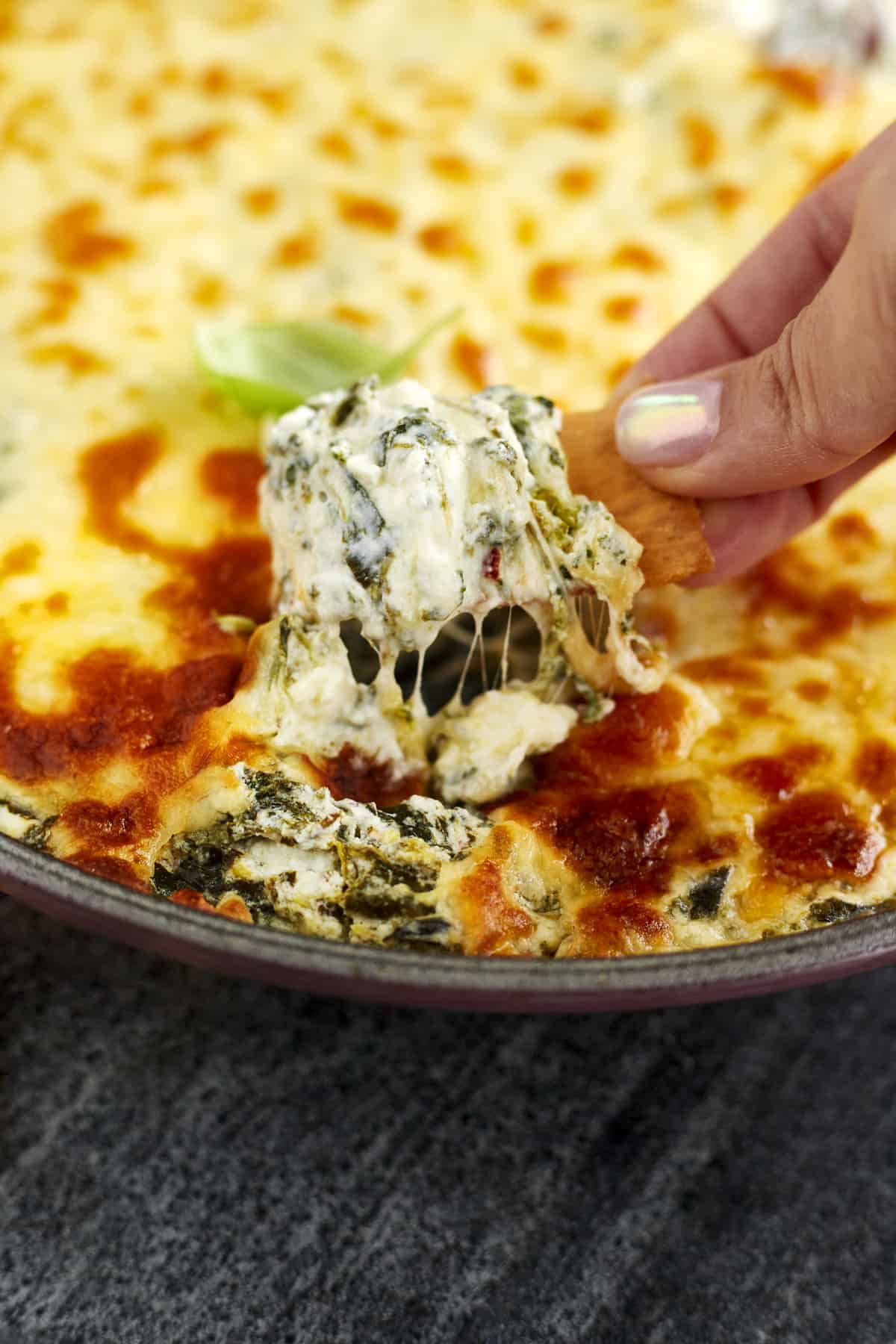 How to Make Spinach Olive Dip
This spinach olive dip recipe is quick, easy, and always guaranteed to please!
Drain the Spinach. It's super important to thaw your spinach and drain it really well, removing all of the excess water. Otherwise, your dip will be soggy!
Combine the Ingredients. In a large bowl, combine the cream cheese, sour cream, Mozzarella, and feta until smooth. Then, stir in the spinach, sun-dried tomatoes, and olives.
Bake. Add the mixture to an oven-safe skillet, and top with the remaining cheese. Place the dip in the oven until the cheese is melted and golden brown and the mixture is bubbly. Serve right away while it's still warm!
Serving Suggestions
Serve this spinach olive dip as you would any other appetizer with pita bread, crusty bread, chips, pretzels, and veggie sticks. Or, use it to top baked chicken or fish!
Storage
We do not recommend freezing this spinach olive dip as the dairy will not thaw well. However, if you have leftovers or want to prepare it in advance, it can be covered or placed in an airtight container and stored in the fridge for up to 1 week.
When you're ready to eat, just pop it in the microwave in 30-second intervals until it is heated through!
More Tasty Dip Recipes
Whether you're hosting a party or just looking for new snacks, you won't want to miss out on more of our favorite dips below!