Give your favorite salad a twist with this Middle Eastern Cobb Salad Recipe! Inspired by traditional Cobb Salads, it's given a bit of flair with extra ingredients like artichokes, crumbled feta, and a tahini dressing. Enjoy it on its own or as a side dish with your favorite main course!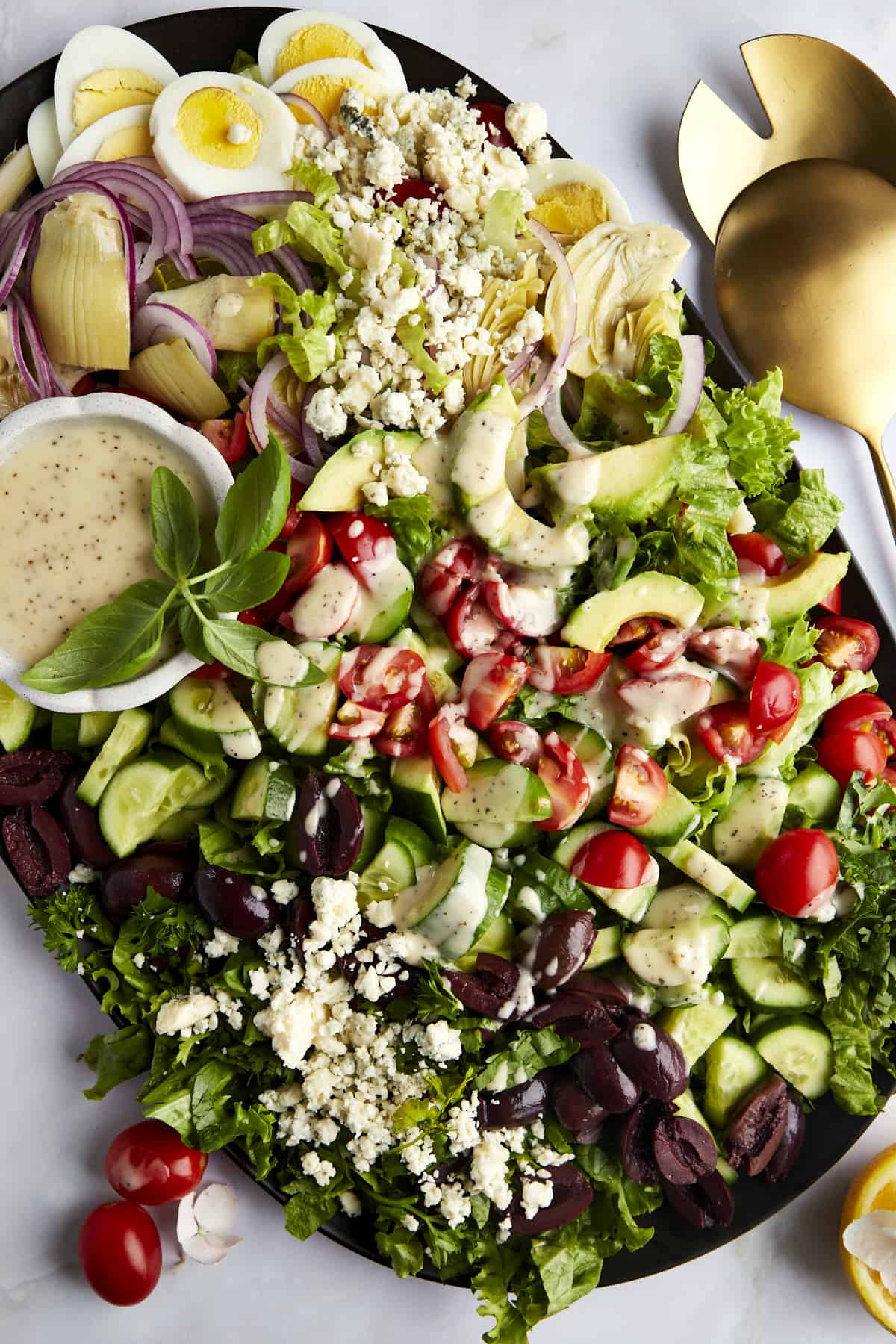 What Is a Middle Eastern Cobb Salad?
A traditional Cobb salad is a popular American salad invented by Robert Howard Cobb, the co-owner of The Brwon Derby Restaurant in Los Angeles, in 1937. Typically, it is made with a base of chopped lettuce and topped with various ingredients arranged in rows or sections.
These ingredients include diced chicken breast, crispy bacon, hard-boiled eggs, tomatoes, avocado, and crumbled blue cheese. Then, the salad is topped off with a creamy dressing such as Ranch or blue cheese dressing.
As a result, the salad offers a unique combination of tastes and textures that make it easily identifiable in a sea of salad recipes.
That said, a Middle Eastern Cobb salad draws inspiration from the original Cobb salad recipe and adds a little bit of flair, replacing some of the classic ingredients with items commonly found in Middle Eastern cuisine. As a result, this salad offers a whole new blend of flavors that are truly unique yet just as delicious as the original.
Cobb Salad Ingredients
As mentioned, this recipe is inspired by Robert Cobb's original recipe, but the ingredient list varies slightly. Here's what you'll need:
Salad:
Eggs – Hardboiled eggs replace chicken, adding a boost of protein and healthy fats while keeping this salad vegetarian-friendly.
Red Onion – Included for color, crunch, and a tangy taste.
Lettuce – Use green leafy lettuce such as romaine or butterhead.
Tomatoes – We recommend using cherry tomatoes as they have a sweeter flavor and a firmer texture that holds up well in the salad.
Cucumber – Persian or English cucumbers are best because they have a thinner skin and smaller seeds.
Artichoke Hearts – Look for canned artichoke hearts at your local grocery store, and drain and chop them before adding them to the salad.
Crumbled Feta Cheese – Use full-fat varieties for the boldest taste and creamiest consistency.
Avocado – Included for healthy fats and a creamy texture.
Dressing:
Yogurt – Use plain, full-fat yogurt or Greek yogurt to form the base of the dressing.
Tahini – This adds a unique nutty taste along with healthy fats.
Olive Oil – Used to thin out the dressing.
Vinegar – We recommend red wine vinegar for a tangy flavor and extra depth.
Garlic Cloves – Fresh, whole garlic cloves are best.
Salt and Black Pepper – Adjust to taste.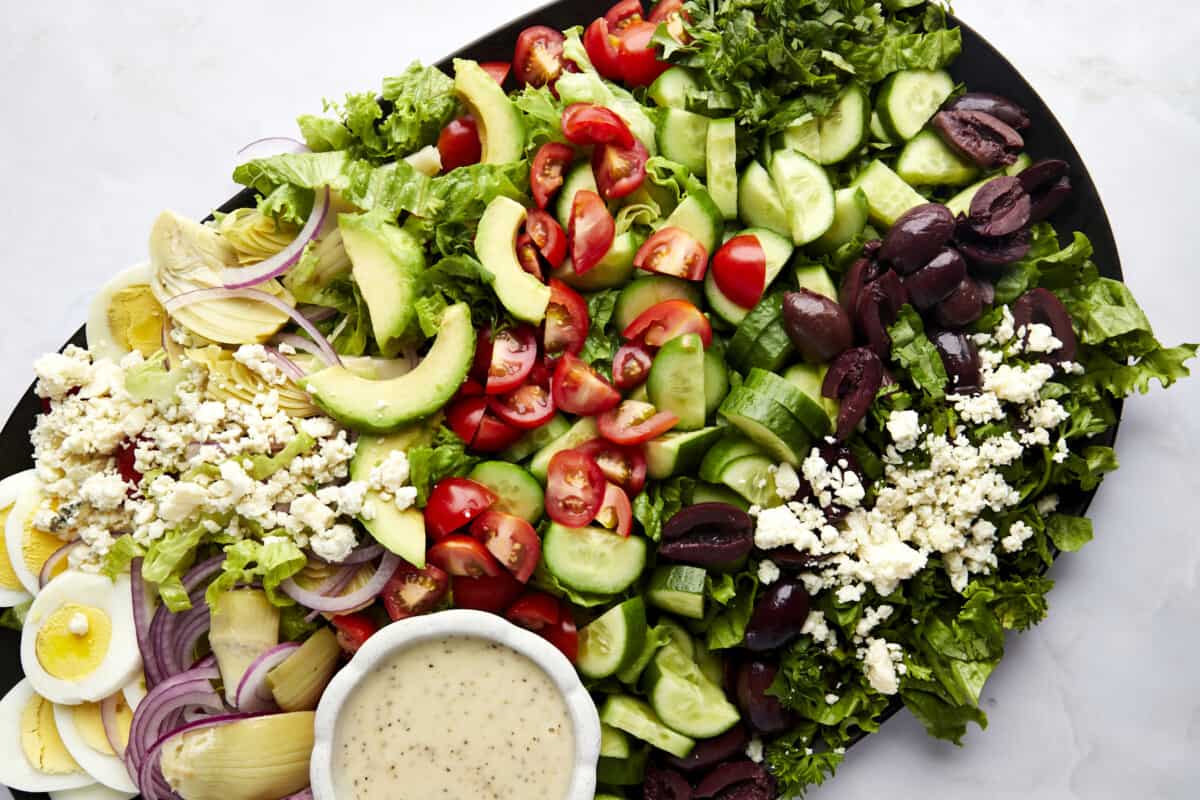 How to Make a Restaurant-Worthy Salad in Minutes
When plated and ready to serve, this Cobb salad recipe looks super fancy, but it requires minimal prep time and comes together quickly.
Prepare the Eggs. Place the eggs in a saucepan full of water, and bring the liquid to a boil on the stove. Reduce the heat to a simmer, and cook until the eggs are hard. Immediately drain the water, and transfer the eggs to an ice bath to cool. Peel the shell, and chop the eggs before setting them aside.
Make the Dressing. In a small bowl, add all the ingredients for the dressing, and whisk until smooth. Adjust the seasonings to taste, and set aside.
Assemble the Salad. Arrange the greens in a large bowl. Then, arrange the remaining salad ingredients in rows or sections on top. Drizzle the dressing over the ingredients, and enjoy!
Serving Suggestions
This recipe can be enjoyed as a single large salad on its own for a complete meal. Or, break it into smaller portions, and add protein such as chicken or salmon to bulk it up.
Alternatively, you can serve it as a side dish or appetizer with main courses such as Middle Eastern Chicken, Middle Eastern Orzo Soup, or Mediterranean Sun-Dried Tomato Chicken Meatballs.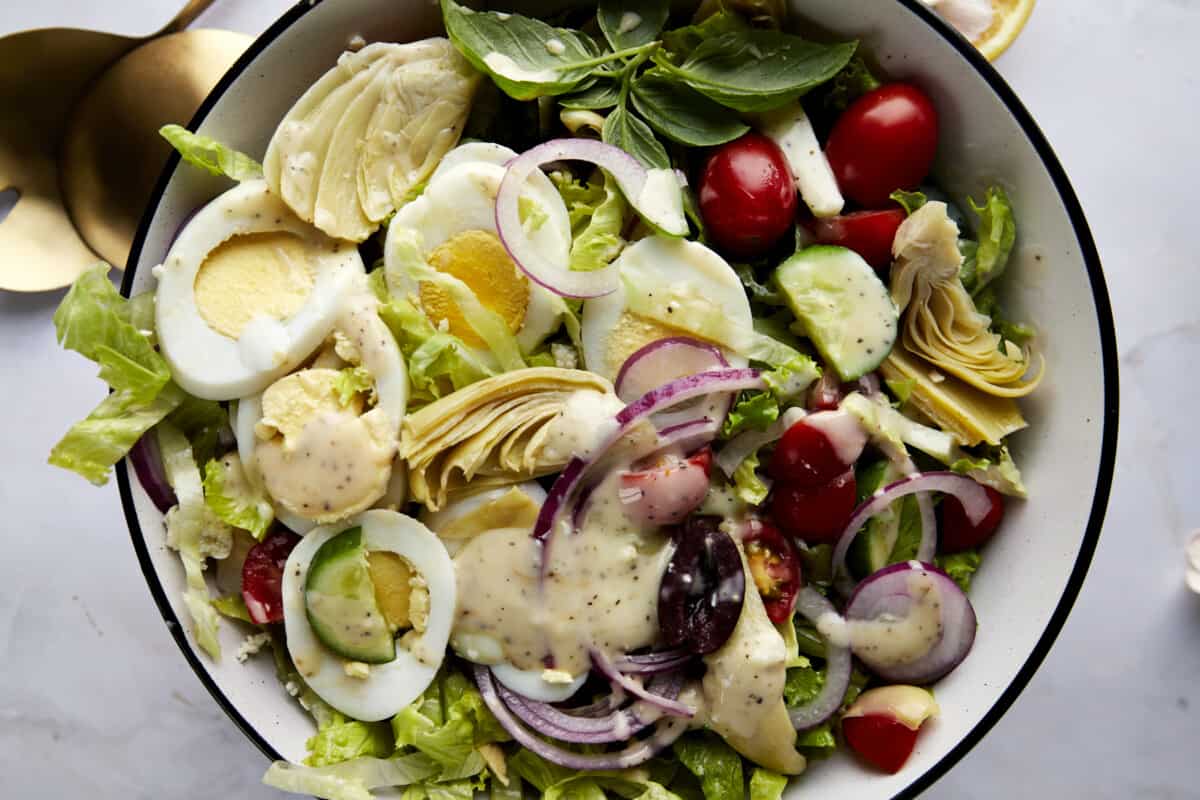 Make Ahead and Storage Options
Once all the ingredients are combined this salad is best enjoyed right away. The longer it sits, the more likely it is to become soggy!
However, if you want to prepare in advance, it can be assembled, covered, and stored for one to two hours in the fridge. Or, prepare the different components ahead of time for quick assembly.
For instance, the dressing can be assembled and stored in an airtight container in the fridge for up to three to four days. Just give it a good shake before using it!
In addition, the eggs can be boiled and stored in an airtight container in the fridge for up to seven days. Then, go ahead and give your greens a rinse in a salad spinner, and store them for up to one to two days as well.
Then, all you have to do is quickly assemble the ingredients, and you'll be ready to eat!
Common Questions About This Cobb Salad Recipe
What makes a Cobb salad a Cobb salad?
A Cobb salad is characterized and recognized by its combination of specific ingredients that are arranged in neat rows or sections and served with a creamy dressing. The distinctive presentation and specific ingredient selection are what make a Cobb salad a Cobb salad.
What's the difference between a chef's salad and a Cobb salad?
The primary difference between the two salads is in their ingredient composition. For instance, a chef's salad contains cold cuts of meat, cheese, and eggs. Meanwhile, a Cobb salad includes bacon, chicken, avocado, and blue cheese and is presented in neat rows with a specific dressing.
Is Cobb salad good for weight loss?
Cobb salad contains protein, fats, and fiber, meaning it can be a great addition to your diet when trying to lose weight. Just keep in mind that it can be high in calories, especially when the dressing is added! So, it's important to keep your serving size in check.
More Showstopping Salad Recipes
Looking for more easy salad recipes fit for every occasion? Check out the flavorful options below!
Middle Eastern Cobb Salad Recipe
Give your favorite salad a bit of a twist with this quick and easy, vegetarian-friendly Middle Eastern Cobb salad recipe!
Ingredients
For the Salad:
4

large eggs

hard-boiled and chopped

6

cups

green leafy lettuce

chopped (such as Romaine or Butterhead)

2

medium tomatoes

diced

1

cucumber

diced

1/2

red onion

finely chopped

1/2

cup

artichoke hearts

drained and chopped

1/2

cup

crumbled feta cheese

1

ripe avocado

diced

Optional: feta cheese

fresh herbs, ground black pepper for garnish
For the Dressing:
1/2

cup

yogurt

2

Tablespoons

tahini

2

Tablespoons

olive oil

1

teaspoon

vinegar

such as red wine vinegar

1

clove

garlic

finely minced

Salt to taste

Freshly ground pepper to taste
Instructions
Hard-boil the eggs by placing them in a saucepan with water. Bring the water to a boil over high heat. Then, reduce the heat to a simmer and cook for 9-12 minutes. Transfer the eggs to an ice bath to cool. Then, peel, and chop them.

In a small bowl, whisk together the yogurt, tahini, olive oil, vinegar, finely minced garlic, salt, and freshly ground pepper. Taste and adjust the seasoning as needed. Set the dressing aside.

1/2 cup yogurt,

2 Tablespoons tahini,

2 Tablespoons olive oil,

1 teaspoon vinegar,

1 clove garlic,

Salt to taste,

Freshly ground pepper to taste

In a large salad bowl, arrange the chopped green leafy lettuce as the base.

6 cups green leafy lettuce

Arrange the chopped hard-boiled eggs, diced tomatoes, diced cucumber, chopped red onion, chopped artichoke hearts, crumbled feta cheese, and diced avocado in rows or sections on top of the lettuce, mimicking the traditional Cobb salad presentation.

2 medium tomatoes,

1 cucumber,

1/2 red onion,

1/2 cup artichoke hearts,

1/2 cup crumbled feta cheese,

1 ripe avocado

Drizzle the prepared dressing over the salad, focusing on the individual rows or sections of ingredients.

Serve the Mediterranean Cobb Salad immediately, either as a single large salad or in individual portions. Optionally, you can garnish with extra feta cheese, fresh herbs like parsley or dill, and a sprinkle of additional freshly ground black pepper.
Nutrition
Serving:
1
serving
|
Calories:
375
kcal
|
Carbohydrates:
20
g
|
Protein:
14
g
|
Fat:
28
g
|
Saturated Fat:
7
g
|
Polyunsaturated Fat:
5
g
|
Monounsaturated Fat:
14
g
|
Trans Fat:
0.02
g
|
Cholesterol:
184
mg
|
Sodium:
557
mg
|
Potassium:
821
mg
|
Fiber:
8
g
|
Sugar:
8
g
|
Vitamin A:
1534
IU
|
Vitamin C:
21
mg
|
Calcium:
211
mg
|
Iron:
2
mg
Nutrition information is automatically calculated, so should only be used as an approximation.
Like this recipe?
Please leave a comment!