Middle Eastern Orzo Soup, also known as Shorbet Lesan El Asfour, is a traditional Egyptian comfort food that's budget-friendly, quick to make, and perfect for feeding a crowd! Serve it on its own or with your favorite sides for a warm meal the whole family will love!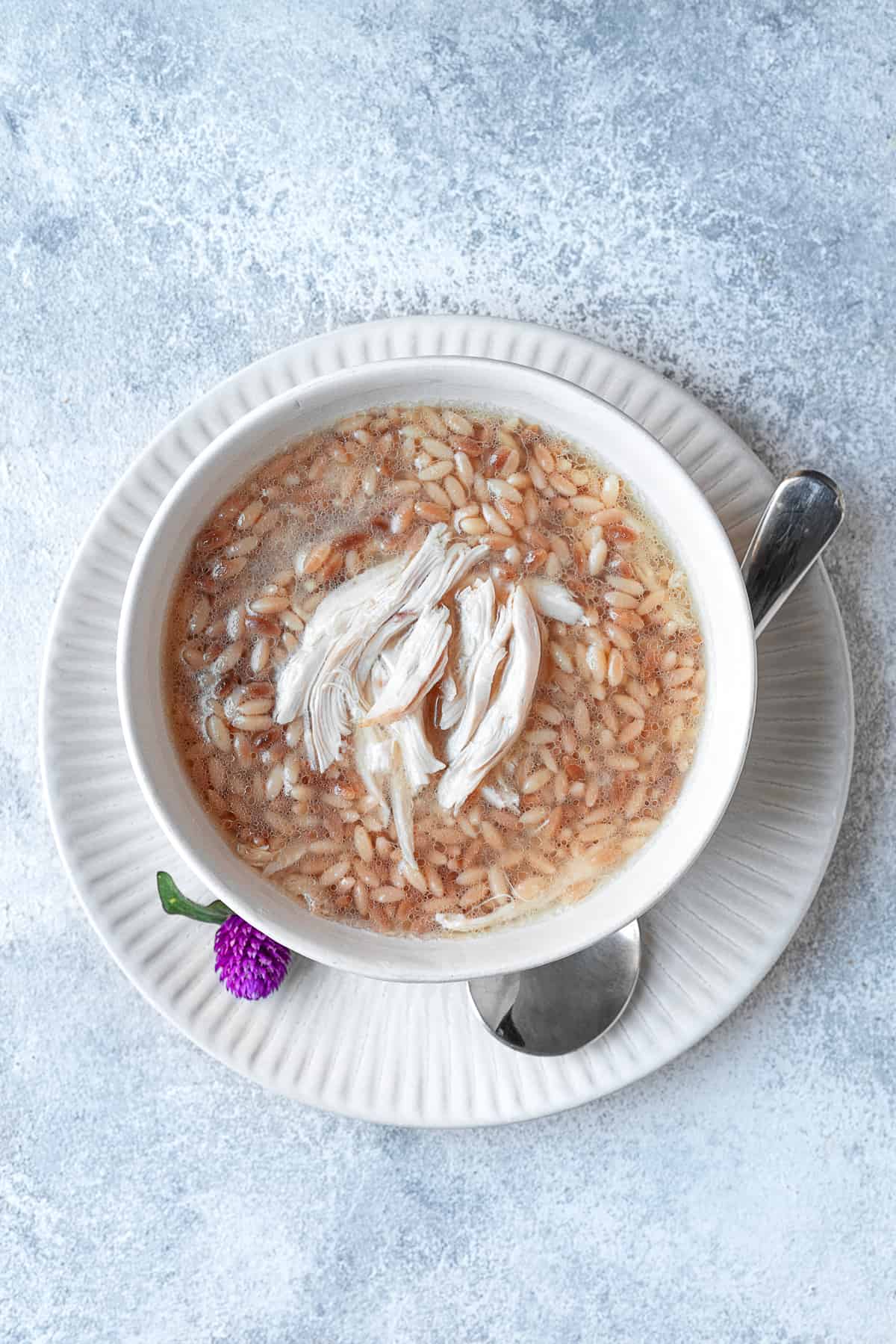 Why You'll Love Middle Eastern Orzo Soup
Hearty and comforting, we grew up eating this Egyptian soup, and it still remains a staple in our homes. Bursting with warm spices and loaded with filling chicken, it always hits the spot of a cold winter day! Plus, it's great to make in bulk to feed the whole family or meal prep for the next day. Truly, there are so many reasons to love this dish that we lost count. So, we'll just name a few! It's:
Simple to make
Healthy and filling
Budget-friendly
Even tastier the next day
What Is Orzo?
One of the most common questions we get is, "Is orzo pasta or rice?" Honestly, upon first glance, it's hard to tell! However, while orzo may look like a grain, it's actually part of the pasta family! In fact, Italians often refer to it as pastina due to its small size.
Orzo gets its name because of how similar it resembles barley. Actually, when translated, the word orzo actually means barley in Italian. Typically, orzo is made from a combination of whole wheat and semolina flour. However, some pasta makers will use white flour or whole grain flour as well. You can even find gluten-free versions in some stores! After the dough is formed, it is rolled out and punched into its traditional oblong form and has a slightly chewy, almost rice-like texture once cooked.
How Did Shorbet Lesan El Asfour Get Its Name?
Shorbet is an Arabic word that translates to mean the word soup. Any time you see the word shorbet in front of a recipe, like as in our scrumptious Shorbet Ads you can automatically know that it is a soup.
Next, Lesan el asfour (sometimes written as lisan al-asfour) directly translates to mean bird's tongue. Don't worry, though! You won't find any tongues in the ingredients list for this recipe. Instead, the name was inspired by the shape of the orzo used to complete the dish. You see, if you look closely at a single piece of orzo, you will notice that it resembles a bird's tongue in its shape.
So, when put together the words mean bird's tongue soup! Or, for simplicity's sake, we often just referred to is as orzo soup. No matter what you call this recipe, it's always tasty!
When to Eat Shorbet Lesan Al Asfour
As we begin to observe Ramadan this year, we are excited to gather around the table with our family and eat this scrumptious soup during Iftar. Iftar is the mealtime that occurs after sundown when we break our fast each night. It is a cherished time to spend practicing our faith with our families during the holy month of Ramadan.
However, outside of Ramadan, we love to keep Lesan El Asfour in our regular meal rotation, especially during the wintertime! You will find that this orzo soup is quite similar to chicken noodle soup and provides warmth, comfort, and nourishment with every bowl.
In addition, we find that it is the perfect soup for when you aren't feeling well. Our mom made it for us when we had colds as children, and now we do the same for our kiddos!
Ingredients You'll Need
The ingredients for this recipe are simple but create a unique flavor we know you're going to love! Take a look at everything you'll need:
Whole Chicken

– The addition of protein helps transform this recipe into a complete meal. Plus, the fat from the dark meat adds tons of flavor.

Onion

– Used primarily to enhance the savoriness of this dish, onions also help boost the fiber content.

Seasonings and Flavor Enhancers

– Cardamom pods, ground cardamom, salt, black pepper, bay leaves, and

mastic gum

create a warm and comforting taste.

Water

– This forms the base of the soup and allows the orzo to cook until soft.

Toasted Orzo Pasta

– High in carbs, orzo makes this soup extra filling.
How to Make Middle Eastern Orzo Soup
This recipe might look complicated, but once you get the hang of it, it's really simple to make!
Pour the water

into a large stock pot.

Then,

add the onion and seasonings

.

Bring the ingredients to a

boil

, and

add the chicken

to the pot.

Reduce the heat, cover the pot, and

simmer

.

Remove the chicken, bay leaf, cardamom pods, and mastic

.

In a separate dry pan,

toast the orzo

over low heat until it is fragrant.

Transfer the cooked chicken to a plate.

Bring the liquid back up to a boil, and

cook the orzo

according to the package instructions.

In the meantime, use two forks to

shred the chicken

to add back to the soup. Or,

slice it to serve on the side

.

Serve warm

with a squeeze of fresh lime juice or a sprinkle of fresh herbs such as parsley.
Preparation Tips
After years and years of preparing this recipe, we've perfected the technique. Lucky for you, we're saving you all that time and giving you our best tips!
Prepare the Chicken. You'll want to be sure to clean your chicken thoroughly and remove the gizzards before you begin to cook.
Wrap the Aromatics. To make it easier to remove them from the pot, wrap the bay leaf, cardamom pods, and mastic in a mesh bag before adding them to your orzo soup. Think of it as a tea bag for soup!
Let Vent. We highly recommend using a stock pot that has a small hole in the top or setting the top down slightly off to the side to leave a vent. This allows the steam to escape from the pot while cooking so it doesn't gather up under the lid!
Use Plenty of Salt. If you don't add enough, the flavor of the broth will be bland and boring. So, be sure to taste-test your soup and add more as needed.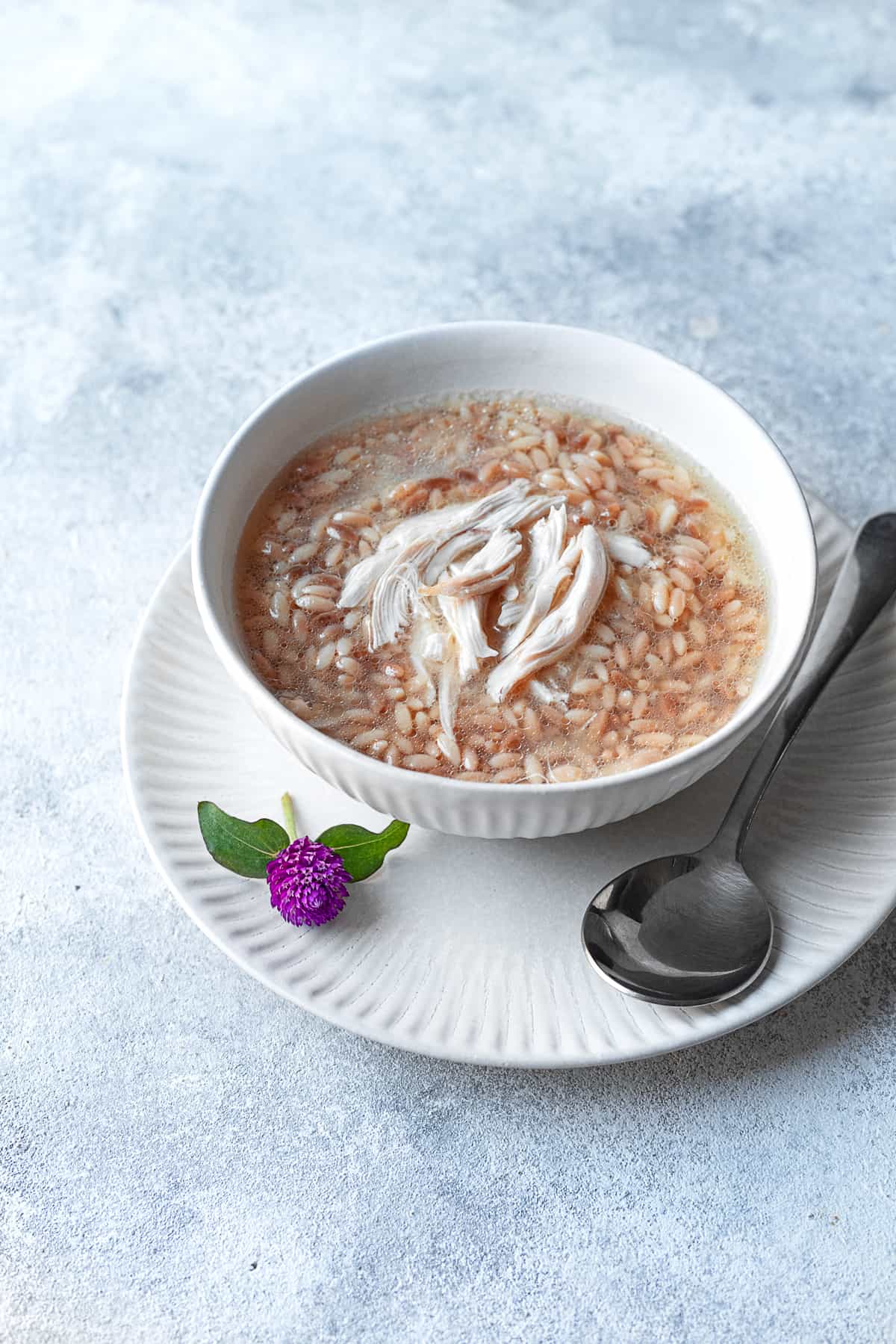 What Is the Difference Between Cardamom Pods and Ground Cardamom?
In our opinions, cardamom is highly underrated when it comes to cooking! If you're unfamiliar, it is a delicious spice that originally comes from India and Indonesia. The flavor can best be described as being earthy and somewhat piney, making it perfect for savory recipes. Unlike many spices, cardamom is used in two forms – the pods and the grounds!
Cardamom pods are similar to bar leaves in that they enhance the flavor of soup and broths when simmered. However, you do not want to accidentally bite into them! A whole pod of cardamom has an intense, somewhat bitter flavor that isn't pleasant to eat. However, when left in soup the taste is softened and used to round out the rest of the flavors in the dish.
Meanwhile, ground cardamom is much milder in taste. This is because the drying process removes the essential oils that live in the walls of the pods. These oils are what are responsible for the unpleasant flavor associated with the whole pods. Yet, adding the ground spice to your orzo soup can be considered as the metaphorical cheery on top in terms of flavor! The soup just isn't the same without it.
What Is Mastic Gum?
A common ingredient in Mediterranean cooking, mastic is a type of resin or sticky, sap-like resin that is obtained from the sap of a resin tree. It possesses a refreshing, piney flavor that adds incredible depth to this soup. Plus, it's full of health benefits, too! Keep reading about mastic's use and benefits here.
How to Store Leftovers
This recipe is best served right away. After a few days the orzo is likely to become a bit too soft and mushy. That said, if you don't mind soft pasta, it can be stored in an airtight container for 3-5 days.
Or, for a longer-lasting option, prepare the soup and leave out the orzo. Then, place the broth in an airtight container in the freezer for up to 3 months. When you're ready to cook, let the broth thaw in the fridge. Once thawed, warm it on the stovetop, and add the orzo to the broth on the stove. In a matter of minutes, it'll taste good as new!
Even More Great Orzo Recipes
If you fall in love with this soup, we have great news for you! We have loads of similar recipes you'll definitely want to add to your meal prep menu.
Middle Eastern Orzo Soup (Shorbet Lesan El Asfour)
Middle Eastern Orzo Soup, also known as Shorbet Lesan El Asfour, is a traditional Egyptian comfort food that's budget-friendly, quick to make, and perfect for feeding a crowd! Serve it on its own or with your favorite sides for a warm meal the whole family will love!
Ingredients
6-8

cups

water

or enough water to completely cover the chicken

1

onion

peeled and quartered

3-4

whole cardamom pods

1/2

teaspoon

ground cardamom

2

dry bay leaves

3

small pieces of mastic

1

Tablespoon

kosher salt or to taste

1

teaspoon

ground black pepper

4-5

pound

whole chicken

cleaned and gizzards removed

8

ounces

toasted orzo pasta

Optional Garnish: fresh lime juice

fresh parsley
Instructions
Pour the water into a large stock pot. Add the quartered onion, cardamom pods, ground cardamom, bay leaves, mastic, salt, and pepper to the pot. Bring the ingredients to a boil. NOTE: For easy removal, wrap the bay leaf, cardamom pods, and mastic in a mesh bag.

Once boiling, add the chicken to the pot, breast side up. Turn the heat down to medium-high, and cover the pot. Cook for 1 hour or until the chicken reaches an internal temperature of 165° Fahrenheit. (See notes)

Remove the chicken and aromatics (bay leaf, cardamom pods, and mastic). Set aside.

In a separate pan, toast the orzo pasta on the stovetop over low heat for 1-2 minutes or until fragrant.

While the water is still simmering, add the orzo to the pot. Cook on low for 8 minutes or until the pasta reaches al dente.

In the meantime, shred the chicken to be added back to the soup. Or, slice it, and serve it on the side.

Serve the soup warm with a fresh squeeze of lime juice and fresh parsley.
Notes
We recommend using a pot with a top that has a hole, or setting it slightly to the side to allow the steam to escape while the chicken is cooking.
Nutrition
Calories:
232
kcal
|
Carbohydrates:
15
g
|
Protein:
16
g
|
Fat:
11
g
|
Saturated Fat:
3
g
|
Polyunsaturated Fat:
2
g
|
Monounsaturated Fat:
5
g
|
Trans Fat:
0.1
g
|
Cholesterol:
54
mg
|
Sodium:
58
mg
|
Potassium:
202
mg
|
Fiber:
1
g
|
Sugar:
1
g
|
Vitamin A:
104
IU
|
Vitamin C:
2
mg
|
Calcium:
21
mg
|
Iron:
1
mg
Nutrition information is automatically calculated, so should only be used as an approximation.
Like this recipe?
Please leave a comment!