Egyptian Orzo Pasta aka Lesan El Asfour
This recipe is a twist on a classic Egyptian orzo pasta recipe, called Lesan El Asfour.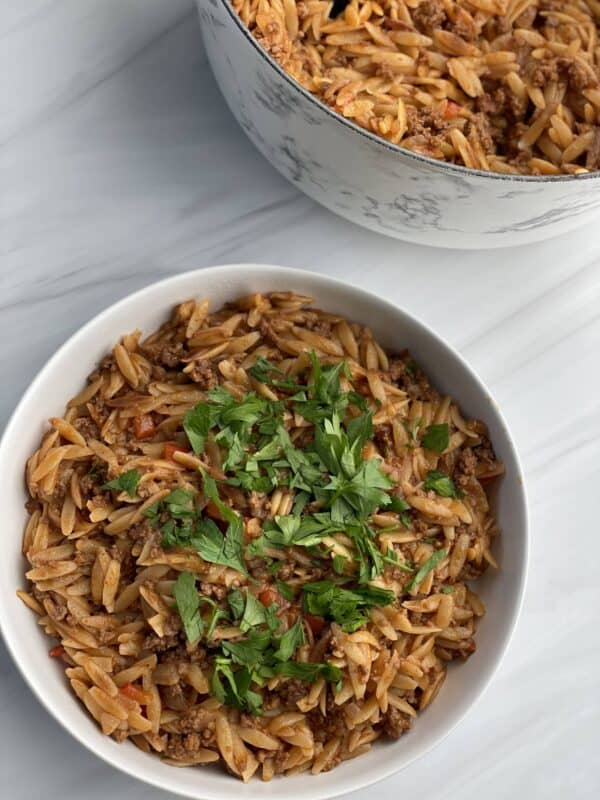 The term "Lesan El Asfour," in Arabic translates to "birds tongue."  We did research the history behind the name, and really couldn't come up with a solid answer. Our dad say's it's because orzo pasta resembles a birds tongue :). We grew up eating it and we never thought twice about the name! We highly recommend that you give it a try!
Other ways of using orzo pasta-
Lesan el asfour really is just orzo pasta. It is commonly made in chicken soup across the Middle East. The soup version is called Shorbat Lesan el Asfour, it's delicious!
Recommended sides-
Salad or vegetables.
Another method of cooking-
You can make this over the stove top, for a quicker version.  Bring it to a boil, cover and reduce heat on medium-low for 12-14 minutes or until paster is tender. It's easy and saves time.
Egyptian Orzo Pasta aka Lesan el Asfour
This orzo pasta is so good and a popular Egyptian dish, made with a tomato spiced ground beef.
Ingredients
16

oz

Orzo pasta

1

lb

lean ground beef

2

tbsp

unsalted butter

1

diced onion

2

tbsp

olive oil

6

cloves

garlic

1/2

cup

finely diced red pepper

3

tsp

sea salt

(more or less to taste)

1

tsp

black pepper

3/4

tsp

ground cinnamon

4

tbsp

tomato paste

4

cup

chicken broth

(or choice of broth)
Instructions
Preheat oven to 350 degrees F.

In an enameled pot on medium high heat, melt butter. Add orzo pasta. Stir for a 4-5 minutes or until it is lightly golden brown and has toasted. Remove from pot and set aside.

Place the pot back on the cooktop on medium heat. Add olive oil, onion, and garlic. Sauté until onions are translucent, about 2-3 minutes. Add ground beef and red pepper and cook. Drain the excess fat.

Add salt, pepper, tomato paste and cinnamon. Stir until the tomato paste has coated all the beef. Add the toasted orzo pasta, and broth. Stir, and cover.

Bake for 30-35 minutes or until pasta is cooked. Garnish with fresh parsley!
Notes
Note: If you are not a fan of a strong cinnamon flavor, reduce the cinnamon to 1/4 tsp or 1/2 a tsp!
Why toast the Orzo pasta? 
If you don't like mushy pasta, then you have to toast it. It is key! It enhances the flavor by giving it a nutty flavor too.
We used a 4.5 qt Le Creuset enameled dutch oven, find it here