Food Dolls Meal Plan: 5.22
*This post may contain affiliate links, please see our privacy policy for details.*
Find simple, nutritious, and delicious recipes for meals you'll look forward to eating all week long with this week's meal plan. Have a great week! – Alia & Radwa
The Food Dolls' Meal Plan: Week of 5/22
---
Monday: Cottage Cheese Protein Pancakes
Get on the cottage cheese bandwagon with a breakfast you'll look forward to eating thanks to these quick pancakes. Extra soft and fluffy, they're refined sugar-free, high-protein, and made with just seven ingredients. Even better, one batch makes up to 12 servings to feed the entire family. Prepare them ahead of time, and warm them up in minutes for a nutritious meal that makes mornings easy!
Tuesday: Air Fryer Chicken Fajitas
Not quite tacos but still great for Taco Tuesday, these easy fajitas have all the warm spices, bold flavor, and tantalizing sizzle you look for in restaurant fajitas without the hassle of going to a busy restaurant. Whip them up in less than 30 minutes. Then, serve them with tortillas, rice, or lettuce for a satisfying salad, and don't forget to add all the toppings! You can never go wrong with options like guacamole, salsa, cheese, and sour cream. No matter how you serve them, they're guaranteed to have the whole house drooling.
Wednesday: Healthy Rainbow Salad Jar
Bring a new meaning to the phrase "eat the rainbow" with these colorful salad jars! Loaded with fresh fruit and veggies and a light olive oil dressing, they're bursting with flavor and texture to satisfy your tastebuds. In addition, they're loaded with vitamins, fiber, nutrients, and plant-based protein to keep you full. Prepare multiple jars in advance for quick, healthy meals perfect for a packed lunch or easy dinner.
Thursday: Oven Baked Mediterranean Spaghetti
A new, Mediterranean-inspired take on a classic weeknight comfort food, this easy spaghetti is sure to become a new family favorite. Tender spaghetti noodles combine with briny olives, tangy artichokes, and warm herbs and spices for hearty comfort food that's anything but boring. Enjoy it on its own. Or, pair it with sides like our Greek salad and cheesy focaccia bread to fill up even the hungriest crowd.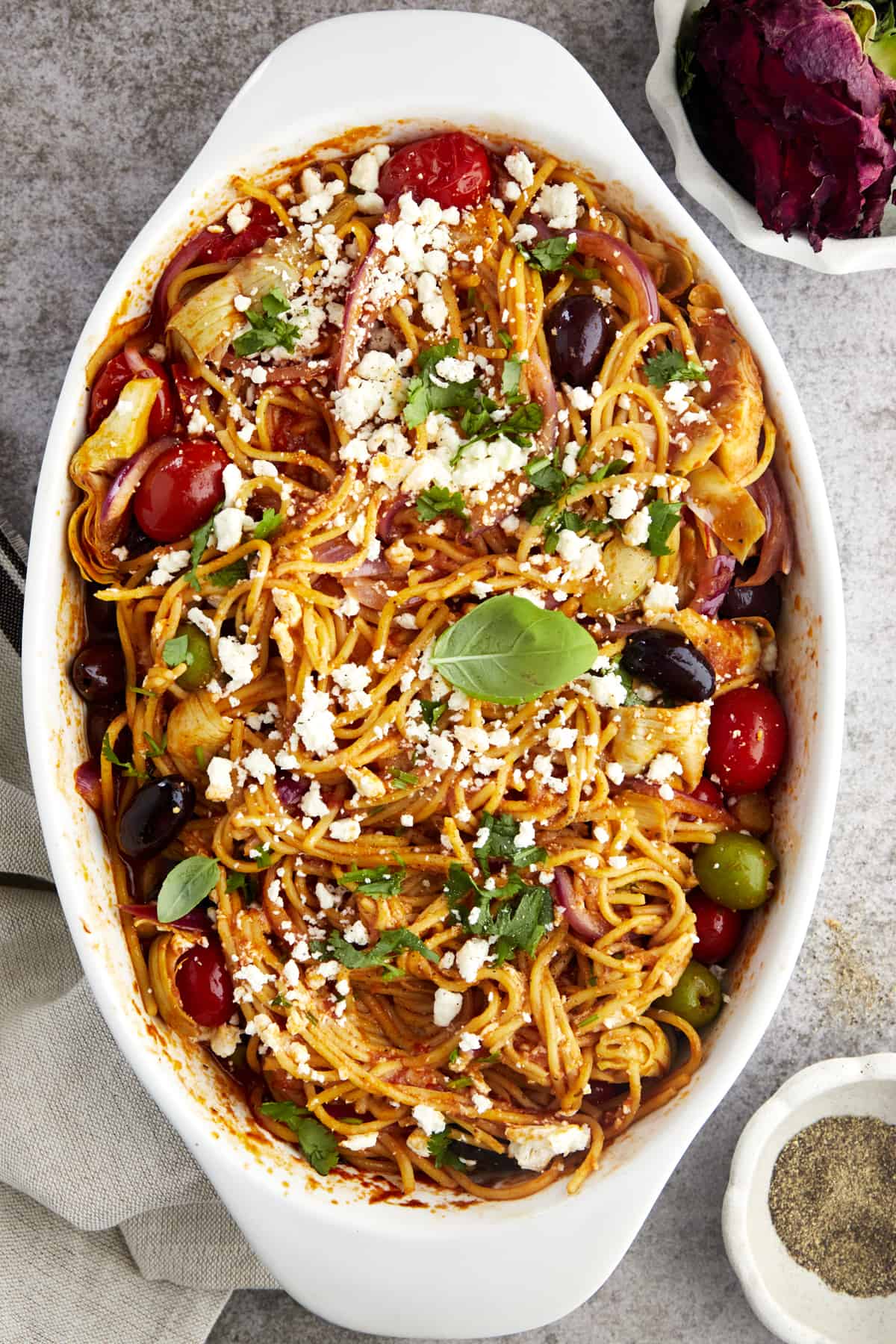 Friday: Coconut Chicken Tenders
Better than any pre-made or restaurant versions, these homemade chicken tenders will knock your socks off! Golden and crisp on the outside yet tender and juicy in the center, they're given a boost of warm flavor with a dash of smoked paprika. Ready in just over 30 minutes, they're perfect for the whole family. Serve them with sides like baked sweet potato fries and Parmesan oven-roasted carrots for an easy dinner everyone will agree on.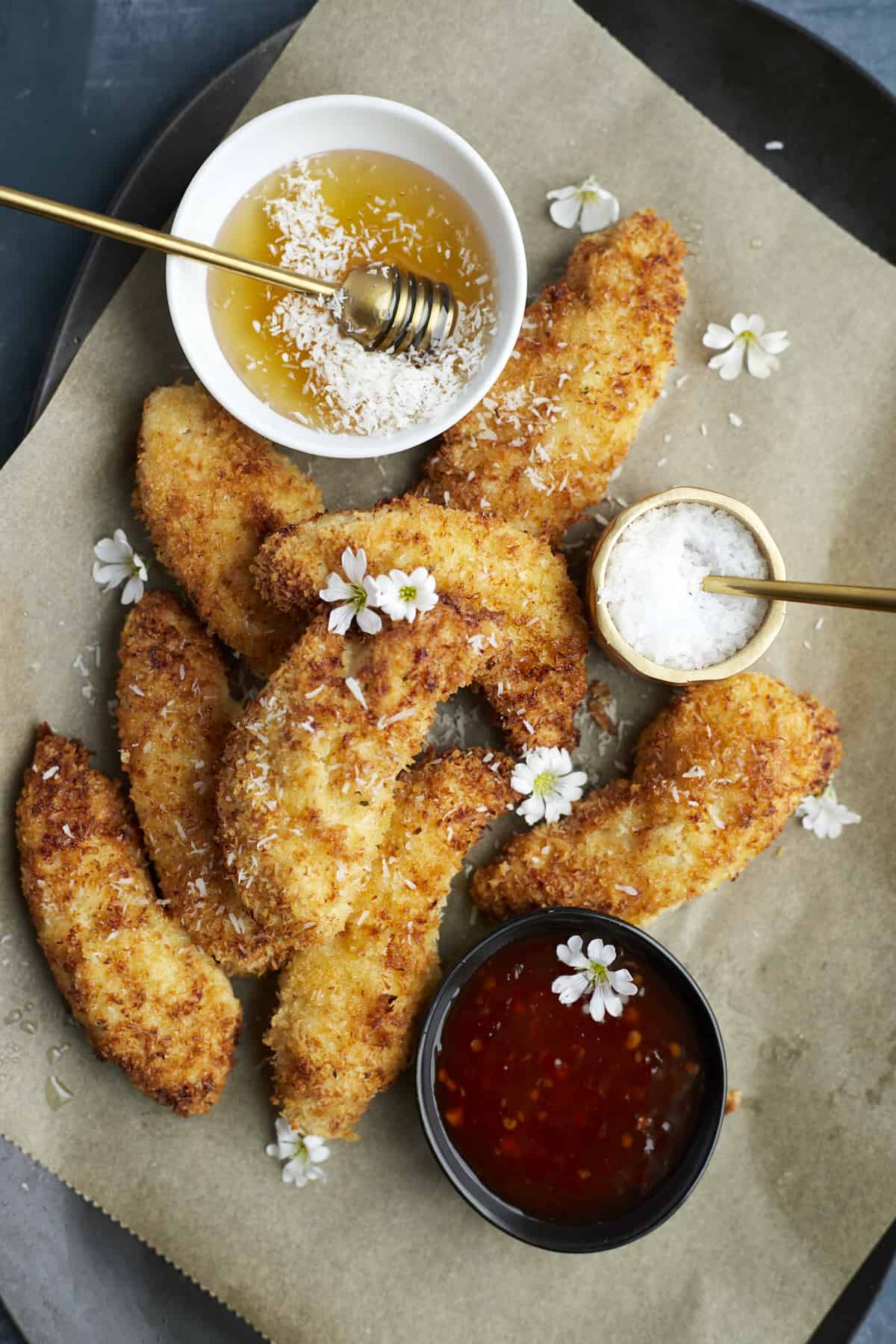 Saturday: Chocolate Chip Peanut Butter Banana Bread
Kick off weekend baking and use up those overripe bananas on the counter with this elevated banana bread recipe. Studded with sweet chocolate chips and nutty flavor in every bite, it's super moist and so easy to make. Serve it topped with butter or extra peanut butter for an indulgent breakfast, snack, or dessert. Just be warned, you might want to make two batches. It tends to disappear fast!
---
Weekly Organization and Kitchen Hack
We also love to spend a bit of free time on the weekends preparing for the week ahead. One of our favorite ways to do that is by restocking our pantry and filling back up on any ingredients or spices we may be missing.
However, instead of spending lots of money on overpriced store blends, we make our own budget-friendly DIY blends with ingredients we keep on hand.
Our favorite homemade spice blend we keep on hand is our shawarma spice! It's a staple in so many of our recipes, and we go through it fast.
Once you see how easy it is to make yourself, you'll never go back to store-bought options again.