If you have been dreaming of a delicious one pot pasta dish that is both easy to make and easy to clean up (and not to mention, will be LOVED by your family) – look no further because this One Pot Broccoli Mac and Cheese is it!
And when we say easy, we truly mean it.
Making this simple recipe will only keep you in the kitchen for 20 minutes, so you can maximize your time elsewhere! Aside from the plates you've eaten on, you will have one single dish to clean (and perhaps a measuring cup) by the end of the night, which makes this recipe a real winner!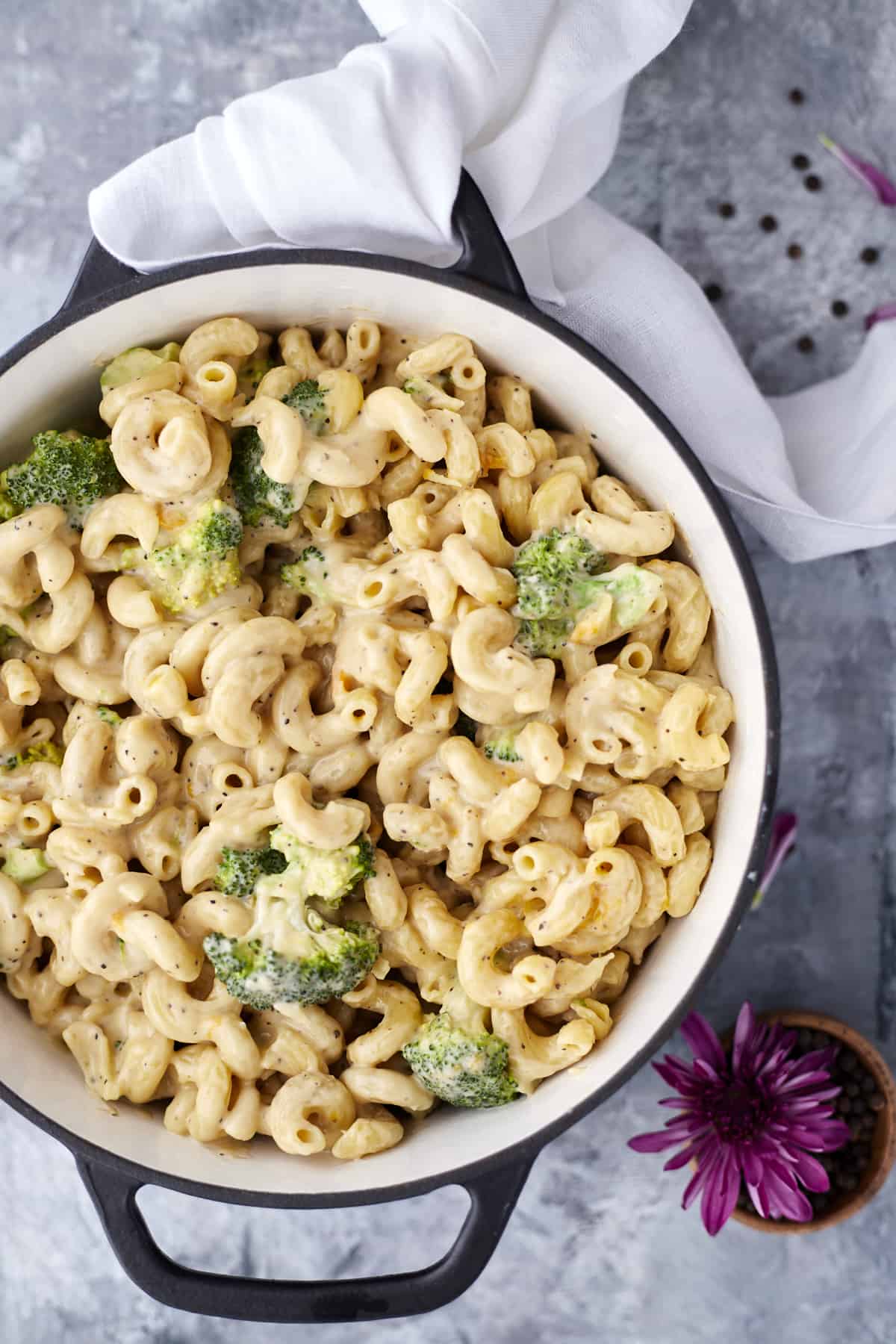 How to make this One Pot Broccoli Mac and Cheese
A great part about this recipe is that once you've chopped up your broccoli florets and gathered and measured out your ingredients, this is a hands-off recipe.
In a pot, add your pasta, chicken broth (or broth of choice), broccoli florets and seasonings. Stir everything together, bring the liquid up to a boil and cover.

After the pot begins to boil, reduce the heat to medium low and allow everything to cook together for about 10-12 minutes, or until the pasta has reached your desired texture.

Once the pasta is cooked, add in the cheeses, heavy cream and whole milk. Stir everything together for creamy goodness! At this point you can add a little extra milk, cream or seasoning to your taste preferences.

Optional: set your oven to broil and pop your delicious mac and cheese in for a few minutes to crisp up the top. Make sure to keep a close eye so that it doesn't burn!

Serve up this delicious meal and basque in the compliments you are bound to receive.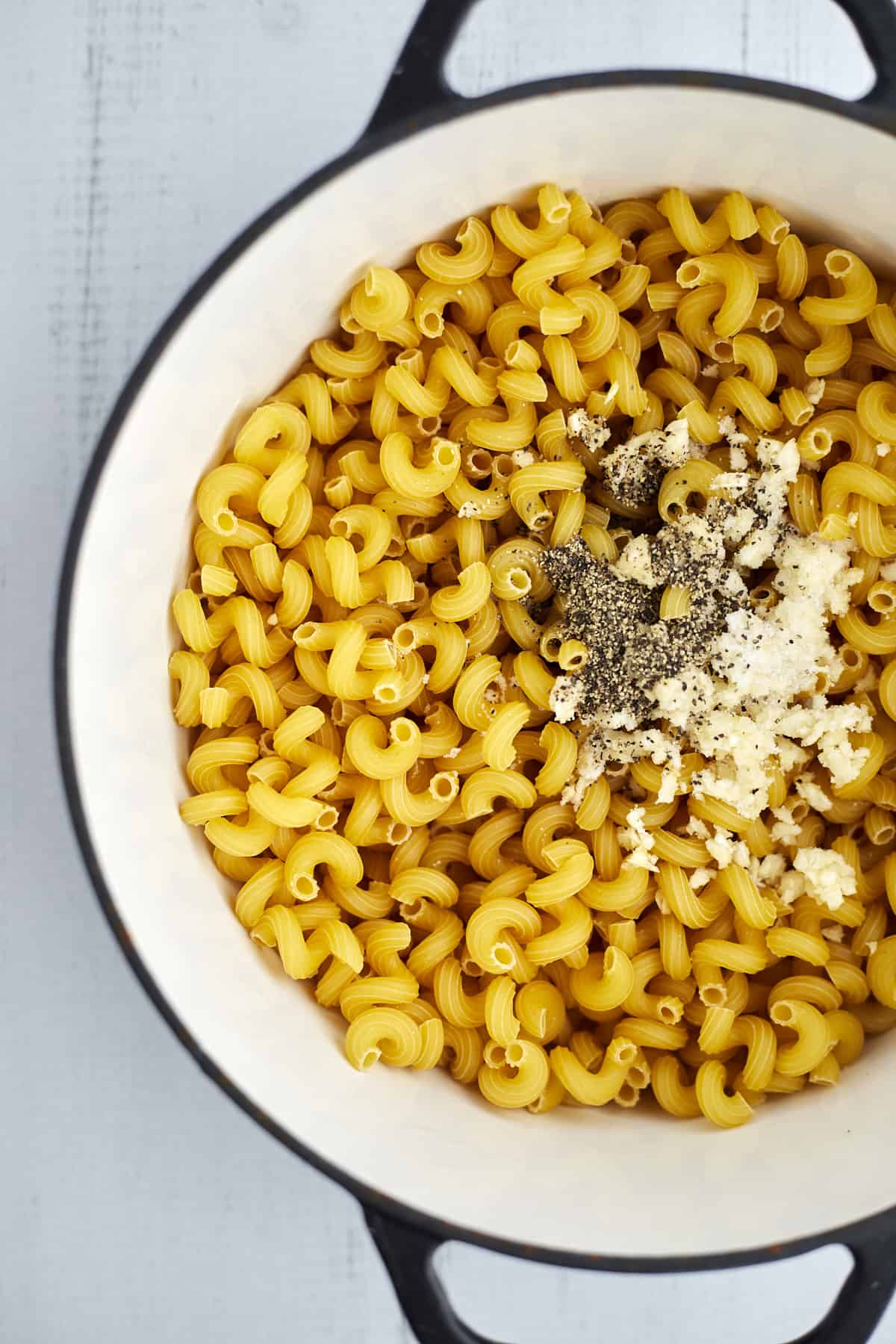 The benefit of one pot pasta dishes
We've said it before and we will say it again, this is a fast clean up recipe! Depending on your priorities, cooking a meal in a single dish (meaning all you have to clean is one dish – score!) might be the biggest benefit of this cheesy recipe. But what we love most about making single pot meals is the added flavor that cooks into your meal.
Typically when you aim to cook pasta perfectly, you are boiling it in salted water in order to season the pasta as it absorbs the water and softens up to an al dente texture. The salt is super important here because it enhances the flavor of the pasta itself.
Well, when you make this mac and cheese in one pot, you are getting the added flavor of the chicken broth (or broth of your choice) instead of water. Additionally, the seasonings and broccoli will add a further depth of flavor to the pasta itself making this dish an absolute flavor bomb!
From the time you'll save cooking AND cleaning all the way to the jam packed bites of flavor, this One Pot Broccoli Mac and Cheese is going to be a game changing recipe that you're going to want to add to your family's monthly meal plan.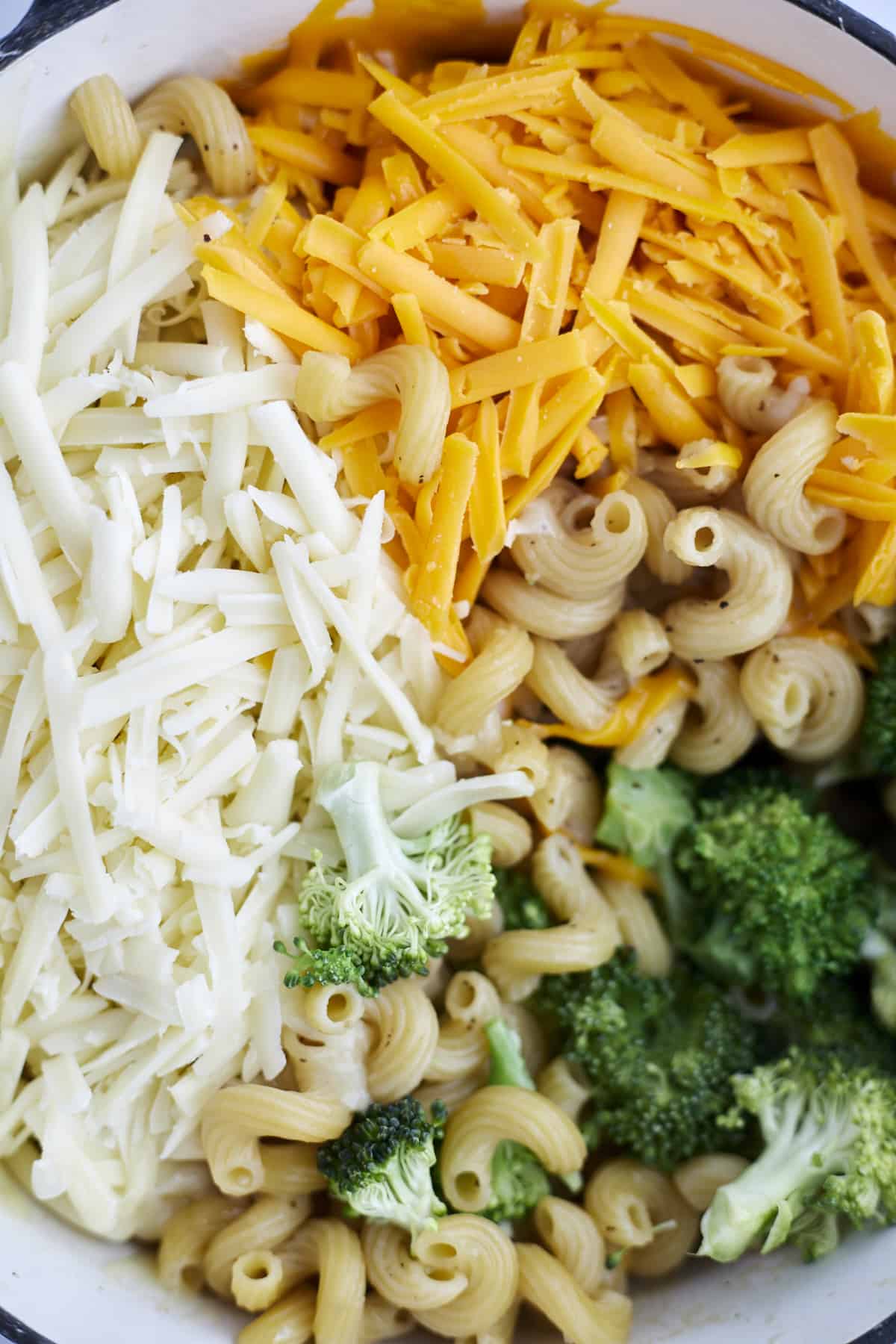 Why we love adding broccoli to this mac and cheese dish
If you've ever had a Panera Bread Broccoli Cheddar Soup, you know the magic that comes from the combination of broccoli and cheese – especially for the kiddos. Incorporating broccoli into this mac and cheese is a happy medium between allowing our kids to fall in love with veggies while also gently hiding just how green and healthy it is.
And by cooking the broccoli together with the pasta and cheese, the texture is absolute perfection. If you have a picky eater in your house, you know how important it is to achieve the right balance between crunchy and soggy when it comes to broccoli.
Furthermore, cruciferous vegetables like broccoli contain vitamins, minerals, and tons of antioxidants, making them a hero in the category of immune boosting veggies. Incorporating more broccoli into our meals, especially during cold and flu season, can help fortify our immune system. Who doesn't love delicious food as medicine?
Love this recipe but cooking for someone with a dairy allergy?
There are plenty of dairy-free cheeses and dairy-free milks on the market these days, making it super straightforward to transform this dairy packed recipe into a delicious dairy-free mac and cheese. Simply grab your go-to dairy-free alternative and swap out the dairy items in this recipe! That way everyone can enjoy this delicious one pot meal! You can also try this dairy-free pasta recipe.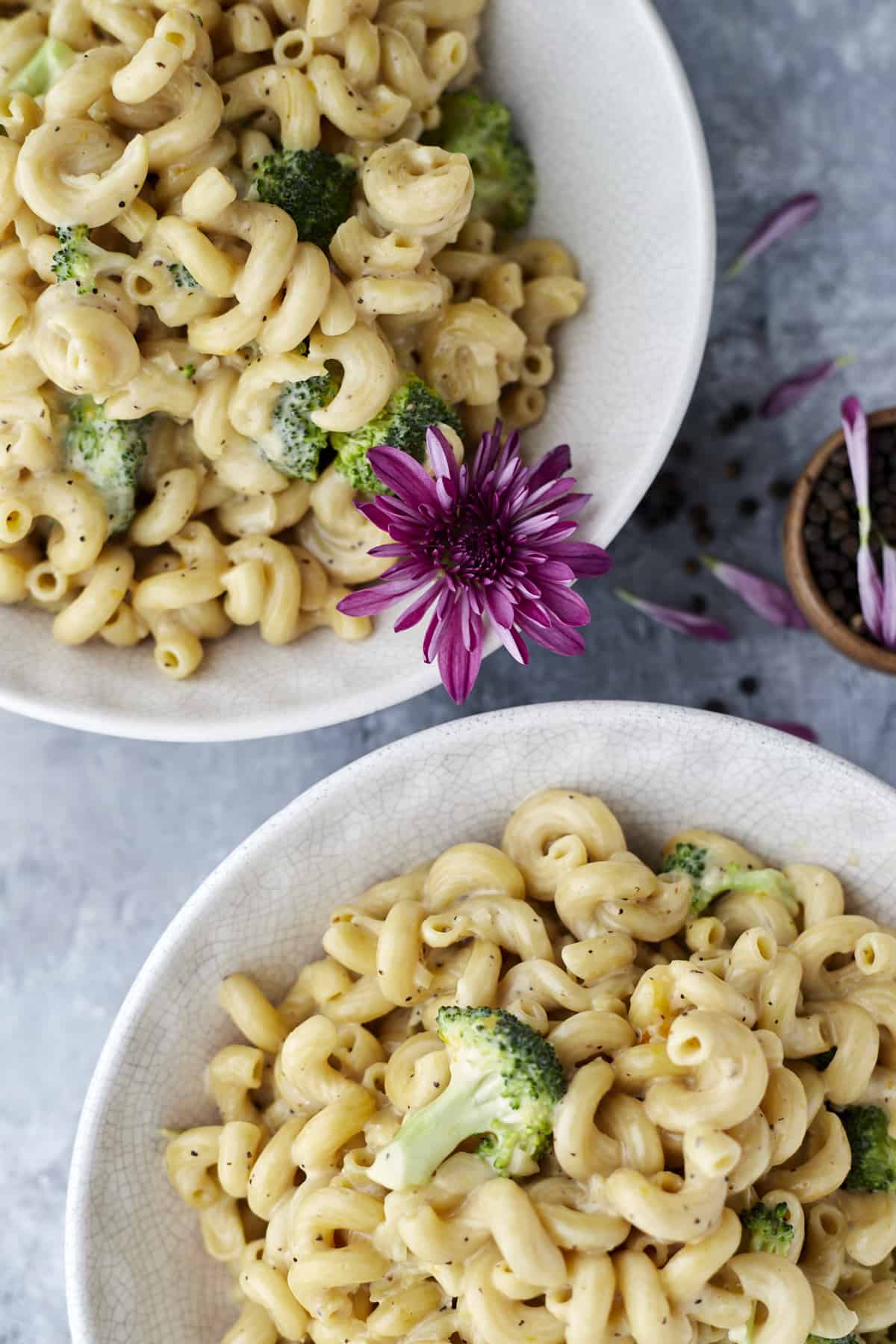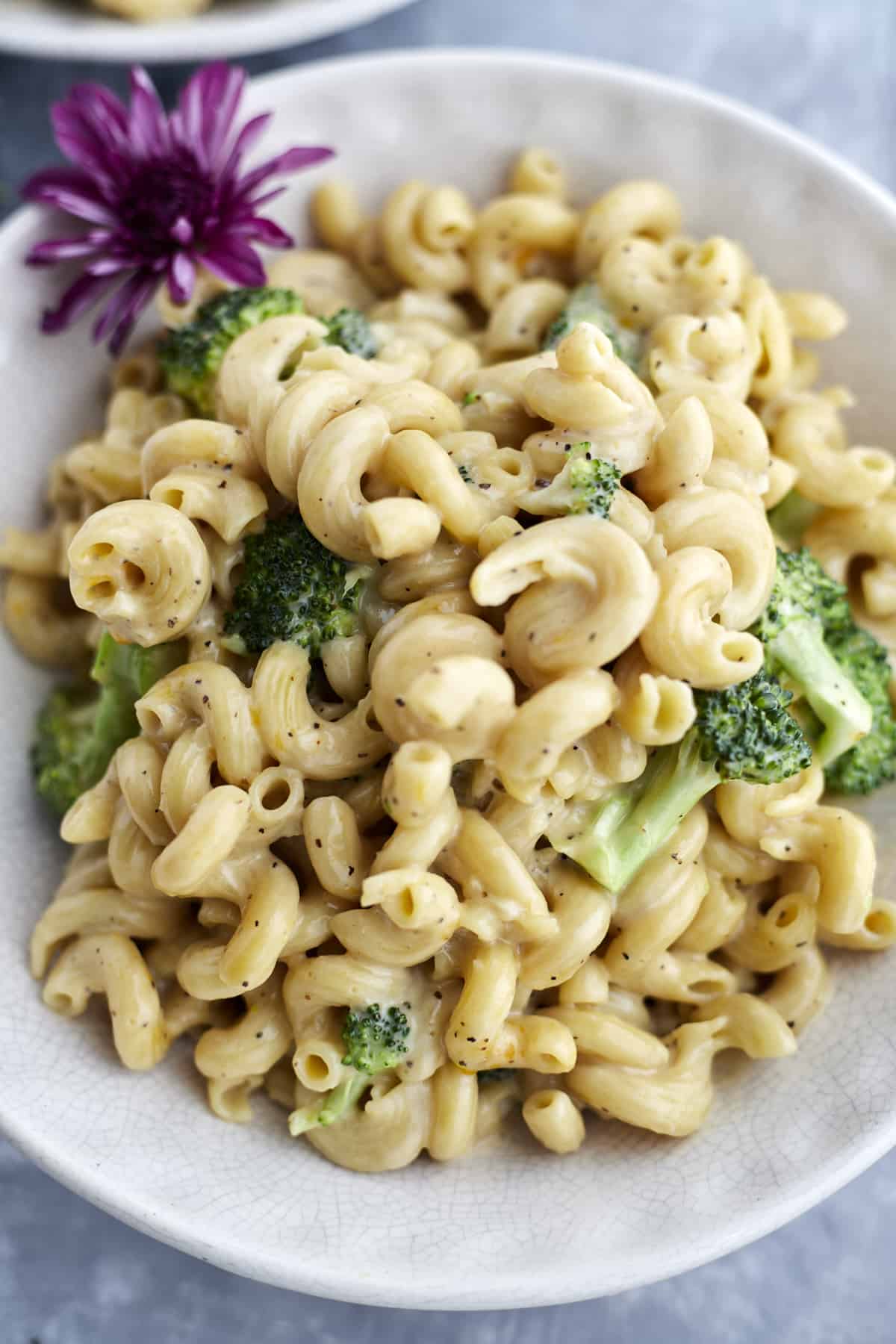 This macaroni and cheese tastes better than the box, and is just as easy! Perfect for picky eaters!
Ingredients
16

oz

uncooked pasta

4

cups

low-sodium chicken broth or broth of choice

1

tsp

kosher salt

more or less to taste

1

tsp

freshly ground black pepper

more or less to taste

1/2

cup

cheddar cheese

grated

1

cup

monterrey jack cheese

grated

3

cups

broccoli florets

1/2

cup

heavy cream

or milk

1/2

cup

whole milk

3

cloves

minced garlic
Instructions
Add pasta, broth, garlic, broccoli, and seasonings. Stir. Bring to a boil, and cover. Reduce heat to medium-low and and cook for 10-12 minutes or until pasta is tender.

Add cheese, heavy cream remaning ingredients and stir until nice and creamy. Add a splash of milk if you like it creamier. Option: Feel free to broil in the oven for a few minutes to crisp the top!
Nutrition information is automatically calculated, so should only be used as an approximation.
Like this recipe?
Please leave a comment!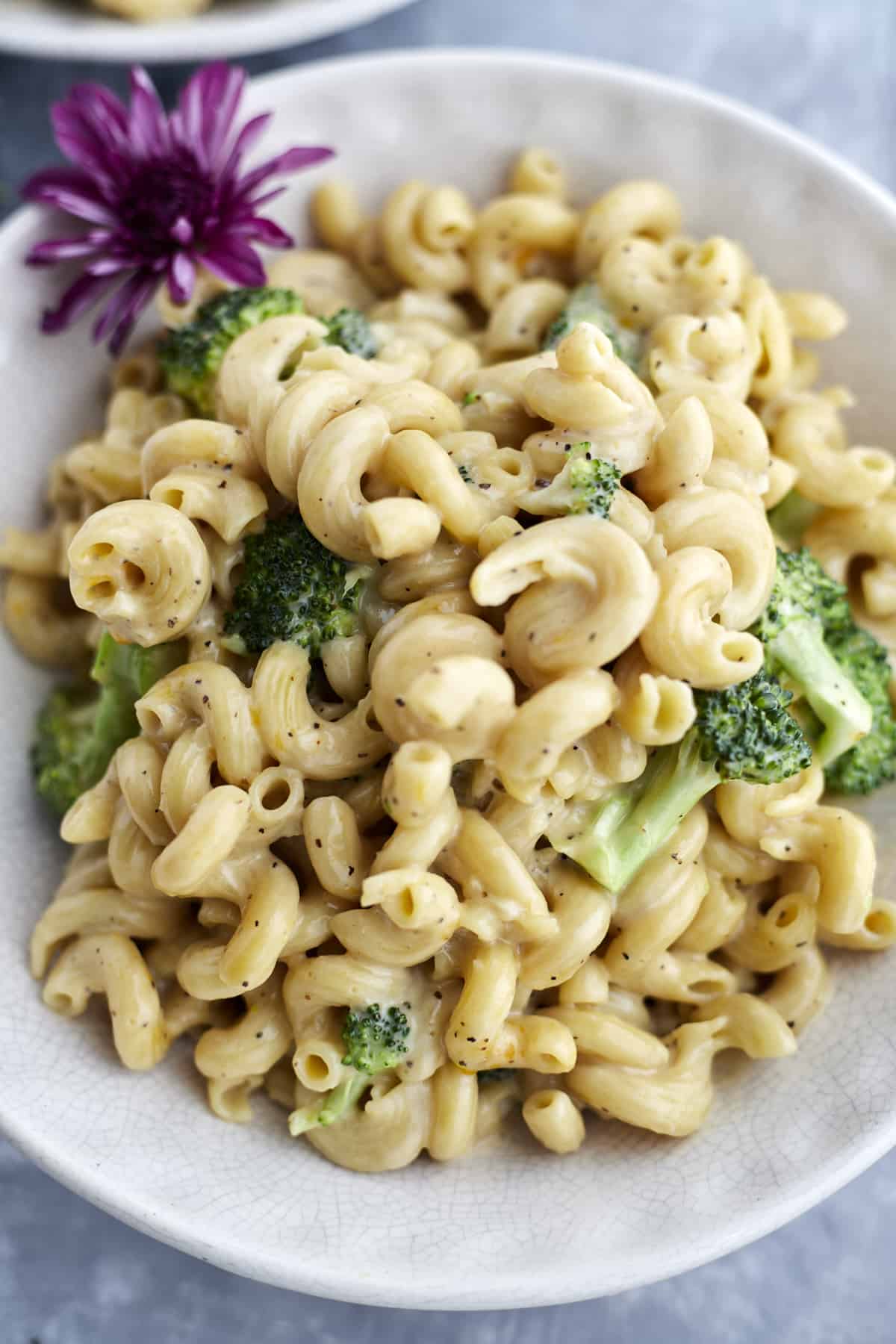 More one pot pasta recipes to try