This Greek Lemon Chicken is tender, juicy, and loaded with flavor. The chicken breasts are coated in a savory Greek yogurt sauce and marinaded overnight. Made with a handful of ingredients, it's quick to prepare, perfect for meal prep, and oh-so-tasty.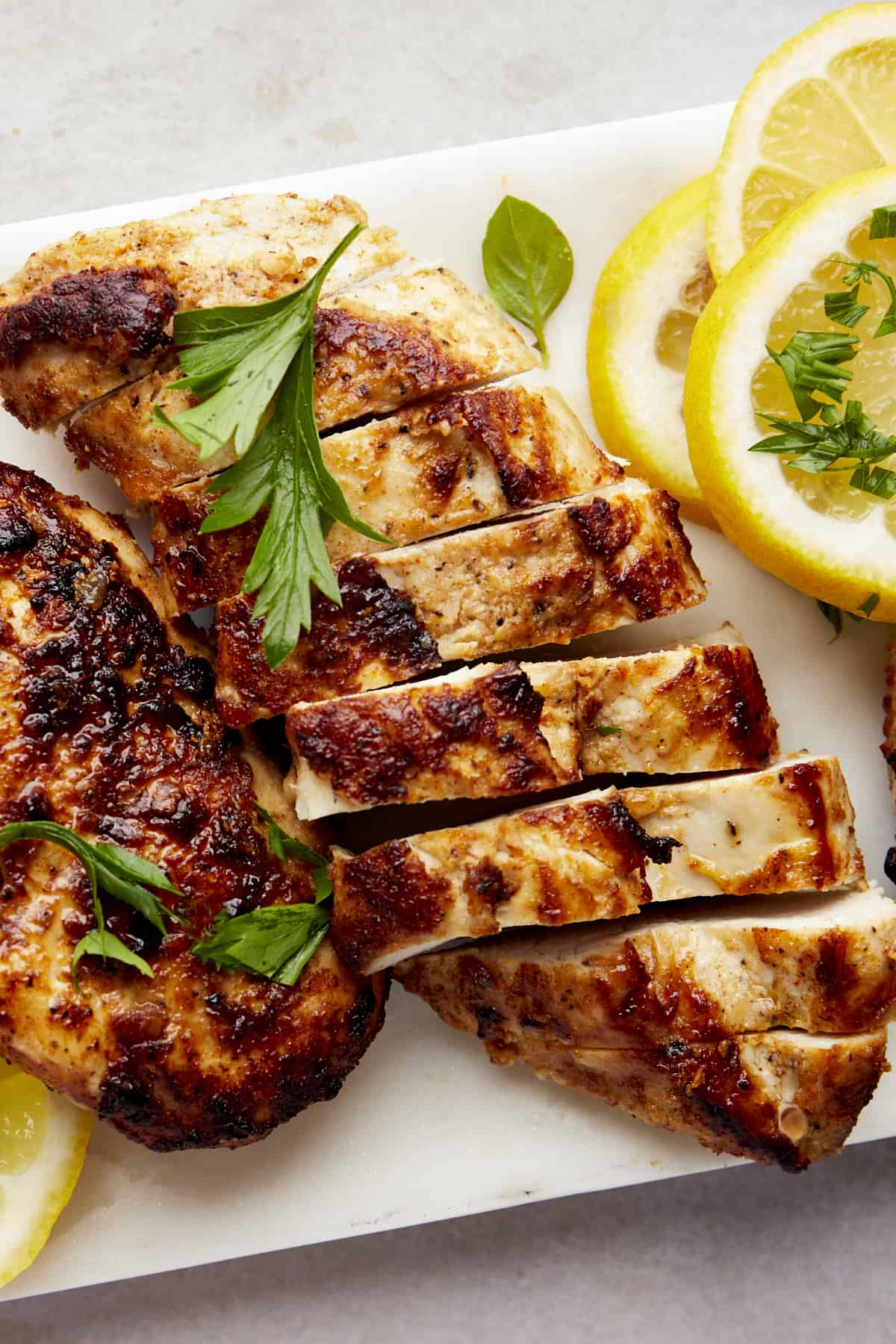 Greek Lemon Chicken That Will Guarantee Your Guests Clean Their Plates
If you've ever had trouble with chicken dishes turning out dry and bland, this Greek lemon chicken is going to knock your socks off! Marinaded overnight, and cooked quickly on the stove, it's always juicy and full of savory goodness in every tender bite.
One of our go-to dinner recipes, this lemon garlic chicken is easy to make and bulk to feed the whole family and pairs fabulously with a wide variety of sides. Plus, leftovers store well for easy meals you can just reheat throughout the week.
Winner, winner chicken dinner!
What Makes Greek Food Greek?
Greek food is identifiable by core ingredients that can be found in nearly every dish. These include items like olive oil, herbs, tomatoes, cheese, beef, pork, lamb, fish, shrimp, and wine.
Although influenced by Greek cuisine, American Greek is different from authentic Greek food. Every region has its own specialty dishes and ingredients, and common staples include large salads, mezze platters, and sweets like phyllo pastries.
This said, this Greek lemon chicken recipe draws inspiration from traditional Greek food using lots of herbs, olive oil, and lemon but cannot be considered completely authentic.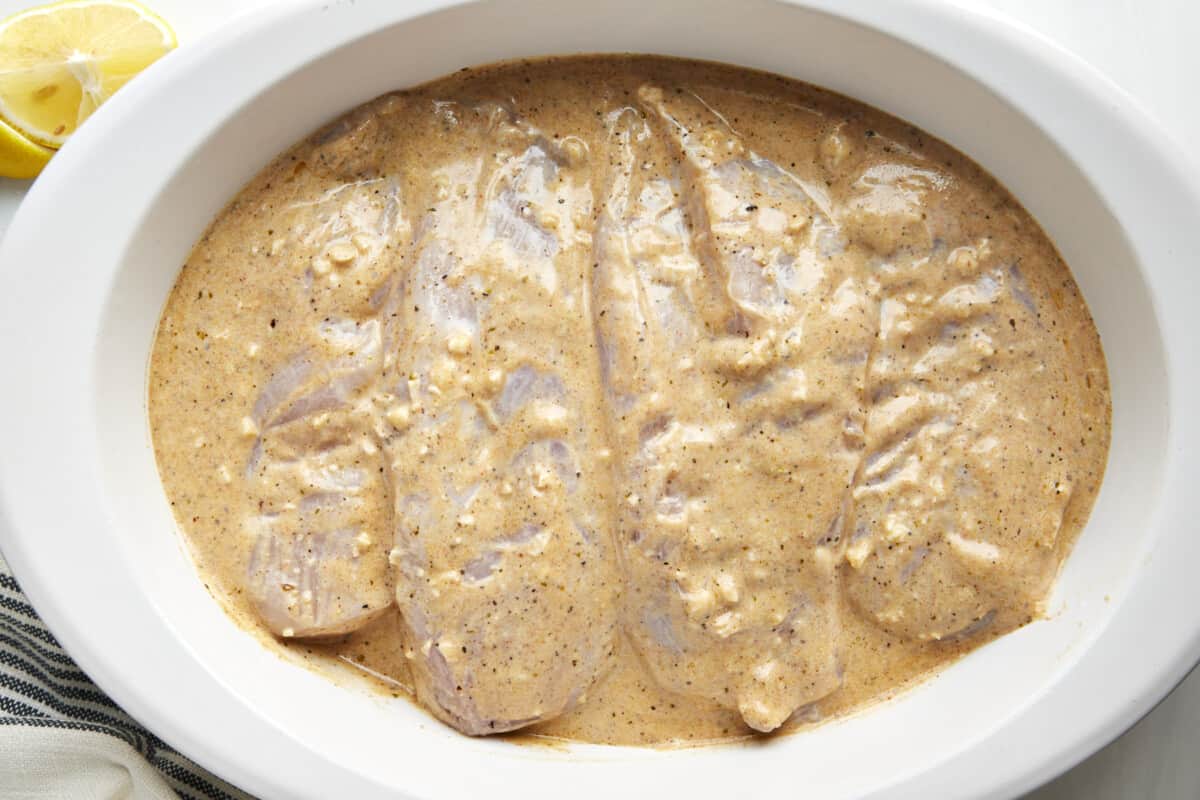 Simple Ingredients that Create Bold Flavor
Believe it or not, just a handful of simple ingredients come together to create showstopping flavor. Here's what you need:
Chicken – We like to use boneless, skinless chicken breasts as they have a neutral flavor that takes on the flavor of the marinade nicely.
Olive Oil – This is used to form the base of the marinade, tenderizing the chicken and infusing it with flavor and also helps sear the chicken breasts, locking in moisture as they cook.
Garlic Cloves – Fresh, whole garlic cloves are best.
Lemon – If possible, we recommend using fresh lemon juice, but bottled varieties will also work.
Seasonings – Paprika, salt, black pepper, and Greek seasoning combine to create a bold, savory taste with just a hint of spice.
Greek Yogurt – Use plain, full-fat Greek yogurt for the best taste.
Kiss Dry Chicken Goodbye When You Learn How to Make Marinated Greek Lemon Chicken
This lemon garlic chicken recipe requires a little bit of planning, but it's simple to prepare and is one hundred percent worth the wait!
Prepare the Marinade. Combine the olive oil, garlic, lemon juice, seasonings, and Greek yogurt in a mixing bowl, mixing until smooth.
Marinate the Chicken. Place the chicken breasts in a sealable bag or a shallow dish, and pour the yogurt marinade on top, coating each piece completely. Seal the bag or cover the dish, and transfer the chicken to the fridge.
Cook the Chicken. Heat oil in a pan over medium-high heat. Add the marinaded chicken, searing both sides until a golden brown crust forms, and allow the chicken to cook completely.
Rest. Transfer the lemon garlic chicken to a plate, and let it rest for a few minutes.
Serve. Drizzle any remaining yogurt sauce on top, slice the chicken into pieces, and enjoy warm!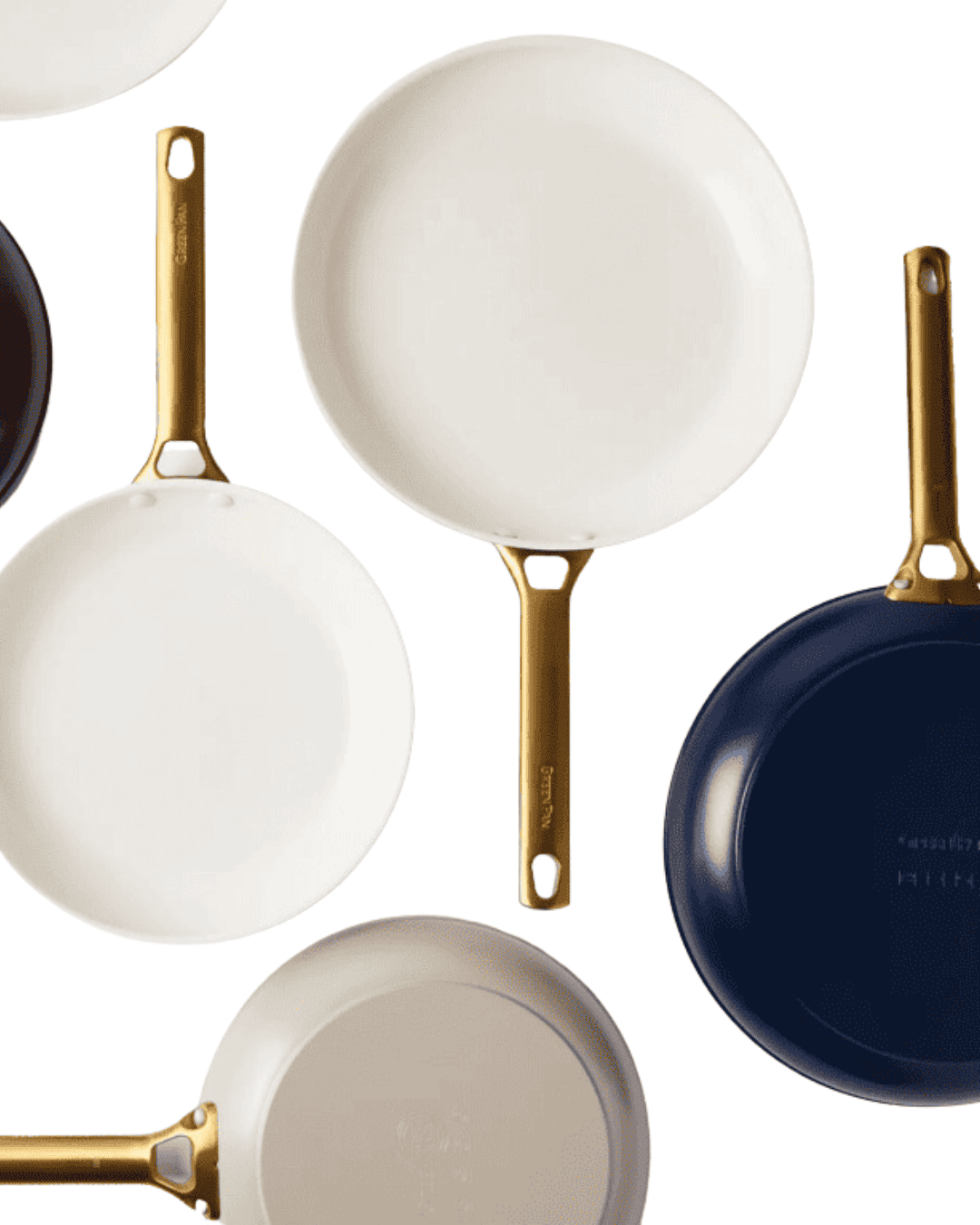 We earn a commission if you make a purchase, at no additional cost to you.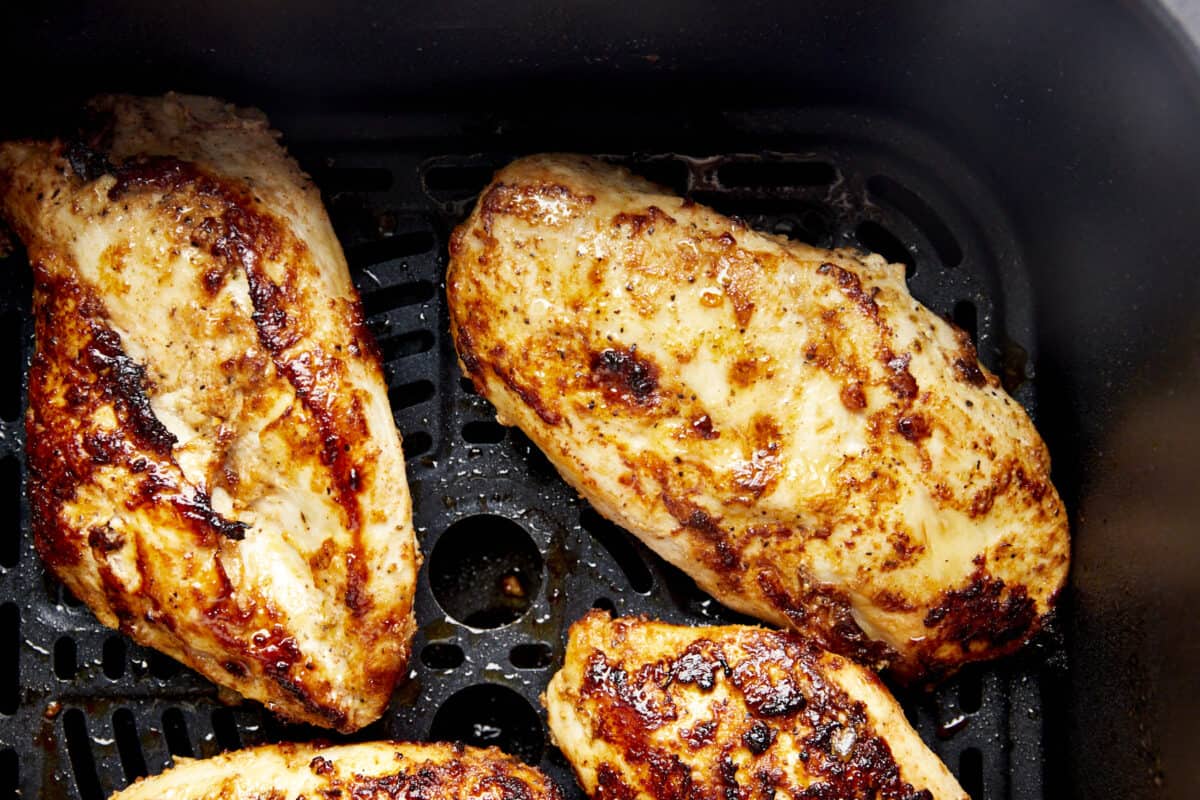 Tips and Tricks for Success
We make this easy Greek lemon chicken recipe on repeat, and as a result, we've discovered a few tips that can make or break your dinner.
Allow Plenty of Time to Marinate. You'll want to allow at least 30 minutes for the chicken to marinate in order for it to tenderize and absorb the flavor. However, if possible, we highly recommend letting it sit in the fridge overnight. You'll be able to taste the difference!
Let the Chicken Come to Room Temperature. Before you cook, let the chicken sit out and come to room temperature for 15-20 minutes. This helps it cook more quickly and evenly.
Use a Meat Thermometer. Insert a meat thermometer into the thickest part of the chicken to ensure that it reaches an internal temperature of 165 degrees Fahrenheit and is safe to eat.
Use a Splatter Screen. This covers the chicken while it cooks, preventing oil from popping off the skillet and making a mess or burning your hands!
Cover the Chicken. If you find that the chicken is seared on the outside but not cooking through, cover it with a lid or foil to allow it to cook completely without becoming tough or dry.
Don't Rush. We know it's tempting to dig in right away, but you'll want to set the cooked chicken aside for at least five minutes in order for the natural juices to redistribute. This is what keeps the meat tender and juicy!
What to Eat with Greek Lemon Chicken
Transform this lemon garlic chicken into a complete meal when you pair it with your favorite sides! For instance, we love to serve it with options like our lemon Greek potatoes, Greek rice bake, Greek salad, and pita bread.
Feel free to add extra sauces and toppings, too! Some common additions include hummus, tzatziki, pickled onions, and fresh herbs.
How to Store and Reheat Leftovers
As mentioned, this quick Greek lemon chicken recipe makes for a great meal prep option. Just follow the tips below to keep it fresh!
To Store: Once cooled, transfer leftovers to an airtight container, and place them in the fridge. They'll stay fresh for up to five days.
To Freeze: Place leftovers in a freezer-safe container, and keep them frozen for up to three months.
To Reheat: Let your frozen chicken thaw in the fridge overnight. Then, warm it in a skillet on the stovetop over medium heat. Add a dash of water as needed to prevent it from drying out.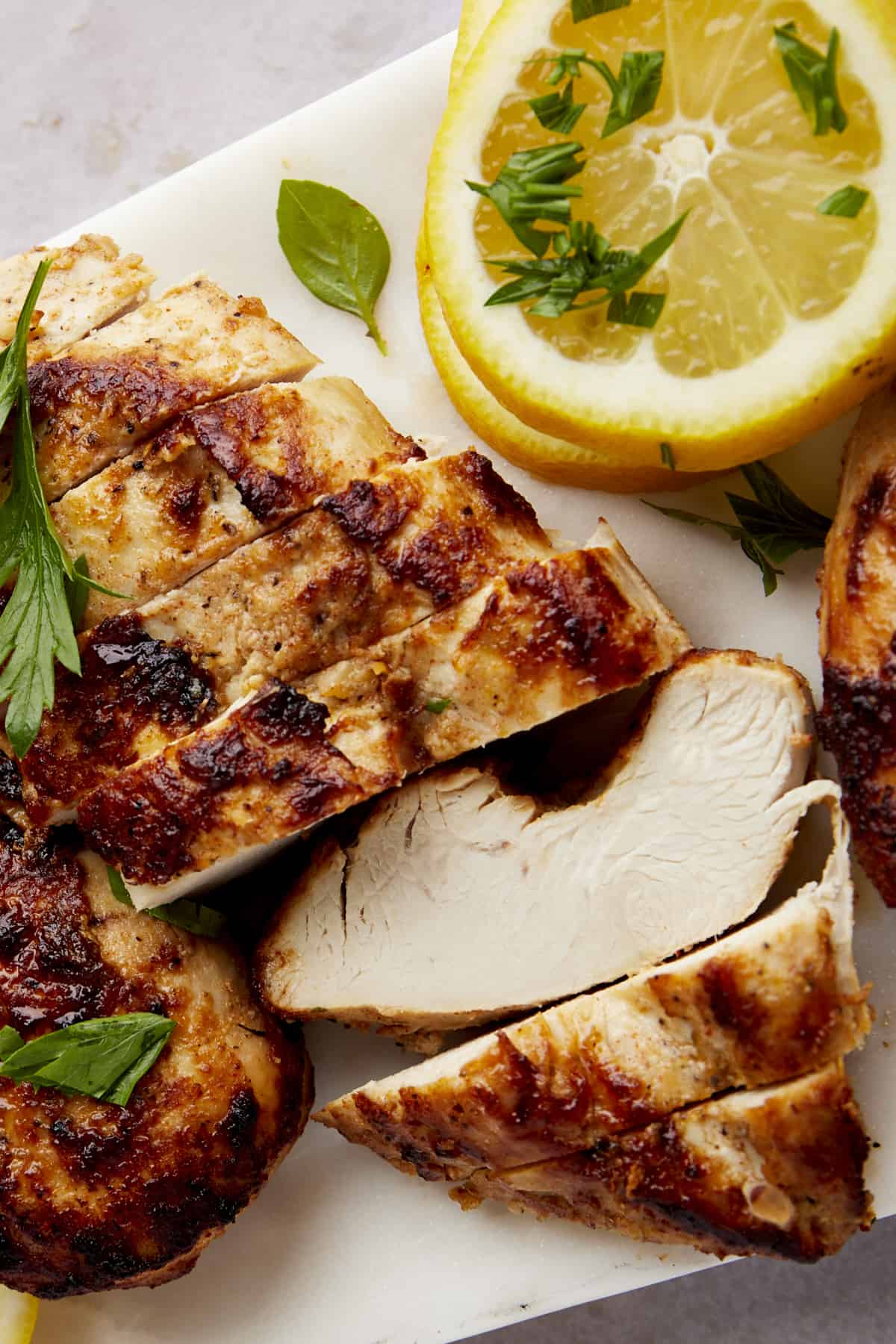 Common Questions About This Greek Lemon Chicken Recipe
What does marinating chicken in Greek yogurt do?
The lactic acid in the yogurt helps break down any tough tendons in the chicken, creating a fall-apart tender dinner.
What does lemon do to chicken meat?
Like yogurt, the acidity in lemon helps tenderize chicken while adding a vibrant, refreshing flavor.
Can I use chicken thighs?
Sure! Just adjust the cooking time as needed, keeping in mind that chicken thighs tend to cook much quicker than breasts.
More Easy Chicken Recipes
If you enjoy this easy Greek lemon chicken recipe, you won't want to miss out on more of our flavor-packed meals below!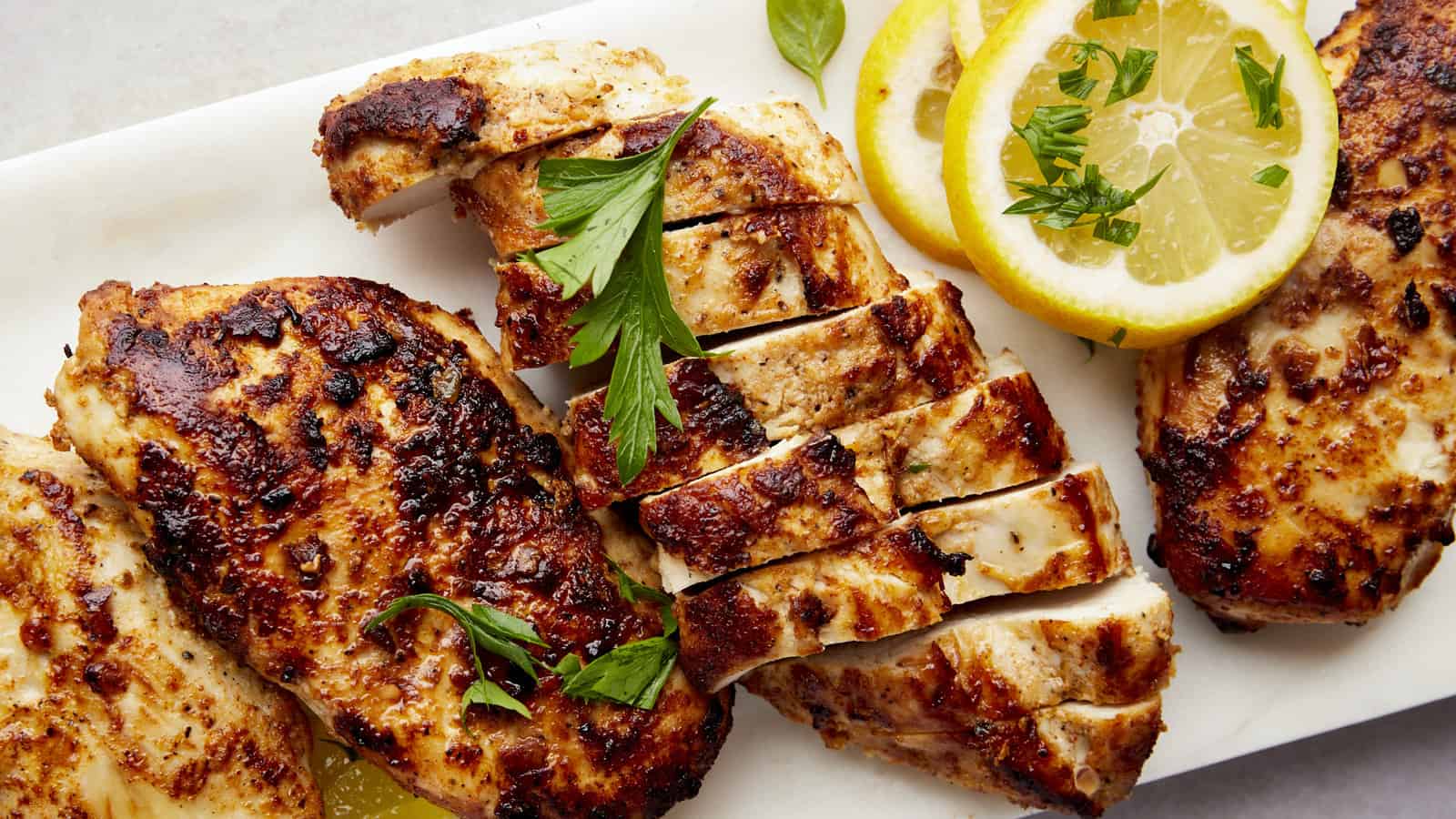 Greek Lemon Chicken Recipe
Learn how to make an easy Greek lemon chicken recipe with a handful of ingredients for a nutritious dish bursting with vibrant flavor!
Ingredients
4

boneless

skinless chicken breasts

1/4

cup

olive oil

5

garlic cloves

chopped

1/2

lemon

juiced (about 2 Tablespoons)

1

teaspoon

paprika

1

teaspoon

salt

1/2

teaspoon

black pepper

1

Tablespoon

Greek seasoning

1/4

cup

Greek yogurt
Instructions
In a mixing bowl, combine the olive oil, chopped garlic, lemon juice, paprika, salt, black pepper, Greek seasoning, and Greek yogurt. Mix well to create a creamy and flavorful marinade.

1/4 cup olive oil,

5 garlic cloves,

1/2 lemon,

1 teaspoon paprika,

1 teaspoon salt,

1/2 teaspoon black pepper,

1 Tablespoon Greek seasoning,

1/4 cup Greek yogurt

Place the chicken breasts in a resealable plastic bag or a shallow dish. Pour the yogurt-based marinade over the chicken, making sure each piece is well-coated. Seal the bag or cover the dish and place it in the refrigerator. Allow the chicken to marinate for at least 30 minutes, or ideally, overnight for maximum flavor infusion.

When ready to cook, remove the chicken from the refrigerator, and let it sit at room temperature for about 15-20 minutes. This helps the chicken cook more evenly. Heat a large skillet or grill pan over medium-high heat.

Add a drizzle of olive oil to the hot pan to prevent sticking. Carefully place the marinated chicken breasts onto the hot pan. Sear the chicken on one side for about 4-5 minutes, or until a golden-brown crust forms. Flip the chicken breasts and sear the other side for an additional 4-5 minutes.

Use a meat thermometer to check the internal temperature of the chicken breasts. They should reach an internal temperature of 165°F (75°C) to ensure they are fully cooked and safe to eat. If needed, cover the pan with a lid or foil to help the chicken cook through while maintaining moisture.

Once the chicken is fully cooked, remove it from the pan, and let it rest for a few minutes. This allows the juices to redistribute throughout the meat, keeping it juicy and tender.

Slice the rested chicken breasts and arrange them on a serving platter. Serve any remaining yogurt sauce on the side for dipping or drizzling.
Equipment
Nutrition
Serving:
1
serving
|
Calories:
276
kcal
|
Carbohydrates:
6
g
|
Protein:
26
g
|
Fat:
17
g
|
Saturated Fat:
3
g
|
Polyunsaturated Fat:
2
g
|
Monounsaturated Fat:
11
g
|
Trans Fat:
0.01
g
|
Cholesterol:
73
mg
|
Sodium:
719
mg
|
Potassium:
522
mg
|
Fiber:
2
g
|
Sugar:
1
g
|
Vitamin A:
141
IU
|
Vitamin C:
11
mg
|
Calcium:
91
mg
|
Iron:
2
mg
Nutrition information is automatically calculated, so should only be used as an approximation.
Like this recipe?
Please leave a comment!